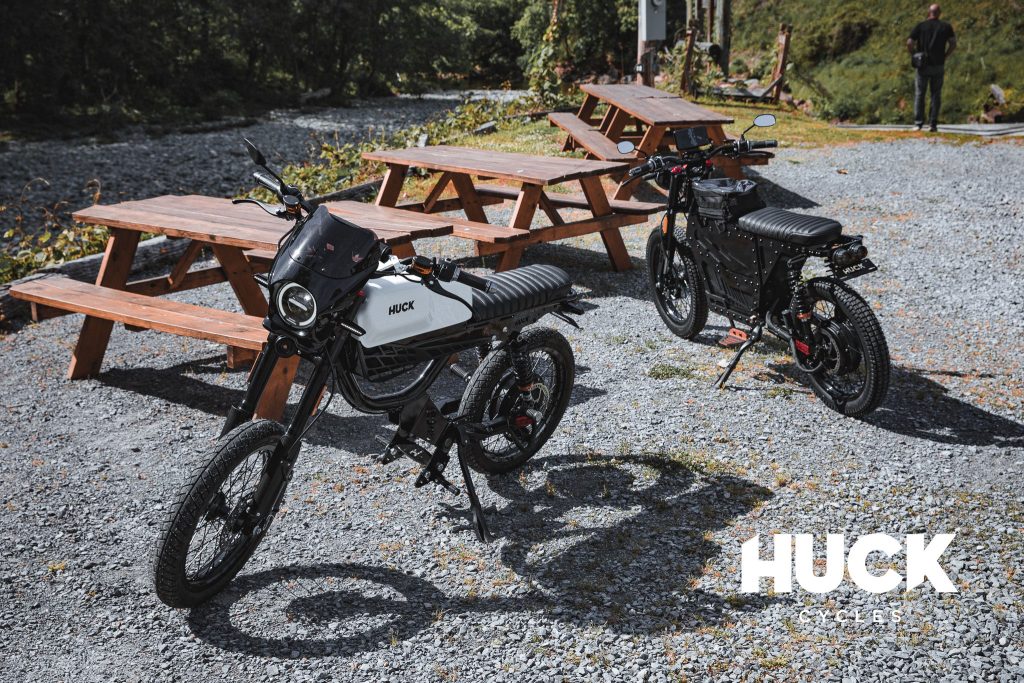 The $5,000 Rebel-S Electric Motorbike
The mopeds and motorcycles of the late 1970s serve as inspiration for the design of the 2022 Rebel S, which debuted in 2019 after being first designed and built in a garage!
Huck Cycles is responsible for producing some of the most innovative and eye-catching electric motorbikes now available, and I have to give them credit for that; these things are top-notch. Is it a classic motorcycle or one of those new-fangled electric motorbikes?
Gett $200 off the entire order (Min. of $4000 order required) with Coupon Code: VROOOMIN
We are an American Manufacture & Leader in the Electric Motorbike world. Perfect for new and experienced riders, our bikes are for those looking for something easy to maintain & easier to ride than a traditional motorcycle. Iconic styling wrapped up in a class-defining affordable motorbike.
Motorcycle or E-bike?
Depends on whos questioning!
It is up to you to tell the cops what you want, and it is a matter of opinion; nevertheless, we can come to a consensus: these 60V +45 MPH beasts are serious high-speed motorbikes and are ready for action.
This model has a retro design but includes the advantages of today's cutting-edge electric technology.

The Rebel is a retro-inspired electric moped constructed by hand, utilizing as many locally available components as possible for individuals seeking a more authentic moped experience.
The Rebel is an excellent choice for both intermediate and advanced riders, for individuals looking for something smaller and lighter than a typical motorbike that is simpler to keep up with and ride.
Damn, that's Fast
Riders average 15-25 mph on most days
This bike is powerful; Hucks suggests you only enjoy its full-speed capabilities off-road or on private property. The 2022 Rebel-S has a maximum speed of 45 mph and a total range of 50 miles per charge. The 2022 Rebel-S is a customizable, 6KW electric motorbike; riders can easily get carried away with all the aftermarket add-ons.
The Rebel-S is technically a moped since it has a 49cc rating, which places it in a motorcycle vehicle category. Riders may take charge of the Rebel by twisting the throttle, and, depending on the riding mode, they can exceed speeds of either 18, 30, or 45 MPH.
Bikes are shipped with a Certificate of Origin as an Electric Moped, 49cc Moped Class.
Motor: QS 205 3000w Nominal/6000W Peak Hub Motor
Max-range: 40-50 Miles Range Per Charge
Throttle: Full-Twist Motorcycle Style Throttle
Max load: 350 lbs. Load Capacity
Tandem: 2 people capable (long seat)
3 Speed Modes
Mode 1: 18 mph
Mode 2: 30 mph (legal moped speeds)
Mode 3: 45+ mph (off-road or private property use only)
On/Off with Removable Key
Battery Packs & Amps
3000WH High Discharge Battery Pack
The battery charge, distance traveled, and odometer is all shown in a colorful LCD mounted on the handlebars. Did we mention that the battery is a 3000WH removable pack? Since these batteries are insanely expensive, you should remove them and charge them whenever possible, don't leave them outdoors.
The controller is a Sabvoton 150 Amp, which indicates that it is powerful and can unleash a surge of current that will dump your adrenaline and get you rocking in a heartbeat.
Bright LCD Display
Standard 3000kWh Removable Battery
Sabvoton 150amp Controller
Battery Life – 1000 cycles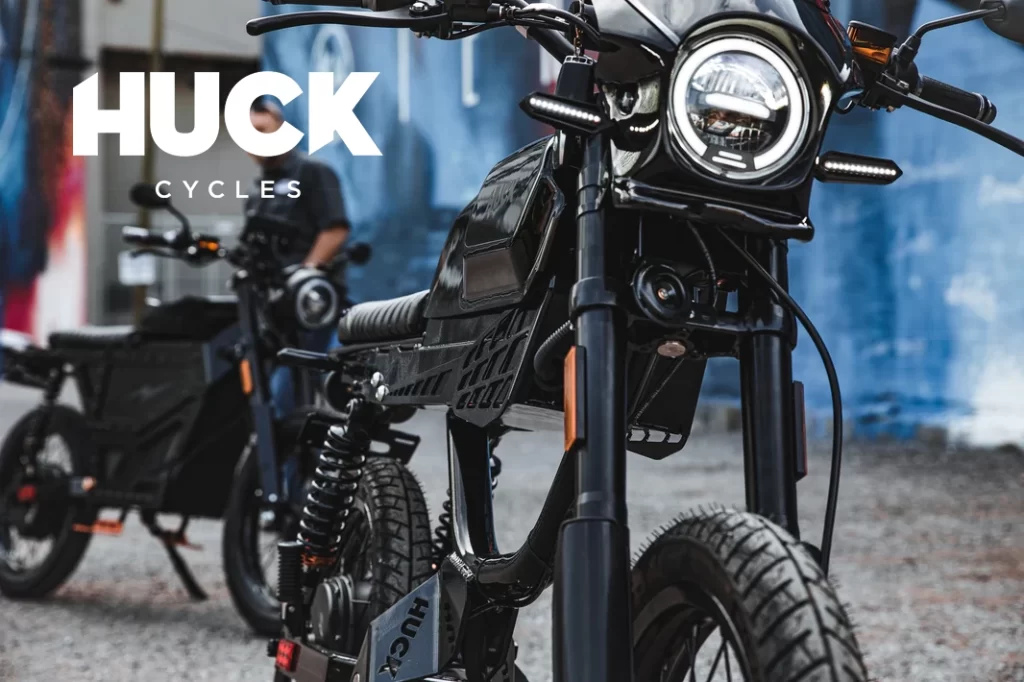 DOT Approved
Safety first!
The Rebel-S comes standard with many cutting-edge safety features, including DOT-approved headlights, brake lights, turn signals, and low beams. Safety is of the utmost importance, and the Huck team has considered the rider and those who share the road with them, especially when riding at fast speeds.
Bright LCD Speedometer with Battery Meter, Trip, and Odometer
Standard 3kWh Removable Battery
Sabvoton 150amp Controller
Battery Life – 1000 cycles
DOT Approved Vintage Motorcycle Style Headlight w/ High and Low Beams
DOT Approved Turn Signals
DOT Approved Integrated Brake Light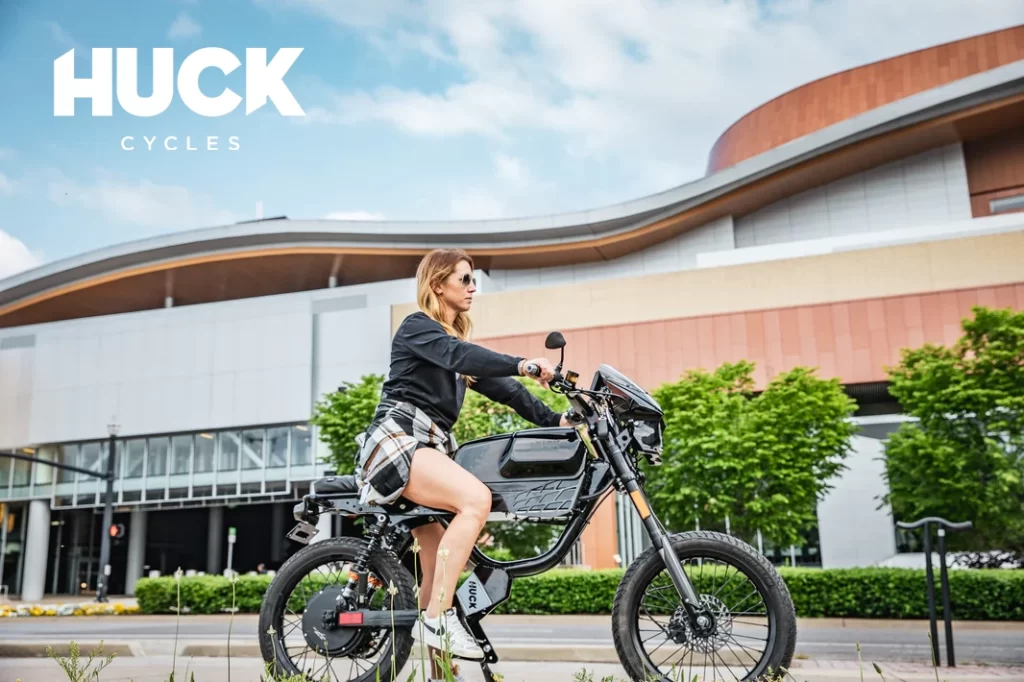 She's Heavy
It is a Motobike after all
The Rebe's frame and chassis can support a payload of up to 350 pounds, making it robust enough to support tandem riding. However, a more extended seat will be necessary for this configuration. The Rebel welcomes you to sit in its saddle if you are between 5'4 and 6'7 inches tall. It can accommodate a variety of riders.
The Rebel was built to suit riders of varying heights.
One of the most adaptable rides in the game, with options for riders ranging in height from 5'4″ to 6'7″.
The Rebel's extended wheelbase and seat can make it ideal for riders and passengers. For the best experience, add the optional extended seat and passenger pegs.
The 2022 Rebel was designed for city commuting. Optional additions like a rear rack, saddle bags, and a body box give ample storage for a daily rider.
We love it, you should too
Love it or hate it? Hate that you love it?
Riding a Huck Rebel-S is a ton of fun, and it also looks fantastic when you're out and about on the town. What we appreciate most about these motorbikes are their high craftsmanship and the many aftermarket modification options. The seats, battery covers, lights, tires, and other components of each rider's bike may be customized to reflect their tastes and preferences.
On/Off Key Switch
Full-Twist Motorcycle Style Throttle
40-50 Miles Range, Varies by Rider Type
325lbs Load Capacity
2 Person Capacity (long seat)
Personalized Customizations
Optional Seat, Tank, and Body Upgrades
Pricing will add up
This bike can replace your car and gas spending
The Rebel is offered in not one but two separate variants—the CS and the SCR—each of which has its specific collection of add-ons and components that distinguish it from other models on the road. Remember that the pricing will change based on the particular customizations of your custom order. The total cost can add up quite fast, so shop carefully.
Colors: Black, Ruby Red, Metallic Green, Metallic Graphite, Sky Blue, Metallic Navy, Blue, White
Seats: Black, Tan, Tobacco
2022 Huck Cycles REBEL S, CS, and SCR Technical Specs
3 models to choose from
Huck has curated two models that incorporate their most popular configurations for people searching for something less complex than a personalized build. The Rebel Motorbikes come in 3 main models in the series. Each model varies by suspension, fairings, tires, storage, and optional upgrades. Each model has the same drivetrain and battery packs. The added features set their pricing and configurations apart.
Get $200 off the entire order (Min. of $4000 order required) with Coupon Code: VROOOMIN
2022 Huck Cycles REBEL-S Technical Specs
Get $200 off the entire order (Min. of $4000 order required) with Coupon Code: VROOOMIN
Model: Rebel S
Motor: 3000w
Battery: 60v50ah (3kWh)
Controller: 150a
Tires: Street
Handlebars: Low Rise Tracker Bars
Fairing: Upgrade
Front: Upgrade
Storage: Upgrade
Suspension: Black Standard
Seat: Flat Standard
Other: Upgrade
2022 Huck Cycles REBEL-CS Technical Specs
Get $200 off the entire order (Min. of $4000 order required) with Coupon Code: VROOOMIN
Motor: REBEL CS
Motor: 3000w
Battery: 60v50ah (3kWh)
Controller: 150a
Tires: Michelin Street
Handlebars: Cafe Racer M-Bars
Faring: Spider Web Tank Fairing
Front: Cafe Fairing
Storage: Body Box
Suspension: Sport Rear Shocks
Seat: Cafe Seat
Other: NA
2022 Huck Cycles REBEL-SCR Technical Specs
Get $200 off the entire order (Min. of $4000 order required) with Coupon Code: VROOOMIN
Model: REBEL SCR
Motor: 3000w
Battery: 60v50ah (3kWh)
Controller: 150a
Tires: Shinko Dual Sport
Handlebars: Moto Bars
Fairing: Body Fairing
Front fairing: Headlight Grill
Storage: Rear Rack
Suspension: Dual Sport Rear Shocks
Seate: Flat Cushion Sport Seat
Other: Moto Front Fender
About Huck Cycles
Veteran Brett McCoy founded Huck Cycles in 2019
Huck Cycles are approved by the Department of Transportation (DOT) and are shipped with either a moped VIN or a motorcycle VIN, depending on the customer's home state. Huck sells some of the best custom electric motorcycles with as many North Carolina and American-made parts as possible. They have over 700 high-performance electric mopeds in over 30 U.S. states and six other countries.
Huck Cycles designs, builds, fabricates, and manufactures its mopeds in the United States. Huck started posting his builds to the Instagram biking community in 2019 as a hobby. Early prototypes were well received, which led to a big jump in the number of orders Huck had to fulfill.
With years of experience improving his design aesthetics, geometry, and production, the Huck team began to hire additional resources to prototype and manufacture bikes faster. In 2022 and 2023, newer bike models with updated frames and components are anticipated to launch.
Best Electric Unicycles
Disclaimer: The information presented in this article is derived from extensive research, user reviews, and publicly available information. Our aim is to provide accurate and up-to-date content; however, it is crucial to understand that the opinions expressed are based on the information available at the time of writing. We strongly encourage readers to conduct their own thorough research and carefully evaluate their individual needs before making any purchasing decisions.
eWheels 2023 Summer Deals and New Launches are here!!!
Cheap, reliable, and powerful! TurboAnt Electric Scooters 2023 Sale!
Hi guys! This post may contain affiliate links, sponsored content, and advertisements. We get a small commission for covering topics that interest us (helps us keep the doors open). For more information, please see our privacy policy and disclaimer. Ride safe yall!
2023 Electric Unicycles:
Coupons & Deals:
Apollo Scooters: Get $50 USD worth of free accessories, upgrades, or spare parts with the purchase of a scooter. Code: VROOOMIN
REV Rides: Save $50 off Scooters and EUC's, Code: VROOOMIN
EVOLV Electric Scooters: Free Folding Lock (worth C$80) for every EVOLV model! Use Code: VROOOMIN-LOCK
To keep the site running and information flowing, Vrooomin.com participates in affiliate linking programs. We're also an Amazon Associate, which means we get paid for referring people to Amazon. Please support the channel by clicking on our links.