eWheels is now taking preorders on the Veteran Sherman Max Electric Unicycle
eWheels is now taking preorders on the new and improved, Veteran Sherman MAX
For more firepower, Leaperkim has modified the Sherman with a big 3600WH battery pack, 2800W motor, and thick 10AWG motor phase wires. The new Sherman will have 20% greater torque, over-current protection, and a reworked pedal bracket, among other features. The new Shermans will have a starting price of $3,799.
SUMMARY
Veteran Sherman is the pinnacle of Electric Unicycle Technology
Largest 3,200Wh battery pack, 2,500W motor, 45 MPH Top Speed!
Advanced wheel – not the best wheel for learning to ride EUC, but not impossible either
The 77 lbs Sherman is heavy, good for long distances and high speed adventure
Upgraded

wider 60mm rim, updated pedal hangers, waterproofed top panel

Shipped with the knobby Kenda Tire
Designed by EX Gotway Engineers, who wanted the ultimate high-performance 20″ Wheel

First EUC with an

Top Dashboard

displaying speed, mileage, voltage

Sherman Price increased to $3,699 due to rising battery cell cost
Compare the Veteran Sherman with 2021 Electric Unicycles
The Veteran Sherman is the most sought out Electric Unicycle on the market.
Let me make this clear, the Sherman is a lot of things, and it's sure as hell not for beginners.
This tank of an electric unicycle is intended for the few who dare to mount a EUC of this caliber. It's all performance, high wattage, no frills, and built to satisfy the select few who dare to climb a EUC of this caliber. Only experienced and veteran riders should attempt to ride the Sherman due to its sheer mass, weight, power, and speed.
The average cruising speed is 25 to +35 MPH

Riders have pushed the Sherman past 35 to +45 MPH
Low-end torque is applied when first accelerating

2,500W nominal motor engaged

on high end can send you past +30 MPH without even realizing it
Lighter wheels are preferable for short distances, errands, and food pick-up.
Not the best wheel for short ranges or distances
Great on high-speed road wheel, too heavy for off-road or jumps/tricks
Excellent wheel for experienced riders who want to ride at high speeds and long ranges
Veteran Sherman Electric Unicycle Review
The Veteran Sherman is an absolute tank of an electric unicycle. This 3200WH 45 MPH beast is not for the feint of heart.
Power – 2,500W
Battery Pack –  3,200WH/100.8V, Panasonic NCR18650GA
Top Speed – +45mph
Range – 128 Miles / 120KM
Build Quality
Ride Comfort
Price – Around $3,699
Weight – 77 lbs / 34.9 KG
Features – Digital display, roll cage
Warranty & Customer Service – eWheels
Summary
The Veteran Sherman is a high-speed, high-performance speed demon. The Sherman is ideal for experienced riders looking for the most incredible adrenaline rush on an electric unicycle. The weight, power, and speed are not for beginners.

For similar electric unicycles, check out the Most Extreme Performance EUCs.

The Sherman is Equipped with a 3,200WH Battery Pack
Boasting a 3,200WH battery, the Veteran Sherman is rated to break past the 100-mile range. I have never gone close to the 100-mile mark, but after a few weeks of usage, I've clocked in about 70-80 miles on average before charging. The Sherman has more range than most people can handle and is perfect to replenish any range anxiety for the group ride.
Battery Pack built with 240x Panasonic GA 3.5Ah 18650 cells
Range is rated up to 128 miles, hard riding can produce 60-80 miles depending on road conditions and riding style
Sherman has two charge ports, 8A max
Charger is 100.8V/5A to quickly charge it's a massive battery pack
Tank Like Chassis, High Build Quality
The Sherman looks like a tank, and for good reason.
The Sherman was built for performance and punishment by featuring an anti-scratch steel roll cage. We all know accidents happen while riding; the roll cage was designed to absorb any small bumps to significant impacts to keep the Sherman in one piece.
This innovative design has an aggressive look with a fully functional purpose to keep our $3,500 investment in one piece

I've personally wiped out a few times on my Veteran Sherman, and its body remains in one piece and unscathed
The Sherman is heavy and powerful, new riders should learn on smaller wheels
Sherman is very heavy—challenging to lift into cars or up a flight of stairs
Veteran Sherman replacements are easily accessible and replaceable, visit eWheels for listings
Ride Quality
Is the Veteran Sherman too massive?
It depends on what kind of riding you plan to do. When riding through New York City through areas with high traffic, pedestrians, and stops signs, riding the Sherman can be tiring due to its sheer weight and physical effort to stop and go. When riding the Sherman through smooth roads without traffic, the Sherman will feel weightless and send you soaring at high speeds.
Very smooth, solid, safe and secure ride with acceleration and breaking
20″ knobby tires soak up bumps, pot holes, and curve fore breakfast
Heavier weight allows for stability at high speeds, stronger chassis for crashes, and larger batteries for long range riding
Heavier weight is not ideal for stop and go traffic, would prefer a lighter wheel like a MCM5 for low-speed, short-range, and high congestion riding
Turning tight corners is challenging and risks petal dipping, take longer turns if possible
It comes with small stock pads, decent to start with, but I prefer the chicway pads
The LCD display shows speed, mileage, and battery voltage
LCD Display to change ride mode, tilt back, speed, speed alarm, and calibration settings – Make sure to adjust before riding!
The Veteran Sherman is compatible with the EUC World App
Riding at +40 MPH makes your feel like flying
The Leaperkim team got the Veteran Sherman right, and he is one hard act to follow. With a $3,500 price tag, the Sherman is the most expensive, powerful, most extended range, highest quality electric unicycle on the market, and 100% totally worth the price tag.
6 Reasons the Veteran Sherman Isn't for you
Super expensive when compared to the lower range and power models
Super heavy to transport when compared to 30 MPH wheels
Super powerful, not for beginners
Lower cost, high-performance models can provide 40 MPH performance
Not everyone needs to 100+ mile range
Not everyone wants to ride +45 MPH
6 Reasons to buy the Veteran Sherman
The Strongest EUC on the Market
The Longest Range EUC on the Market
+45 MPH Cruising speeds
The strongest chassis and Roll cage on the market
The price represents features, quality, and range

Most expensive wheel, 100% worth the price for build quality and performance
Cost – $3,699
Free Spin Speed – 61mph/100kph,
Top Speed – 45mph
Nominal – Motor Power 2,500W
Battery – 3,200WH/100.8V, Panasonic NCR18650GA
Max Climb Gradient – 30°
Max Load – 330lb/150kg
Standard Charger – 100.8V/5A
Charging Time – 10hrs
Weight – 77lb/35kg
Controller – 12x HY MOSFETS, peak power output, Active Controller Cooling Dual cooling fans, activation at 45℃
Tire Size – 20″ inch off-road tire
Trolley Handle Integrated into shell body
Dashboard Display Speed, voltage, odometer, ride modes, Wheel settings, etc.
Speed Limit Settings Set through integrated display, future App integration
Calibration Set through integrated display, future App integration
Shell Structure Metal looped roll-bar for lifting, scratch resistant ABS plastic shell
Input Charge Ports Dual-input charge ports, supports up to 8A charge current
Headlight 2x 750lm = 1500lm output
Taillight Turning & brake warning lights
Low Battery Protection Low-voltage Alarm @ 78V, 'get-off now' 75.6V
Battery Protection Overcharged, over-discharge, input short-circuit protection
Controller Over-temperature 185°F/85°C
Package Gross-Weight 88lb/40kg
Box Size 22.4″ Length x 11″ Width x 27.5″ Height (570x280x700mm)
Veteran Sherman Unboxing Video & Top Speed Test
More EUC's Like the Veteran Sherman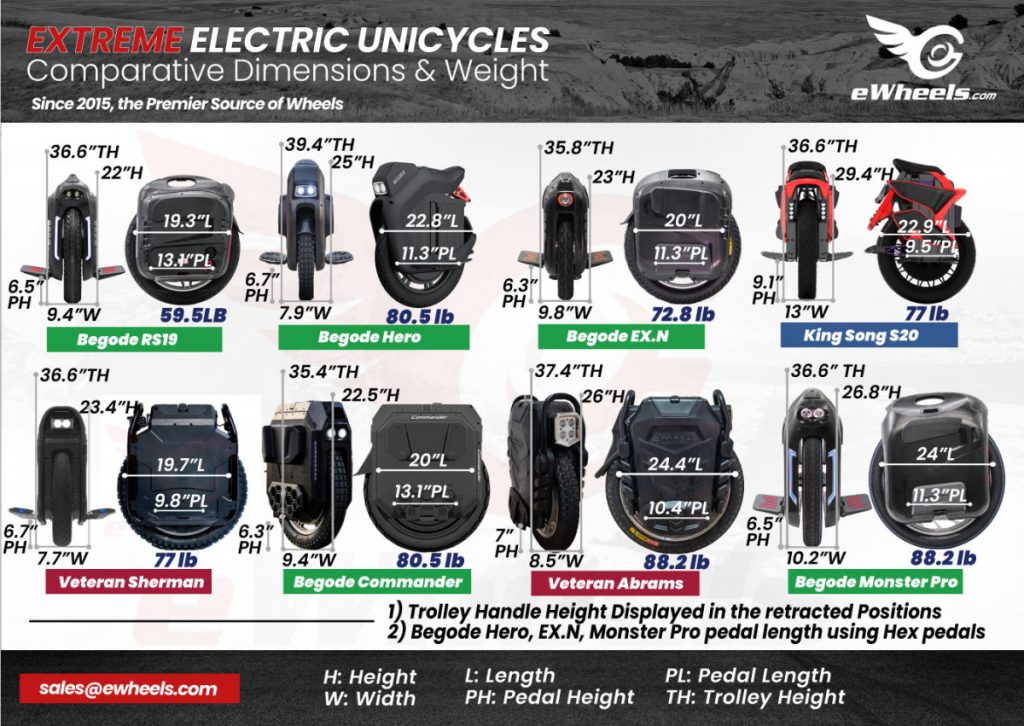 Disclaimer: The information presented in this article is derived from extensive research, user reviews, and publicly available information. Our aim is to provide accurate and up-to-date content; however, it is crucial to understand that the opinions expressed are based on the information available at the time of writing. We strongly encourage readers to conduct their own thorough research and carefully evaluate their individual needs before making any purchasing decisions.
eWheels 2023 Summer Deals and New Launches are here!!!
Cheap, reliable, and powerful! TurboAnt Electric Scooters 2023 Sale!
Hi guys! This post may contain affiliate links, sponsored content, and advertisements. We get a small commission for covering topics that interest us (helps us keep the doors open). For more information, please see our privacy policy and disclaimer. Ride safe yall!
2023 Electric Unicycles:
Coupons & Deals:
Apollo Scooters: Get $50 USD worth of free accessories, upgrades, or spare parts with the purchase of a scooter. Code: VROOOMIN
REV Rides: Save $50 off Scooters and EUC's, Code: VROOOMIN
EVOLV Electric Scooters: Free Folding Lock (worth C$80) for every EVOLV model! Use Code: VROOOMIN-LOCK
To keep the site running and information flowing, Vrooomin.com participates in affiliate linking programs. We're also an Amazon Associate, which means we get paid for referring people to Amazon. Please support the channel by clicking on our links.