Please leave it to Jason & the eWheels squad, who constantly push the envelope and deliver high-quality hardware.
For those who want more, you can have more
If you ask any personal electric vehicle enthusiast about the most desired battery packs, there is a 99.9321% chance that Molicel packs will come up. For riders new to the scene who want a little more firepower, the Molicel P42A's are a mythical cell that actual speed demons can only acquire with the need and a spending plan. Samsung, LG, Panasonic? Solid cells, but if Molicels are in the picture, we'll take a hard pass and move on to some P42A's for extra fun in the sun.
What are Molicel P42A's and why should I care?
Best 21700 cells on the market.
I first learned about Molicel a few years ago, during a July 2021 group ride, when a fellow scooter rider told me about his secret Dualtron Thunder project, powered by a 72V Molicels battery pack. To begin, the elusive Molicel 21700 P42A features a 4200mAh capacity and a maximum continuous discharge rate of 45A. By comparison, some of the fastest 50 mph scooters use LG MJ1 cells, which deliver a full constant discharge of 10A.
Bottom line, the P42A's hit harder and longer than any commercial cell on the market.
Molicels are in high demand and on backorder.
See the difference? These Molicels have 4x the power above the most premium cells found on mass-produced electric vehicles. Like pumping his Thunder with steroids (+ aftermarket Speed Controller), my buddy Thunder upgraded from a modest 50 MPH scooter into a 62+ MPH sustained speed monster for easy speed work. Molicels are also quite expensive, nearly double the price of commonly used LG M50T cells, but they deliver four times the power, which is not a bad deal if you have the financial means to support this level of performance.
Benefits of Molicel Cells & Battery Packs
High Discharge current
Exceptional cycle life
Low temperature operation down to -40°C
High thermal stability, high reliability
Very low impedance
Fast Charge
For more information about Molicels, check out 18650batterystore.com
Molicel 21700 P42A 4200mAh 45A Cells
The P42A sits atop the performance lithium mountain, making it ideal for riders looking to push their wheel limits. With more than four times the maximum power, the P42A is an obvious choice for riders looking for increased capacity from low to full battery, improved hill climbing, increased sustained top speed, and faster-charging potential.
Model: INR-21700-P42A
Size: 21700
Style: Flat Top
Nominal Capacity: 4200mAh
Continuous Discharge Rating: 45A
Nominal Voltage: 3.6v
Protected: No
Rechargeable: Yes
Dimensions: 21.40mm x 70.00mm
Weight: 67.8g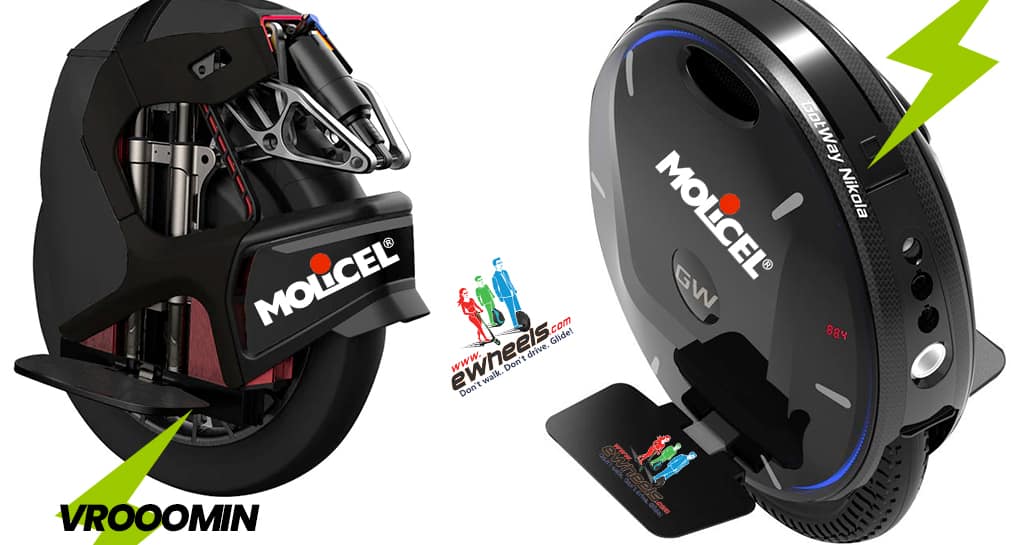 Will you gain additional top speed?
More power all around.
Not necessarily, but you will gain a boost in acceleration and the ability to maintain the highest speeds possible with your given rig. Imagine running a full sprint up a hill or, in the realm of EUCs, a complete send without worrying about cut-outs or brownouts! Molicel's are renowned for handling demand efficiently, reaching insanely high discharge rates without sacrificing performance. If the goal is higher "top speed," riders need to reconfigure their firmware, wiring, and motor setup — not a realistic task for enthusiasts/users like us. For riders on E-bikes or scooters, most common Frankenstein applications utilize aftermarket controllers and motors imported from China.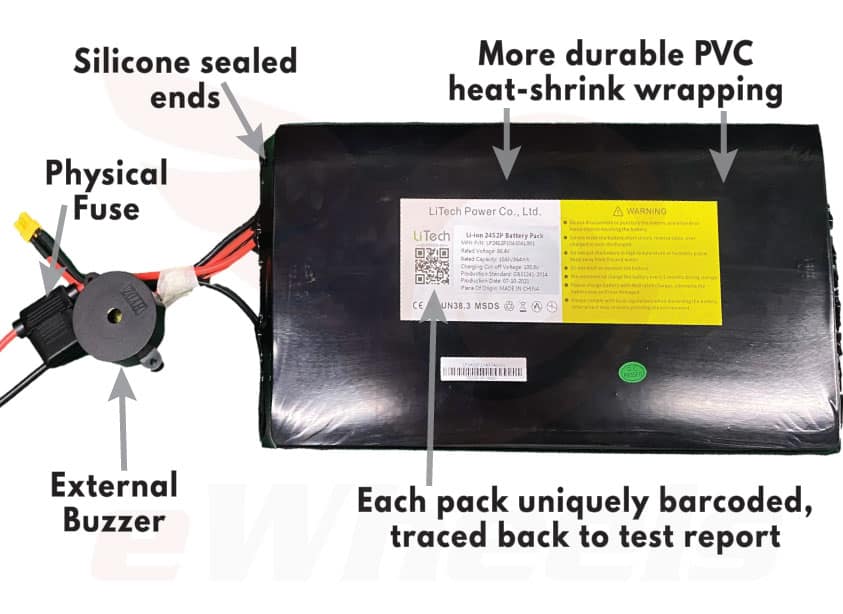 What is a comparable cell?
Samsung 40T's a close second… 40T's 35A vs Molicel's 45A
With a maximum discharge current of 35A, the Samsung 40T is a close second to the P42A. 40T cells will be included in the upcoming Begode Master Litech battery packs. The Samsung 40T cells also come in at a lower price with close to the comparable performance.
What effect does this have on Beode Nikola+ and King Song S18?
Thanks alot Jason and William
Again, please leave it to Jason and his team to create these limited-edition or special-edition high-performance wheels to make your research and decision-making even harder; thanks a lot, guys. They've taken the already exceptional franchise wheels and boosted their sustained power for any high-speed, adrenaline-inducing ride. You pay for what you get; in this case, you get some dependable wheels on steroids.
Confucius says, before you embark on a journey of performance, choose speed or range.
Having your cake and eating it to.
One drawback is that the cells do have a lower overall capacity with given shell space. The P42A's have less capacity per cell when compared to the most common LG M50LT (4200 mAh vs 5000mAh). This begs the question, would you rather have higher performance or a more extended range?
Are you prepared to maximize your wheels potential?
Push it real good.
In what may be the most critical EUC career decision you make all riding season, the Molicel options are hard to ignore. The Nikola+ and S18 have all of the same specs and features that we've grown to love, with the addition of some secret weapon Molicel packs that accelerate, intensify, and extend performance.
The Real Deal and Wheel Appeal
For even more options to get your battery wheel juices juicing, check out the most extreme performance wheels on the market. May we also suggest checking out the best wheels of 2022? Good luck with your decision, and ride safe, friends!
Now shipped with the upgraded Molicel P42a 2x 748Wh battery pack = 1,496Wh total with up to 4x more power than the standard Begode LG M50LT cells
Benefits of upgraded cells: massively increased power across all voltage ranges, improved hill-climbing, higher sustained max high-speed, larger safety margin, cell longevity, & faster charging potential
Bonus: free wrist guards!
NEW: Now available in a 'Special Edition' Molicel P42a battery pack, with up to >4x more battery power
King Song's bold exoskeleton styled Electric Unicycle, with full-body suspension
Key specs: full-body suspension, 1,110Wh battery, 2,200W motor, 31 MPH max speed, 18×3″ tire
Available in either Black Matte or White
Best Electric Unicycles under $2,600
Disclaimer: The information presented in this article is derived from extensive research, user reviews, and publicly available information. Our aim is to provide accurate and up-to-date content; however, it is crucial to understand that the opinions expressed are based on the information available at the time of writing. We strongly encourage readers to conduct their own thorough research and carefully evaluate their individual needs before making any purchasing decisions.
eWheels 2023 Summer Deals and New Launches are here!!!
Cheap, reliable, and powerful! TurboAnt Electric Scooters 2023 Sale!
Hi guys! This post may contain affiliate links, sponsored content, and advertisements. We get a small commission for covering topics that interest us (helps us keep the doors open). For more information, please see our privacy policy and disclaimer. Ride safe yall!
2023 Electric Unicycles:
Coupons & Deals:
Apollo Scooters: Get $50 USD worth of free accessories, upgrades, or spare parts with the purchase of a scooter. Code: VROOOMIN
REV Rides: Save $50 off Scooters and EUC's, Code: VROOOMIN
EVOLV Electric Scooters: Free Folding Lock (worth C$80) for every EVOLV model! Use Code: VROOOMIN-LOCK
To keep the site running and information flowing, Vrooomin.com participates in affiliate linking programs. We're also an Amazon Associate, which means we get paid for referring people to Amazon. Please support the channel by clicking on our links.