2022 Onyx RCR Electric bike
The Onyx RCR is recognized for its quick acceleration, smooth cruising, and effortless riding. Due to its 60 mph top speed, 75-mile range, and robust 145-pound chassis, this 5400W Extreme Performance electric motorbike is in high demand. Getting to work, the gym, or the supermarket will no longer be a pain; the Onyx RCR will turn every commute into an adventure.
72V of high speed torque Acceleration
3 Speed Modes: (ECO E-Bike 20mph / Normal / Sport)
72V 23AH Removable Lithium 18650 Battery Pack + 5A Battery Charger
17″ High Efficiency Hub Motor Peak Torque 193nm
Heavyweight Motorbike
By design, the Onyx RCR is on the heavier side, providing riders with a stable base to take their electric bike riding to the next level. To make matters even sweeter, the Onyx is outfitted with the most up-to-date lights, electronics, suspension, and full Hydraulic brakes to ensure that riders arrive at their destination securely.
News & Events
Elegant, edgy, and forward-thinking Electric Moped
E-bikes are all the rage these days: they're quick, enjoyable, and reliable, and they can save us a lot of money on our commute. Onyx has just introduced its updated 2022 72V electric bike, which will appeal to those who enjoy the thrill and excitement of owning an electric motorbike.
Retro motor bike design

Scrambler style headlight
Full suspension
Long bench seat
Features pedal and crank rendering the Onyx an Ebike
Many riders are gushing that this is the must-have bike for 2022, and based on the specs, features, and chassis, we might have to agree.
Technical Specs:
Motor: 3KW (5.4 KW peak) hub motor
Top speed: 60 mph
Range: Up to 75 mi
Battery: 72V 23AH removable battery
Frame: Steel tube chassis
Weight: 145 lb
Suspension: Front suspension fork, dual rear coil-over suspension
Brakes: Front hydraulic disk brake, rear regenerative braking and hybrid hydraulic disc brakes
Extras: Large LED headlight and rear LED tail light, 3 drive modes, backlit LCD display panel, bench seat, wide range of accessories
60 mph Top Speed
Sporty
The thing with personal electric vehicles is that with each new release, they get quicker, stronger, and more powerful. Engineers, producers, and even merchants compete to provide the most features and specifications in exchange for our hard-earned cash. The Onyx RCR is the product of this race, and it's not your typical motorbike; the Onyx is a full-suspension motorbike capable of reaching speeds of 60 mph!
On a typical e-bike with a top speed of 20 mph, the Onyx's performance is difficult to match. In many aspects, the Onyx tow's the line of being an electric motorcycle.
Hydraulic Front Disc Brakes
Hybrid Rear Hydro/Mechanical Disc Brake
Anti theft alarm with key fob
LCD Display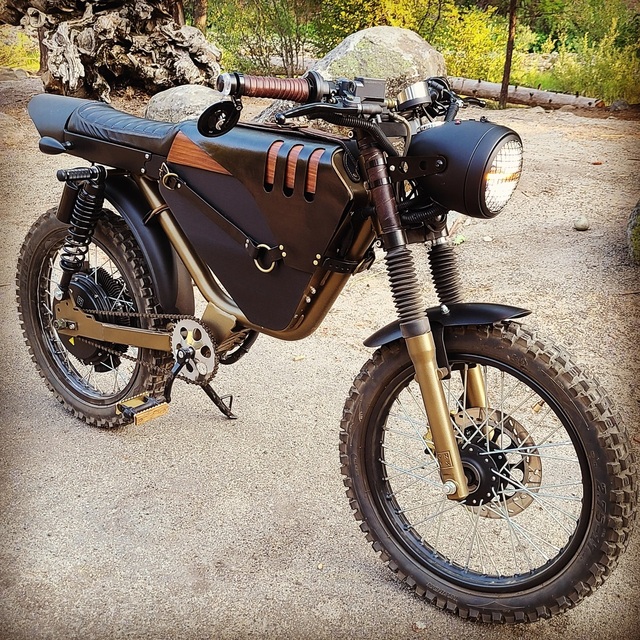 75 miles range
Powerful
Any electric vehicle's most vital, most expensive, and fire-breathing heart is the battery. They're mighty, charge quickly, and recharge for pennies. Forget about rising gas prices and traffic jams; these lithium-ion battery packs will take care of everything for you. The Onyx can go the distance, making any trip to the store or work much more enjoyable.
With a 1,656-watt-hour battery, it can travel up to 75 miles on a single charge. The Onyx's 5400W motor and Full Hydraulic (ABS) get your heart pumping and gauges up to speed to bring you to your destination safely and with a big smile from ear to ear.
Max range is 74 miles per charge, 25-35 miles for real world mixed usage riding
Battery options: 23AH, 41Ah, 23AH, 41AH
Battery chargers: 5AH, 10AH
Riding personal electric vehicles is fast, enjoyable, and environmentally friendly.
Did you know that charging an Onyx battery pack can cost as little as ten cents? That's ten cents for up to 75 miles of pleasure in the sun with the wind in your face and your heart pumping. When riding an Onyx down the fun thrills boulevard, who wants to be stuck on the bus? The Onyx is undoubtedly not a beginner's bike; with the power, please ride with full protective gear.
Futuristic
The design is what distinguishes an excellent electric vehicle from the rest. Why ride an unsightly electric bike if you wouldn't wear an awful pair of shoes? The Onyx RCR is a stunning motorbike inspired by café-style motorcycle designs. The retro throwback is unforgettable thanks to its big LED headlights, front fork suspension, rear coil-over, leather saddle, front halo headlights, and overall vintage but futuristic finishing.
Many other their bike manufacturers have attempted to replicate the Onyx design formula, but only few have come close.
Suspension: SHRTY – 3in (5cm) lower overall ride height from our STD option.
Wheelbase (center of wheel to center of wheel) – 47.09 inches
Seat Height (height from ground to seat) – 33.38 inches
Features
The Onyx team made sure that the Onyx was configurable. Colored panels, knobby tires, front grills, fenders, and suspension sizes are all available on the Onyx. Each Onyx can be tailored to each rider's specific demands, budgets, and conditions. One thing to remember is that pricing can add up quickly, so consider what features you desire vs. what you need.
Panel Options: Standard or Black
Turn Signals: Standard or Black
DRT Kit: standard, none, DRT standard, DRT Kit Shorty
STD: Silver Anodized, BLK: Black Anodized.
DRT Kit: Knobby Tires, Headlight Grill, Front and Rear Fenders, Fork Gators, Rear Rack
Is the Onyx RCR the best choice for you?
With the rise in gasoline prices and the popularity of electric motorcycles, it's no surprise that electric mopeds are becoming increasingly popular. They have the style, power, and aesthetics of a motorbike while maintaining the size, portability, and practicality of an e-bike for the majority of users. Who wants to be caught in traffic when we can ride our bikes freely in the bike lane?
What I like best about the Onyx RCR is that we can switch from street to bike lane anytime. The RCR already has a solid reputation, but Onyx adds to it with its long-lasting construction, easy-to-access parts, and smooth ride.
Best Electric Unicycles
Disclaimer: The information presented in this article is derived from extensive research, user reviews, and publicly available information. Our aim is to provide accurate and up-to-date content; however, it is crucial to understand that the opinions expressed are based on the information available at the time of writing. We strongly encourage readers to conduct their own thorough research and carefully evaluate their individual needs before making any purchasing decisions.
eWheels 2023 Summer Deals and New Launches are here!!!
Cheap, reliable, and powerful! TurboAnt Electric Scooters 2023 Sale!
Hi guys! This post may contain affiliate links, sponsored content, and advertisements. We get a small commission for covering topics that interest us (helps us keep the doors open). For more information, please see our privacy policy and disclaimer. Ride safe yall!
2023 Electric Unicycles:
Coupons & Deals:
Apollo Scooters: Get $50 USD worth of free accessories, upgrades, or spare parts with the purchase of a scooter. Code: VROOOMIN
REV Rides: Save $50 off Scooters and EUC's, Code: VROOOMIN
EVOLV Electric Scooters: Free Folding Lock (worth C$80) for every EVOLV model! Use Code: VROOOMIN-LOCK
To keep the site running and information flowing, Vrooomin.com participates in affiliate linking programs. We're also an Amazon Associate, which means we get paid for referring people to Amazon. Please support the channel by clicking on our links.