The Fastest Electric Scooters on the Planet
Hi guys! This post may contain affiliate links, sponsored content, and advertisements. We get a small commission for covering topics that interest us (helps us keep the doors open). For more information, please see our privacy policy and disclaimer. Ride safe yall!

The Dualtron Ultra was one of the first production electric scooters to reach +50 mph. That was back in 2017, and the race to join the +60 MPH club began shortly after.
Electric scooters provide an unforgettable riding experience due to their dual motors, standing riding stance, and compact power-to-weight ratio. If you've ridden a performance electric scooter, 20 mph feels like 40 mph with fresh air against your face and your hands securely set over the throttle and brake calipers. Due to advancements in lithium cell technology, electronic speed controllers, and high-wattage BLDC motors, more premium scooters are pushing past the 60 MPH barrier and into 70 MPH!
Fastest Electric Scooters on the planet
Dualtron Ultra 2 – 60 MPH, 6,640W

Kaabo Wolf King GT – 62 MPH, 8,400W
Dualtron Thunder 2 – 62 MPH, 10,080W
Nami Viper – 62 MPH, 8,400W
Weped FF – 62 MPH, 12,00W
Bluetran Lightning – 50 MPH, 5,040W
Bronco Xtreme 2 – 62 MPH, 8,400W
RoadRunner Tronic – 65 MPH
Dualtron X2 – 65 MPH, 8,400W
Weped GTR – 65 MPH, 20,000W
Dualtron Storm Limited – 70 MPH, 11,500W
Weped SST – 70 MPH, 30,000W
Rion Thrust – 80 MPH ???
Weped FS Hyper – 90 MPH
NUMO SLACK CORE 920R – 90 MPH
Fastest Electric Scooters by Advertised Max Speed
SUMMARY
Fastest electric scooters on the planet – Updated list
The list is based on manufacturers' rated top speed
Individual speeds will vary based on road conditions, weight load, and battery charge
Electric scooters are quickly becoming one of the fastest personal electric vehicles on the market, thanks to the latest advancements in electric speed controllers and high-discharge lithium batteries.
We've put together a list of the world's fastest electric scooters in case you want to let out your inner speed demon. All the models are available and on sale at the time of this writing. For lower-powered options, check out our guide to the finest 30 MPH, 40 MPH, and 50 MPH electric scooters for 2023.
When electric scooter engineers fight for top-speed bragging rights, everyone wins. Here's our revised list for 2023.
Off-Road Electric Scooter at a Great Price
While it isn't the fastest electric scooter on the list, it is one of the most well-rounded and approachable electric scooters available. The Ultra 2 weighs 88 pounds and has a 6.4 KW engine and a 2,540 WH battery. It can reach speeds of 60 miles per hour (if you're lightweight) and has a maximum range of 70 miles. The Ultra 2 is a fantastic deal for a high-performance electric scooter that can coast in the bike lane while simultaneously ripping down the empty roadway. This scooter is massive (like all the others on this list), so make sure you can embrace the 80-pound scooter that is the Ultra 2.
Price: $3,990 – Free Shipping
Power: 6,640W
Top Speed: 55 – 60 MPH
Range: 87 Miles
Weight: 88 lbs
Pros: Powerful, heavy, fast, customizable
Cons: Stable scooter but the first generation had controller issues, square wave controllers, and doesn't have a horn or large headlights
Most popular 72V scooter on the market
It's easy to see why Wolf Warriors are renowned for being powerful, inexpensive, and all-around badasses. For around $3,600, you get an 8.4 KW powertrain, a 115-pound off-road-ready chassis, and a massive 72 V 35 AH LG battery pack, enough power to bring you up to 62 MPH! The King is always all-terrain ready and one of the fastest electric scooters on the market thanks to its dual stem and off-road tires.
Save $50 off Kaabo Electric Scooters with Code VROOOMIN
Price: $3,595
Power: 8,400W
Top Speed: 62 MPH
Range: 70 miles
Weight: 115 lbs
Pros: Insanely powerful, heavy, extremely fast, plush suspension for offroad
Cons: Older generations had battery fuse issues (now fixed), are very heavy, fold down awkwardly, materials and finishes are not as premium as Dualtron models
Powerful 60V Electric Scooter
It's easy to see why WEPED has a cult-like following, they're chassis designs and details are unique and unmatched. The WEPED FF is one of the fastest 60-volt electric scooters on the market, costing around $4,800, which isn't cheap but is anticipated for extreme-performance electric scooters of this caliber. This rocket has a maximum power output of 12 KW and can reach speeds of 60 mph!
Price: $4,800
Power: 12,000W
Top Speed: 60 MPH
Range: 60 miles
Weight: 79 lbs
Pros: very powerful, built for speed, unique design
Cons: limited warranty support/spare parts, not as common as big names like Kaabo, Dualtron, VSETT, very few owners and riders on the market, no active US dealers
Fastest 10″ Scooter 72V 30A System
Are you looking for some high-torque action on a daily basis? The Lightning will send you rocketing to your next destination in two shakes. The Bluetran Lightning is a 72V high-powered warrior of an electric scooter with a compact, heavy, and agile design that weighs 88 lbs and is powered by a 72V 5040W powertrain. It may be the top-value, extreme-performance 10-inch electric scooter you've been seeking for the everyday commute. This sports commuter of an electric scooter is sleek, bold, powerful, and has it all for a fair price for its package.
Price: $2,699
Power: 5040W
Top Speed: 50 MPH
Range: 65 – 90 Miles
Weight: 88 lbs
Pros: Fair price for sports package, strong powertrain, sleek look and feel, lights/horn/signals included
Cons: First generation had issues with suspension links, build quality isn't as nice as Dualtron, the scooter is very heavy for a 10″ scooter
Electric Scooter with Exceptional Performance
An 80-mile range is enough to get you through a full day of getting to work and errands, and there's also the 60 MPH drivetrain to make your commute just a smidge more exciting than your Toyota Camry. The Bronco Xtreme 11 is an 8.4KW powerhouse designed in Singapore that guarantees you'll be among the fastest and boldest riders to reach speeds over 60 MPH!
Price: $4,499
Power: 8,400
Top Speed: +62 MPH
Range: 80 Miles
Weight: 106 lbs
Pros: This is a sinewave race scooter, people love it for its raw performance and sinewave controllers
Cons: Not as popular as Dualtron, some first-generation controllers had issues, design is a clone off Dualtron Thunder models
The Most Ingenious Electric Scooter
The Nami Viper was created for adrenaline lovers, with five settings to select from, including a turbo mode that will propel you past 60 MPH! The Viper has a lot of torque and speed, so it can meet both needs, whether you want an all-around-town commuter or a hyper-scooter that can go over 50 mph. The Viper sports an 8.4KW engine, a 102-pound frame, and a Panasonic 72V/32AH battery pack that will allow any rider to travel faster than fast.
Price: $4,200
Power: 8,400W
Top Speed: 62 MPH
Range: 100 miles
Weight: 102 lbs
Pros: Gorgeous scooter, unique design and features, plenty of features and build quality for the price tag
Cons: Very expensive, large in size and weight, some first generation had smaller batteries than advertised
60 MPH Seated Electric Scooter
Is this a scooter or e-bike? We'll let you decide. Many believe that the EMOVE RoadRunner Tronic offers both speed and comfort, values that some overlook when considering a high-performance, 60 mph set of wheels. With a 55-pound chassis, 72-volt battery pack, and Rion's prized silky Tronic powertrain, it's not a matter of how fast this scooter can go; instead, it's a question of how fast Rion and Voro can produce these custom rockets to meet the demand.
Save $50 off Kaabo Electric Scooters with Code VROOOMIN
The beauty and value proposition of the RoadRunner chassis is that it is lightweight, agile, and dependable; nothing more could be needed when you seek this runner. When you're on a long ride trying to deplete as much of the 2016WH pack as possible, you'll realize that the sitting experience was well worth it, and there will be no more sore and achey feet. The RoadRunner Tronic exemplifies the full potential of this "budget-friendly" 72V seated performance scooter, albeit on steroids. If you have 8K to spare, the Cyberfold series is a baller and heavier option to consider.
Price: $4,500
Power: Dual 5KW Motors
Top Speed: 65 MPH
Range: 56 Miles
Weight: 55 lbs
Pros: lightweight, custom-made, powerful, comfortable, no-frills build
Cons: Exposed controller, wiring, battery, still on 1st/2nd generations, 35AH would be a better option for riding range, other 72V models have more features and amenities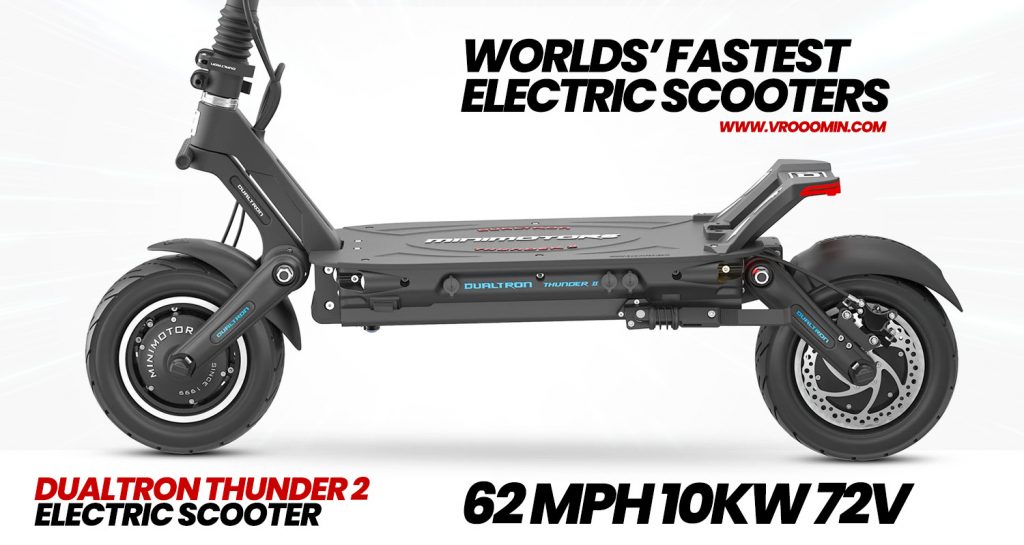 Exceptional Performance Electric Scooter
If you ask any Dualtron dealer what their most popular model is, they'll surely tell you it's the Thunder franchise. Building off the success of its 50 mph predecessor, the second-generation Thunder sports a 105-pound chassis, a 10-kilowatt powertrain, and a gigantic 2540-watt-hour battery, more than enough juice for any suburban commuter or weekend high-speed daredevil. The Thunder 2's powerful drivetrain is built on the same and improved chassis as the first generation but it can propel you up to 62 mph, making it one of the Dualtron's strongest and most refined models with progressive enhancements.
Price: $4,299 – Free Shipping
Power: 10,080W
Top Speed: +62 MPH
Range: 105 miles
Weight: 105 lbs
Pros: Premium design, powerful battery, awesome amenities
Cons: Square wave design, no headlights, very expensive, uses older chassis design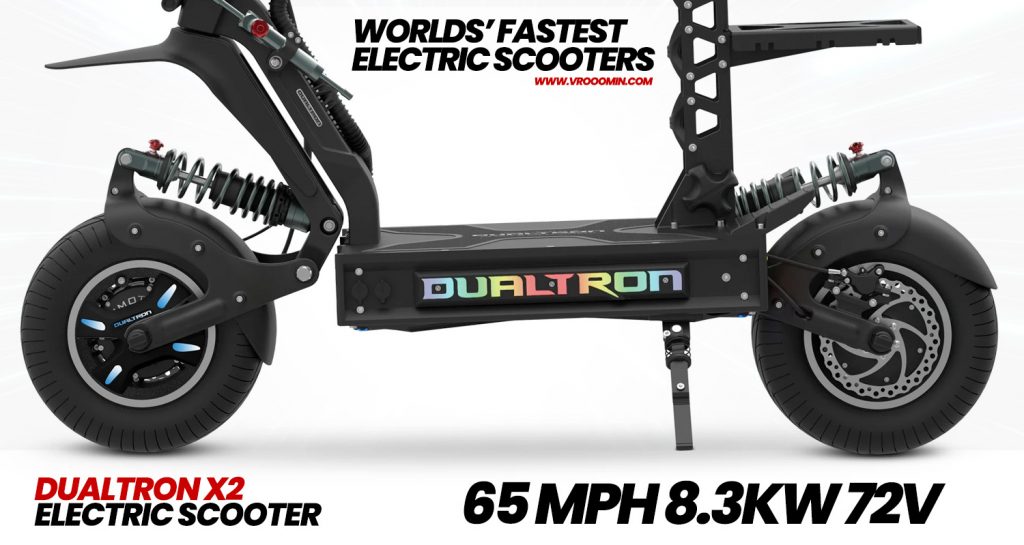 Electric Scooters for Heavyweights
The X2 is a colossal machine that many will gaze at, but are less likely to consider. This 145-pound, 65-mph electric scooter has a 3,024-watt-hour battery pack with a range of up to 93 miles, making it the top dog in the Dualtron food chain. If your electrical company charges you 13 cents per kWh, filling up the X2 would cost you 39 cents (13 cents x 3.024 kwh). If you can fork out $6,500 for this "Cadillac of an electric scooter", you'll get a lot of speed and range for not much money. If there were a king of the scooter jungle, the hefty X2 would be head and shoulders above the rest.
Price: $6,490
Power: 8,300W
Top Speed: 65 MPH
Range: 93 miles
Weight: 145 lbs
Pros: Powerful, stable, premium
Cons: Insanely expensive and heavy, more challenging to maintain due to many parts and sheer size very expensive
Sports Electric Scooter
This electric scooter has the appearance and feel of a rocket ship, and that's because it is. There's no doubt that the GTR is capable of high torque and speed, not many have comparable specs at this higher amp, 60V level. Looking at its drivetrain, a 60V/45AH battery pack and dual hub motors with a 20KW output power the GTR's "modest" drivetrain. You can cruise at 15 mph in the bike lane or take the GTR out on the open road for a top-speed workout; it's up to you if you have the big bucks to secure one.
Price: $5,300
Power: 20,000W
Top Speed: 65 MPH
Range: 80 miles
Weight: 77 lbs
Pros: Fast, compact, lean, WEPED quality
Cons: Spare parts are currently limited, not practical for everyday usage, unknown warranty, and parts support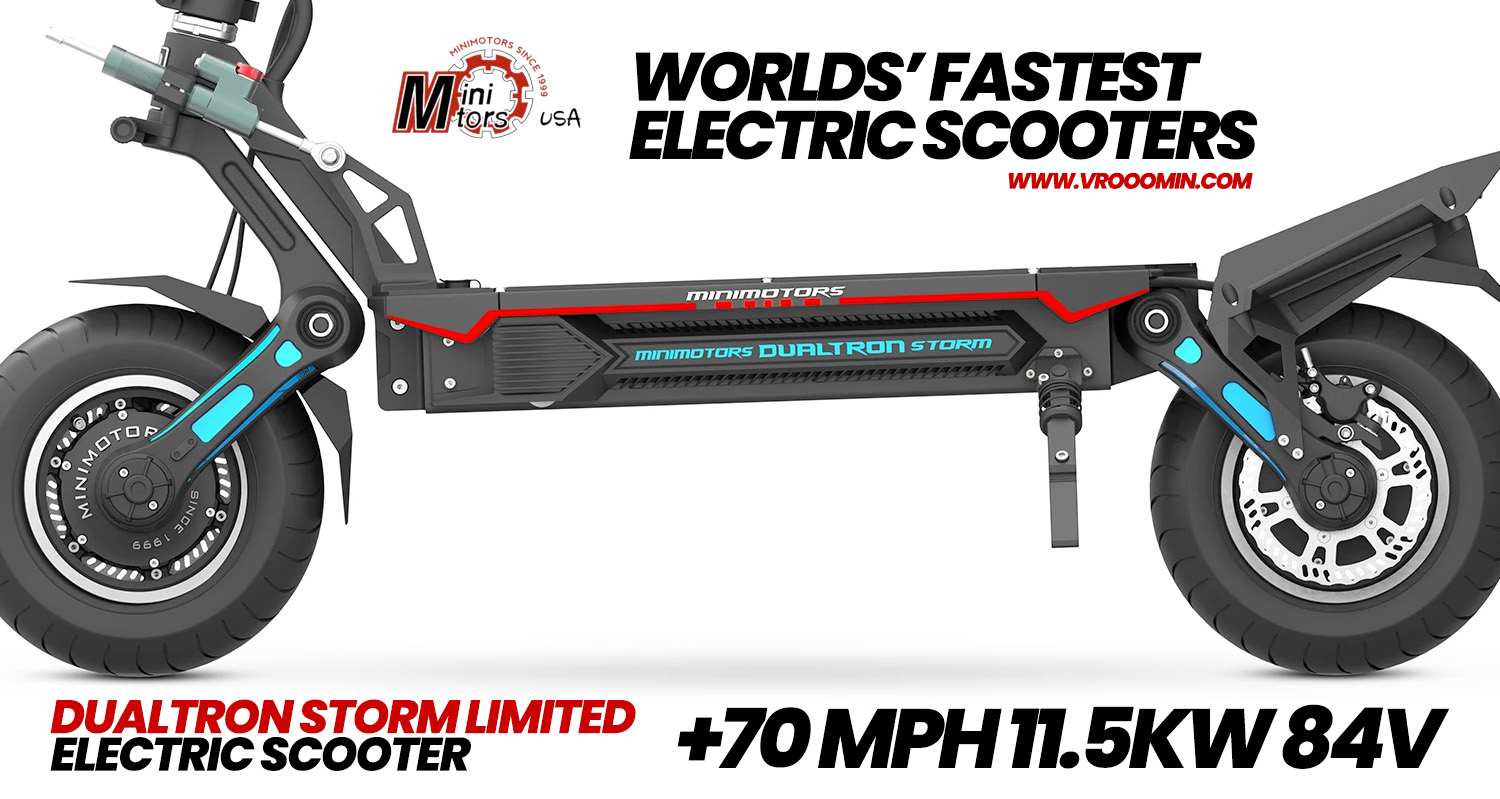 Sports Electric Scooter
Most people won't seek out the Dualtron Storm Limited; it was designed for the type of rider that demands motorcycle performance from a stand-up electric scooter. The Storm Limited is the fastest Dualtron ever manufactured and one of the quickest production electric scooters on the market, with an 11.5KW drivetrain, 84V 45AH LG battery pack, and a top speed of +70 MPH. By the way, fully charging Storm Limited's battery pack would only cost 43 cents, which isn't bad for a 70 MPH electric scooter.
Price: $5,399
Power: 11,500W
Top Speed: 70 MPH
Range: 136 miles
Weight: 111 lbs
Pros: Powerful 84V drivetrain, strongest Dualtron on market, includes horn/damper/more amenities than most other Dualtrons
Cons: Very expensive, first-generation issues with the battery, motor, and controller, Dualtron Thunder 2 offers comparable power, range, and weight for the cost
Sports Electric Scooter
The WEPED SST's primary selling point is its insane 30KW powertrain and 3,240 WH battery pack. WEPEDs are handcrafted in South Korea and are built to perform in high-speed applications. If you want to get around town, the SST has a top speed of 80 miles per hour and a range of 80 miles. The SST is not a toy; riders should wear protective gear when testing the limits of this powerful beast.
Price: $7,299
Power: 30,000W
Top Speed: +80 MPH
Range: 80 miles
Weight: 115 lbs
Pros: Powerful, fast, WEPED build quality
Cons: expensive, heavy, unknown support for parts and warranty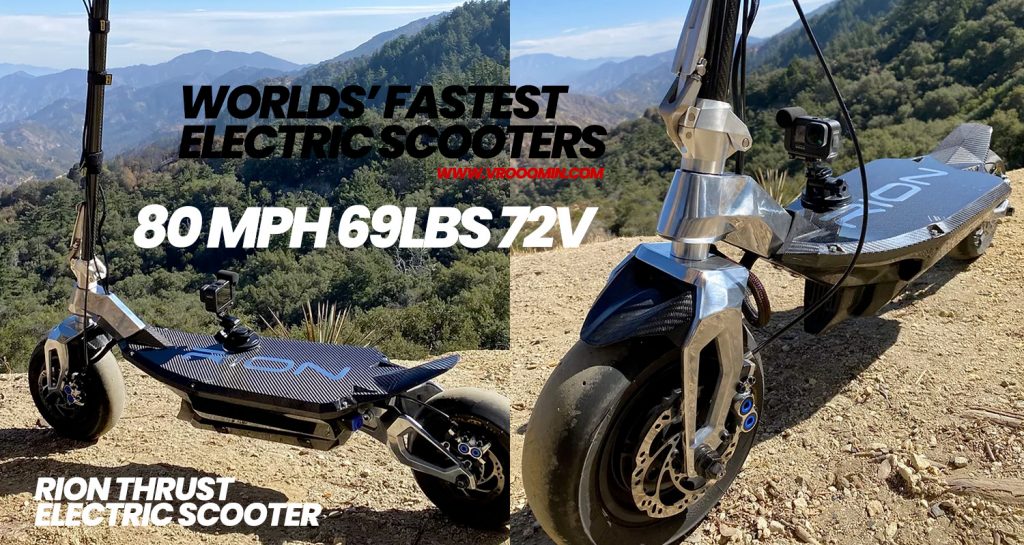 Hyper Electric Scooter
The Rion Thrust chassis, which weighs only 69 pounds and can go up to 80 miles per hour, is the lightest and fastest scooter on this list. Rion Tronic FOC controllers, a carbon fiber chassis, an 84V 35AH Molicel battery pack, Magura MT7 brakes, and PMT slick racing tires come standard on the Thrust. If you can scrape together $8,500 and the patience to wait for +6 months of production time, you can own this hyper scooter.
Price: $8,500
Power: N/A
Top Speed: +80 MPH (Limited)
Range: 50 miles
Weight: 69 lbs
Pros: Build in the USA, powerful, lightweight, Tronic drivetrain, high build quality, barebones design
Cons: No suspension, long build times (1-2 years), no mass production for interested buyers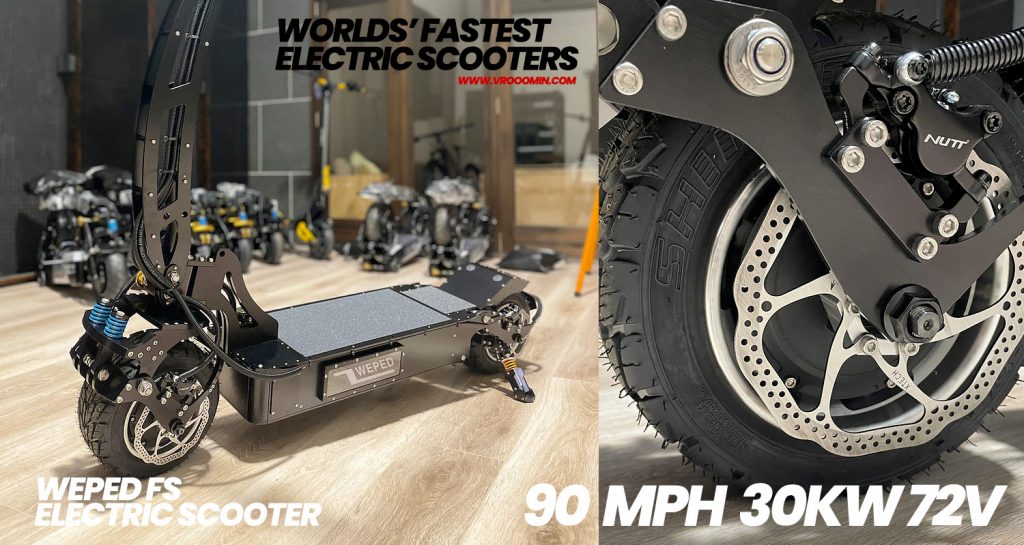 Hyper Electric Scooter
The FS is undoubtedly a race scooter. While the FS's 30 KW drivetrain can get you up to 90 MPH, it also has three modes to help you get to the grocery store, work, or even the bank when in-between speed sessions. In the WEPED lineup, the FS is the pinnacle of electric scooter performance and maybe the apex predator in the scooter universe. The FS comes with a massive 72-volt, 50-amp-hour battery pack, ensuring you get the most bang for your buck, caveat, its going to cost a lot of bucks,
Price: $8,750
Power: 30,000W
Top Speed: +90 MPH
Range: 80 miles
Weight: 123 lbs
Pros: Powerful, fast, WEPED build quality
Cons: expensive, heavy, unknown support for parts and warranty
Four variants to choose from, featuring Samsung 40T and 50E cells
We had to double-take when we looked over the SLACK CORE's specifications. For an $8K+ scooter, this bad boy is pushing 30KW through its dual motors, not surprisingly, as the 920R model includes a hefty Samsung 40T battery pack. For a little push and pull, how about 35A cells? Please sign us up! The NUMO boys have a qualified performance champion, but we'll have to wait and see how this thing performs once it arrives in the United States. The CORE includes the extreme performance starter pack, high torque motors, a high discharge battery pack, 200A phase wires, PMT tires, and 4P Magura MT7s to bring everything together.
Price: $8,000 $9,000+
Power: 30,000W+
Top Speed: +90 MPH
Range: n/a
Weight: n/a
Pros: Powerful, fast, ready for shipping
Cons: very expensive, first-generation model, unknown feedback for spare parts and warranty
Fastest Electric Scooters by Price – USD
Fastest Electric Scooters by Weight – LBS
Fastest Electric Scooters by Advertised Max Range
What is the fastest electric scooter on the planet?
The Slack Core 920R is the fastest scooter on the planet. At the time of this writing, the most rapid production of electric scooters would come from Slack, Rion Motors, WEPED, Kaabo, Bronco, Nami, and MiniMotors. Each manufacturer has made scooters that work well on the street, off-road, on hills, and racing tracks, depending on how the rider uses them. While not proven with footage, for the fastest track racing scooter, I would bet on Rion or WEPED, as their models come with the most potent motors, battery packs, and controllers.
Why are these scooters faster than lower-cost models?
The scooter's motors, controllers, batteries, and wiring make up its configuration. The super scooters have high-speed motors, high-current electric speed controllers, batteries/BMS that can output high amps and dissipate high heat, and thick gauge wiring to handle every bit of extra voltage and temperature. These components are very costly in terms of performance and mass production output.
Can extreme-performance electric scooters be used for commuting?
Most of the scooters on this list are good for daily commutes and driving at low speeds. Although they are heavier, Nami's, Broncos, Dualtrons, and WEPEDs can be decent for running errands but better for pulling high-speed runs. For commuters, we recommend choosing a lighter commuter, last-mile electric scooter instead if you want to hoist it into a car truck or stow it on a high-level train. These high-performance scooters are large, weirdly shaped, and challenging to transport for everyday use. Models like the Rion and WEPED are designed for high-speed runs rather than daily commuting, they also depreciate in value (like any electronic) once you have your first ride.
Are these fast scooters worth their price tag?
Many of the scooters on this list have unique values due to their motors, batteries, controllers, and quality. We recommend that scooter buyers do their research to ensure that their scooters are free of defects, that spare parts and warranties are readily available, and that they are completely aware of the power and risk these scooters pose. When it comes to pricing, keep in mind that these models will depreciate as soon as you ride them, so make sure it is a good investment for commuting and entertainment. Resell values can range between 50 and 70% of the original purchase price.
Inmotion V12HT Electric Unicycle Review Video
To keep the site running and information flowing, Vrooomin.com participates in affiliate linking programs. We're also an Amazon Associate, which means we get paid for referring people to Amazon. Please support the channel by clicking on our links.