This article was a product of teamwork between staff members and external contributors.
Coupon Codes & Deals:
Save $50 off Kaabo and EMOVE electric scooters with Code: VROOOMIN
Save $50 off VSETT, Begode, King Song, Segway with Code: VROOOMIN
Get $50 worth of accessories at Apollo scooters with Code: VROOOMIN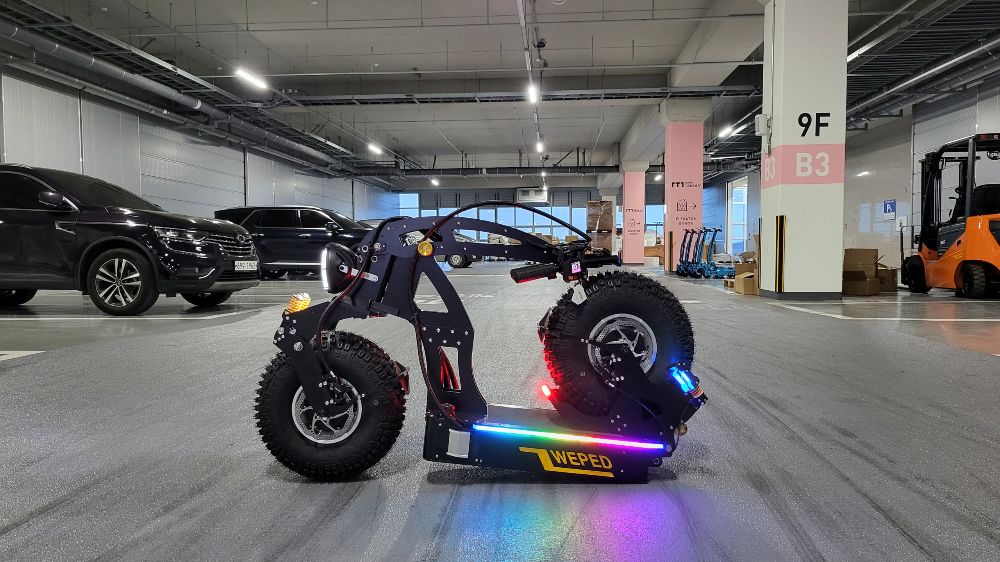 WEPED unveils its latest 16″ Hyper Performance Electric Scooters, the Cyberfold Dark Knight and Rhino. Standing and seated options available.
With its impressive performance specs and futuristic design, the Cyberfold Dark Knight and Rhino may be the most extreme-performance electric scooters on the market.
Kudos to WEPED. Your team has some of the best electric scooter designs and engineering in the personal electric vehicle market. These hyperscooters have massive 16″ wheels, 3600WH–4320WH Samsung battery packs, Kelly controllers, and custom high-speed electric BLDC motors. Could the Cyberfold series be the most sought-after and expensive model in the electric scooter universe?
WEPED Electric Scooters
WEPED is Korea's exclusive corporation in charge of designing, manufacturing, and assembly of electric scooters. The WEPED brand was created in 2014 and has been at the forefront of driving innovation.
WEPED is expanding its global distribution, and storefronts are expanding its operations in France and New York. People worldwide are becoming more eager to own and ride WEPED performance electric scooters.
Model: Cyberfold Dark Knight
Top Speed: N/A
Battery Pack: 72V 60AH Samsung SDI 21700 50E
Drivetrain: 2022 Hyper Controller / Dual Motor
Range: 93 Miles
Tires: 16″ Off-Road
Price: $7,990 – $8,990
Model: Cyberfold Rhino
Top Speed: 55 MPH
Battery Pack: 60V 50AH Samsung SDI 21700 50E
Drivetrain: 2022 Controller / Dual Motor
Range: 93 Miles
Tires: 16″ Off-Road
Price: $5,990
WEPED Dark Knight Updated Specs
When it comes to the Dark Knight, everything is substantial with this package. Big tires, batteries, controllers, chassis, and performance. This extremely loud scooter has all the characteristics you could possibly want.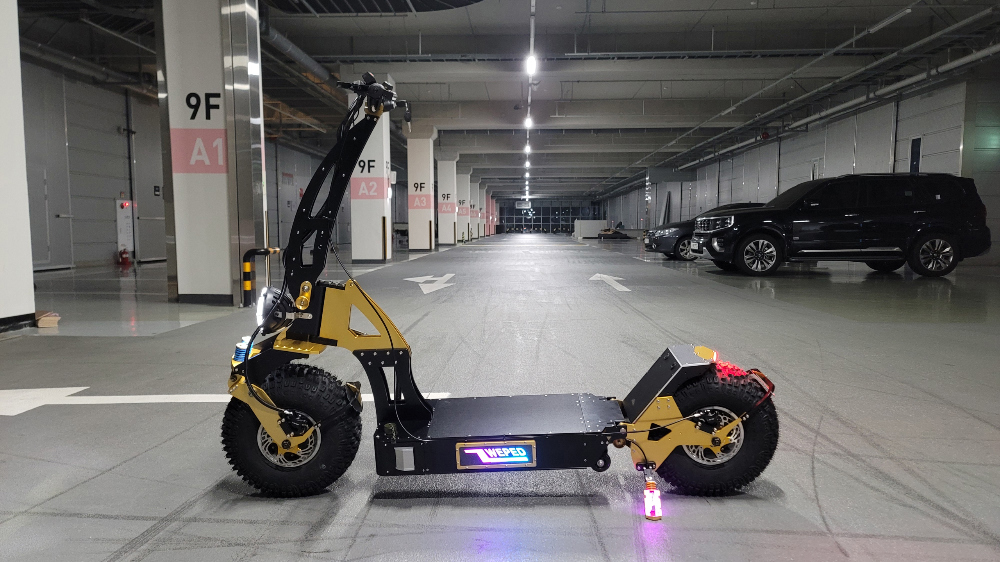 A 176 lb roadster from another planet with a top speed of 60 mph, a range of 90 miles, plush suspension, a 4320 Samsung 50E battery pack, and hydraulic brakes. The Dark Knight is a performance baddie with 16″ wheels that will make your toes tingle and is a wonder to behold.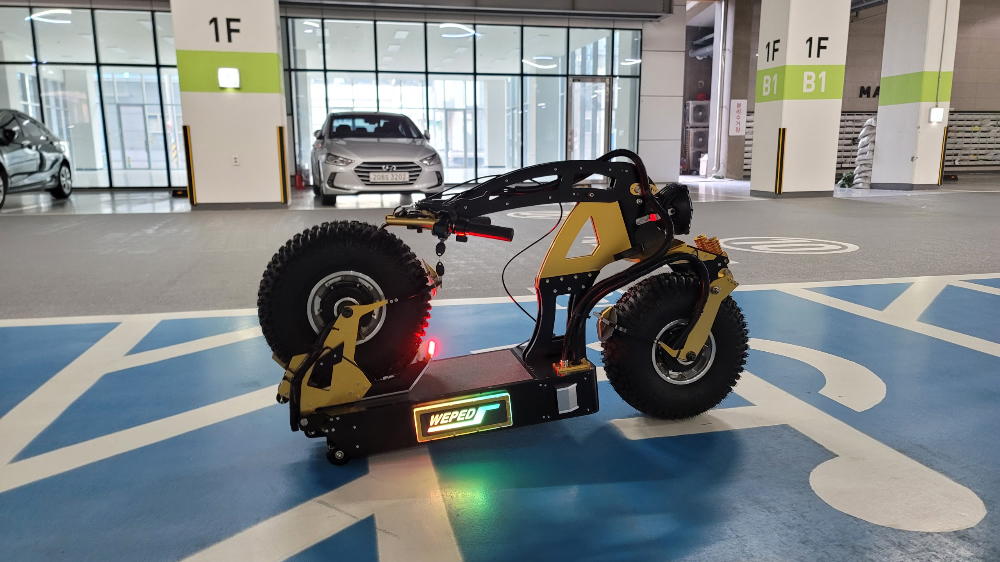 Some customers are hesitant about this scooter because there isn't much info about the aftercare. With such a big performance comes a high price, with a unit starting at $8,990.
MODEL: Dark knight Standing Hyper
COLORS: Black
BATTERY: 72V(Samsung SDI 21700 50E)
Capacity: 60Ah (Battery capacity can be added +30A)
Controller: Hyper Controller/Dual hub motor
Range: about 150km / 93 miles
Speed: 100±10 km/h / 60 mph
tire: 16inch Off-load Tires
BRAKE: Front/rear Hydraulic brake
E-BRAKE: Included
SUSPENSION: Front/Rear: Dual Spring Shock Absorbers
Weight: 80kg / 176 lbs
Unfold: 1738 x 329 x 1224 mm
Fold: 1338 x 329 x 742 mm
WEPED Cyberfold Dark Knight Electric Scooter Seated Version
WEPED was created in 2014 to revolutionize the 100-year-old scooter business and accelerate the broad adoption of EVs in and around major cities. As kids in Korea, we always wanted to go around town fast and independently, but our only options were loud, heavy, and ecologically harmful combustion engine scooters.
A few years ago, we realized that recent developments in electric drive trains and batteries opened opportunities for a new electric two-wheeler concept. Rather than keeping with the typical scooter layout and swapping out the drivetrain, we took a fresh approach and created something entirely different.
The result? A new vehicle category is a cross between a bicycle and a motorcycle and is lightweight, exciting to ride, and incredibly user-friendly. WEPED is dependable, low-maintenance, and always a fun experience, whether you're commuting or exploring your area.
We want to avoid a climatic disaster, build a community of riders, and provide riders from all walks of life with freedom of travel. Join us, have fun, and let's WEPED our way to a cleaner future!
WEPED Cyberfold Rhino Electric Scooters, Standing and Seated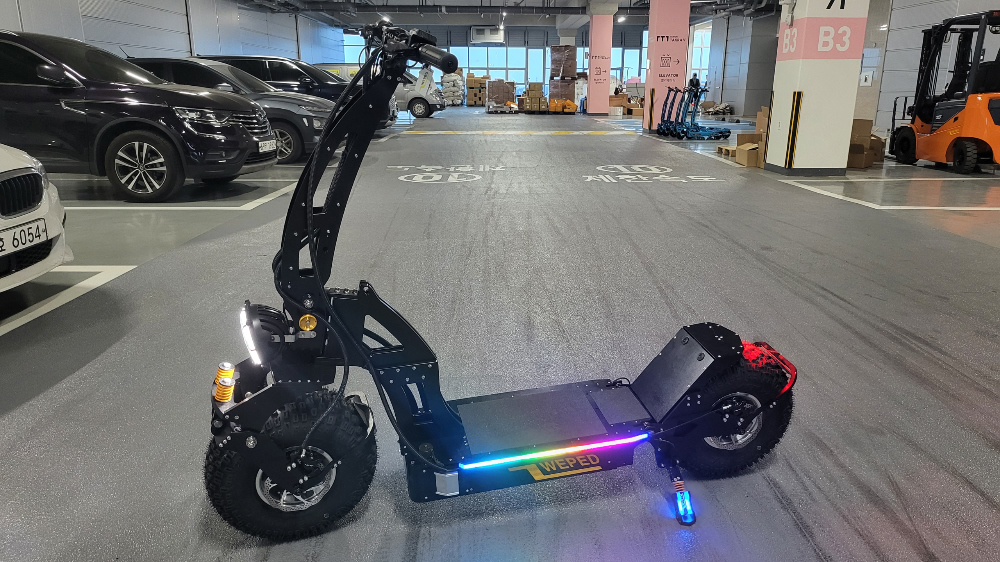 WEPED Scooters are the world's fastest electric scooters. Many scooter brands claim to have the most power, acceleration, and speed, but only WEPED can genuinely walk the walk and talk the talk.
WEPED Scooters are not only the world's fastest electric scooters but also some of the highest-powered and fastest.
WEPED Scooters are competitive with Rion Scooters and Slack Core Scooters. They are equally fast, and the acceleration of WEPED's higher-end models is mind-boggling. You will be amazed when you finally stand on one and experience the full power and quality that a WEPED offers.
WEPED Cyberfold Rhino Updated Specs
The Rhino, the lightest Cyberfold of the group, weighs only 132 lbs. But don't be fooled by its appearance. This 60V 55 mph seated scooter has one of the most potent seated chassis on the market, full hydraulics, a 93-mile range, and extreme controllers.
A bike, perhaps? A moped, perhaps? Varying answers will be given to you by a few other people. The sturdy Rhino is intended to be a formidable opponent.
Its 16″ wheels, Cybertronic chassis, and 3000WH 50E pack combine to make it one of the most sought-after seated scooters obtainable.
MODEL: Cyberfold Rhino
COLORS: Black
BATTERY Cell : 60V(Samsung SDI 21700 50E)
Capacity : 50Ah
Power: Extreme Controller/Dual hub motor
Range : about 150km / 93 miles
Speed : 90±10 km/h / 55 mph
tire : 16inch Off-load Tires
BRAKE FRONT : Hydraulic brake
BRAKE REAR : Hydraulic brake
E-BRAKE : Included
SUSPENSION Front: Spring Shock Absorbers
SUSPENSION Rear: Dual Spring Shock Absorbers
WEIGHT: 60kg / 132 lbs
DIMENSIONS: 1390x 246 x 865 mm
Are you interested in the WEPED Cyberfold Electric Scooters?
The Cyberfolds will run you over $6,990 – $9,000 USD before fees and shipping. Reach out to WEPED directly to order.
Address
924, 555, Byeolmang-ro, Danwon-gu, Ansan-si,
Gyeonggi-do, Republic of KOREA
WhatsApp : +821030071994
Social Media
wepedmall@naver.com
Youtube : WEPED 연제혁
instagram : @weped_official
Hi guys! This post may contain affiliate links, sponsored content, and advertisements. We get a small commission for covering topics that interest us (helps us keep the doors open). For more information, please see our privacy policy and disclaimer. Ride safe yall!
2023 Electric Scooters:
2023 Electric Unicycles:
Coupons & Deals:
Apollo Scooters: Get $50 USD worth of free accessories, upgrades, or spare parts with the purchase of a scooter. Code: VROOOMIN
REV Rides: Save $50 off Scooters and EUC's, Code: VROOOMIN
EVOLV Electric Scooters: Free Folding Lock (worth C$80) for every EVOLV model! Use Code: VROOOMIN-LOCK
To keep the site running and information flowing, Vrooomin.com participates in affiliate linking programs. We're also an Amazon Associate, which means we get paid for referring people to Amazon. Please support the channel by clicking on our links.