Fast, Fun, & Ready for Adventure
MiniMotors has over 20 years of expertise in the design and manufacturing of high-capacity electric scooters, and has established a reputation for being at the forefront of electric scooter technology. While most Dualtrons can reach speeds of up to 40 mph, with some reaching speeds past 60 mph, riders may purchase an entry-level commuter model that is affordable for most city commuters.
For around $1,599, MiniMotors USA introduces the new 2022 Dualtron Mini Electric Scooter, a strong 32 MPH commuter scooter with a range of up to 40 miles per charge.
Public transit can be unreliable, the Dualtron Mini, on the other hand, is always on time!
With the 32 MPH Dualtron Mini Electric Scooter, you can go green and go electric!
The Dualtron Mini is a sight to behold – you can tell that the 32 pound Dualtron Mini is a stylish, aggressive, powerful, and attractive electric scooter by its appearance. But why should this $1,599 electric scooter be considered against other scooters in its class? See why the Dualtron Mini could be exactly what you're looking for and why it might be a good fit with your daily commuting needs and wants.
News & Deals
Electric scooters are taking over the world, for good reason. You can see them everywhere: in your neighborhood, at the park, in the office, and everywhere else.
The act of driving a car and using public transit can be time-consuming, costly, and often times, irritating. Given that you have to deal with traffic, inconsistent timetables, and road congestion, why not take command of your commute by riding an electric scooter?
The Dualtron Mini is a 48-pound, 32-mph commuter electric scooter that is ideal for riders who are new to the electric scooter movement. Commuter electric scooters are less expensive, with a top speed of 20-30 mph, weigh 30-50 lbs, and have a range of up to 40 miles for one charge.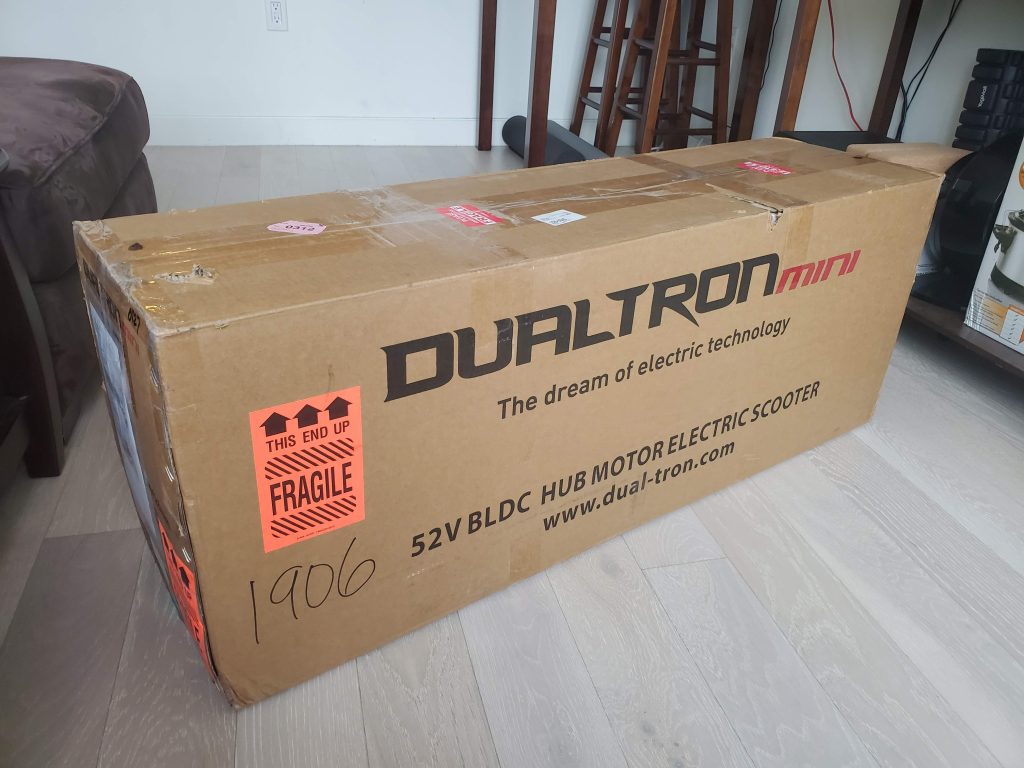 They are also more environmentally friendly.
If you go to work, school, or the grocery store on an electric scooter you will save both time and money as well as energy because of the efficiency of these modern day vehicles. Why spend your time caught in traffic or waiting for a bus when you can travel by a fun, fast, and portable electric scooter! Lets take a closer at the Dualtron Mini Specs.
Benefits of Commuter Electric Scooters
Cruise in the bike lanes, no traffic jams to deal with
Save money on gas, costs less than 10 cents to charge a full battery
No parking lots or fees to deal with
No crowded buses or dirty handrails to reach for
Ubers charges add up over time
No sweat when climbing hills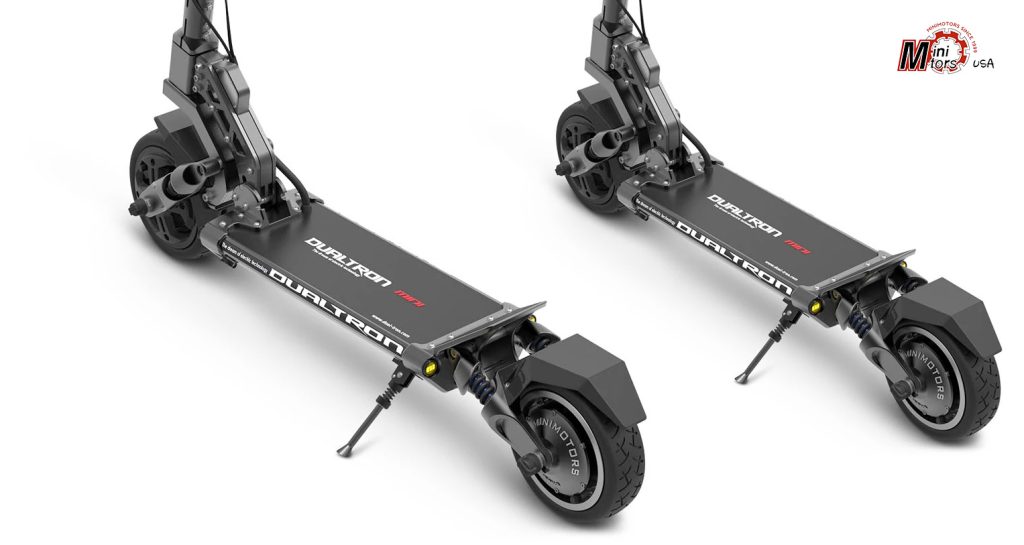 Not Your Average Rental Electric Scooter
The Dualtron Mini is capable of reaching a top speed of 32 MPH
Power, speed, and acceleration are the three most important characteristics of any electric vehicle. With its 1,450W single BLDC motor, the Dualtron Mini is capable of reaching peak speeds of 32 mph when used at its highest settings, which is ideal for getting you where you need to go securely and swiftly. However, even though most riders will not be riding at peak speeds in most scenarios, it is always fun to see what this scooter is capable of while on an empty stretch of road.
In case you're unfamiliar with electric scooters, when you pull the throttle, the scooter's controller board draws current from the battery, through the motor phase wires, and into the magnetic coils in the motor, causing the rim and tires to spin, which propels the scooter forward. Riders' typical speeds in most neighborhoods, bike lanes, and city commutes range between 12 and 25 MPH, much, much faster than walking and bicycle riding.
Dual Drum Brakes and an Anti-lock Braking System
The 2022 Dualtron Mini is upgraded with dual drum brakes for more stopping power
Let's face it, traveling fast is enjoyable, but stopping quickly is essential if you want to get at your destination without a problem. To maintain complete control over your scooter at its peak speed of 32 MPH, you'll need an extremely powerful and dependable braking system. Dual Drum Brakes and an Anti-lock Braking System (ABS) are included in the Dualtron Mini to offer you a dependable and safe method of stopping.
All you have to do is tap slowly on the brake lever while leaning slightly backwards to neutralize the forward motion of the scooter. This will take some getting used to, thus it is recommended that users start at extremely modest speeds while connecting with their electric scooter for the first time riding.
Safety and Hill Climbing
Wear a helmet!
We strongly advise riders to use appropriate safety equipment when riding in any electric vehicle. For riders who need to cover steep terrain, the Dualtron Mini has a maximum gradient of 37 degrees, which is impressive for a scooter of its size and price. For riders looking for an even more powerful scooter for even steeper slopes, we recommend that they look at 40 and 50 MPH electric scooters designed specifically for this purpose.
Power: 1,450W BLDC Single Hub Motor
Cruising Speeds: 15 – 25 mph
Top Speed: 32 mph
Gradient: 37 degrees
Top speed may be lower due to steep hill climbs, heavier rider weight, and low battery
Higher wattage scooters have more toque for hills and faster acceleration
Quality LG Battery Pack
The Dualtron Mini has a max range of 36 miles per charge!
The battery pack is the heart of an electric scooter, and it is also the most costly component of any electric scooter on the market. The Dualtron Mini is equipped with a high-quality 1092WH LG battery pack, which has a max range of 40 miles, so much power! LG cells are among of the highest-quality cells available on the market, they are on the expensive side, but they allow for greater discharge, better performance, and a longer life span than most other generic battery brands.
Real Word Range
New riders should be aware that the performance of an electric scooter will vary based on the rider's weight, weather conditions, road conditions, and acceleration style. A basic rule of thumb is that if riders do not maintain maximum speeds during their rides, they will be able to go within a reasonable distance of their advertised range.
Riders should anticipate shorter range if they are riding in cold weather conditions. When we test electric scooters, we find that users receive at least 60% of the promised range, which is consistent with our findings. When riding in ideal circumstances, lighter riders will have the most range!
Made for City and Suburbs
For riders in the city or suburbs, 36 miles is a significant amount of distance to cover, just imagine riding a bike that far! There are plenty of rides to the grocery store, gym, dentist office, job and your favorite restaurants within a 36-mile radius of your starting point. Take back control of your time, there will be no need to deal with parking meters, traffic jams, or bus stops.
Battery: 52V LG Battery Cells
Max Range: miles
Charge time: 15 hours
Watt Hours: 1,092WH Battery Pack
Perfect for commuting to work, gym, dentist
Build Quality & Portability
The Dualtron Mini is constructed with high-quality materials, a sound structural design, and it is equipped with all of the Best Features to provide the most enjoyable riding experience possible.
The Dualtron Mini's chassis design, clean lines, geometry, and construction materials combine to make it one of the best-looking and most durable 32-mph scooters on the market, with exceptional performance. There is no other scooter on the market that has the same attention-getting geometry as the Dualtron Mini.
For many first-time users, an electric scooter comes at a high upfront cost. However, after doing the calculations, you will discover that an electric scooter will save you a significant amount of money and, more importantly, a significant amount of time.
Dualtron Electric Scooters
For riders new to electric scooters, top brands, and build quality, Dualtron's are well-known for producing high-quality, high-performance, and dependable electric scooters that will endure for thousands of miles on the open road. Built with aviation grade aluminum alloy, SCM 440 steel, strong plastics, and top-of-the-line electronics, each Dualtron electric scooter will give you a tried-and-true, dependable, and safe ride to your destination.
Max Load: 220 lbs – Not the best scooter for heavy weight riders
Product Material: Frame is aviation grade aluminum alloy, scm440 steel, hard plastics, and high-quality electronics
Portability: At 44 lbs, the Dualtron Mini is on the lighter side, great for most riders to lift up flight of stairs. This Scooter will fit in most car trunks and back seats. The Dualtron Mini is great as a last mile solution for any rider who needs a zippy way get to work!
Ride Quality: For a smooth and comfortable ride experience, the Dualtron Mini is equipped with 9″ pneumatic tires and rubber / spring suspension to soak up all the pavement irregularities and road vibrations. With all electric scooters, its best to avoid all pot holes and keep your eyes focused on the road at all times. The Mini's long deck, folding handle bars, and EYE throttle make for smooth acceleration and cruising.
Maintenance: Scooter's are very low maintenance when compared to cars and bicycles. For the Mini, just remember to keep the tires inflated, screws tight, and check the brake levers before each ride. The Mini would only require tires changes every 1-2,000 miles. The Dualtron Mini Manual lists all the suggested timelines for maintenance parts and check up.
The Dualtron Mini Electric Scooter: Is it the right choice for you?
The thing with Electric Scooters and everything else in life, you get what you pay for.
The Dualtron is a 32 mph commuter electric Scooter that's capable of a 40 mile max range. With the strong build Dualtron build quality and the reputation of MiniMotors USA's' warranty and customer service, The Mini is an excellent option for you to consider for a $1,500 budget. For riders seeking more performance and faster speeds, MiniMotors USA has a massive lineup of scooters to fit any budget and performance needs.
Best Electric Scooters
Looking for a 30 mph electric scooter for city commuting? Check out the Best 30 mph scooters for 2022. Want to go 40 mph? Check out the Best 40 mph scooters on the planet. Looking to go 50 mph? Check out the Top 50 mph scooters for high performance riding. Looking to go even faster?
Check out the Fastest electric scooters on the planet. We've listed every single type of electric scooter in our directory!
Technical Specs:
Motor Power: MAX 1,450 watt BLDC hub motor
Battery Pack: 52 volt – 17.5 Ah – 1,092Wh – LG MJ1 cells
Charge time: 10 hours with standard charger, 2.6 hours with the quick charger
Range: 40 miles (mileage may vary depending on rider weight and road conditions)
Top Speed: 32 mph
Gradient: 37% or 20 degrees depending on rider weight and state of charge
Braking System: Dual Drum Brakes with ABS standard
Tires Type: 9″x2″ Pneumatic Tube
Max Load: 220 lbs
Scooter Weight: 48 lbs
Product Material: Frame is aviation grade 6082-T6 aluminum alloy, the shaft is SCM440 steel, and plastic covers
Dualtron Electric Scooters: What You Need to Know
Here are some of the main reasons why MiniMotors USA customers choose Dualtron scooters:
Powerful – MiniMotors is the frontrunner of high-performance dual-motor electric scooters. Motors, controllers, and batteries from Dualtron are among the strongest available.
Build Quality – When it comes to quality, MiniMotors has a solid track record of producing scooters with cutting-edge electronics that are easy to maintain and cost-effective for the average rider to own.
Easy Maintenance – Scooters, in comparison to automobiles, are a fun, powerful, and low-maintenance mode of transportation. Brake and tire service are two of the most common maintenance items.
Spare Parts – All MiniMotors scooters have a large selection of spare parts available from MiniMotors. You can order or get any part you need for your vehicle's upkeep. Check out MiniMotors for more information.
Customer Service – MiniMotors USA's customer service team is available by phone and email to answer questions about maintenance, repairs, and accessory suggestions. The quality of MiniMotors USA's service and products is well-known.
Disclaimer: The information presented in this article is derived from extensive research, user reviews, and publicly available information. Our aim is to provide accurate and up-to-date content; however, it is crucial to understand that the opinions expressed are based on the information available at the time of writing. We strongly encourage readers to conduct their own thorough research and carefully evaluate their individual needs before making any purchasing decisions.
eWheels 2023 Summer Deals and New Launches are here!!!
Cheap, reliable, and powerful! TurboAnt Electric Scooters 2023 Sale!
Hi guys! This post may contain affiliate links, sponsored content, and advertisements. We get a small commission for covering topics that interest us (helps us keep the doors open). For more information, please see our privacy policy and disclaimer. Ride safe yall!
2023 Electric Unicycles:
Coupons & Deals:
Apollo Scooters: Get $50 USD worth of free accessories, upgrades, or spare parts with the purchase of a scooter. Code: VROOOMIN
REV Rides: Save $50 off Scooters and EUC's, Code: VROOOMIN
EVOLV Electric Scooters: Free Folding Lock (worth C$80) for every EVOLV model! Use Code: VROOOMIN-LOCK
To keep the site running and information flowing, Vrooomin.com participates in affiliate linking programs. We're also an Amazon Associate, which means we get paid for referring people to Amazon. Please support the channel by clicking on our links.