Teverun, a subsidiary of MiniMotors and Blade, introduces the Fighter Supreme, 72V Electric Scooter
72V Fighter for Hire
The Teverun Fighter Supreme elicits emotion from me. It is a large, aggressive, and potent scooter. Black paint, carbon-style finishes, off-road tires, a VSETT-like chassis, a collapsible stem, a top headlight, and a spring suspension system thrill. I want to go for a ride immediately. Are you equipped for off-roading? The Fighter will direct you to unexplored territory.
Update
We chatted with R+D from Teverun this week, we had a great conversation about their company and latest products. Please note we edited the responses to fit the main idea being expressed.
Tell us about Teverun!
Our main office is in Ningbo, China. Currently, our team consists of approximately forty members. We got started when we entered the electric scooter market in 2017, focusing primarily on OEM orders. In 2018, we launched our first generation of BLADE series scooters, the BLADE 10, which provided us with a wealth of knowledge.
In 2020, with extensive knowledge of the scooter industry, we introduced BLADE X to the general public.
It has a stable structure and an electric control system, making it a model that won praise and garnered the interest of many scooter riders worldwide. This scooter has won us our first fans and admirers. We are incredibly proud of our achievements.
In 2021, the BLADE GT was introduced with an attractive design and a competitive price, expanding our market share and brand recognition significantly. Our partners have evolved from traditional distributors to exclusive and long-term dealers. We appreciate our partners.
In 2022, we introduced the TEVERUN brand, grew our staff, and came out with new products like the TEVERUN FIGHTER series and BLADE MINI. We are thrilled with the lineup and partnership with Minimotors.
As a business, Teverun makes and develops its own products. MiniMotors will give us technical and business help, and they know a lot about the industry.
The Teverun Supreme
Currently, this is our most powerful and fastest model. This scooter has much to offer the true enthusiast due to its top performance and intelligent features. I only built the one scooter I desired.
As a huge fan of e-scooters, the types that can be used for more than just commuting to work, I want one with the most potent performance and an attractive appearance. We cannot purchase a Lamborghini or Porsche, but we can produce a micro-mobility scooter with comparable performance in the scooter category.
The motor's power rating is now 9240W.
Yes, that's a great deal of power. Following the calculations, 84 x 55 x 2 equals 9240. The new folding stem technology was developed by MiniMotors, has been tested by humans and machines, and is durable and stable for the long haul.
Motors & Suspension
In addition, we equipped the Fighter with KKE hydraulic suspension. Our motors are supplied by the same manufacturer as Nami, Rion, and WEPED. They are also designed to be a little bit stronger.
We designed the split motor for tires without tubes. Did we mention the sinewave nature of the controllers? Our staff is enthusiastic about these. The community appears to be moving in this direction.
Display
Our TFT display will incorporate a multi-function mobile application. Currently, we are testing the functionality. We're also excited about the chassis, which is 6061-6063 aviation aluminum forged in one piece. We will share some videos on Facebook.
Damper Placement
Several team members inquired about the damper. We positioned the placement on the right side to prevent it from becoming entangled with the wiring. Many individuals are concerned about losing deck space.
We strategically placed it here, as most riders ride orthodox and not southpaw (goofy for snowboarders). The lighting is connected for easy administration. There are many lights on the scooter to increase your visibility. Riders inquire about the maximum speed.
Top Speed Test
We owe you guys videos. Those will also be arriving shortly.
Battery Pack
SCUD-manufactured Samsung cells are utilized. They manufacture some of the most powerful batteries for scooters. They supply Uber, Nineboy, Lime, and Razor. We have distributors in the United States and the majority of Europe. We're currently fulfilling orders.
Arrival?
They will soon be sent to North America.
QA Process
All components of our scooters, including the final assembly, undergo a rigorous inspection procedure. Three to five percent of each batch of parts will be examined by two quality control inspectors, and each scooter will be examined twice before packaging.
The technical team has completed the process-wide significant changes. They implement our major concepts and changes along the testing and development process. We created a new layout, electronic system, and application. It is not the same as MiniMotors.
The actual scooter should be simple to maintain. Like motorcycles, riders need the proper equipment, but maintaining them is not difficult.
Teverun Catalog
The Blade GT and Blade mini are our most popular products. They are an additional series in our Teverun catalog. Allow me to explain the distinctions between the Blade and the Fighter. The Fighter will emphasize superior performance, aesthetic design, finish, polish, and technology.
The Blade is in the middle, with a focus on simplicity, stability, good performance, and a reasonable price for riders. The Blade GT was first introduced in 2021. We have received positive feedback, and sales have been exceptional. We are developing a second generation for 2023.
The Blade Mini is our newly introduced model. It is a city commuter model, smaller in size, with an outstanding design, ideal for beginners and experts, and priced very affordably.
---
Attention: Please note the specs below this part of the article are older and not updated; please refer to the interview above for the latest specs
Off-road fun, on-road fun, 72V fun, and all types of fun in the sun, according to your preferences. We usually use these types of machines for commuting, which is excellent. Other times, we use them as a form of therapy…they're great for that too.
Power
This thing is fast, powerful, and heavy
With an 8KW combined max power output, the 72V 55A powertrain provides some impressive stats for size. It comes close to the performance of the Thunder 2, still short, but not far. It's not slow by any means and should be priced accordingly. Its dual hub motors and off-road tires should provide plenty of off-the-curve fun. The Fighter can also support payloads over 300 lbs.
Top Speed
Most riders average 20 mph
Rated to go 60 MPH at its highest settings, the Fighter will have plenty of Fight for your commute to work and weekend excursions. Tackling hills should be cake; the drivetrain is rated to go over 40-degree inclines.
Extended Range
30-45 miles of high-speed realistic range
With a 72V 35AH LG pack, the 2520WH battery will provide up to 74 miles of range. We estimate the real-world range to be around 60% of the claimed range.
Loaded Features
Everything you need
The Fighter has some impressive features to make your ride easy. NFC, TFT display, adjustable hydraulic suspension, damper, footrest, blinkers, horn, and easy fold stem make for a scooter with the complete package.
Build Quality
MiniMotors Parts and Quality Assurance
MiniMotors scooters have some of the industry's highest quality and most easily accessible parts. Even though their scooters have had minor problems in the past, they are one of the market's most dependable and consistent manufacturers. MiniMotors scooters are available with many parts, units, and service centers.
As this is a first-generation model, riders should anticipate possible flaws and warranty claims. Recently, I would say the likelihood of utilizing a warranty is relatively low, but this is not always the case; it's a numbers game with any scooter on the market, and some of the lower chances of a defect.
Worth it
Wait and see
It is difficult to say at this time. As a "new" rider, this unit significantly improves over any lower model. If upgrading from a beginner scooter to a 72V monster, you must, at a minimum, acquire large motors, a quality battery, lighting, a horn, and a damper.
If you do not receive the bare minimum of what is expected from a high-performance scooter, I would advise you to reconsider. As a reviewer of electric vehicles with extreme performance, I'd suggest this unit to riders seeking the next level.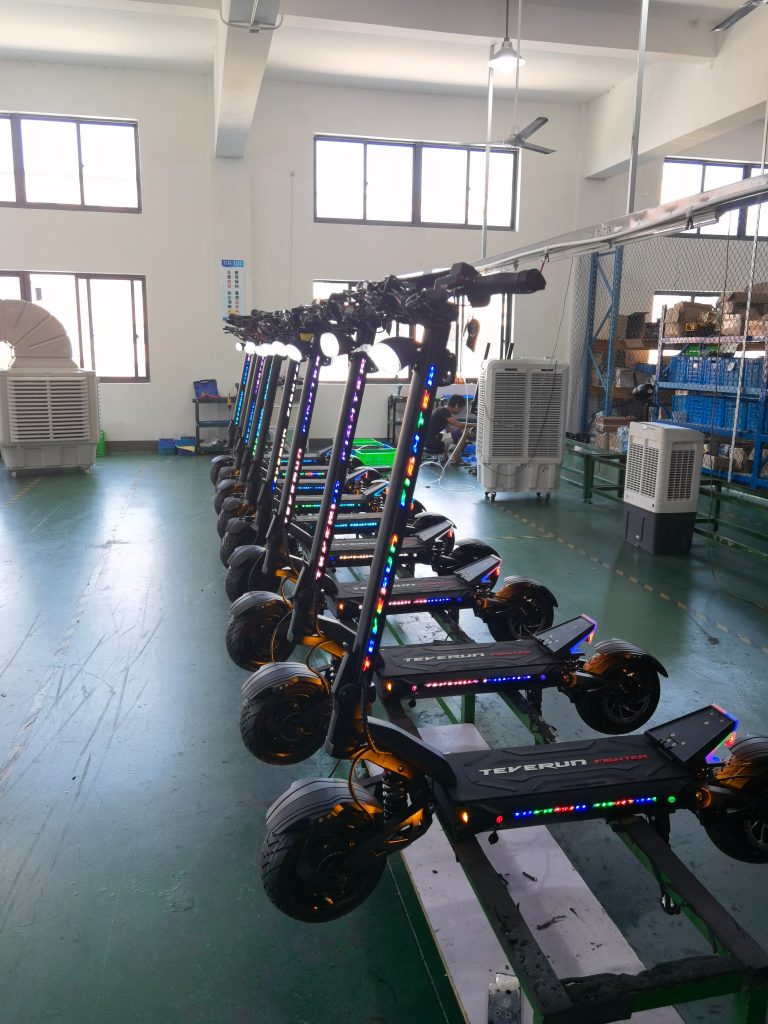 As an experienced rider, I'm looking for a +30 mph scooter with the most extended range and the lightest weight. These days, high-range commuter scooters are more appealing to me than 50-mph models. But that doesn't mean I won't cover these heavy-weight beasts.
If I were to exceed 50 miles per hour, I've always dreamt of a Samsung 40T or Molicel-powered unit, a beast fit for Sunday morning. High-powered $7,000 units like those are far from accessible and are out of reach for most. 72V sub-4K scooters are here and within reach for the rest of us.
Queue in the Fighter has impressive stats, but is it worthwhile? We'll find out once the pricing is released. Chances are It's an all-around powerhouse that's here to stay.
Technical Specs
Tires: 90/65-6 11inch tubeless tire puncture free
Power: MAX 8000W
Motors: 2 Dual
Top Speed: 25km/h (100km/h) / 62mph
Gradient: >40°
Range: 120KM / 74 miles
Brakes: Full hydraulic Disc brake
Regen: Include
Battery: 72V 35AH LG TFT 3.5inch
Suspension: Include Adjustable hydraulic suspension
Charger: Include 55A X 2 84V 1.5A
Charge: 17h
Max Weight: 150KG / 330 lbs
Materials: Aluminum alloy/steel
Size: Full black
Size: L1316/H1341/W645
Folding: L1316/H577/W316
Package Size:L1375/H615/W345
Net Weight: 45kg / 99 lbs
Gross Weight: 52kg / 114 lbs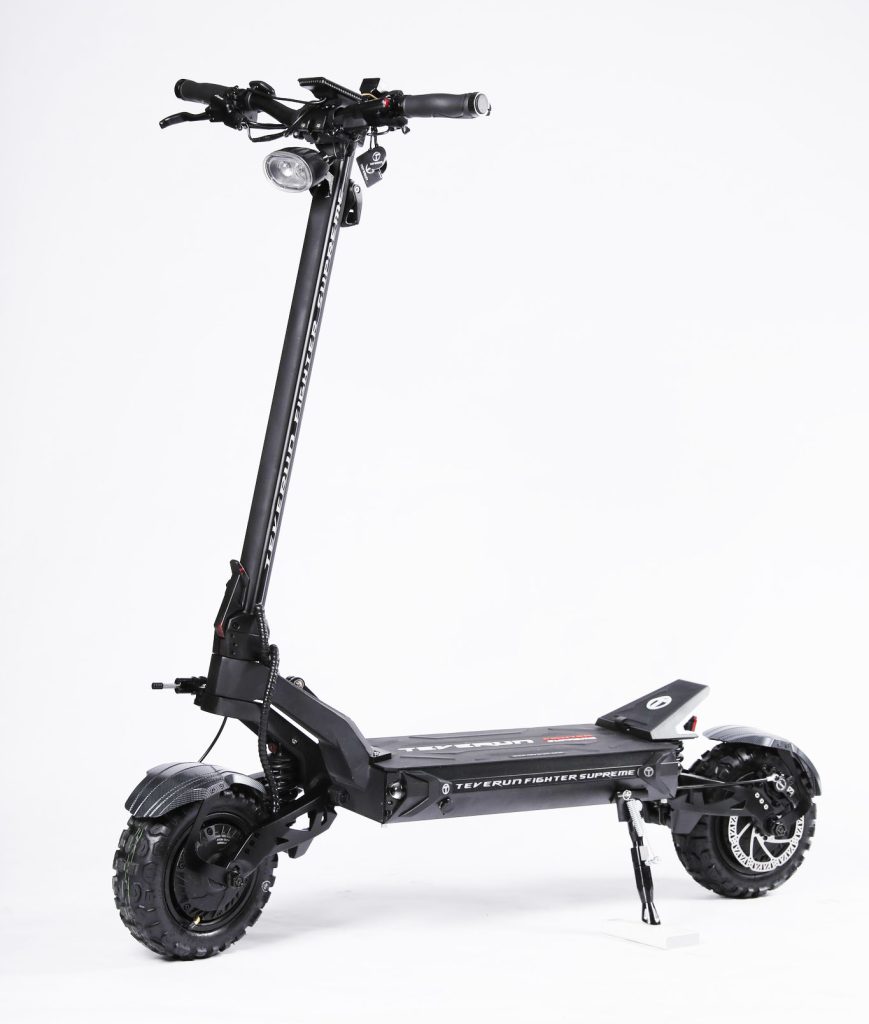 Teverun Electric Scooters
Not too long ago, the CEOs of BLADE and MiniMotors came together to form Teverun. Riders have noticed the introduction of the Blade GT, X, and now the Fighter in their new line of scooters, which is off to a good start. They compete directly with VSETT and Kaabo in the mid-range scooter market. Where will the Dualtron scooter line fit into their new market segmentation? Time will reveal the grand strategy. With millions of scooter riders around the world and the rise of electric scooters, there is a big market share to be had.
72V Off-Road Roadster
It makes me feel a certain way. The mudguards, lighting, horn, and display are mounted in the front. MiniMotors appears to be finally listening to the community. They crave to catch up with the times.
We want a reliable, fast electric scooter. A scooter where I won't have to deal with QA issues as soon as I open the packaging. I can ride a type of scooter for several months with only the occasional replacement of brake pads, a quick wipe down, and battery charging.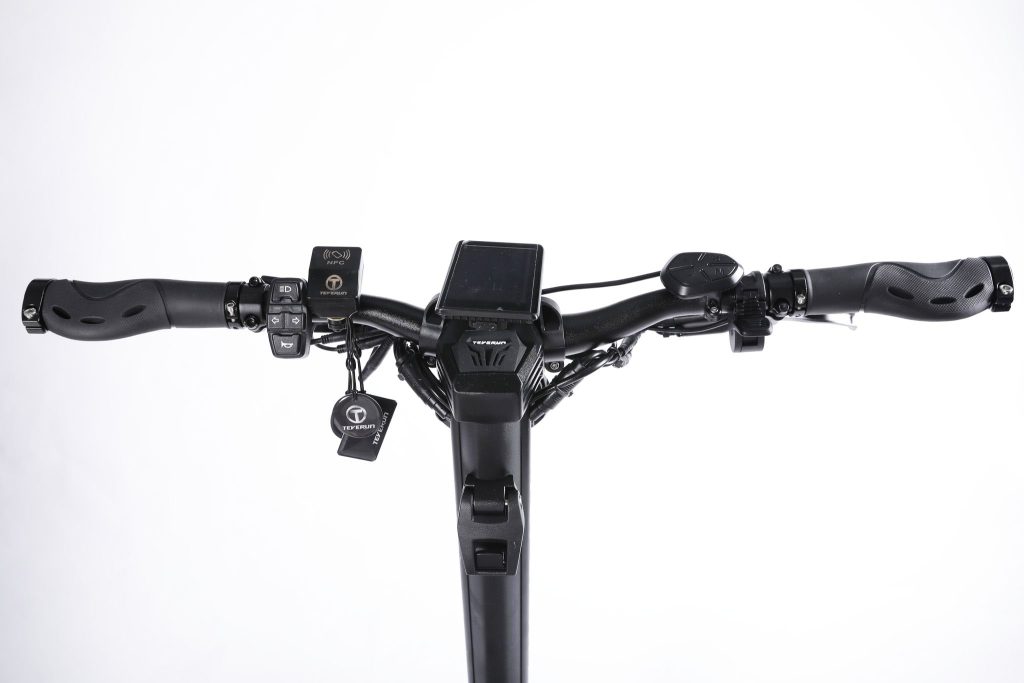 Hype Beast
Pump the tires, tighten some bolts, and have a good riding experience, day or night. Could this be the perfect scooter? Few come close, but regrettably, some are not. This could be one of the good ones, but again, we'll have to wait and see.
All you really need to add are some PMT's, for extra grip, then we can send it, full send it, at high speed.
With a manufacturer's reputation like MiniMotors, this scooter has a good chance of being among the best, with a warranty and spare parts. Depending on where you purchase it and with whom you must deal.
The Teverun appears to be an impressive collaboration between Blade and MiniMotors. You obtain the technology of two premium scooter manufacturers. Will the result be twice as significant?
For 99 lbs 8KW 72V full suspension beast, the Fighter seems like a heavyweight sports scooter for those that like the VSETT style builds, this time, with the heart and soul of MiniMotors and Blade components.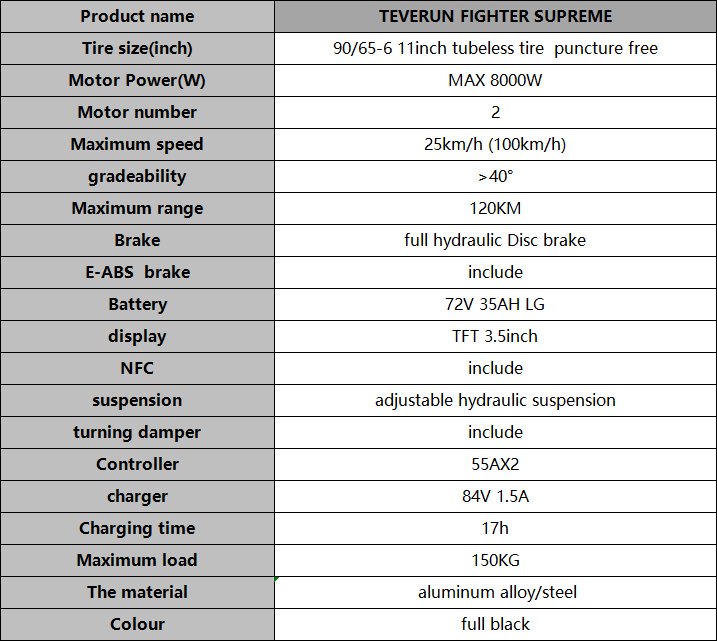 Disclaimer: The information presented in this article is derived from extensive research, user reviews, and publicly available information. Our aim is to provide accurate and up-to-date content; however, it is crucial to understand that the opinions expressed are based on the information available at the time of writing. We strongly encourage readers to conduct their own thorough research and carefully evaluate their individual needs before making any purchasing decisions.
eWheels 2023 Summer Deals and New Launches are here!!!
Cheap, reliable, and powerful! TurboAnt Electric Scooters 2023 Sale!
Hi guys! This post may contain affiliate links, sponsored content, and advertisements. We get a small commission for covering topics that interest us (helps us keep the doors open). For more information, please see our privacy policy and disclaimer. Ride safe yall!
2023 Electric Unicycles:
Coupons & Deals:
Apollo Scooters: Get $50 USD worth of free accessories, upgrades, or spare parts with the purchase of a scooter. Code: VROOOMIN
REV Rides: Save $50 off Scooters and EUC's, Code: VROOOMIN
EVOLV Electric Scooters: Free Folding Lock (worth C$80) for every EVOLV model! Use Code: VROOOMIN-LOCK
To keep the site running and information flowing, Vrooomin.com participates in affiliate linking programs. We're also an Amazon Associate, which means we get paid for referring people to Amazon. Please support the channel by clicking on our links.