Based in NYC, Kaiden is a Software Engineer who loves talking about delicious food, Thai boxing, grappling arts, and fast electric vehicles. His main go-to weekend must-haves were mouthwatering pizza, cheesy burgers, snappy unicycles, and ice-cold libations. Although lately, he's been consuming unsalted air fryer chicken, filtered tap water, and green smoothies, walking to work because he's in his late 30s and his metabolism just isn't the same. He is finally accepting it.
Teverun, a subsidiary of MiniMotors and Blade, introduces the Fighter Supreme, 72V Electric Scooter
72V Fighter for Hire
The Teverun Fighter Supreme makes me feel some type of way, I'm shaking. The black paint, off-road tires, VSETT-like chassis, collapsible stem, top headlight, and spring suspension system scream excitement. Damn, I want to go for a ride right now.
Some type of way
Off-road fun, on-road fun, 72V fun, all types of fun in the sun, according to your preferences. We usually use these types of machines for commuting, which is excellent. Other times, we use them as a form of therapy…they're great for that too.
Power
This thing is fast, powerful, and heavy
With an 8KW combined max power output, the 72V 55A powertrain provides some impressive stats for size. It comes close to the performance of the Thunder 2, still short, but not far. It's not slow by any means and should be priced accordingly. Its dual hub motors and off-road tires should provide plenty of off-the-curve fun. The Fighter can also support payloads over 300 lbs.
Top Speed
Most riders average 20 mph
Rated to go 60 MPH at its highest settings, the Fighter will have plenty of Fight for your commute to work and weekend excursions. Tackling hills should be cake, the drivetrain is rated to go over 40-degree inclines.
Extended Range
30-45 miles of high-speed realistic range
With a 72V 35AH LG pack, the 2520WH battery will provide up to 74 miles of range. We estimate the real-world range to be around 60% of the claimed range.
Loaded Features
Everything you need
The Fighter has some impressive features to make your ride easy. NFC, TFT display, adjustable hydraulic suspension, damper, footrest, blinkers, horn, and easy fold stem make for a scooter with the complete package.
Build Quality
MiniMotors Parts and Quality Assurance
MiniMotors scooters have some of the industry's highest quality and most easily accessible parts. Even though their scooters have had minor problems in the past, they are one of the market's most dependable and consistent manufacturers. MiniMotors scooters are available with many parts, units, and service centers. As this is a first-generation model, riders should anticipate possible flaws and warranty claims. Recently, I would say the likelihood of utilizing a warranty is relatively low, but this is not always the case, it's a numbers game with any scooter on the market, some of lower chances of a defect.
Worth it
Wait and see
It is difficult to say at this time. As a "new" rider, this unit significantly improves over any lower model. If upgrading from a beginner scooter to a 72V monster, you must, at a minimum, acquire large motors, a quality battery, lighting, a horn, and a damper. If you do not receive the bare minimum of what is expected from a high-performance scooter, I would advise you to reconsider. As a reviewer of electric vehicles with extreme performance, I'd suggest this unit to riders seeking the next level.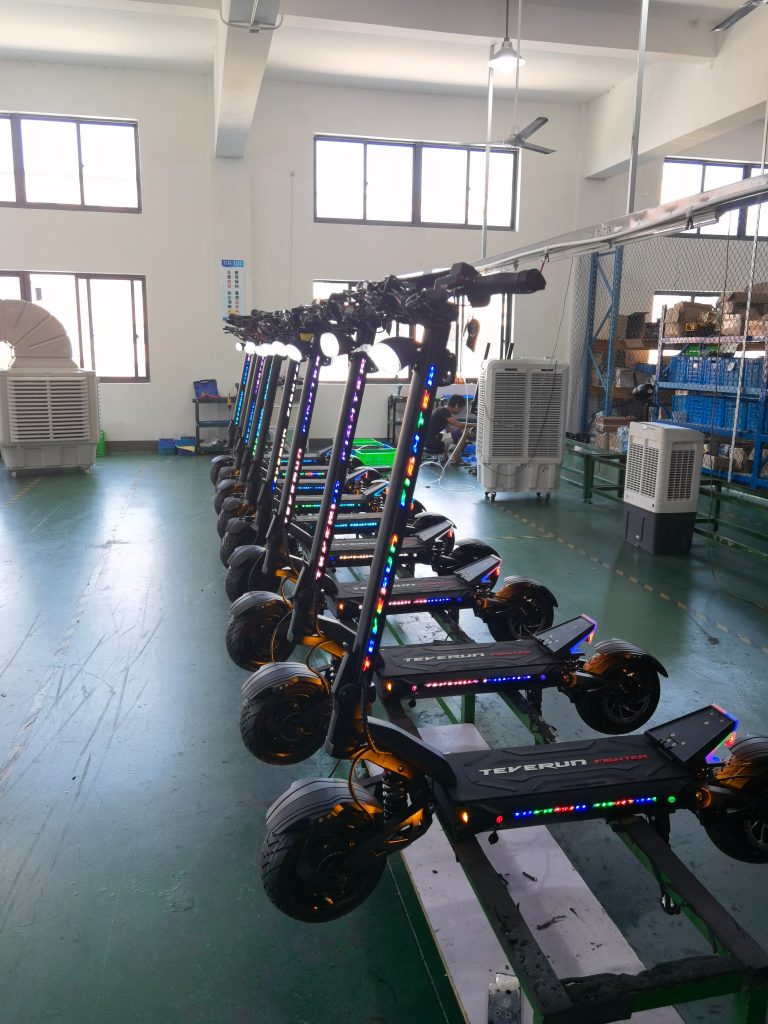 As an experienced rider, I'm looking for a 30 mph scooter with the most extended range and lightest weight. These days, high-range commuter scooters are more appealing to me than 50 mph models. But that doesn't mean I won't cover these heavy-weight beasts.
If I were to exceed 50 miles per hour, I've always dreamt of a Samsung 40T or Molicel-powered unit, a beast fit for Sunday morning. High-powered $7,000 units like those are far from accessible and are out of reach for the majority. 72V sub 4K scooters are here and within reach for the rest of us. Queue in the Fighter, she has impressive stats, but is it worthwhile? We'll find out once the pricing is released. Chances are It's an all-around powerhouse that's here to stay.
Technical Specs
Tires: 90/65-6 11inch tubeless tire puncture free
Power: MAX 8000W
Motors: 2 Dual
Top Speed: 25km/h (100km/h) / 62mph
Gradient: >40°
Range: 120KM / 74 miles
Brakes: Full hydraulic Disc brake
Regen: Include
Battery: 72V 35AH LG TFT 3.5inch
Suspension: Include Adjustable hydraulic suspension
Charger: Include 55A X 2 84V 1.5A
Charge: 17h
Max Weight: 150KG / 330 lbs
Materials: Aluminum alloy/steel
Size: Full black
Size: L1316/H1341/W645
Folding: L1316/H577/W316
Package Size:L1375/H615/W345
Net Weight: 45kg / 99 lbs
Gross Weight: 52kg / 114 lbs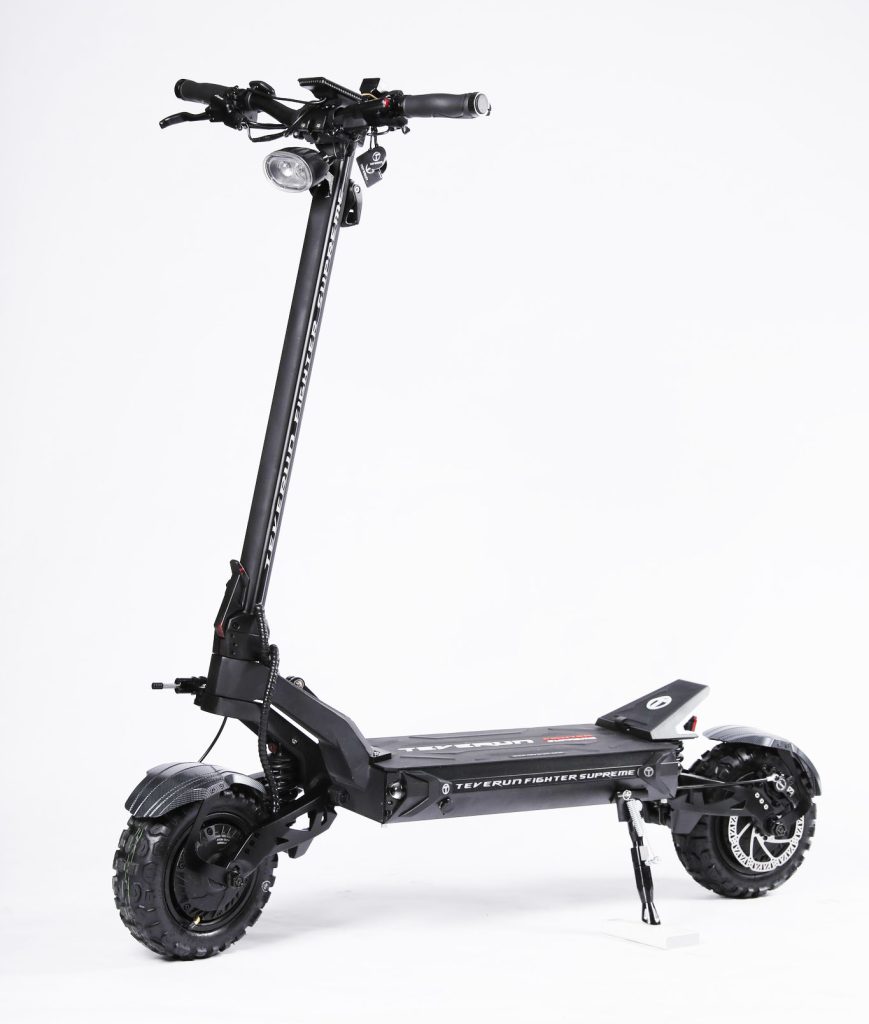 Teverun Electric Scooters
Not too long ago, the CEOs of BLADE and MiniMotors came together to form Teverun. Riders have noticed the introduction of the Blade GT, X, and now the Fighter in their new line of scooters, which is off to a good start. I think they are competing directly with VSETT and Kaabo in the mid-range scooter market.
Where will the Dualtron scooter line fit into their new market segmentation? Time will reveal the grand strategy. With millions of riders worldwide and the explosion of electric scooters, ample market share is available.
72V Off-Road Roadster
It makes me feel a certain way. The mudguards, lighting, horn, and display are mounted in the front. MiniMotors appears to be finally listening to the community. They crave to catch up with the times.
We simply want a reliable, fast electric scooter. A scooter where I won't have to deal with QA issues as soon as I open the packaging. I can ride a type of scooter for several months with only the occasional replacement of brake pads, a quick wipe down, and battery charging.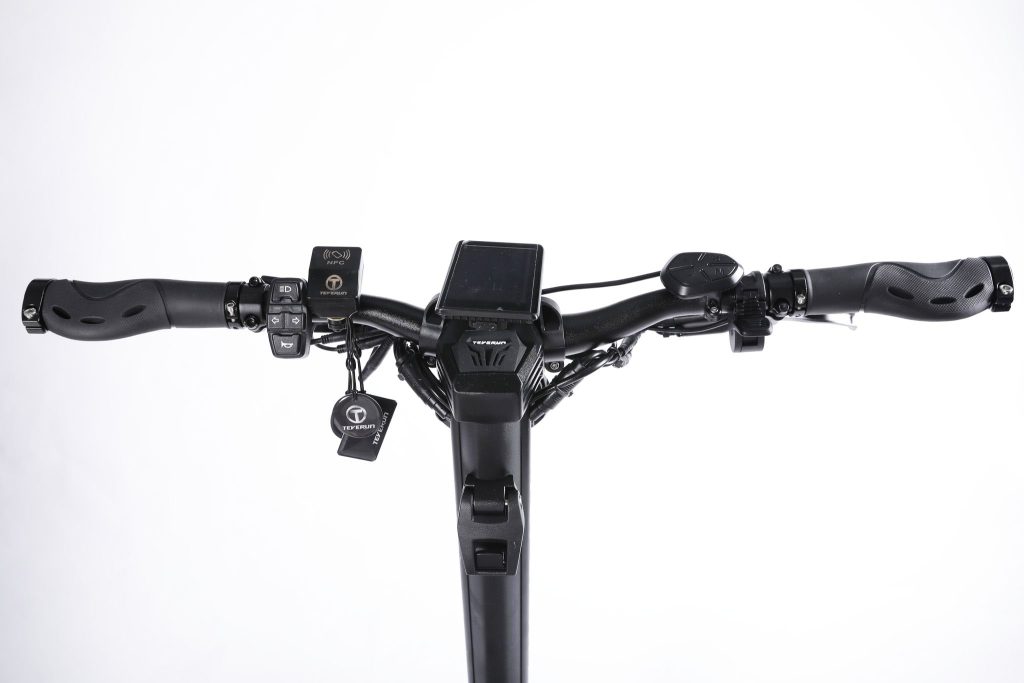 Hype Beast
Pump the tires, tighten some bolts, and have a good riding experience, day or night. Could this be the perfect scooter? Few come close, but regrettably, some are not. This could be one of the good ones, but again, we'll have to wait and see.
All you really need to add are some PMT's, for extra grip, then we can send it, full send it, at high speed.
With a manufacturer's reputation like MiniMotors, this scooter has a good chance of being among the best, with a warranty and spare parts. Depending on where you purchase it and with whom you must deal.
The Teverun appears to be an impressive collaboration between Blade and MiniMotors. You obtain the technology of two premium scooter manufacturers. Will the result be twice as significant?
For 99 lbs 8KW 72V full suspension beast, the Fighter seems like a heavyweight sports scooter for those that like the VSETT style builds, this time, with the heart and soul of MiniMotors and Blade components.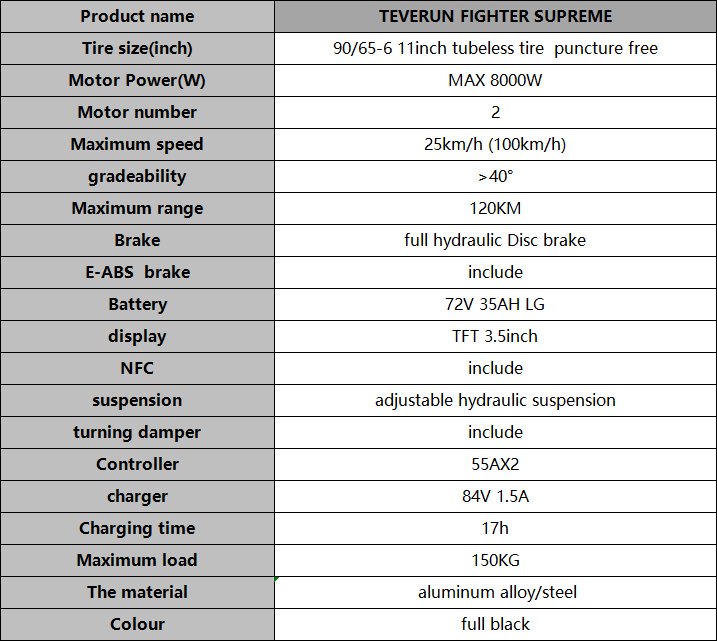 💪 Hi friends! We hope you find our content useful! Make sure to use our affiliate links, it helps support our site and keep the fresh content, apps, videos, and updates coming. Ride safe!

- Team VROOOMIN
⚡New: 2022 Best Electric Scooters
⚡New: 2022 Best Electric Unicycles
Editor's Note: VROOOMIN.COM reports the advertised speed and range from the manufacturer. The exact results will vary depending on the rider's weight, overall payload, road conditions, and charge level. Most PEVs will deliver at least 60-70 percent of the quoted range, if not more. The top speed and range will be decreased for heavier riders.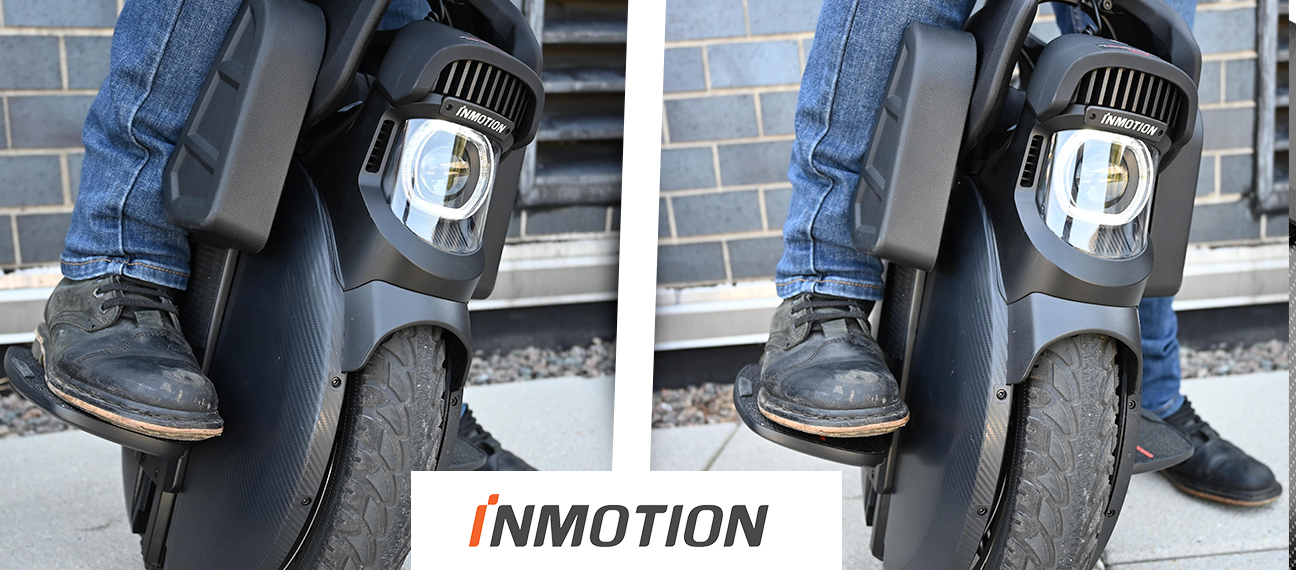 2022 Electric Scooters:
2022 Electric Unicycles:
Coupons & Deals:
Apollo Scooters: Get $50 USD worth of free accessories, upgrades, or spare parts with the purchase of a scooter. Code: VROOOMIN
REV Rides: Save $50 off Scooters and EUC's, Code: VROOOMIN
EVOLV Electric Scooters: Free Folding Lock (worth C$80) for every EVOLV model! Use Code: VROOOMIN-LOCK
To keep the site running and information flowing, Vrooomin.com participates in affiliate linking programs. We're also an Amazon Associate, which means we get paid for referring people to Amazon. Please support the channel by clicking on our links.