Levi is a financial analyst based in the South Bay. He enjoys the outdoors, late-night cookouts, low-stakes hold 'em, and high-speed electric vehicles. Smokey BBQ, cheap tacos, cold beer, organic produce, and fast e-bikes are the only things Levi knows. Levi constantly ponders the advancement of high-performance electric vehicles and their relationship to the changing climate.
The Definition of Torque
2.8KW for the steeper than steep
Some things push, some things pull, but whatever force you're dealing with, we're talking about a rotation that's so strong that it can carry your big buttocks up a 45-degree incline with relative ease. Every manufacturer is aware of this, including Inmotion. We all know what it feels like when the wheels start spinning and rubber begins burning; it is all about torque, and now Inmotion has a flagship model with plenty of it.
News & Events:
Thrust & Propel
Off the line
Indeed, you can spin a screwdriver to repair your damaged flashlight; it doesn't need a lot of torque. In contrast, the Inmotion V12HT is faced with the difficulty of moving your heavy ass up a steep climb when you're on your way to the office in the morning. To handle this load, the V12HT is equipped with a powerful 2.8KW engine and an upgraded electric speed board (with even beefier MOSFETs, a vast improvement over the last V12HS) that can propel you up and over even the steepest of hills in no time at all.
Combined with a 1750WH battery pack, this drivetrain provides enough power and energy to keep your toes tingling and your sweat beads clear while you're sprinting, diving, riding, and gliding along the boulevard of life. The V12HT is a high-torque powerhouse that can propel riders up to 37 mph at their peak speed, making it an excellent choice for any circumstance. Yes, the V12HT comes up short of the 40 mph mark, but who cares when most riders ride between 15 and 33 mph anyways? The V12HT delivers just what we want when we want it and how we want it.
Technical Specs:
Model: Inmotion V12HT Electric Unicycle
Wheel Type: Advanced Riders
Price: $2,499
Power

: 2.8KW motor

Top Speed: 37 MPH
Range: 70 Miles
Battery: 100.8V, 1,750Wh
Weight: 64 lbs
Features: Color touchscreen display, Bluetooth speaker, atmospheric LED lighting, integrated kick stand
Reasons to buy:
Top performance high torque 37+ MPH wheel on the market
Built for performance, high build quality/materials
Integrated app and extra features
Improved controller board, durable MOS, providing a boost of 23% max power output
45 degree max slope for steep hill climbing and fast acceleration off the line
Reasons to avoid:
Very powerful and heavy wheel
No suspension
First generation wheel, yet to be tested
Force x Distance
Beefy motors lend to beefy performance
We can all recall the time we had to stroll up a steep street, bridge, or staircase; this type of elevation can suck, especially after a long day of work or worse, before a long day of work. Fear, not my friend, Inmotion thought this through, they fitted the V12HT motors with thicker windings, larger magnets, and a heavy-duty reinforced rim to get things rolling and elevated.
Mountain Slayer
188NM of torque
When it comes to the V12HT's 45-degree maximum slope, Inmotion engineering isn't shy about it. It's an astounding figure, particularly when you consider that there's a unique set of riders that like to abuse their wheels on-road, off-road, and on thrilling mountain bike trails.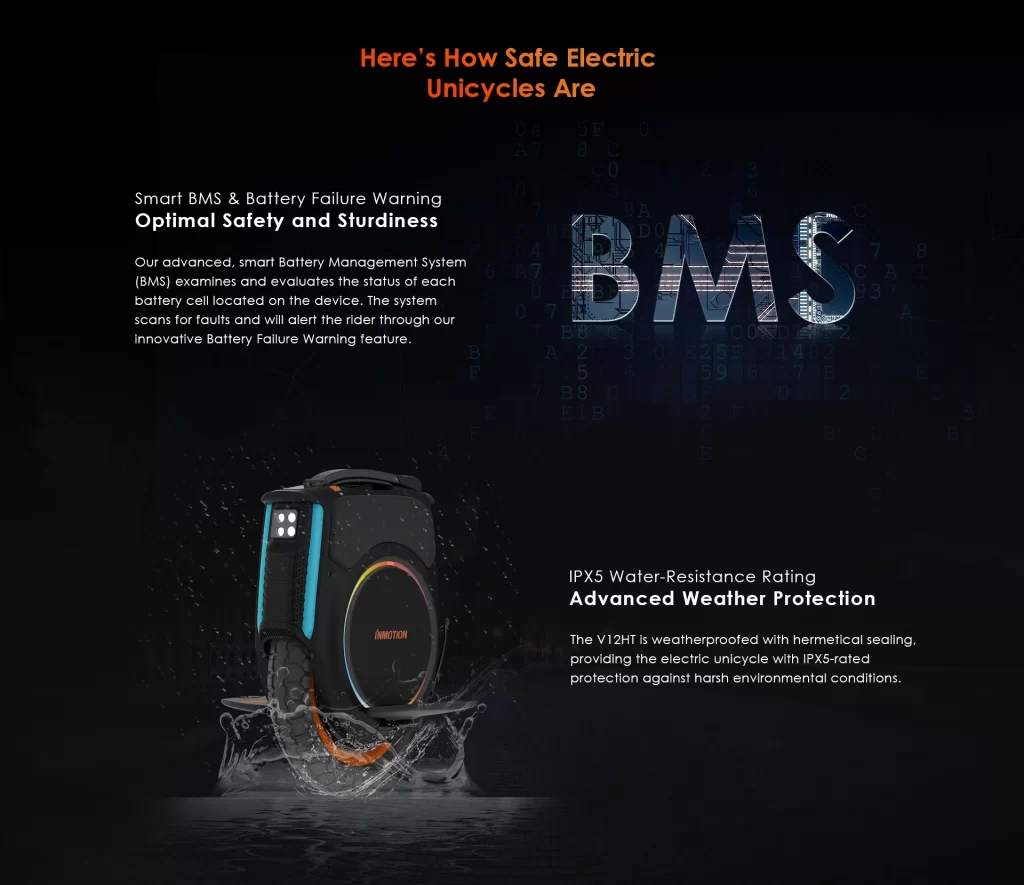 Max Velocity
Engineering is also not shy about boasting the improved 23% maximum output to deal with less-paved roads since, after all, why not? When you're building and marketing a wheel of this talent level, the unit better has the insight and numbers to back up its bold claims. The V12HT is also equipped with off-road solid knobby tires, which, if you're like me, enjoy the bee humming noise they produce when they come into contact with the pavement.
Inmotion V12HT Hill Climb Challenge Video
The Complete Package
Stunning design, performance, and features
The V12HT comes with all the looks, performance, and a bevy of features that will make the jaws of its opponents drop open and turn them green with envy. For those unfamiliar with what Inmotion is capable of, I would suggest they have some of the highest-quality build materials, software, and designs available today.
The build quality of Inmotion machines is comparable to that of Macintosh devices.
Everything you need and more
There, I said it, and you may have already had firsthand experience with it. Now, let's go through each wheel's features one by one to make them crystal clear:
Bright auto headlights
Durable and high quality shell design
IPX5 waterproof rating
IPX7 Battery Pack
Front mounted external touch screen dash
External customizable ambient lighting for fun and safe visibility
Thick 16×3 knobby tires for off road adventure
Scorpion style trolley with motor cut off switch
Integrated kick stand for support/parking
Quad internal speakers for moving and grooving
Integrated mobile app for customizable rider preferences and performance diagnostics
Anti theft security system
Integrated BMS App monitor
Inmotion quality, performance
The 2022 Inmotion V12HT Electric Unicycle
Best 16″ wheel on the market?
The V12HT is a powerful, agile, and compact wheel that riders searching for power, speed, features, and, most importantly, off-the-line acceleration should consider. Although some riders like 14″, 18″, and even 20″ wheels, most would prefer a 16-inch wheel in the center of the pack. One wheel that can replace them all has all the power, range, torque, and features that many other wheels don't have, all in a single package.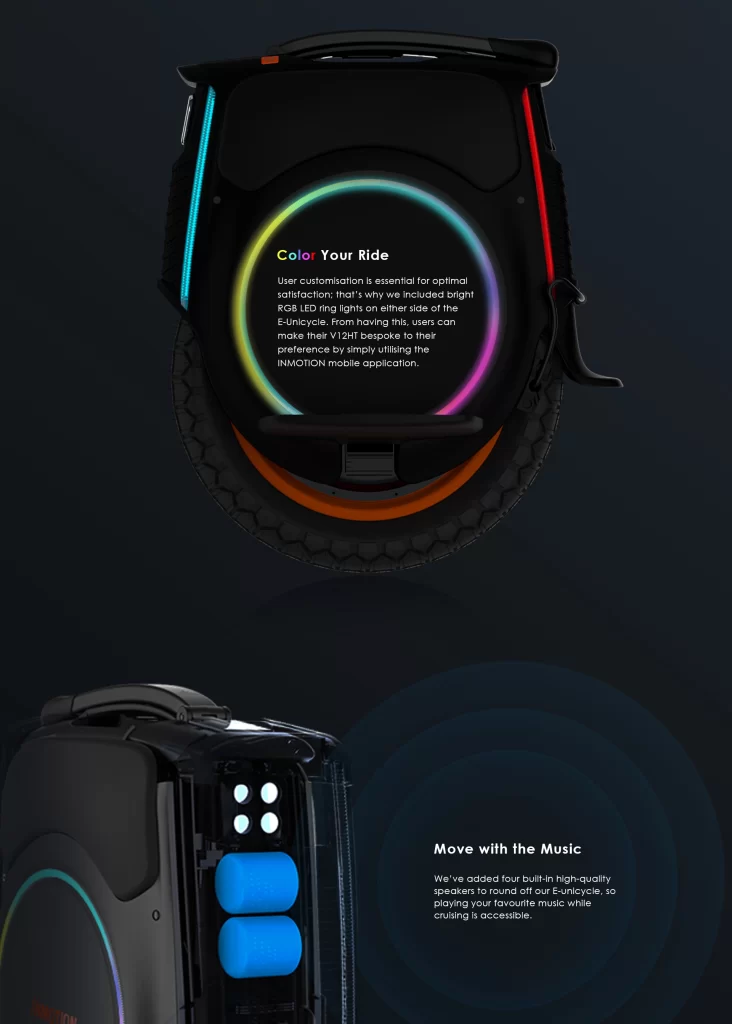 Whats with all the hype?
Talking wheels, what we're enthusiastic about, and what may or has already arrived are all part of the hype. Torque is the future, the suspension will come next, and Bluetooth mobile apps should be the standard. Will the Inmotion V13 have all of this and more? We'll have to wait and see what happens. Time and time again, I've harassed Inmotion marketing, toeing the line of digital aggression and provocation. They still won't budge, their lips tightly sealed and heads shaking, they still won't divulge a single thing about the V13, which is unfortunate for us, but that doesn't mean our team won't keep digging until we find out all there is to know!
Big wheels, we'll take a pass in this case
Who needs a 100-pound, 3600-watt-hour wheel when you can ride safely across 10-mile distances at speeds of 25 miles per hour on most days? People who inquire about this will be drawn to the push and pull characteristics that the V12HT specifications demonstrate. When seeking a wheel with comparable specifications and price, riders could consider the Begode RST, Inmotion V11, Begode Hero, Veteran Sherman Max, and King Song S22. That is the beauty of personal electric vehicles. There is almost a model to meet the requirements and desires of every individual, as well as models with various features and price ranges.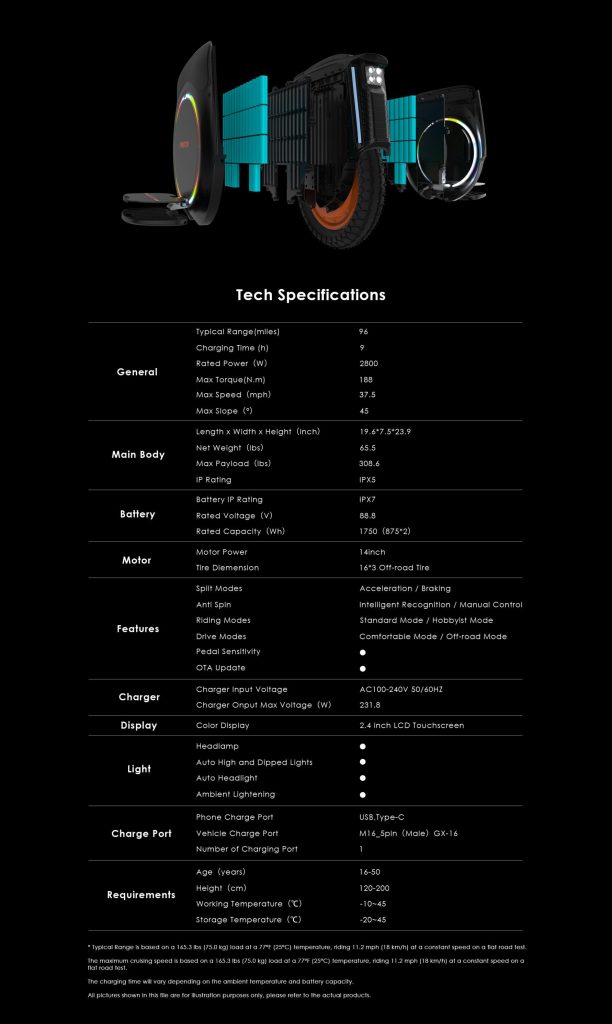 2022 Inmotion Electric Unicycle Catalog
Inmotion wheels are regarded as some of the best in the industry. Compare the Inmotion EUCs based on speed, range, pricing, and weight. Here are some of the best Inmotion Electric Unicycles on the market:
💪 Hi friends! We hope you find our content useful! Make sure to use our affiliate links, it helps support our site and keep the fresh content, apps, videos, and updates coming. Ride safe!

- Team VROOOMIN
⚡New: 2022 Best Electric Scooters
⚡New: 2022 Best Electric Unicycles
Editor's Note: VROOOMIN.COM reports the advertised speed and range from the manufacturer. The exact results will vary depending on the rider's weight, overall payload, road conditions, and charge level. Most PEVs will deliver at least 60-70 percent of the quoted range, if not more. The top speed and range will be decreased for heavier riders.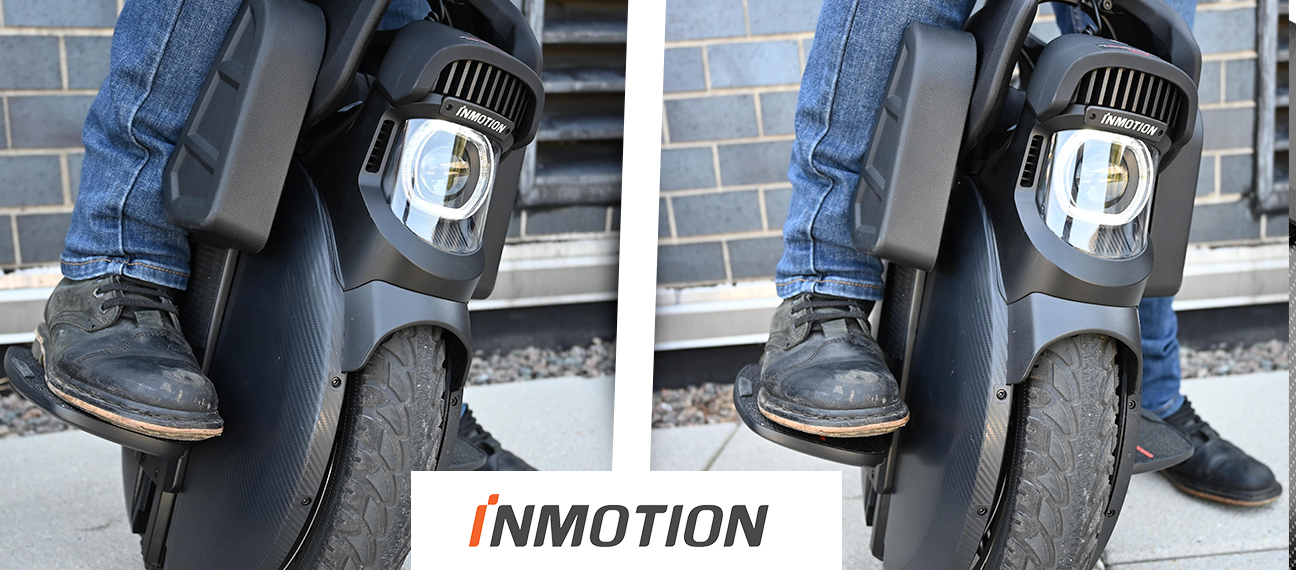 2022 Electric Scooters:
2022 Electric Unicycles:
Coupons & Deals:
Apollo Scooters: Get $50 USD worth of free accessories, upgrades, or spare parts with the purchase of a scooter. Code: VROOOMIN
REV Rides: Save $50 off Scooters and EUC's, Code: VROOOMIN
EVOLV Electric Scooters: Free Folding Lock (worth C$80) for every EVOLV model! Use Code: VROOOMIN-LOCK
To keep the site running and information flowing, Vrooomin.com participates in affiliate linking programs. We're also an Amazon Associate, which means we get paid for referring people to Amazon. Please support the channel by clicking on our links.