Inmotion's Favorite 16″ Beginner Wheel
We've all had our fair share of awful public transit experiences, and waiting can be a drag. There must be a better way to get around! The electric unicycle was created recently to address this issue and many more. Many newcomers are drawn to the Inmotion V8F by its magnetic quality. It might be the way she looks, feels, or moves. Beginners, short-distance commuters, and newbies starting on their EUC journey adore this stylish 16-inch wheel. It's easy to see why riders love this 21 mph beginner wheel.
News & Deals: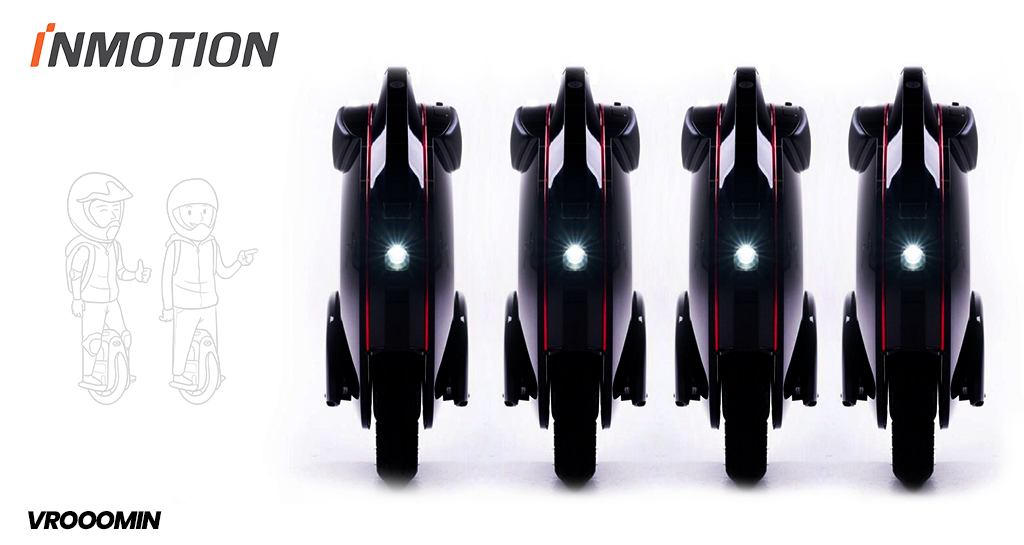 Inmotion V8F Electric Unicycle
Buses are sluggish and congested; meanwhile, EUCs are entertaining, swift, and empowering. The 1000W Inmotion V8F was designed to get new riders on the road, moving to the groove, and riding steadily! The V8F is the ideal commuter wheel, weighing 32 pounds and capable of a maximum distance of 22 miles. And believe me when I say this is adequate distance for most Manhattan commuters. This wheel is trendy, and for a good reason. Let's look at why this $1199 16-inch commuter electric unicycle is so popular.
21 mph top speed / 22-mile range is excellent for cruising and picking up take out
Sexy and reliable 16″ wheel since 2020
Reasonable price wheel for beginners to learn on
Compact, lightweight, and comfy 16″ wheel for last-mile solution
Great for college students, working professionals, suburban riders
Performance
The V8F is a robust and lean machine. It includes everything you need in an electric unicycle and all the features you'll need to make ownership simple. The Inmotion V8F has a 1000W (2KW peak) motor that can propel riders up to 21 mph, which is fast for most novices. A wheel like this allows you to explore the whole city and access any eatery. Forget about walking or taking the bus; the 1KW motor can help you make up for lost time on your commute.
1000W provides up to 21 mph top speed
Smooth, responsive, powerful ride
Powerful and torquey for easy hill climbing
Most riders cruise between 15-20 mph on most bike lanes.
Great last mile solution to supplement more extended transportation
Thin profile and lightweight 16″ wheel
Battery
The V8F packs enough electrons to get your butt to where it needs to go for $1199. It is one of the lightest 16″ wheels due to its small and portable form. The V8F is exceptionally lightweight at 32 pounds, making it ideal for stowing on trains or buses. The LG lithium-ion battery pack in the V8F may deliver between 15 and 22 miles of range, depending on riding style, road conditions, and rider weight.
The V8F has a max load of 260 lbs, which is much higher than other 14″ wheels
15-22 miles for cruising around town without range anxiety
An excellent option for last-mile commuting and quick trips
Most riders cannot finish range before getting tired!
Build Quality
Inmotion wheels are noted for their build quality, with some of the most excellent materials, construction, quality assurance, and designs. Inmotion wheels are made to last, with no cheap plastics or loose screws. Everything about it, from the design to the materials to the durability, is a cut above the competition's wheels—the V8F's build quality results from continual advancements made since its first debut in 2020. Slight upgrades to the V8F include a better control board, an updated shell, an upgraded powertrain, and more giant pads. Many V8F riders recommend the V8F because of its robust construction.
Best value 16-inch beginner wheel on the market
Upgraded side pads for comfort
Lightweight, powerful, agile
Proven wheel, trendy, can take a lot of road miles
Other wheels use cheap materials
Features
The Inmotion V8F, like many other 16-inch wheels, offers all of the essential features that allow riders to ride securely at night, move the wheel when not in use, and have pleasant acceleration and deceleration through its oversized pedals. Inmotion machines offer a custom mobile app that allows users to customize their wheel's performance and preferences.
Custom Inmotion App controls tilt back and alarms
App displays real-time stats: voltage, charge, internal temperature
App controls ride modes, calibration, and firmware updates
Easy access to Trolley handle and lift sensor
RGB Ambient Lighting
Anti-spin button
Upgraded pedals or large riders
Large 2.125″ tire
Inmotion V8F Electric Unicycle Introduction Video
Is the Inmotion V8F suitable for you?
The V8F is a fan favorite and an under-appreciated member of the Inmotion lineup. The V8F stands out amid numerous pricey alternatives for competent riders looking for a wheel that can handle most duties. The V8F is a terrific entry-level wheel that will get you where you need to go for less than $1,200! Most riders won't deplete a V8F's battery in a single day; if they do, they'll be better off with a $2,000, 30-40 mph wheel. The V8F is an obvious choice for riders who want to ride up to 21 mph on their daily grind.
Reasons to Buy:
Powerful EUC for its size and weight
Fully functional beginner commuter 16″ electric wheel
Lowest price wheel in the Inmotion lineup
Same top speed as other EUC's in its class
Popular wheel for beginners since 2020
Reasons to Avoid:
No major issues besides limited speed and range found in beginner wheels
Some riders outgrow beginner wheels within weeks or months
---
Similar Models:
A few options with similar specs, features, and pricing include Begode MCM5, King Song 14D, Begode Tesla, Inmotion V11.
---
Technical Specs:
Top Speed: 21 mph
Motor: 1000W Motor
Price: $1199
Gradient: 14 degrees
Battery: 84V 518WH LG battery pack
Charge Time: 5 hours
Range: 22 miles
Tire Size: 16″
Suspension: n/a
Weight: 32 lbs
Max load: 260 lbs
No Load: 49 mph
Pedal Height: 150
Pedal Size: 127×241
Full Size: 538x460x147
Trolley Handle: Telescopic handle
Anti Spin Button: Under handle switch
Speakers: No speakers
Lighting: Front Headlights and rear tail lights
Ambient LED's: Atmospheric side lightning
Release Year: 2020
USB: n/a
2022 Inmotion Electric Unicycle Catalog
Inmotion wheels are regarded as the best in the industry. Compare the Inmotion EUCs based on speed, range, pricing, and weight. Here are some of the best Inmotion Electric Unicycles on the market:
Is the Inmotion V8F a good off-roader wheel?
The Inmotion V8F is better for on-road riding rather than off-roading.
Is the Inmotion V8F a good everyday commuter wheel?
The Inmotion V8F is an excellent commuting alternative for your everyday requirements. This learner wheel is ideal for fast riding. It's perfect for trips to the grocery store, work, errands, and local parks for fun and relaxation because of its size.
Is the Inmotion V8F ideal for commuting on the last mile?
The Inmotion V8F is an excellent last-mile commuting solution. This 32-pound wheel will be easy to move in your car or up a flight of stairs.
Is the Inmotion V8F a good investment?
For its price, the Inmotion V8F is a good choice. You get a top speed of 21 mph and a maximum range of 22 miles, and Inmotion has excellent build quality. This wheel has a lot of positive feedback from the community and is an attractive option for beginner commuter performance riders.
How much does it cost to charge the Inmotion V8F?
The Inmotion V8F, like any other personal electric vehicle, costs less than ten cents to charge! When you ride electric, you'll save time and money. There will be no more squandered funds on parking lots, traffic penalties, auto insurance, or bus fees. Electric unicycles require just routine tire and brake maintenance and are far less expensive to own than cars.
Is riding the Inmotion V8F possible while it's raining?
Most unicycles are equipped with rain and mud protection. Riders should avoid riding the Inmotion V8F in severe weather since it is unsafe, unpleasant, and can damage the wheel over time. Batteries, controllers, and motors are all costly components. Water exposure will void your warranty and reduce the wheel's life expectancy.
Disclaimer: The information presented in this article is derived from extensive research, user reviews, and publicly available information. Our aim is to provide accurate and up-to-date content; however, it is crucial to understand that the opinions expressed are based on the information available at the time of writing. We strongly encourage readers to conduct their own thorough research and carefully evaluate their individual needs before making any purchasing decisions.
eWheels 2023 Summer Deals and New Launches are here!!!
Cheap, reliable, and powerful! TurboAnt Electric Scooters 2023 Sale!
Hi guys! This post may contain affiliate links, sponsored content, and advertisements. We get a small commission for covering topics that interest us (helps us keep the doors open). For more information, please see our privacy policy and disclaimer. Ride safe yall!
2023 Electric Unicycles:
Coupons & Deals:
Apollo Scooters: Get $50 USD worth of free accessories, upgrades, or spare parts with the purchase of a scooter. Code: VROOOMIN
REV Rides: Save $50 off Scooters and EUC's, Code: VROOOMIN
EVOLV Electric Scooters: Free Folding Lock (worth C$80) for every EVOLV model! Use Code: VROOOMIN-LOCK
To keep the site running and information flowing, Vrooomin.com participates in affiliate linking programs. We're also an Amazon Associate, which means we get paid for referring people to Amazon. Please support the channel by clicking on our links.