Big Battery, Big Motor, Monstrous Electric Unicycle for Riders Who Seek to Ride Far and Fast
The EUC universe of electric vehicles is dominated by street wheels.
The Begode EX.N is recognized for its quick acceleration, smooth cruising, and pleasant riding. This 2800W 100V 2700WH LiTech Samsung 50E 21700 powered beast of an electric unicycle is highly sought after due to its insane 45+ mph top speed, durable 100-mile range, and trusted 73 lbs chassis. Long story short, the EX.N is a crowd favorite, a great performance city wheel; some even call it the Sherman Slayer.
News & Deals
Big Range for The Big City Commute
Or Off-Road Friendly with Knobby Rubbers
Taking the subway or getting stuck in traffic can harm our mental health. Running errands and getting dental work can also be a pain in the arse; with the Begode EX.N, every commute to those most mundane activities can become a thrill ride. By design, the Begode EX.N's 20″ CST-186 knobby tires are on the heavier side, giving riders a stable foundation to take their electric unicycle riding to the next level. To make things even more interesting, the Begode is outfitted with the most up-to-date lights, electronics, and features to guarantee that riders get to their destination correctly.
LiTech Powered Battery Packs on Packs
Ready to take over the streets? Better have the funds ready to poney up stacks on stacks
Let's face it when you're driving down the road on a high-performance wheel and want to feel confident that you're riding on the best hardware available. Jason and his team are continuously at the forefront of the search for the best-performing and highest-quality e-wheels.
The Begode's heavy-duty agile body, 20″ CST-186 knobby tires, high torque 45 mph rated top speed, and upgraded 2700 LiTech Samsung 50E 21700 battery pack provide an adrenaline-inducing ride experience many riders covet. The EX.N is a souped-up hot rod of an electric wheel; it has everything you want, from appetizers to desserts.
Convenience, Comfort, Safety
Many wheels have comparable drivetrain and performance specs; what sets them apart are the extra features, quality, and reliability. A few of the goodies Begode has packed into the EX.N to make your ride quick, enjoyable, easy, and comfortable.
Ready to off-road?
The EX.N is a fan favorite and a strong competitor in the area of extreme performance, dopamine-fueled electric unicycles. The EXN is agile, powerful, and has pedal clearance, allowing riders to spice things up and take further off the road.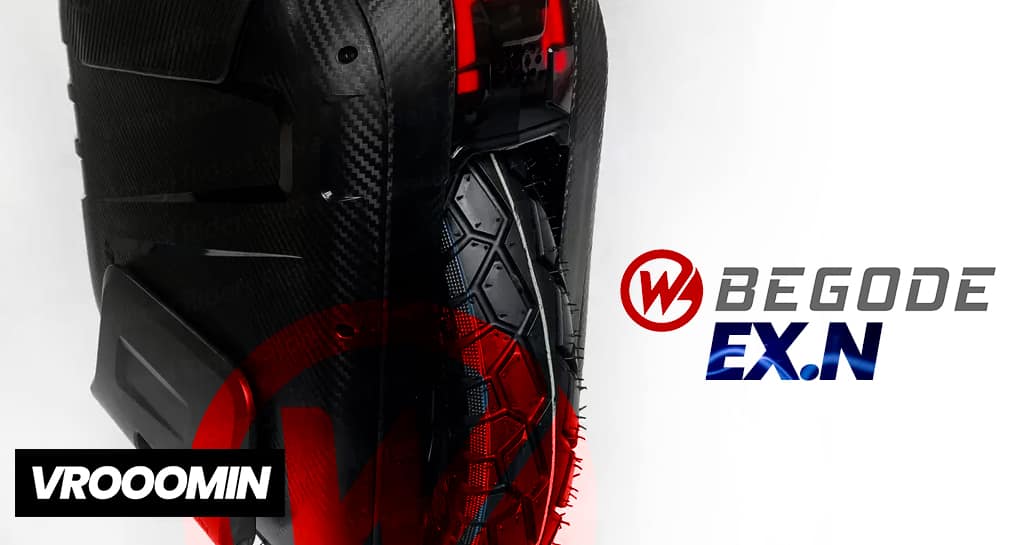 Own Your Commute
No Bus, no problem
The EX.N already has a solid reputation, but eWheels adds to it by providing quality-assured wheels and easy access to spare parts, ensuring the best ride and ownership experience possible. eWheels has taken the initiative to safeguard their EX.N's with custom battery packs and stringent QA standards, as there have been concerns with electric unicycle malfunctions/recalls. Go to eWheels for Begode EX.N's; they have an excellent reputation for customer service and fast shipping.
Begode EX.N Features:
Enhance your riding
Two variants available: High torque and high speed models available
Torque Models have 20% more torque, while High Speed Models have an additional 5 mph on the top end
Excellent long range wheel for a reasonable price
Fantastic upgrade from 2KW 30+ mph wheels
Wheel is nimble, powerful, and has pedal clearance, capable of off road riding
Improved 2.8KW Motor with small bearings
eWheels custom high quality LiTech battery packs with Samsung 50E Cells for added protection and performance
NOTE: Begode had rounded up the actual capacity of three 864Wh packs to 2700Wh when it was actually 2592Wh

2x25W Speakers for cruising

New Begode power pads
Includes 13.1″ long die-cast pedals

Choice of Tires: CST-186 knobby, or the Kenda 340

This Wheel is connected with 2x pairs of wires on a GX16-5 connection, providing up to 8A of charge current, equating to less than 3 hours from 0 to 80 percent charge, and roughly 4 hours from 0-100 percent charge.
With the standard 3A charger, it takes about 7 hours to get to 80%. Charging at a current higher than 8A is not recommended.
Reasons to Buy:
Extreme performance for long commuters and weekend fun
Tried and Trusted top tier Begode wheel for advanced riders
eWheels custom high quality LiTech battery packs with Samsung 50E Cells for added protection and performance
Bonus wrist guards with each eWheels purchase
EX.N is the no suspension version of the EX (the Begode EX was discontinued)
High torque model is great for heavier riders
Reasons to Avoid:
More expensive than lowered tiered 100v wheels
High torque model only goes up to 35 MPH
Heavyweight and chassis, not practical for everyday commuting

Shell is body is older construction style
BEGODE EX.N Electric Unicycle
Simply said, The EX.N is an amazing powerhouse. This EUC is heavy, strong, and a lot of fun, and it will change the way you move.
Power
Battery Pack
Top Speed
Range
Build Quality
Ride Comfort
Price
Weight
Features
Warranty & Customer Service – eWheels
Summary
eWheels has infused an outstanding wheel with a quality battery pack that no other stock Begode's can match. You get the power, range, chassis, and features that all riders want with the EX.N. We get it; $3,000 is a lot of money to spend on an electric wheel, but what else might you do with it? Gas? Booze? Expensive timepieces? But how long will the satisfaction on that impulse buy last?

A performance wheel is a gift to your future self that will keep giving. By the way, wheels save time, money, and energy and are great for the environment.

Please note: given the speed and range that come with the ex. n, considerable weight lifting is expected during transport.

A few options with similar specs, features, and pricing include the Begode Master, King Song S20, Inmotion V12 and Veteran Sherman.

For similar electric unicycles, check out the Most Extreme Performance EUC's.

View the Most Best Electric Unicycles 2022
View the Most Best Electric Unicycles 2022
View the Most Best Electric Unicycles 2022
Technical Specs:
Top Speed: 45 mph / 35 MPH
Motor: 2800W Motor
Price: $2,999
Battery: 100V 2700WH LiTech Samsung 50E 21700 battery pack
Charge Time: 10 hours
Range: 100 miles
Tire Size: 20″ CST-186 knobby tires
Suspension: n/a
Weight: 73 lbs
Max load: 325 lbs
No Load: 49 mph
Pedal Height: 160
Pedal Size: 115×210
Full Size: 585x510x250
Trolley Handle: Retractable handle
Anti Spin Button: Lift switch under handle
Speakers: 2x 25W Speakers
Lighting: 1000-6000 lm headlights / Turning/Brake lights
Ambient LED's: none lighting
Release Year: 2022
USB: 2a outlet
Similar Models
Disclaimer: The information presented in this article is derived from extensive research, user reviews, and publicly available information. Our aim is to provide accurate and up-to-date content; however, it is crucial to understand that the opinions expressed are based on the information available at the time of writing. We strongly encourage readers to conduct their own thorough research and carefully evaluate their individual needs before making any purchasing decisions.
eWheels 2023 Summer Deals and New Launches are here!!!
Cheap, reliable, and powerful! TurboAnt Electric Scooters 2023 Sale!
Hi guys! This post may contain affiliate links, sponsored content, and advertisements. We get a small commission for covering topics that interest us (helps us keep the doors open). For more information, please see our privacy policy and disclaimer. Ride safe yall!
2023 Electric Unicycles:
Coupons & Deals:
Apollo Scooters: Get $50 USD worth of free accessories, upgrades, or spare parts with the purchase of a scooter. Code: VROOOMIN
REV Rides: Save $50 off Scooters and EUC's, Code: VROOOMIN
EVOLV Electric Scooters: Free Folding Lock (worth C$80) for every EVOLV model! Use Code: VROOOMIN-LOCK
To keep the site running and information flowing, Vrooomin.com participates in affiliate linking programs. We're also an Amazon Associate, which means we get paid for referring people to Amazon. Please support the channel by clicking on our links.