Leaperkim Veteran Sherman MAX is now on sale for $3,490
If you're looking for a Veteran Sherman, now is the time to buy one at a steep discount. Coming into the Spring 2023 riding season, the Ewheels team is offering a sweet ass deal to get you plenty of high torque, long-range, Leaperkim quality road miles in.
The Veteran Sherman MAX is one of the best electric unicycles on the planet. It is now at an approachable price for any shopper looking for top quality and lower cost wheel! Better pony up now, as limited stock will move fast this spring riding season.
Adrenaline Soaking, High Torque Ripping, Lightning Striking, Heavy-Weight 3600WH Extreme Performance Electric Unicycle
More Journey than the destination
When the rubber meets the road, pedals tilt, coils energize, poles repel, the rims revolve, and you're off. At the very least, that is the aim. For people like us, who thrive in the fast lane, we want high-quality machines. Rapid acceleration demands 100V 3600WH batteries, 2800W rated high-torque motors, reliable electronics, and trusted wheels for the style of riding we undertake.
My little gripe with the Sherman OG
The Sherman OG's off-the-line acceleration was one of my most outstanding complaints. To put it simply, it was sluggish at first, but once it got up to speed (about 10-15 mph), this beast would fly all day.
I've never been a big off-roader or hill climber, and there aren't many high climbs in NYC, but others have complained about the Sherman on steep hills in SF and off-road. That has all changed recently. With the relaunch of the Sherman Max, Leaperkim engineering has addressed those shortcomings.
One Wheel Electric Motorcycle
Veteran Sherman MAX: 86 lbs, 45+ mph, 144 Miles Max Range
The 20″ Veteran Sherman MAX can carry riders past 45+ mph and cover a maximum range of 144 miles on a single charge, eliminating the need for cars, buses, or subways. For outsiders looking in, it's almost unnecessary. 3600wh is a lot of firepower. It's unlikely that a single person could use that much range in a day, but you never know.
The Max is a big deal, weighing 83 pounds and featuring a 2800w engine and a 100V 3600wh Samsung 50E 21700 battery pack. The Max will set you back $3,799 all in. Only the most daring and devoted would desire or spend the money on such a massive wheel.
Credit card will be hurting, but you'll recover soon.
You can't put a price on fun time and money saving, environmentally friendly personal electric vehicle
Even though the Max is the most expensive wheel on the market, I'd say that, as a Sherman owner myself, it has the performance capabilities, features, and LeaperKim build quality to warrant its premium price tag. But $3,800 is a big jump from the $2,700 I paid for my V2 Sherman.
The main differences are an entirely new drivetrain, an extra 400wh pack to keep your battery juice-juicy, and, let's not forget, the new coveted 2.8KW motor with super-sized 10AWG phase wires.
News & Deals
Leaperkim's Extreme Performance Electric Unicycle
Performance Tuned Features
You either love it, despise it, or can't handle the Sherman MAX. Riders adore this heavy-duty, heavy-weight, high-performance electric wheel, but why? For starters, this behemoth of an electric unicycle features off-road 20″ tires, a top speed of 45+ mph, and a massive 3600WH Samsung 50E 21700 battery pack that's capable of 100 fun-filled miles. The Sherman has some serious firepower and enough cardio to take your mind off anything.
With the Sherman Max, you get what you pay for.
The Sherman MAX is stacked with features.
Leaperkim did not spare any expense when building this wheel. The Max features 1500-lumen headlights/turning/brake lights, 12x HY Controller MOSFETS (high efficiency and reliability), an integrated shell body, top dashboard display, heavy-duty external roll-bar, scratch-resistant shell, dual 13A charge ports, and upgraded battery protection to round things off. Every dollar of its $3,799 price tag is represented in the Sherman build quality, materials, and features.
Veteran Rider, Alexlutland, reaches 82 KMH / 50 MPH on the New Sherman Max
View the Most Best Electric Unicycles 2022
View the Most Best Electric Unicycles 2022
View the Most Best Electric Unicycles 2022
Best in Class Customer Service
The Veteran Sherman is a fan favorite and a front-runner in the extreme performance and long range categories.
Don't settle for less; get a Sherman from the top EUC dealer in North America. You're spending your hard-earned money on what may be the best and most expensive wheel on the market, so why not get the best support for your wheel as possible?
When you buy a Sherman from eWheels, you get legendary expert support, easy access to spare parts and the best customer service in the industry.
Reasons to Buy:
Highest range and torque wheel in its class
Massive 400WH battery capacity upgrade
Upgraded torque 2800W motor, 20% more torque (V1 Shermans we're slow off the line)
Improved low RPM over-current protection
Thicker 10AWG motor phase wires for more current, power, and speed!
Updated pedal bracket design
Loaded with features (but at a cost!)
Most trusted extreme performance wheel on market
Heavy-Duty durable shell and roll cage
Reasons to Avoid:
PRICEY Most expensive wheel on the market
HEAVY extremely heavy, not practical for everyday usage
PORTABILITY Difficult to carry and with no public transport
Great for long range, not the best solution for last mile, short trips, heavy traffic
First gen's had few reported issues with rim cracking (maybe due to very low tire pressure riding)
First gen's had overheating on very steep inclines climbs, better for flat roads
Technical Specs:
Top Speed: 45+ mph
Motor: 2800W
Price: $3,799
Gradient: 14 degrees
Battery: 100V 3600WH Samsung 50E 21700 battery pack
Charge Time: 8 hours
Range: 144 miles
Tire Size: 20×3″ Kenda 262 Off-Road
Suspension: n/a
Weight: 86 lbs
Max load: 330 lbs
No Load: 60 mph
Pedal Height: 170
Pedal Size: 1130×250
Full Size: 592x500x195
Trolley Handle: Retractable handle
Anti Spin Button: none
Speakers: none
Lighting: 1500 lm headlights, Turning/Brake lights
Ambient LED's: n/a
Release Year: 2022
USB: none
Charger: Regular (100.8V/5A), Rapid Available (100.8V/*A charger)
Seat: Options available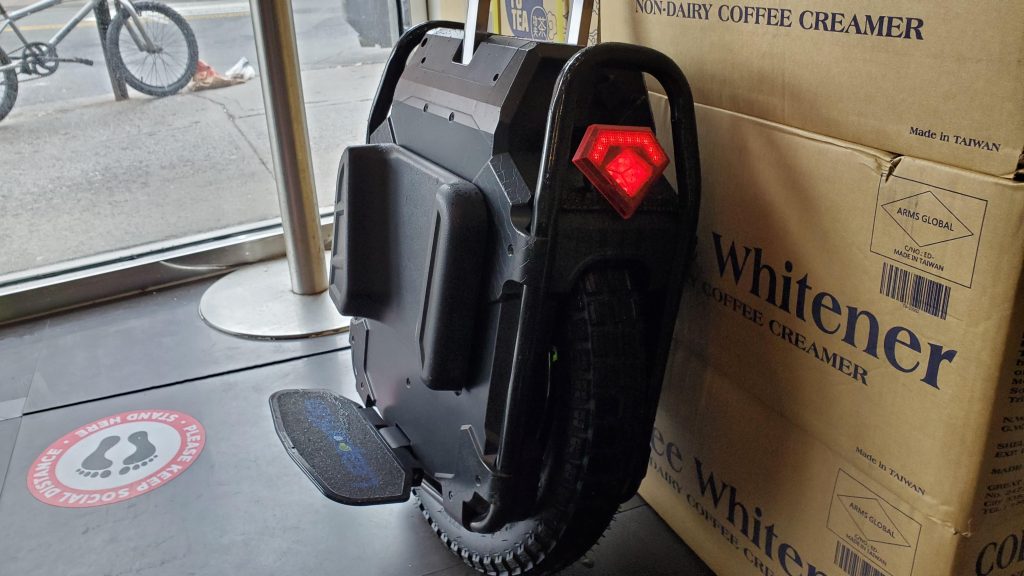 Wheel Performance
Model Name: Sherman

No-load Free Motor Spin Speed: 60mph/98kph, max potential cruising speed ~45mph
Nominal Motor Power: 2,800W
Battery: 3,600WH/100.8V, Imported Samsung 50E 21700
Max Climb Gradient: 35°
Max Load: 330lb/150kg
Standard Charger: 100.8V/5A
Charging Time to 100%: 8hrs
Dimension and Weight
Dimension: 21.65″ Length x 7.67″ Width x 23.8″ Height (500x195x605mm)
Net Weight: 86lb/39kg
Pedal Dimensions: 9.85″x 5.11″/250x130mm
Pedal Height/clearance: 6.9″/170mm
Hardware
Controller: 12x HY MOSFETS, peak power output
Active Controller Cooling: Dual cooling fans, activation at 45℃
Tire Size: 20″ inch Kena off-road tire
Trolley Handle: Integrated into shell body
Dashboard Display: Speed, voltage, odometer, ride modes, Wheel settings, etc.
Speed Limit Settings: Set through integrated display, future App integration
Calibration Set through integrated display, future App integration
Shell Structure: Metal looped roll-bar for lifting, scratch resistant ABS plastic shell
Input Charge Ports: Dual-input charge ports, supports up to 13A charge current
Headlight: 2x 750lm = 1500lm output
Taillight: Turning & brake warning lights
Low Battery Protection: Low-voltage Alarm @ 78V, 'get-off now' 75.6V
Battery Protection: Overcharged, over-discharge, input short-circuit protection
Controller: Over-temperature 185°F/85°C
Package Gross-Weight: 88lb/40kg
Box Size: 22.4″ Length x 11″ Width x 27.5″ Height (570x280x700mm)
Similar Models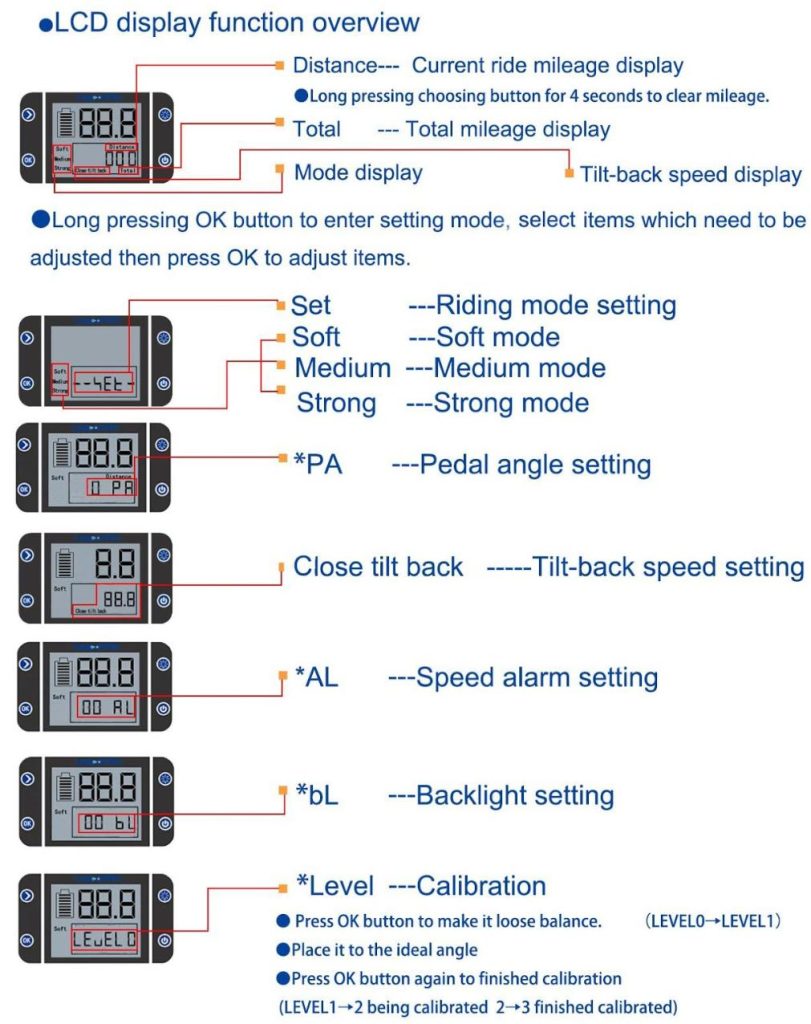 Frequently Asked Questions
We've combed the internet for the most up-to-date information on each electric unicycle in our database, including forums, threads, reviews, and videos. We've done all the legwork to make your search easier!
Are there any known issues or defects with the Veteran Sherman?
There aren't any major issues with the Veteran Sherman MAX as of yet, we'll keep this section updated.
What is the Veteran Sherman's top speed?
While the Veteran Sherman is rated for a top speed of 45 mph, most riders will be able to achieve this speed; some riders have gotten this wheel up to 50 MPH!
To achieve maximum speed, ensure that the battery is fully charged and that you are in a safe area where you can safely push this unicycle at high speeds.
What is the Veteran Sherman's maximum range?
The Veteran Sherman is rated for 144 miles, but the average adult's range is more likely 100 miles (give or take), which is plenty of range to get around town and run errands.
Please remember that the maximum range varies depending on the rider, road conditions, weather, and usage.
Is the Veteran Sherman capable of supporting heavier riders?
If there were ever an exclusive wheel built for the big guys, the Sherman would be it. The Sherman can carry riders weighing up to 330 pounds! While most riders are not in the 300+ club, you can only imagine this wheel's power with the lightest riders on the road.
Is the Veteran Sherman MAX easy to ride?
Riding the Sherman is difficult; no easy way to put it. Even if you've used other EUCs before, you'll have to relearn how to balance, accelerate, and ride in traffic on this one. Because it's heavy, you'll notice its density and size in your stop-and-go movements. You'll see the difference in performance once you get the hang of it.
Disclaimer: The information presented in this article is derived from extensive research, user reviews, and publicly available information. Our aim is to provide accurate and up-to-date content; however, it is crucial to understand that the opinions expressed are based on the information available at the time of writing. We strongly encourage readers to conduct their own thorough research and carefully evaluate their individual needs before making any purchasing decisions.
eWheels 2023 Summer Deals and New Launches are here!!!
Cheap, reliable, and powerful! TurboAnt Electric Scooters 2023 Sale!
Hi guys! This post may contain affiliate links, sponsored content, and advertisements. We get a small commission for covering topics that interest us (helps us keep the doors open). For more information, please see our privacy policy and disclaimer. Ride safe yall!
2023 Electric Unicycles:
Coupons & Deals:
Apollo Scooters: Get $50 USD worth of free accessories, upgrades, or spare parts with the purchase of a scooter. Code: VROOOMIN
REV Rides: Save $50 off Scooters and EUC's, Code: VROOOMIN
EVOLV Electric Scooters: Free Folding Lock (worth C$80) for every EVOLV model! Use Code: VROOOMIN-LOCK
To keep the site running and information flowing, Vrooomin.com participates in affiliate linking programs. We're also an Amazon Associate, which means we get paid for referring people to Amazon. Please support the channel by clicking on our links.