King Song 16X Electric Unicycle
For your average city rider, suburban commuter, or knowledge-seeking college student, the 16X has earned a reputation for being a top dog in the mid-range EUC category.
The King of Reliability
This 50 lbs, 31 mph, 65-mile range, 1554WH battery on wheels has a legacy for being one of the most reliable and featured packed wheels to date. No wonder beginners look to the 16X to get their whistle wet when finding the balance between power, performance, range, and portability.
Pros: Light weight, portable, powerful, reasonably priced, reliable
Cons: Some may want more speed, no suspension, older design
While the King Song s22 may garner more attention in the current EUC performance landscape, do not overlook its older brothers. The KS-16X, unlike its younger 126V sibling, packs a tremendously powerful punch into a compact 50-pound chassis. This relatively modest-wheeled beast is powered by a 2200W motor and offers a daily riding range. The 16x's capacity will not let you down, particularly with its 1554Wh battery that can take you around the block and back again.
Technical Specs
Top Speed: 31 mph

Cruising Speed: 15-25 mph
Motor: 2200W
Battery: 84V 1554wh
Charge Time: 4-6 hours
Range: 65 Miles (give or take)
Max Load: 300 lbs
Weight: 50 lbs
Tires: 16×3″
Features: All new design with 4.1 speaker system, retractable trolley, XL pedals & high ground clearance
Lighting: Head, rear, and side RGB
Performance, torque, and handling are superior, and it has all of the well-considered King Song EUC features. The 16X has enhanced hand-sensing motor disengagement, twin charging outlets, and dual USB connections for powering/charging on-the-go riding accessories.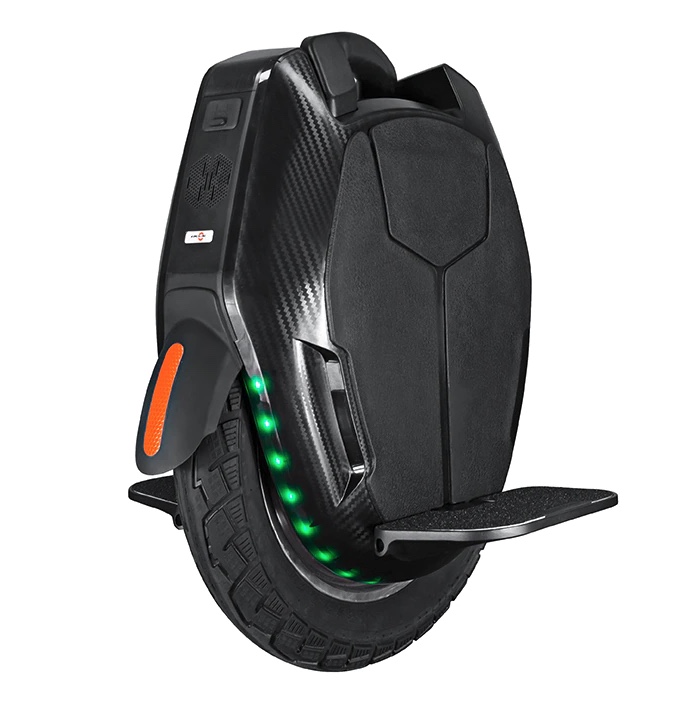 As per OG commuters in the community, the most enjoyable part of this electric unicycle is the distinctive riding dynamics made possible by the combination of unexpectedly comfortable ergonomics and easy handling. The 16X is an excellent bundle for the purple performance, middle-of-the-road EUC market.
Power
Please do not be mistaken; the 16X is a high-end electric unicycle with a tank-like casing that can withstand everything you can throw. The 16X, powered by a 2200W set of 16″ magnets, can drive riders up to 31 mph and provides ample hill climbing strength to propel riders up and down hills. With a motor and battery capable of delivering peaks of over 4000W and a thick 16×3 tire, riders enjoy power and acceleration that inspires confidence as they go to their destination.
Handling
The 16x is easy to ride since the chassis, pedals, and panels are well-balanced to give optimal braking and acceleration handling. The arrangement of the pedals, frame, and tires contribute to an agile ride, allowing riders to navigate the road with ideal control.
Look, feel, and features
King Song has undertaken a significant design reversal, reorienting the 16X to modernize its portfolio. The bigger 16″ body accommodates additional amenities such as an enhanced sound system, trolley, larger pedals, more ground clearance, twin charging connections, and dual USB ports. The 16X size is essential; you get extra features.
Is the King Song 16X right for you?
If you're new to electric unicycles and searching for a reliable mid-size wheel, the 16X is a fan favorite that will put you in the sweet spot of performance, portability, and features. Several mid-sized wheels are in its category, some of which have been recalled and are contentious. The 16X is a beautiful starter wheel that will prevent riders from hitting the dreaded top speed ceiling when using less powerful 14″ wheels. Honestly, we all want more incredible speed… The 16X will serve as a hedge for riders who don't but to each his own.
Best Electric Unicycles under $2,600
Disclaimer: The information presented in this article is derived from extensive research, user reviews, and publicly available information. Our aim is to provide accurate and up-to-date content; however, it is crucial to understand that the opinions expressed are based on the information available at the time of writing. We strongly encourage readers to conduct their own thorough research and carefully evaluate their individual needs before making any purchasing decisions.
eWheels 2023 Summer Deals and New Launches are here!!!
Cheap, reliable, and powerful! TurboAnt Electric Scooters 2023 Sale!
Hi guys! This post may contain affiliate links, sponsored content, and advertisements. We get a small commission for covering topics that interest us (helps us keep the doors open). For more information, please see our privacy policy and disclaimer. Ride safe yall!
2023 Electric Unicycles:
Coupons & Deals:
Apollo Scooters: Get $50 USD worth of free accessories, upgrades, or spare parts with the purchase of a scooter. Code: VROOOMIN
REV Rides: Save $50 off Scooters and EUC's, Code: VROOOMIN
EVOLV Electric Scooters: Free Folding Lock (worth C$80) for every EVOLV model! Use Code: VROOOMIN-LOCK
To keep the site running and information flowing, Vrooomin.com participates in affiliate linking programs. We're also an Amazon Associate, which means we get paid for referring people to Amazon. Please support the channel by clicking on our links.