Hi guys! This post may contain affiliate links, sponsored content, and advertisements. We get a small commission for covering topics that interest us (helps us keep the doors open). For more information, please see our privacy policy and disclaimer. Ride safe yall!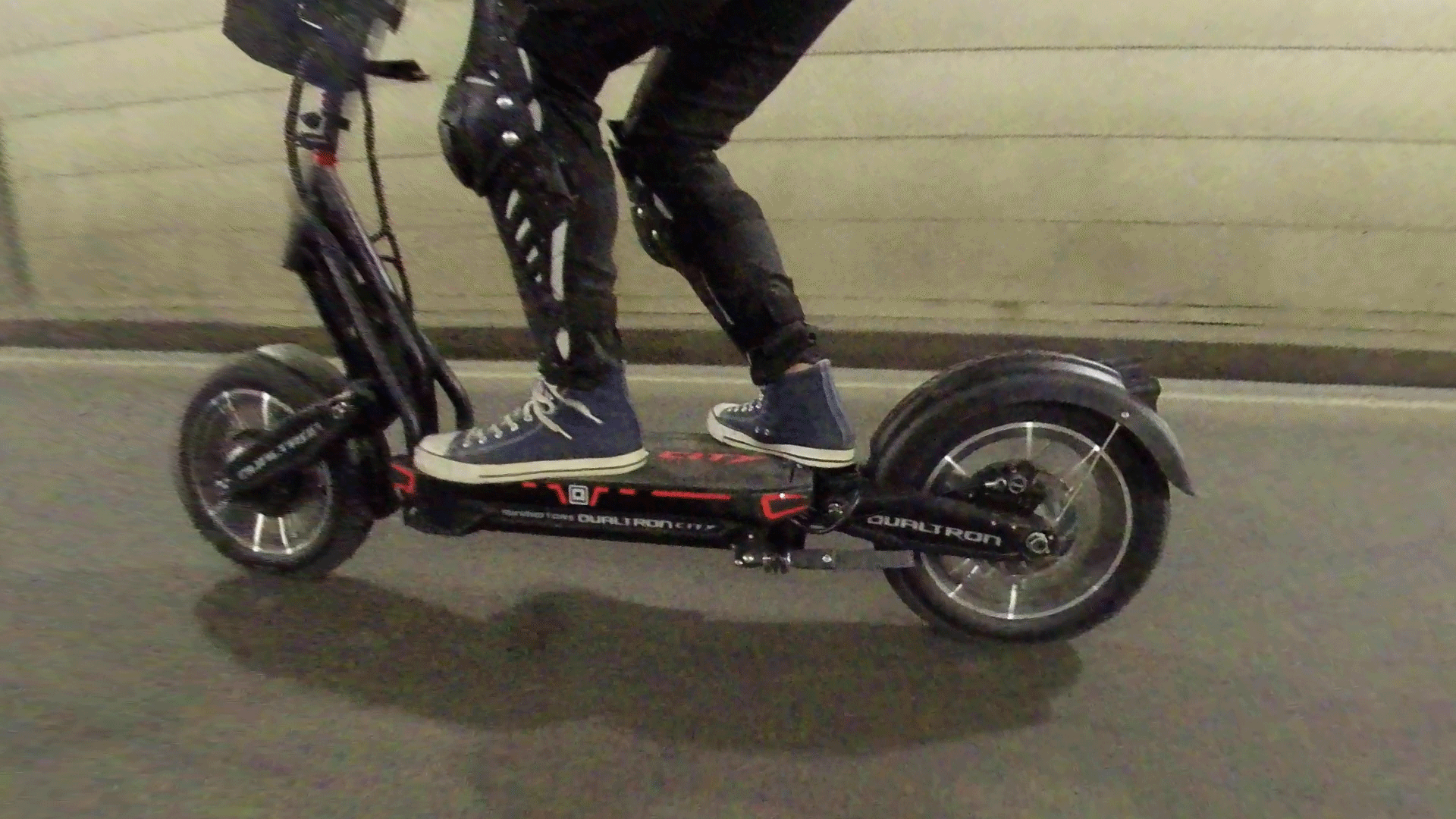 Are you ready to Upgrade to a +40 MPH Scooter? Look no further.
Riding an electric scooter to run errands, travel to work, or meet up with pals is a liberating experience. There are no vehicles, tickets, parking lots, or traffic to deal with; all you have to do is put on a helmet and go!
Save $50 off Kaabo & EMOVE Electric Scooters with Code VROOOMIN
Featuring the strongest electric scooters under $3K
Kaabo, Speedway, Vsett, Dualtron, EonMotors electric scooters
Electric Scooters with a top speed of +40 MPH are the finest models in terms of cost, pricing, power, and weight!
Light weight, Nimble, and Powerful 60V Electric Scooters
The most effective power-to-weight ratio
The thing about 40 MPH electric scooters is that you don't have to drive at max speed to get the most out of them. Most riders prefer to cruise at rates ranging from 15 to 34 miles per hour. These mid-size performance scooters are excellent since they're inexpensive, light, and have a lot of torque for climbing steep inclines.
Top 40 MPH Electric Scooters for 2022
Bluetran Lightning
Dualtron City
EVOLV Corsa
Dualtron Achilleus
Kaabo Wolf Warrior X Pro
Speedway 5
Vsett 10+
Dualtron Eagle Pro
INOKIM OXO
Dualtron Compact
The Best Power to Cost Ratio
Depending on the model, a 40 MPH electric scooter will set you back anywhere from $1,800 to $3,000. These Electric Scooters are all in stock and available to ship right now! Compare power, range, weight, features, and more in the 2022 Electric Scooter Database! This is a list that is not in any particular order!
High Voltage, 72V Mid-Class Warrior, 40-50 MPH Electric Scooter
Price: $2,236 – Dealer: Bluetran USA – Top Speed: +50 MPH – Range: 50 Miles – Weight: 88 lbs
The Bluetran Lightning is the newest and most robust MiniMotors performance scooter. It was created for riders who desire a comprehensive, compact, and powerful performance at a fair price. A complete scooter with horn, headlights, turn signals, coveted MiniMotors powertrain, 72V battery, and sleek and seductive sports chassis is available for $2,700. What more could you want? Go Bluetran Lightning, go fast, go hard.
Introducing the Dualtron City, the latest 40 MPH Electric Scooters.
Price: $3,599 – Dealer: MiniMotors USA – Top Speed: +45 MPH – Power: 4,648W – Range: 75 Miles – Weight: 89 lbs
The Dualtron City has 15-inch tires that absorb impact better than standard scooter tires of 8-11 inches. In addition to the larger tires, the City has a battery pack that can be swapped out to increase range and save weight. Full hydraulic brakes are standard in the City, delivering more than enough stopping power. With 4,000 watts of power on a mid-size body, performance nevertheless packs a punch. Check out the new Dualtron City for more Dualtron power!
Price: $2,785 – Dealer: Urban Machina – Top Speed: +44 MPH – Power: 2,400W – Range: 37 Miles – Weight: 99 lbs
The Corsa is the evolution of the legendary EVOLV PRO-R, and it's a 99-pound scooter with some of the most challenging components to keep you on the road and at top speeds. The Corsa is a 99-pound behemoth with a top speed of 44 mph, a range of 37 miles, and some of the best ride-quality components to keep you comfortable and move. Full suspension, hydraulic brakes, halo-led front lights, tail, signal, and side lights are all standard on the Corsa. The tubeless 11″ tires are designed for moving, grooving, and avoiding flats. The Corsa will take you far and fast if you want to take your electric scooter game to the next level.
Price: $3,599 – Dealer: MiniMotors USA – Top Speed: +45 MPH – Power: 4,648W – Range: 75 Miles – Weight: 89 lbs
MiniMotors' Dualtron Achilleus electric scooter is the company's first more petite 11-inch tire scooter. The Dualtron Achilleus is not to be missed, with a sizeable 75-mile range from a 60-volt, 35 Ah battery, full hydraulic brakes, and fantastic new lighting effects featuring a rear LED integrated kicktail. When you're not riding this sleek beast, this scooter is spec'd apply similarly to the original Thunder, with a thinner profile deck that makes it easier to fit in tight spots. With the Dualtron Achilleus, the electric scooter craze continues!
The Feather Weight Warrior, +40 MPH Electric Scooter
Price: $2,236 – Dealer: VORO Motors – Top Speed: 43 MPH – Range: 50 Miles – Weight: 75 lbs
The Wolf Warrior X, the family's newest member, has everything you seek from a Wolf Warrior in a smaller, less bulky package. Its dual 1100W motors deliver strong acceleration and a top speed of more than 40 mph. The X Pro has a massive 60V 28AH battery with LG cells that could go up to 52 miles between charges.
Save $50 off Kaabo Electric Scooters with Code VROOOMIN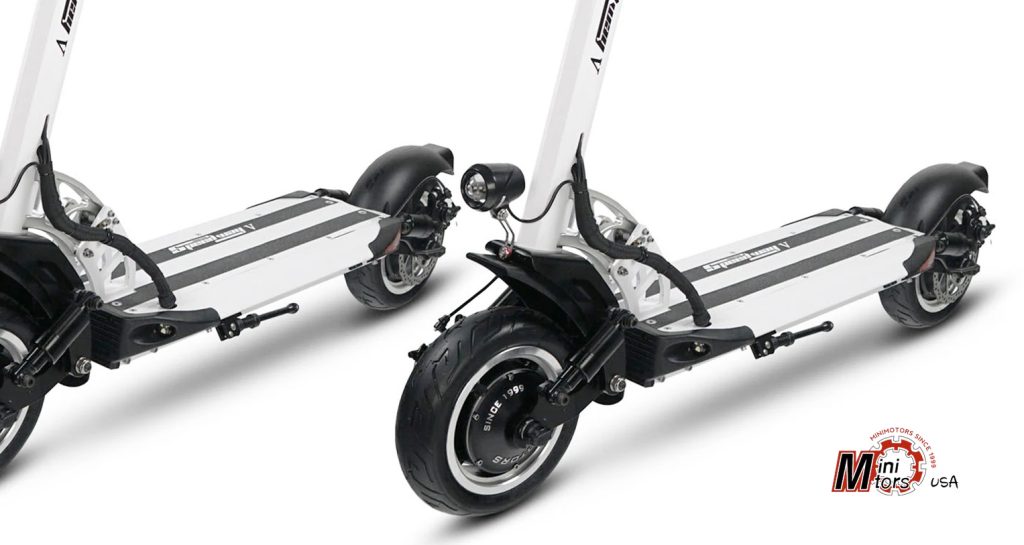 High Speed Commuter, Cheapest 40 MPH Electric Scooter
Price: $2,100 – Dealer: MiniMotors USA – Top Speed: +40 MPH – Range: 75 Miles – Weight: 68 lbs
The Speedway 5 Dual has been released to commemorate the 5th anniversary of Speedway Electric Scooters! The Speedway 5 has been fully redesigned with 3,600-watt dual BLDC motors, a best-in-class 23.4Ah battery, double air spring suspension, and matching LED logo mood lighting. The Speedway 5 Electric Scooter outperforms its rivals.
The +50 MPH Sports Commuter
Price: $2,590 – Dealer: eWheels – Top Speed: +50 MPH – Range: 70 Miles – Weight: 86 lbs
The 10+ is more extensive and better, with more powerful motors, a battery, and a more robust frame. The twin 1400-watt motors can reach 50 mph, while the 60-volt, 25-amp-hour battery provides at least 45 miles of the natural range. The tires are large 10″ pneumatic tires. While not the lightest, the 10+ is in the middle of the pack for electric scooters, coming in at 79 pounds on average. Overall, the Vsett 10+ pushes the performance-to-price ratio to new heights.
All Around 40 MPH Electric Scooter
Price: $2,300 – Dealer: MiniMotors USA – Top Speed: +40 MPH – Range: 50 Miles – Weight: 66 lbs
The Dualtron Eagle Pro is the newest model from Dualtron Electric Scooters and is a worthy successor to the Dualtron 2. This scooter is filled with the extras that riders have requested, including entirely redesigned 3,300-watt BLDC hub motors, folding handlebars, and a rear variable suspension cartridge. The Eagle Pro is a limited-edition model that will be available for a limited time.
All Around 40 MPH Electric Scooter
Price: $2,600 – Top Speed: 40 MPH – Range: 68 Miles – Weight: 73 lbs
For riders who want to push the limits, the 40 mph INOKIM OXO does this without a second thought. Riders like the INOKIM OXO because it has 2600W motors, which can go 68 miles on one charge! It also has a 60V 25.6AH LG battery pack, first-class suspension, and other extras to make your ride plush. The truth is riders want more than to get from home to work; they want the electric soothing effect that only high-performance electric scooters can give them. Whenever you have a performance scooter this big and powerful that costs this much, Urban Machina has customer service and warranty support for peace of mind.
Low Mainteance and High Performance
Price: $2,649 – Dealer: MiniMotors USA – Top Speed: +40 MPH – Range: 50 Miles – Weight: 70 lbs
For its size, the Dualtron Compact is a powerhouse. The Compact has two driving BLDC hub motors with a peak output of 3,400 watts. It has drum brakes with ABS for easy maintenance and eight-inch solid tires, so you don't have to think about flats. A 60-volt 30Ah battery pack using LG cells should provide a range of up to 60 miles.
Light Weight and Powerful 50 MPH Electric Scooter
Price: $2,699 – Dealer: MiniMotors USA – Top Speed: +50 MPH – Power: 4,000W – Range: 62 Miles – Weight: 73 lbs
New Middle Weight Champion. The Victor comes with a fourth-generation Dualtron frame, a double quick-release sliding collar, extra wide 3-inch tires, and full hydraulic Zoom brakes, among other features that help Dualtron maintain its position as one of the best electric scooters in the world. The two BLDC motors are pushed to 4,000 max watts by new 30 amp smart motor controllers, and LG M50T 21700 series battery cells with a capacity of 30Ah at 60 volts mean there are no compromises in terms of quality. The Dualtron Victor continues the legend!
Message John from MiniMotors USA, and they'll have one shipped to you in no time.
Compare the Dualtron Victor Specs with other 2022 Electric Scooters.
More 40+ MPH Extreme Performance Electric Scooters:
North American Electric Scooter Dealers
MiniMotors USA – Dualtron, Speedway, Futecher Electric Scooter Distributor
John and the MiniMotors USA team are based in San Rafael, California, and are one of the first high-performance electric scooter startups in Northern America. It's no wonder many scooter riders choose MiniMotors USA because of their solid reputation for high-quality scooters, seasoned knowledge, and excellent customer service. High-performance Dualtron electric scooters are available at MiniMotors USA.
---
eWheels – VSETT, Bronco, TurboWheel, Inmotion, & WEPED Electric Scooter Distributor
Jason and the eWheels team in North America provide lightning-fast customer service for electric scooters, unicycles, and e-bikes. To develop, enhance, and market the latest personal electric vehicles. When you ride with eWheels, you get excellent products, service, and support for the thousands of miles you'll be commuting.
---
Voro Motors – Kaabo, EMOVE, Fiido, & Dualtron Electric Scooter Distributor
Melvin and the Voro Motors team are one of the fastest-growing electric vehicle distributors in Los Angeles and New York City. With its increasing inventory and online video knowledge base, Voro Motors is a terrific resource for customer service and excellent electric scooters. When you choose Voro Motors, you can be confident that you will receive some of the best scooters available.
---
REV Rides – VSETT, Zero, Segway, Evolv Electric Scooter Distributor
Nathan and the REV Rides crew are well-known in the electric scooter, unicycle, and e-bike communities. REV Rides has a strong customer service record and a sizable following of electric scooter and unicycle users. When you order from Rev Rides, you can be confident that you will receive the highest quality products and customer service. Rev Rides has the latest electric cars from VSETT, Segway, Begode, and King Song.
40 MPH Electric Scooter Page Updates:
EVOVL Corsa Added 3/15/2022
Inmotion V12HT Electric Unicycle Review Video
To keep the site running and information flowing, Vrooomin.com participates in affiliate linking programs. We're also an Amazon Associate, which means we get paid for referring people to Amazon. Please support the channel by clicking on our links.