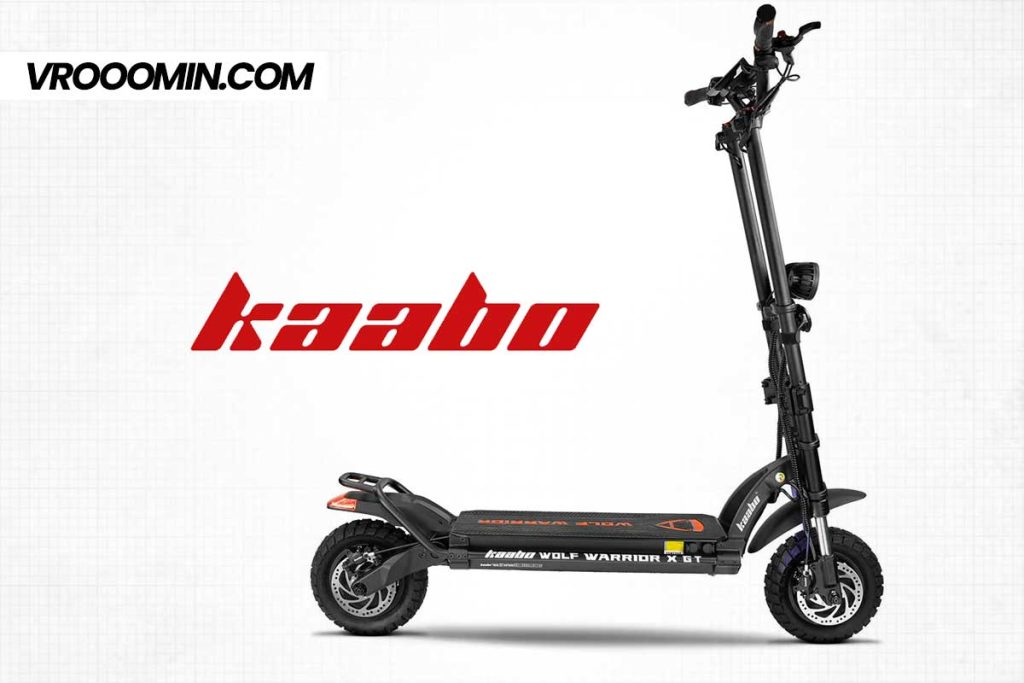 Save $50 off Kaabo Electric Scooters with Code VROOOMIN
Bless you, Kaabo, another? The GT version of the Wolf Warrior X is finally out, and it's about time. The Wolf Warrior X GT is the latest iteration of the Wolf Warrior franchise, featuring grand touring modifications to the motor controllers, throttle, and display, resulting in a phenomenal street fighter for everyday performance.
2022 Kaabo Wolf Warrior X GT Technical Review
If you're tired of sitting in traffic, waiting in lengthy lines, and dealing with other inconveniences daily, consider switching to an electric scooter as a means of transportation.
Folks, don't take this scooter lightly; it packs significant fury. Powered by two 1100W motors and 27A sine wave controllers, the Wolf Warrior GT boasts a maximum speed of 43 mph that is very easy to handle and extremely enjoyable to ride.
The Warrior GT is suitable for any situation, with street and off-road tire types and a great lighting system that includes front and rear turn signals, powerful dual headlights, and sidelights.
This model is available in either gold or black
Dual 10″ tubed pneumatic tires, front hydraulic suspension, rear spring suspension, and Zoom hydraulic brakes with 140 mm rotors are included on the Wolf Warrior X GT.
Complete commuter package with IPX5 water resistance, loud horn, brilliant headlights, front and rear turn signals with integrated brake light, fast-release folding mechanism, and programmable deck lights.
With a 60V 28Ah LG battery with 1680 Wh capacity, twin 1100W motors, and dual 27A sine wave controllers, this scooter is packed with durable, long-lasting power.
Power
The Kaabo Wolf Warrior X GT is positioned in the center of the Kaabo lineup for new enthusiasts seeking an enjoyable electric scooter commuting experience.
As a High-Performance electric scooter, the Kaabo Wolf Warrior X GT is powered by 4400W dual hub motors with a 27A Sinewave Controller and can reach up to 43 mph speeds. On most journeys, most riders will not exceed the local speed limit, and they can anticipate an average between 10 and 20 mph on their everyday commutes.
Top Speed: 43.5 mph (70 km/h)
Hill Climb Angle: 35 Degrees
Motor: (2) 1100W BLDC
Throttle: Thumb Throttle
Controller: (2) 50A Sine Wave
Brakes: Zoom Hydraulic, 140 mm rotors
While the Kaabo's +40 mph drivetrain allows riders to keep up with traffic, we strongly urge them to remain in the bike lane whenever feasible, as it has shown to be considerably safer in our collective commuting experience.
Using the dependable 60V High-Performance drivetrain of the Kaabo, riders may effortlessly ascend 35-degree slopes. When riding an electric scooter, we can forget about squandering money and pumping gasoline, making Kaabos a significant monetary expenditure.
Range
Like other personal electric vehicles, it costs less than 15 cents to fully recharge a Kaabo battery.
The Kaabo Wolf Warrior X GT has a 60V 1680WH LG battery pack that can deliver up to 68 miles of range. Since we are all commuters at the core, most users anticipate at least 60 percent of the quoted range in mixed riding scenarios. Please plan accordingly since charging the Kaabo will take around 12 hours.
Range: 68 mi (110 km)
Charger: (2) 60V 1.75A M13 3Pin
Charge Time: 12 Hours
Battery: 60V 28Ah LG
At the time of writing, fast chargers are not readily accessible; thus, check with your dealers about available possibilities. Most riders' daily mileage ranges from 1 to 10 miles on any given commute. Therefore choices with less power and capacity are available. The bigger the battery pack, the longer the driving capacity, the fewer charging worries, and the faster the scooter will go.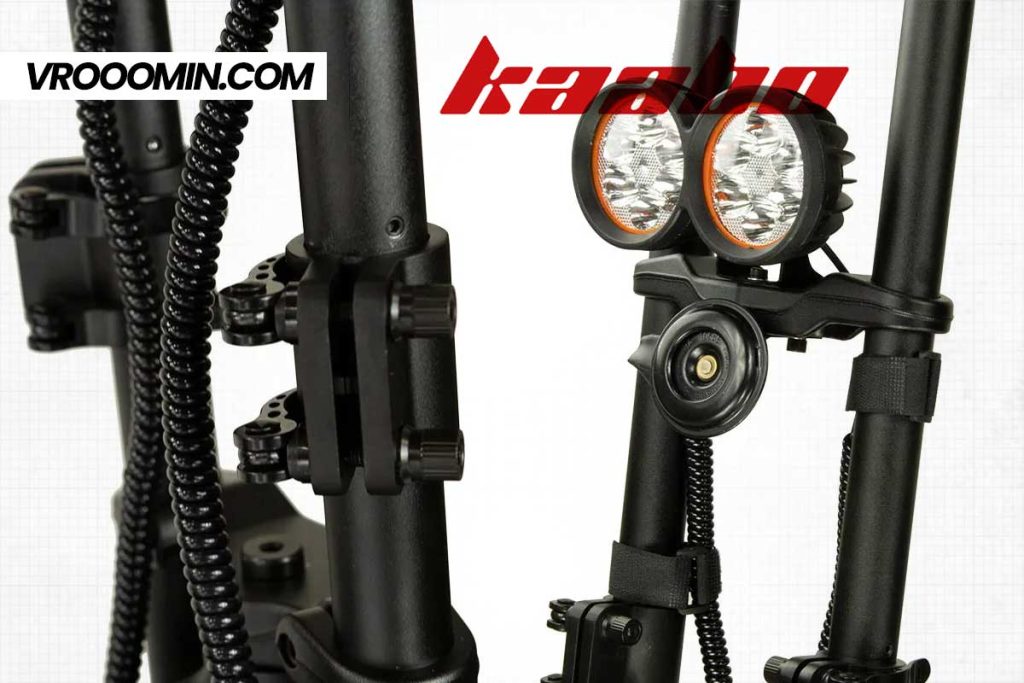 Chassis
The Warrior X is a medium size tank
The Kaabo Wolf Warrior X GT is undeniably a High-Performance electric scooter. The Wolf Warrior X GT weighs 83 pounds and has a dependable Aluminum Alloy Frame, 10-inch hybrid tires, hydraulic shock suspension, and Hydraulic disk brakes.
Suspension: Hydraulic shock
Tire Type: 10″ x 2.7″ Inner Tube
Max Load: 265 lbs (120 kg)
Item Weight: 83 lbs (38 kg)
Dimensions: Folded: 47.6" x 22.7" x 25.5" – Unfolded: 48" x 25.5" x 47.6"
With 10″ hybrid tube tires, you may ride on city streets and rural trails since they are suited for various types of terrain. Dual Zoom hydraulic brakes provide great stopping power, while the front and rear hydraulic suspensions absorb road imperfections.
The Wolf Warrior X GT is a strong, hefty, and reliable electric scooter that can accommodate riders up to 265 pounds for its price! When going at +40 miles per hour, the 83-pound chassis is the optimal weight to maintain that speed.
Safety Features
Everything you need
There are numerous +40 mph electric scooters on the market, but their features set them apart. At a bare minimum, we advise modern riders to select models with headlights, signal blinkers, horn, and LED lighting. These essential safety measures are now standard on the majority of 2022 models.
This 4.2″ anti-glare TFT display, which is three times bigger than the old EY3 display, sets a new standard for all electric scooters. It is also centered on the handlebars, making it easier to read your speedometer, voltmeter, battery, and other stats and change performance settings.
The Wolf Warrior X GT is the only high-performance scooter with dual collar-style folding mechanisms on the front fork. This makes it faster and easier to fold up and haul around. To fold, open the swing arms, dislodge the collars, and pull it up to let the stem fall forward over the deck.
Water Rating: IPX5
Display: 4.2″ TFT Display
Headlights: Yes
Deck Lights: Yes
Brake Lights: Yes
Signal Lights: Yes
Does the Kaabo Wolf Warrior X GT justify its price?
Again, it is difficult to say with so many models available. Wolf Warrior X GT is one of your best options if you want +40 mph performance, Kaabo-quality construction, a maximum range of 68 miles, and twin front-fork suspension. Some riders believe this scooter to be an off-road unit because of its speed, stability, enjoyment, and sportiness. I see it as a hybrid.
We have stated it before and will repeat it. Always do more research and concentrate on what others say regarding speed, power, range, battery packs, and warranty coverage.
Ultimately, they are all commuter models, but some go quicker and further than others. The Wolf Warrior X GT is supported by Kaabo's sterling reputation and Voro Motors' year of customer service and warranty support.
Check out the Kaabo Wolf Warrior X GT's specifications for additional information if you're looking for the utmost in power, acceleration, comfort, and ride-enhancing features. Check out the Kaabo Mantis GT and Kaabo Wolf King GT for even more options.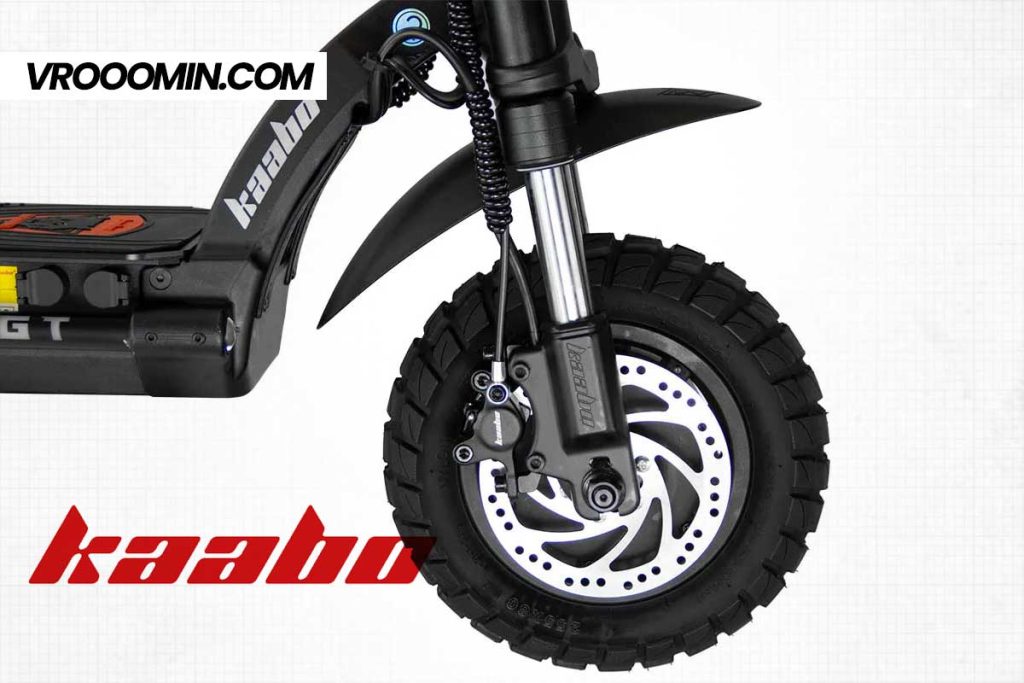 Kaabo Wolf Warrior X GT Features:
Lastest 60V sinewave electric scooter
Lightest Wolf Warrior
Dual stem for stability
Reasons to Buy:
Silky smooth sinewave acceleration
Powerful scooter for its size
Fully functional mid-range commuter electric scooter
Lowest price scooter in the Kaabo lineup
Same top speed as other scooter's in its class
Reasons to Avoid:
+80 lbs heavy scooter, not portable
First generation model, no known issues at the moment
For price, other models can reach +50 mph
Kaabo has had issues with QC in the past
Similar Models:
A few options with similar specs, features, and pricing include Dualtron Victor, VSETT 10+, and Kaabo Mantis GT.
Technical Specs:
Top Speed: 43 mph
Motor: 4400W Motor
Brakes: Zoom hydraulic brakes
Price: $2695
Gradient: 35 degrees
Battery: 60V 1680WH LG battery pack
Charge Time: 12 hours
Range: 68 miles
Tire Size: 10 inch
Suspension: Hydraulic shock suspension
Weight: 83 lbs
Max load: 265 lbs
Lighting: headlights/taillights
Release Year: 2022
2022 Best Electric Scooters for Everyday Adventures
BEST CHEAP ELECTRIC SCOOTERS • BEST 30 MPH SCOOTERS • BEST 40MPH SCOOTERS • BEST 50 MPH SCOOTERS • BEST 72V ELECTRIC SCOOTERS • FASTEST ELECTRIC SCOOTERS
2022 Kaabo Electric Scooters Catalog
What is the Kaabo Wolf Warrior X GT's top speed?
The Kaabo Wolf Warrior X GT is advertised as having a top speed of +40 mph, which most riders will be able to reach. To go as fast as possible on this scooter, make sure the battery is fully charged and that you are in a safe place. The top speed will be lower for heavier riders going up a steep hill or with a lower battery charge. Please wear a helmet, gloves, and knee pads for extra safety.
What is the Kaabo Wolf Warrior X GT's maximum range?
The Kaabo Wolf Warrior X GT is rated for 68 miles, but the average adult will probably only get about 40 miles out of it (give or take), which is enough to get around town and do errands. Please remember that the maximum range will depend on the rider, the road, the weather, and how it is used. Less range will be available to heavier riders, ride in cold weather or have a heavy throttle finger. Most riders can expect at least 60% of the advertised range in real-world conditions. Lighter and slower riders can get closer to the advertised range.
Disclaimer: The information presented in this article is derived from extensive research, user reviews, and publicly available information. Our aim is to provide accurate and up-to-date content; however, it is crucial to understand that the opinions expressed are based on the information available at the time of writing. We strongly encourage readers to conduct their own thorough research and carefully evaluate their individual needs before making any purchasing decisions.
eWheels 2023 Summer Deals and New Launches are here!!!
Cheap, reliable, and powerful! TurboAnt Electric Scooters 2023 Sale!
Hi guys! This post may contain affiliate links, sponsored content, and advertisements. We get a small commission for covering topics that interest us (helps us keep the doors open). For more information, please see our privacy policy and disclaimer. Ride safe yall!
2023 Electric Unicycles:
Coupons & Deals:
Apollo Scooters: Get $50 USD worth of free accessories, upgrades, or spare parts with the purchase of a scooter. Code: VROOOMIN
REV Rides: Save $50 off Scooters and EUC's, Code: VROOOMIN
EVOLV Electric Scooters: Free Folding Lock (worth C$80) for every EVOLV model! Use Code: VROOOMIN-LOCK
To keep the site running and information flowing, Vrooomin.com participates in affiliate linking programs. We're also an Amazon Associate, which means we get paid for referring people to Amazon. Please support the channel by clicking on our links.