Kaabo Electric Scooter Racer Franco Moje on electric scooters, the Wolf Warrior King, Escooter racing, and the PEV movement in Manilla, Philippines.
In This Article
Franco Moje is an Electric Scooter racer based in Manilla Philippines
Franco & the Wolf Warrior King
Filipino Electric Scooter Culture
Electric Scooter Racing tips & Advice
2021 Electric Scooters & Riding Season
Save $50 off Kaabo Electric Scooters with Code VROOOMIN
What I love most about the community is connecting with other riders who share a common interest, high-performance electric scooters! Today, we're heading to Manilla to hang with Franco and get the inside scoop on his Wolf Warrior, the electric scooter scene in the Philippines, and electric scooter racing. With all the buzz about electric scooter racing, it's great to see the Filipino circuit come to life and fruition!
Franco! Tell us about yourself!
Hey! I'm Franco Moje, I've been using a couple of electric scooters since December 2018, and I already got three: the Xiaomi m365, the Wolf Warrior 11, and the latest, the Wolf King. I have a degree in Public Administration. I'm currently living in two cities here in the Philippines: Manila and Mandaluyong. I've been a Project Manager for almost nine years and am a part-time Comic Artist/Illustrator.
The Wolf Warrior
I got my Wolf Warrior 11 in October 2019 as an upgrade from my Xiaomi m365. I got it because of the need for speed and range. I was initially considering the Zero 10x, but during that time, I was about to buy it, I found out that the ones being sold here were not the 60v version yet, so I jumped right away to the Wolf Warrior 11, and that's the best decision I've ever made.
For upgrades, I think the Wolf Warrior 11 has everything already. It's got stock headlights, under glow, car-grade horns, and tail light. And I love it as it is; that's why I didn't spend so much on upgrades. I only had the deck (step board) personalized with LED and diffuser for added visibility so that it would look fabulous at night. I also added a rear tire hugger so that it can prevent small water/mud splashes. Also, I put a small bag on it for the charger and tools. And lastly, I put two rubber duckie toys on the handlebar, and they serve as my companions.
I got a prize for my Wolf King from the Kaabo video contest for Wolf Warrior users. I joined the game in late November, then they announced me as the winner around mid-January, and then it was delivered to me around mid-February. I'm doing a series of performance tests with the Wolf King; therefore, I'm not applying any mods to it yet. But after I'm done, I'm also planning to install a rear tire hugger on it and perhaps some additional yellow headlights for night visibility, adding a compliment to its gold color. I also want to put a key ignition on it for added security.
What made you decide to get into electric scooters?
I got into electric scooters because I'm already tired of the crazy and heavy traffic here in Metro Manila. Imagine my home and workplace are just 4 kilometers apart, but it takes more than an hour to get from one place to the other via commute, and it makes no difference even if you have a personal car.
While with an electric scooter, it takes me 20 minutes or even less to get to work, and I don't have to think about the gas or parking cost. And that's a big difference, right?
And then, since that experience with an electric scooter helped me save time and money from heavy traffic, I converted my personal Instagram. to something that would promote electric mobility. I want to convey that, other than bicycles, electric scooters are an excellent alternative mode of transportation, and they could also take you anywhere you want.
Meanwhile, the YouTube and Milk and Coffee Adventures channels have come a long way since I started taking videos of my rides. It was initially intended for my artwork, but I decided to tackle both e-scooter rides and art topics on my channel to make it different from other channels. And although it just started, I love the community's response to my channel.
Philippines & Electric Scooters
Electric Vehicle Culture
The Filipinos are very welcoming to the idea and use of electric mobility. And I said that before the popularity of electric scooters, e-bikes became more prominent here because people found them more cost-efficient, eco-friendly, and, most significantly, it's not noisy.
Then, during the pandemic, the need for electric scooters started to grow, and I see more and more electric scooter users everywhere. I remember there was even a time when dealers were having supply issues because of the super-high demand. And people are buying even the pre-loved units. And aside from the fact that it's easier to learn how to use than a bike, it became more popular because it promotes Social Distancing.
Aside from that, I think the best highlight I could mention about electric mobility here in the Philippines is that the dealers have started to emerge everywhere.
And the good thing about that is most of them offer aftersale services like the periodic maintenance, repairs, and installation of upgrades.
So if you got flat tires or want to put additional lights on your scooter, you would feel less worried because you can run to a place where they can fix it.
Group Rides
I don't know where to start here, but I have two groups that I always ride with, and these are the "Kaaborkads" (group of Kaabo Scooter users) and The "Ka-Piga" (the name means pulling/squeezing the throttle at max). Most of the time, I organize or lead the rides for these fantastic groups. All I can say is that the group rides here are similar to what I see from your videos but are "evolving." Because before, it was just city-to-city rides, then BBQ afterward. Then, it became from the city to the following provinces ride.
But now, the rides sometimes are becoming more like an enduro test where people push their scooter to its maximum limit.
If there were no pandemic restrictions, I think it would go crazier than that because people here really love group rides.
Weather
The Philippines is blessed with two seasons — Wet and dry—which run randomly throughout the year. But it doesn't affect our rides much, except if it's super hot or there's a typhoon and flooding.
Laws & Regulation
When it comes to laws and regulation nothing is controlling us yet. For now, everyone treats us as bicycles, where people share the road without us, except the expressways. And the policies of our government are still underway. And for this one, we're hoping for the best for electric mobility, especially in the interest of dealing with our safety and sharing the road with us.
Filipino Electric Scooter Racing Circuit
The Racing event I think is one of the best highlights of all of my scooter experiences. I'm a fan of MotoGP; that's why stepping on a racetrack is a big check on my bucket list.
It started when the owners of the Kaabo Philippines organized a practice racing in December 2020. There's no formal training at that time. We get to feel what it is like to have electric scooters on a racetrack. We all had fun, I got to post a lot of content about it, and we got hooked.
We started taking the race seriously when a popular local race organizer opened the first-ever category for electric scooters. The first session was also a practice race, but we didn't join right away when we found out about it. We started doing some novice training, and we did it for a couple of weeks before the next actual racing event. What's incredible in this experience is that we trained together with a legit motorbike racing champion, that's why we really learned a lot of the basics and extremes, and we also learned how to modify the scooter to design and make it safe for racing.
Eventually, those training paid off because our team could bag the first two places in the first electric scooter racing. The next race event was postponed due to a local government restriction related to the pandemic, but the next event's date is TBA.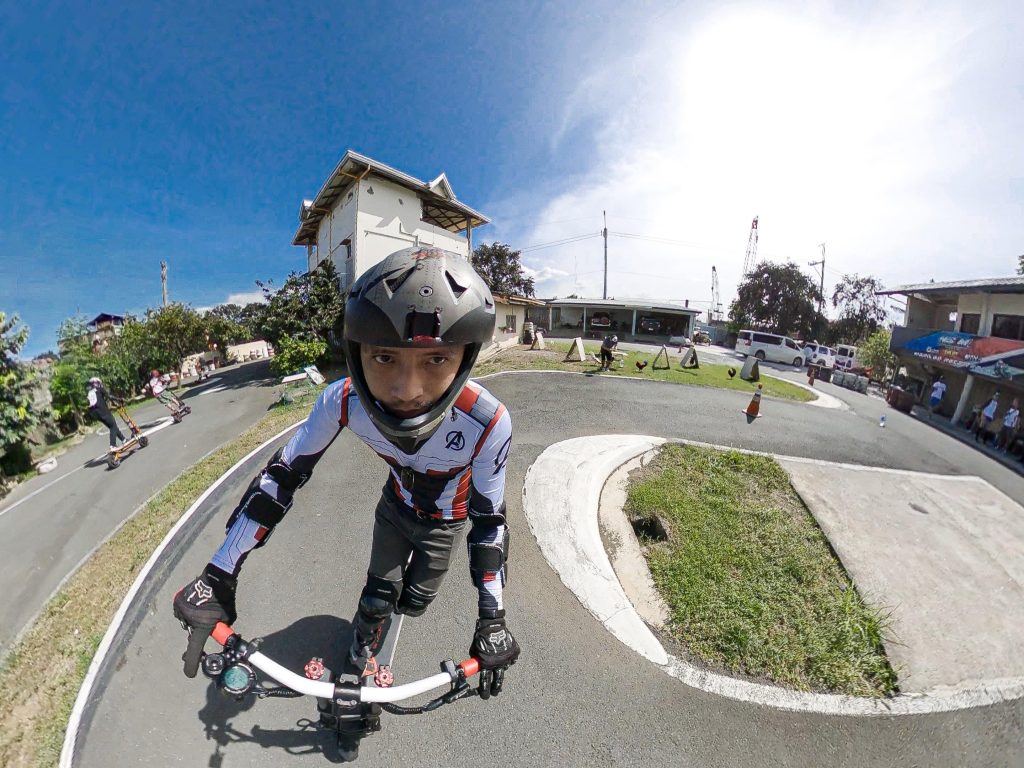 Advice for Racing Electric Scooters
Know the racing mechanics and basics — like learn most of the theories and terminologies that they use. It would help you understand the race better.
Practice — It's important because watching the race is really different from applying what all you've learned. Most of the time, it looks easy, but when you get there, you'd love the leg days at the gym more than the scooter race. You know, just like anything else, it's exhausting without the training.
Know your scooter capabilities — because the set up on how we use the scooter on the road is totally different from the set up we use on the racetrack. Even the smallest details like the tire pressure, stiffness of the suspension, and brake condition could really affect your performance. You really have to configure it based on your taste on the track.
If you can, set up a different scooter exclusively for the race track — well, this applies if you really want to take electric scooter racing very seriously. If you have a dedicated electric scooter designed for the race, it would be better.
2021 Electric Scooter Models
2021 is becoming the era of 72v scooters. But regardless of the brand, I'm excited to see more people using and reviewing 72v scooters. But since I already got the Wolf King, I'm looking forward to seeing the performances of Dualtron Storm & Ultra 72v. Because some of my friends are using the Dualtron models, and I could also say it's got a good kick, what more if it was powered with 72v?
For 60v, I already get to feel the Wolf Warrior X, and I fell in love with it during the racing because it's easier and lighter to navigate while giving you monstrous power and performance. But for something I don't get to experience and see yet, I'm looking forward to test-riding a Weped FF. I also look forward to riding the racing scooter launched by the ESC (ESkootr Championship). It seems fantastic and very well-built.
2021 Riding Season
I'm excited about 2021 because Kaabo Philippines is doing an event called Turismo. It's derived from the Filipino word "Turismo," which means tourism in English. They tweak the spelling and highlight the "ES" for Electric Scooter. One of the goals of this event is to go around the Philippines using only electric scooters. I think they are dividing this into five different leg tours, because, as you know, the Philippines has a bunch of islands, so it has to happen on additional scheduled days.
One took place last Sunday, March 14th, 2021, when we went around the Metro Manila loop, which I think is around 150+KM, and visited 16 cities and their respective city halls. It was a fantastic day, especially when you see people in their city halls waiting to join you at the next destination. The next leg is happening on Sunday, March 21st. They will go around a famous lake, which we call Laguna Lake. This is a pretty much longer leg, with around 200KM distance.
After that, the rest of the other leg tours will be announced on the Kaabo Scooter Philippines page on Facebook.
Best Escooter Routes
In Manila, there are a lot of tourist spots that you could visit with one full charge of your scooter. We have astonishing old-looking churches here, a walled city called "Intramuros," and the oldest Chinatown in the world. Or, I can have the guys redo the city hall tour in Metro Manila. Your legs will be sore throughout the ride, but you'll enjoy it!
Shout-outs
I want to shout out to my Dad, who's been enjoying my Wolf Warrior 11 since I got the Wolf King. Haha
I also want to mention my friends Jeremie, Join, Maruja, and Yssa of the Ka-Piga Team. Favor Church Scooter Gang (We have a scooter group at our church!) And the rest of the Kaaborkads and the electric scooter communities in the Philippines! And thanks to the VROOOMIN team, especially for inviting me for this interview! I loved your 360 videos, especially when you were going around New York. It makes me feel like I was there!
Connect with Franco
You can always contact me on Facebook; just look for my name. My Instagram is FrancoMoje. And please subscribe to my Youtube: Milk and Coffee Adventures!
You may also like:
Disclaimer: The information presented in this article is derived from extensive research, user reviews, and publicly available information. Our aim is to provide accurate and up-to-date content; however, it is crucial to understand that the opinions expressed are based on the information available at the time of writing. We strongly encourage readers to conduct their own thorough research and carefully evaluate their individual needs before making any purchasing decisions.
eWheels 2023 Summer Deals and New Launches are here!!!
Cheap, reliable, and powerful! TurboAnt Electric Scooters 2023 Sale!
Hi guys! This post may contain affiliate links, sponsored content, and advertisements. We get a small commission for covering topics that interest us (helps us keep the doors open). For more information, please see our privacy policy and disclaimer. Ride safe yall!
2023 Electric Unicycles:
Coupons & Deals:
Apollo Scooters: Get $50 USD worth of free accessories, upgrades, or spare parts with the purchase of a scooter. Code: VROOOMIN
REV Rides: Save $50 off Scooters and EUC's, Code: VROOOMIN
EVOLV Electric Scooters: Free Folding Lock (worth C$80) for every EVOLV model! Use Code: VROOOMIN-LOCK
To keep the site running and information flowing, Vrooomin.com participates in affiliate linking programs. We're also an Amazon Associate, which means we get paid for referring people to Amazon. Please support the channel by clicking on our links.