Mention Code "VROOOMIN" for possible discounts to your dealer!
Coupon Codes & Deals:
eWheels Spring Sale on electric scooters and electric unicycles
Save $50 off Kaabo and EMOVE electric scooters with Code: VROOOMIN
Save $50 off VSETT, Begode, King Song, Segway with Code: VROOOMIN
Get $50 worth of accessories at Apollo scooters with Code: VROOOMIN

Kaabo Wolf King GT Electric Scooter: Save $50 with Code VROOOMIN
The best-handling, best-performing Wolf Warrior. Ever.
The 2023 Wolf King GT is the best handling, best performance Kaabo electric scooter ever, with a top speed of 62 MPH, external 50A controllers, and motorcycle-grade suspension.
Save $50 off Kaabo Electric Scooters with Code VROOOMIN
SUMMARY
The Wolf Dynasty is back with their latest iteration
The Wolf GT is the strongest Kaabo Electric Scooter
The GT features similar chassis, with upgraded features and powertrain
Power – 8300W
Battery Pack – 72V 35Ah LG or Samsung
Top Speed – 62 mph (99.8 km/h)
Range – 70 mi (112 km)
Build Quality
Ride Comfort
Price – $3,595
Weight – 115 lbs (52 kg)
Brakes – Hydraulic Brakes
Warranty & Customer Service – Voro Motors
Summary
The Wolf King GT is a premium, high-performance electric scooter designed for riders who demand maximum power, range, and stability. This off-road rocket ship is not for beginners, nor is it for those seeking a scooter that is easily transportable. Riders can anticipate a performance powerhouse with a 115-pound frame at the expense of portability.

For similar electric scooter options, check out the Best 50MPH Electric Scooters, and Best 72V Electric Scooters.

Power and Range
The Kaabo Wolf King GT premium electric scooter is built for long-distance riding, power, and stability. The GT's powerful 50A sine wave controllers allow riders to ride harder, faster, longer, and blaze trails without burning their systems, with a range of 70 miles and a top speed of 62 MPH.
Stability and Comfort
The GT will take you the distance while fostering comfort and stability, thanks to an enhanced rubberized deck, front motorcycle-grade suspension, and robust spring suspension in the rear. With its 11-inch off-road tires, the GT will carry you to the promised land, whether on or off-road.
Price: $3,595.00, preorder here
Large 72V 35 Ah Samsung battery pack that allows for higher speed and longer range
Fortified, forged aluminum design with IPX5 rating allows riders to traverse through wet roads and light rain
Dual hydraulic brakes paired with the front and rear suspension system deliver excellent stopping power at low and high speed
Upgraded handlebar cockpit with a centered TFT display, updated eco/turbo buttons, thumb throttle, and taller, wider handlebars for accessibility and comfort
Wolf King GT Technical Specs:
Top Speed: 62 mph (96.5 km/h)
Range: 70 mi (112 km)
Acceleration: 4.8 s (0-50 mph)
Hill Climb Angle: 50 degrees
Max Load: 330 lb (150 kg)
Item Weight: 115 lb (52 kg)
Motor: 2000 watt (2)
Controller: 50A sine wave controller (2)
Battery: 72V 35 Ah LG or Samsung battery
Charge Time: 7 hours
Throttle: Thumb throttle
Tire Type: Front and rear 11" tubeless street
Brakes: Front and rear hydraulic
Suspension:Front hydraulic shock and rear spring
Display: TFT display
Lights: LED headlight, deck headlights, deck sidelights, turn signals, brake light
Water Rating: Rated IPX5
Dimensions Folded: 61.1 x 29.5 x 18.5in
Dimensions Unfolded: 49.6 x 29.5 x 51.2in
OhManDan Unboxes the Wolf King GT with Voro Motors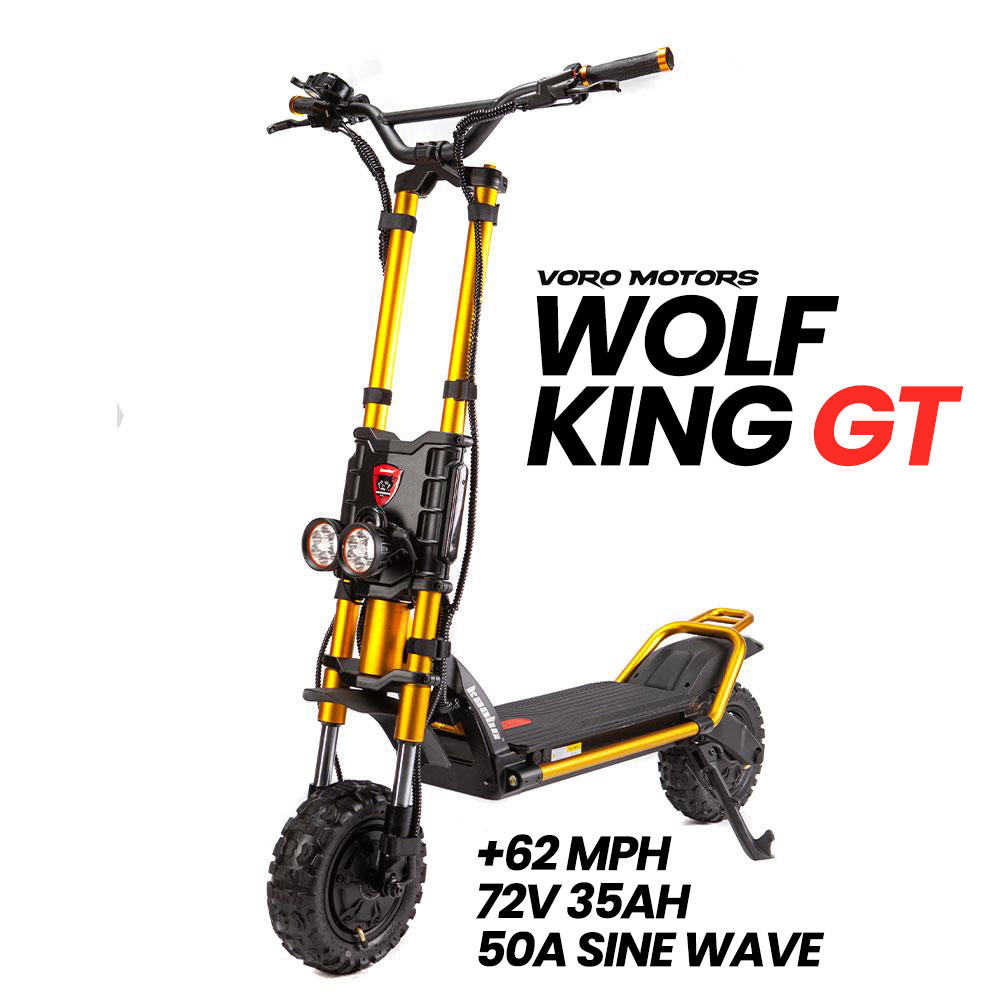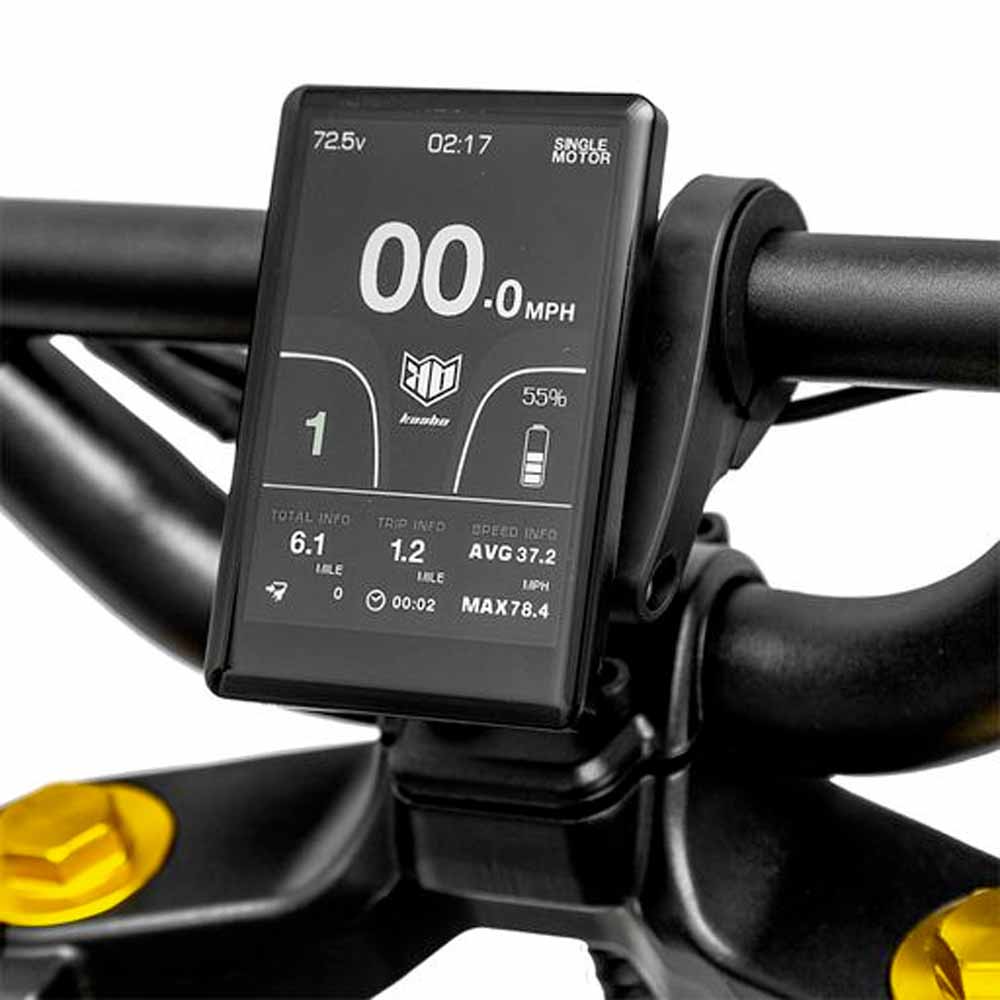 You May Also Like
eWheels 2023 Spring Deals and New Launches are here!!!
Cheap, reliable, and powerful! TurboAnt Electric Scooters 2023 Sale!
Hi guys! This post may contain affiliate links, sponsored content, and advertisements. We get a small commission for covering topics that interest us (helps us keep the doors open). For more information, please see our privacy policy and disclaimer. Ride safe yall!
2023 Electric Unicycles:
Coupons & Deals:
Apollo Scooters: Get $50 USD worth of free accessories, upgrades, or spare parts with the purchase of a scooter. Code: VROOOMIN
REV Rides: Save $50 off Scooters and EUC's, Code: VROOOMIN
EVOLV Electric Scooters: Free Folding Lock (worth C$80) for every EVOLV model! Use Code: VROOOMIN-LOCK
To keep the site running and information flowing, Vrooomin.com participates in affiliate linking programs. We're also an Amazon Associate, which means we get paid for referring people to Amazon. Please support the channel by clicking on our links.