Finally, the Alien Rides team has teamed up with Rion to create a Brand New onshore facility to manufacture and distribute the elusive Rion Apex Hyperscooter!
Hyper Performance
The Alien Rides Shop now accepts reservations for this street monster.
It's said that you'll never go back once you've gone, Rion. With its custom 84V 30AH Molicel pack capable of a 40-50 mile range of high-speed riding, the Apex is rated to hit 70 MPH for the ultimate dopamine-drenching experience. Rions' hallmark copper welding process is used to create the packs made to order.
News & Deals
Hyper Handling
Handling is crucial when moving at low, medium, and maximum speeds. Tronic 250 VESC controllers are installed in this performance beast, allowing for smooth acceleration, responsiveness, and an incredible peak speed. The core of acceleration and deceleration lies in the curve throttle, carbon pole, and PMT tires, providing what may be the crème de la creme high-powered scooter experience.
Deck Materials: Polycarbonate Clear, Aluminum
Accessories: Fast Charger (standard), Cycle Satiator Charger (add on)
Available for Pickup, domestic and international shipping
Hyper Customization
The Apex includes a customized smartphone app for user preferences, which is uncommon on most extreme electric scooters. It's about time the scooter standard, of all the internet of things, allowed riders to connect with their beloved machines through a smartphone app. The Apex's riding experience may be personalized to your moods, tastes, and whims with the Tronic app, which allows for telemetry monitoring, power output, acceleration curve, and more.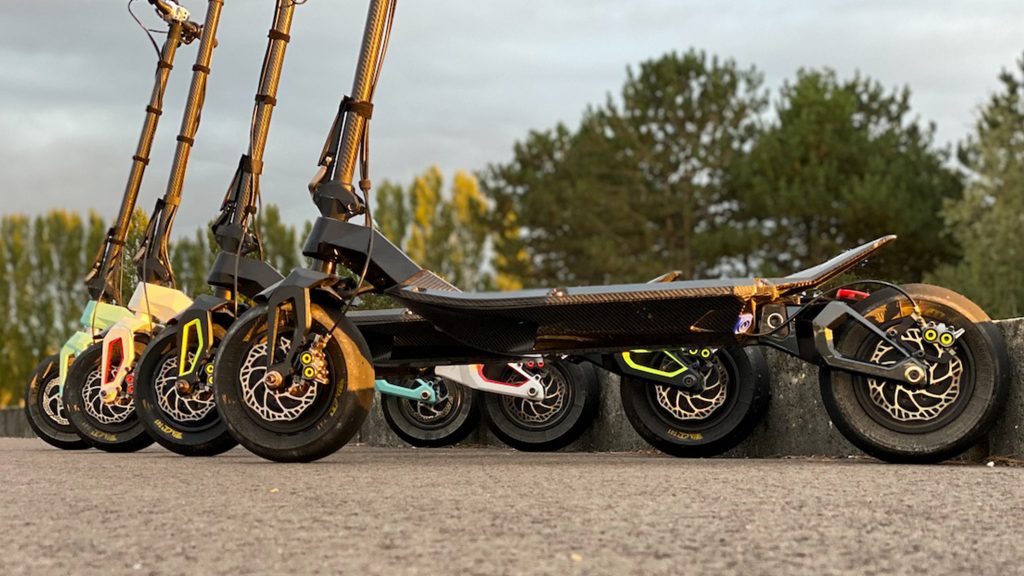 Hyper Reasonable Production Time
Now is the time to order and start counting down until September.
Rion Scooters are few and far between, and they're recognized for their artistry and long wait times. Rion Seekers have a good chance of getting what they want over the next six months with the new facility and infrastructure. The scooter is a significant investment with great power and, for some of us, a reasonable wait period, at $7,000 a scoot with a wire transfer to assure reservation.
Interested in the Apex?
Let me know in the comment section below! $7,000 is a significant expense and will require a hyper budget. I will need to formulate the perfect PowerPoint presentation (education literature including top speed, range, and performance charts) to make a case to Mrs. about putting down the funds for a reservation myself.
Hyper pipe dream? Most likely for my self, but for a small group, the Apex is within reach.
For More PEV Products & Services
Alien Rides also carries Electric Scooters and Electric Unicycles, custom batteries, and custom electric vehicle build services, covering all your commuting, group riding, and PEV therapeutic needs. Visit Alien Rides for more information.
Price: $7,000 for reservation
Battery Capacity: 30ah
Battery Cells: Molicel P42A 21700
Battery Configuration: 20s7p
Battery Voltage: 72 volt (84 volt peak)
Brakes: Dual Magura MT7 HC3
Controllers: Dual Tronic 250
Deck: Polycarbonate or Aluminum
Frame: CNC'd Aluminum
Motors: Dual Ventilated RION Motors
Range: 40-50 miles
Top Speed: 70 mph
Disclaimer: The information presented in this article is derived from extensive research, user reviews, and publicly available information. Our aim is to provide accurate and up-to-date content; however, it is crucial to understand that the opinions expressed are based on the information available at the time of writing. We strongly encourage readers to conduct their own thorough research and carefully evaluate their individual needs before making any purchasing decisions.
eWheels 2023 Summer Deals and New Launches are here!!!
Cheap, reliable, and powerful! TurboAnt Electric Scooters 2023 Sale!
Hi guys! This post may contain affiliate links, sponsored content, and advertisements. We get a small commission for covering topics that interest us (helps us keep the doors open). For more information, please see our privacy policy and disclaimer. Ride safe yall!
2023 Electric Unicycles:
Coupons & Deals:
Apollo Scooters: Get $50 USD worth of free accessories, upgrades, or spare parts with the purchase of a scooter. Code: VROOOMIN
REV Rides: Save $50 off Scooters and EUC's, Code: VROOOMIN
EVOLV Electric Scooters: Free Folding Lock (worth C$80) for every EVOLV model! Use Code: VROOOMIN-LOCK
To keep the site running and information flowing, Vrooomin.com participates in affiliate linking programs. We're also an Amazon Associate, which means we get paid for referring people to Amazon. Please support the channel by clicking on our links.