Price Breakdowns the Dualtron Spider 2
SUMMARY
The 2nd generation Dualtron Spider 2 is coming
The is the lightest and fastest Dualtron Electric Scooter
Cult classic electric scooter for commuting and transporting
Imagine ripping through your neighborhood on a bike lane or an empty runway, the wind in your hair, the cool air on your face, and the soft rubber handlebar grips under your palms while the streets blur and your feet itch.
The Spider 2 is the ideal commuter and get-out-of-the-house-and-into-the-world-therapy scooter since it is powerful, lightweight, and agile. The Dualtron Spider is back with a redesigned powertrain, battery pack, and chassis while reigning supreme in the 10″ featherweight electric scooter category. Whether traveling to work, using the train or going to the store, the Spider 2 is the ideal vehicle to get you where you need to go while adding a little spice to your commute.
The Spider 2 has a new charging port on the stem, an updated folding hook for simple folding and stowing, and a built-in footrest/external controller. The Spider 2 is an excellent last-mile alternative, offering power, speed, and range without sacrificing mobility.
Check out Dualtron Russia for the latest specs.
Dualtron Spider 2 Electric Scooter
Power – 3,984W
Battery Pack –  60V 24AH/30AH LG21700 Cells
Top Speed – 48 MPH/ 70 KM
Range – 75 Miles / 120KM
Build Quality – Aviation grade aluminum alloy, SCM440 steel, and plastic covers
Ride Comfort
Price – Around $2,699 (Tentative Price)
Weight – 57 lbs / 26.2 KG
Brakes – Mechanical Brakes
Warranty & Customer Service – MiniMotors USA
Summary
Spider 2 is a portable chassis with a maximum speed of 4 kilowatts, torque, and range. Depending on the preferences and requirements of the rider, the Spider can be utilized as a commuter or primary scooter. Check out the Best 40MPH Electric Scooters and the Best 72V Electric Scooters for comparable options.
Dualtron Russia's latest video shows them tearing down the Spider 2. The Spider is dismantled, including the battery pack, inner deck, controller, motors, brakes, rotors, and stem.
Power: 3984W BLDC Dual Hub Motor
Battery Pack: 60 volt – 30 Ah – LG 21700 cells or 60 volt – 24 Ah – SincPower 21700 cells
Charge time: 30 Ah pack (17 hours with standard charger, 8 hours with 2 standard chargers, 3+ hours with the quick charger) 24 Ah pack (13 hours with standard charger, 6 hours with 2 standard chargers, 3 hours with the quick charger
Ramge: 30 Ah pack – 65 miles 24 Ah pack – 50 miles (mileage may vary depending on rider weight and road conditions)
Top Speed: 48+ mph (depending on rider weight, road conditions, state of charge, and ambient temperature)
Climbing Grade: 43% or 23 degrees depending on rider weight and state of charge
Braking System: Front and Rear Disk brakes with ABS standard and 140mm disks
Lighting:, Stem lighting, Dual LED Headlight new integrated Tail Light with Brake Light, Side panel lights, and logo lights
Max Load: 265 lbs
Scooter Weight: 57 lbs
Product Material: Frame and Handle are aviation grade 6082-T6 aluminum alloy, the shaft is SCM440 steel, and plastic covers
Optional Parts:, Fast Charger, Damper, Light Mount
OhManDan Shares Behind the Scenes Visit to MiniMotors USA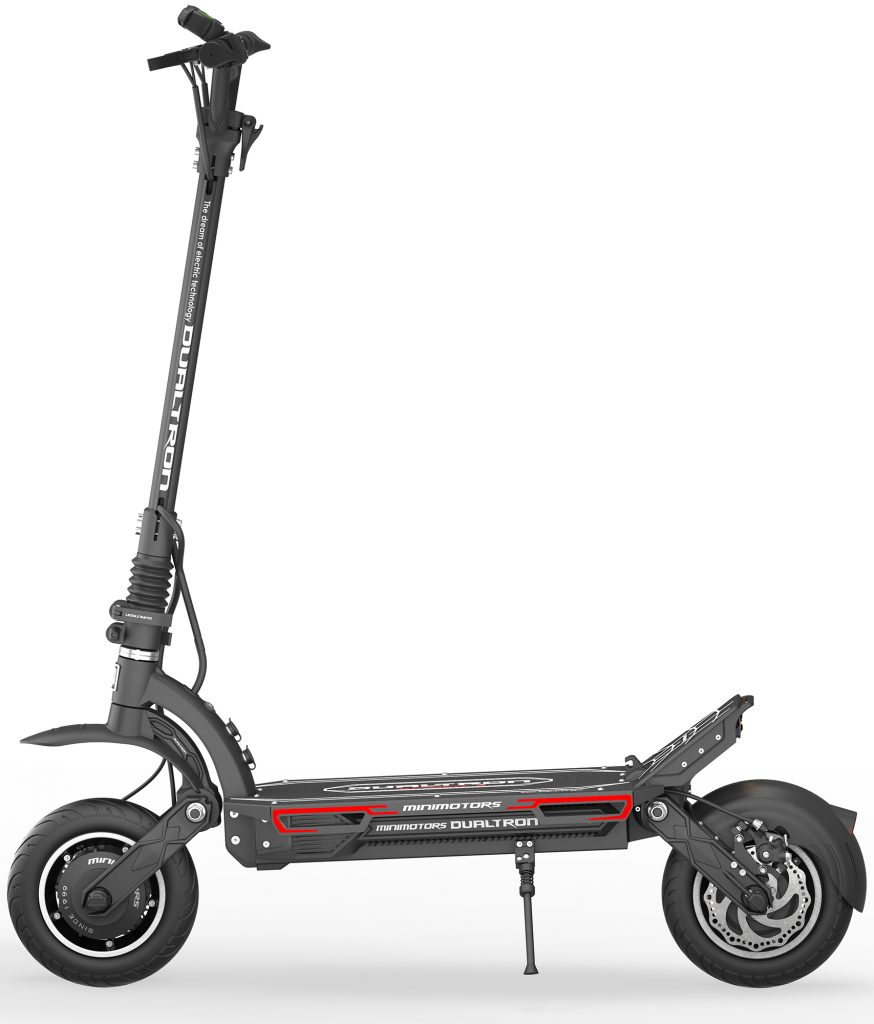 Dualtron Electric Scooters: What You Need to Know
Here are some of the main reasons why MiniMotors USA customers choose Dualtron scooters:
Powerful – MiniMotors is the frontrunner of high-performance dual-motor electric scooters. Motors, controllers, and batteries from Dualtron are among the strongest available.
Build Quality – When it comes to quality, MiniMotors has a solid track record of producing scooters with cutting-edge electronics that are easy to maintain and cost-effective for the average rider to own.
Easy Maintenance – Scooters, in comparison to automobiles, are a fun, powerful, and low-maintenance mode of transportation. Brake and tire service are two of the most common maintenance items.
Spare Parts – All MiniMotors scooters have a large selection of spare parts available, you can order or get any part you need for your vehicle's upkeep. Check out MiniMotors USA for more information.
Customer Service – MiniMotors USA's customer service team is available by phone and email to answer questions about maintenance, repairs, and accessory suggestions. The quality of MiniMotors USA's service and products is well-known.
You may also like:
More Minimotors Electric Scooter Resources
Disclaimer: The information presented in this article is derived from extensive research, user reviews, and publicly available information. Our aim is to provide accurate and up-to-date content; however, it is crucial to understand that the opinions expressed are based on the information available at the time of writing. We strongly encourage readers to conduct their own thorough research and carefully evaluate their individual needs before making any purchasing decisions.
eWheels 2023 Summer Deals and New Launches are here!!!
Cheap, reliable, and powerful! TurboAnt Electric Scooters 2023 Sale!
Hi guys! This post may contain affiliate links, sponsored content, and advertisements. We get a small commission for covering topics that interest us (helps us keep the doors open). For more information, please see our privacy policy and disclaimer. Ride safe yall!
2023 Electric Unicycles:
Coupons & Deals:
Apollo Scooters: Get $50 USD worth of free accessories, upgrades, or spare parts with the purchase of a scooter. Code: VROOOMIN
REV Rides: Save $50 off Scooters and EUC's, Code: VROOOMIN
EVOLV Electric Scooters: Free Folding Lock (worth C$80) for every EVOLV model! Use Code: VROOOMIN-LOCK
To keep the site running and information flowing, Vrooomin.com participates in affiliate linking programs. We're also an Amazon Associate, which means we get paid for referring people to Amazon. Please support the channel by clicking on our links.