Full Power, Low Maintenance, Free of Flat Tires
Dualtron Compact, Performance Commuter Electric Scooter
This is the perfect scooter for anyone looking for a powerful and compact ride. You can zip through town quickly with dual drive BLDC hub motors and eight-inch solid tires. The compacts solid tires are virtually maintenance-free, with no more flat tires and air pumps the deal with. The Compact has all the power, performance, and reliability you need. Plus, the 60-volt 30Ah battery pack will give you up to 60 miles of range on a single charge.
News and Deals
Big Power, Solid Wide Tires
Ride in style with the strongest solid tire electric scooter on the planet.
The Dualtron compact scooter is for people who want to get from points A to B as quickly and efficiently as possible. This powerful electric scooter has 3,400W dual hub motors that provide a 40 MPH top speed – making it one of the fastest solid tire scooters on earth! With this kind of power at your disposal, you'll never have trouble climbing hills or covering vast distances in time before your work meetings start rolling around again; now all we need are some maps, so we know where "point" A starts…
3.4KW drivetrain
40 MPH top speed in its highest settings
25 degree gradient for easy hill climbing
Premium EYE Throttle to customize power, torque, acceleration, and battery usage
SOLID tires for zero maintenance and flat tires to deal with
8 x 3″ Wide solid tires allow for more grip on road
Please note Solid tires are not as smooth as pneumatic tires on pavement
Solid tires can ride over sharp objects and off road without a problem
Soft rod suspension cartridges to allow for smoother riding with solid tires
Easy maintenance drum brakes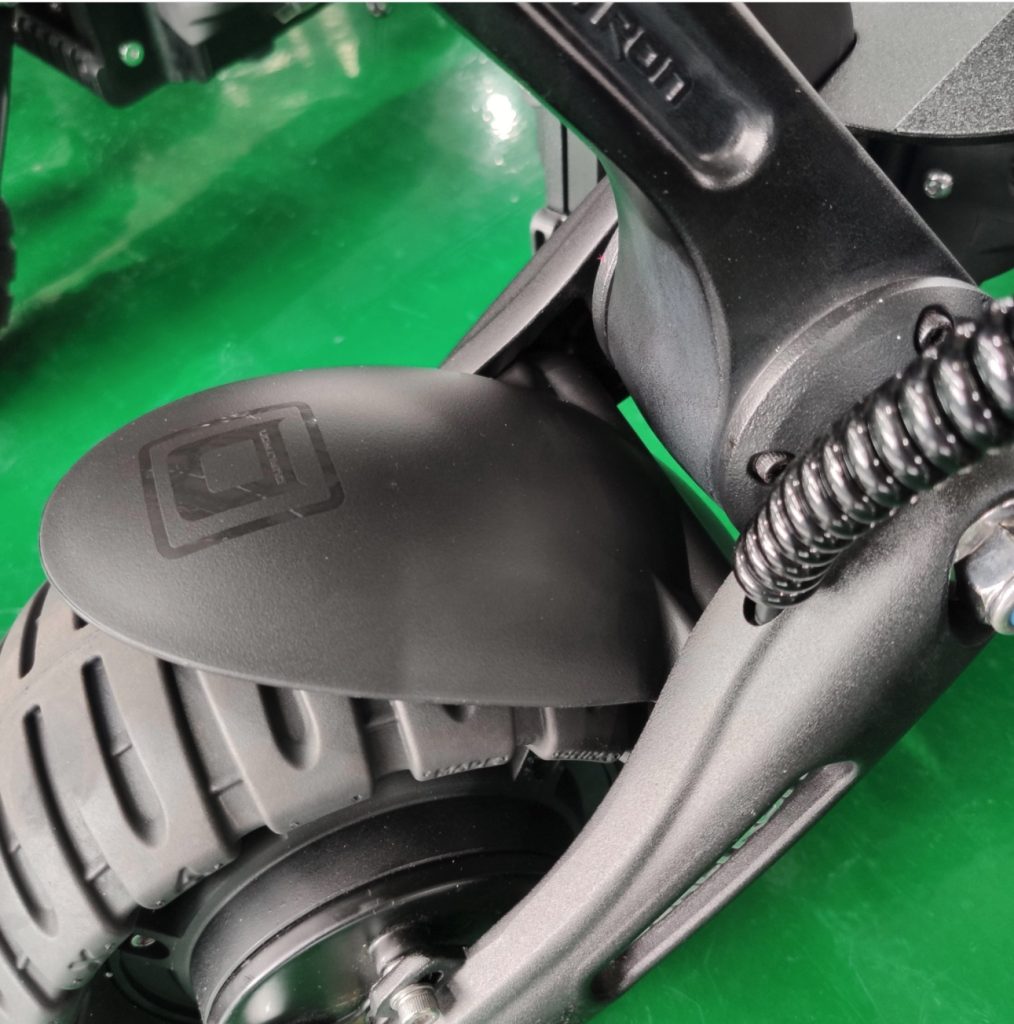 Big Batteries make for big range
Get ready to take your life into savings with the Dualtron Compact.
The Dualtron Compact is a powerful electric scooter with a massive range that will last you all day. This 60V 30AH 1800WH LG battery pack provides up to 65 miles on one charge! That's a lot of hurrying that will only cost you about $0.10 per charge. If you forget to charge your battery, you can always purchase a rapid charger to get you up and running in no time. The Dualtron compact brings fun at a low cost, saving time & money in the process. If you've run all your errands, don't worry because there's always time for some fun in between trips around town.
Battery: 60 volt – 30 Ah – 1,800Wh – LG 21700 cells
Charge time: 14 hours when using a standard charger, 7 hours when using two standard chargers, and 3.5 hours when using the quick charger
Tested and Reliable Build Quality
With their excellent ride and powerful motors, Dualtrons Scooters are known to be one of the best.
Dualtrons Scooters are the most well-known and represent a complete ride experience. The proven off-road chassis, powerful lithium battery packs, advanced speed controllers, and powerful BLDC motors combine into a fantastic scooter you can trust on your daily commute or long home from work! Dualtron electric scooters are high-quality, robust, and dependable, lasting thousands of miles on the road for years.
North American Dualtron Dealership & Service Center
MiniMotors USA will provide you with the best customer service, maintenance parts, and product support.
Braking System: Front and Rear Drum Brake and Electric Brake with ABS standard
Max Load: 265 lbs
Scooter Weight: 70 lbs
Product Material: Frame and Handle are aviation grade 6082-T6 aluminum alloy, the shaft is SCM440 steel, and plastic covers
Is there Dualtron Compact Electric Right For you?
With the Dualtron Compact, you can't go wrong. This electric scooter is perfect for people looking for a robust, mid-range, and high-performing ride that is also low-maintenance! The most excellent part about this vehicle is its high-quality components and solid tires that don't need to be filled with air or get flat like air-filled tires. However, there is one significant disadvantage. The rides are less smooth than standard air-filled rubber varieties, so if comfort is more important, you're willing to make some concessions.
PROS: Durable, powerful, high-quality construction, low-maintenance tires
CONS: Rougher ride compared to air tires, can be slick on wet ground, better for smooth and drier road conditions
[Best_Wordpress_Gallery id="8″ gal_title="Dualtron Compact"]
Dualtron Electric Scooters: What You Need to Know
Here are some of the main reasons why MiniMotors USA customers choose Dualtron scooters:
Powerful – MiniMotors is the frontrunner of high-performance dual-motor electric scooters. Motors, controllers, and batteries from Dualtron are among the strongest available.
Build Quality – When it comes to quality, MiniMotors has a solid track record of producing scooters with cutting-edge electronics that are easy to maintain and cost-effective for the average rider to own.
Easy Maintenance – Scooters, in comparison to automobiles, are a fun, powerful, and low-maintenance mode of transportation. Brake and tire service are two of the most common maintenance items.
Spare Parts – All MiniMotors scooters have a large selection of spare parts available from MiniMotors. You can order or get any part you need for your vehicle's upkeep. Check out MiniMotors for more information.
Customer Service – MiniMotors USA's customer service team is available by phone and email to answer questions about maintenance, repairs, and accessory suggestions. The quality of MiniMotors USA's service and products is well-known.
More MiniMotors Electric Scooters:
Disclaimer: The information presented in this article is derived from extensive research, user reviews, and publicly available information. Our aim is to provide accurate and up-to-date content; however, it is crucial to understand that the opinions expressed are based on the information available at the time of writing. We strongly encourage readers to conduct their own thorough research and carefully evaluate their individual needs before making any purchasing decisions.
eWheels 2023 Summer Deals and New Launches are here!!!
Cheap, reliable, and powerful! TurboAnt Electric Scooters 2023 Sale!
Hi guys! This post may contain affiliate links, sponsored content, and advertisements. We get a small commission for covering topics that interest us (helps us keep the doors open). For more information, please see our privacy policy and disclaimer. Ride safe yall!
2023 Electric Unicycles:
Coupons & Deals:
Apollo Scooters: Get $50 USD worth of free accessories, upgrades, or spare parts with the purchase of a scooter. Code: VROOOMIN
REV Rides: Save $50 off Scooters and EUC's, Code: VROOOMIN
EVOLV Electric Scooters: Free Folding Lock (worth C$80) for every EVOLV model! Use Code: VROOOMIN-LOCK
To keep the site running and information flowing, Vrooomin.com participates in affiliate linking programs. We're also an Amazon Associate, which means we get paid for referring people to Amazon. Please support the channel by clicking on our links.