The Upgraded 84V Dualtron Storm Limited is rated to push past +70 MPH
SUMMARY
The Dualtron Storm Limited Electric Scooter
Ready for an upgrade?
After announcing the Dualtron Thunder 2, MiniMotors drops another bomb shell and stuns the community with their next extreme performance electric scooter offering, the Dualtron Storm Limited electric scooter.
The new Dualtron Storm Limited features 60A controllers and a 84V 45AH 21700 battery pack that can output a max of 11.5KW! The specs rate the Storm Limited's top speed at 74 MPH, with a 136 mile range in eco mode. The chassis looks familiar to the first version, MiniMotors has opted to fix the battery within the deck, allowing for more space for its massive 45AH battery pack.


External 60A Controller and High Speed Damper
The Storm Limited features the similar external controller placement with upgraded heatsinks, allowing for more deck space for its massive battery, while allowing the controllers to dissipate heat from usage. For high speed stability, the Storm comes equipped with a speed damper kit to reduce high speed wobbles!
Could the Storm limited be the complete electric scooter? These limited editions could hit the market by the end of 2021 or early 2022.
Need help finding the right Dualtron model? Check out the MiniMotors USA Dualtron Comparison Guide and Dualtron Finder Quiz. Both of these apps will help you find the right Dualtron model for your needs.
Raising the Stakes
With the latest +10KW electric scooters being produced from Rion, Weped, and now Dualtron, will the remaining electric scooter companies follow suit to raise the stakes in high wattage performance? I'm interested to see if Kaabo, Vsett, Nami, or Emove join the +10KW club as well.
How much power is enough?
Let me know if you're interested in a 10KW scooter in the comment section below! For the latest models, check out the Electric Scooter Database to compare specs.
Dualtron Storm Features:
Power: 11,500W
Battery: 84V 45AH LG 21700 Cells
Finger Print Lock
New Light Mount
Speed Damper
94.5V 4A Fast Charger
Upgraded GX20-3P Charging Ports
Upgraded Heat Sink
Dualtron Storm Limited Specs:
Motor: 11,500W BLDC Motors
Battery: 84V 45AH LG 21700
Max Speed: 74 MPH, 120 km/h
Mileage: 136 Miles, 220km
Weight: 111 lbs, 50.5 kg
Brakes: Nutt Hydraulic
Tire: 12″ Tubeless
Suspension: Cartridge System
Lights: Arms, handlebars, stem, head and tail, turn Light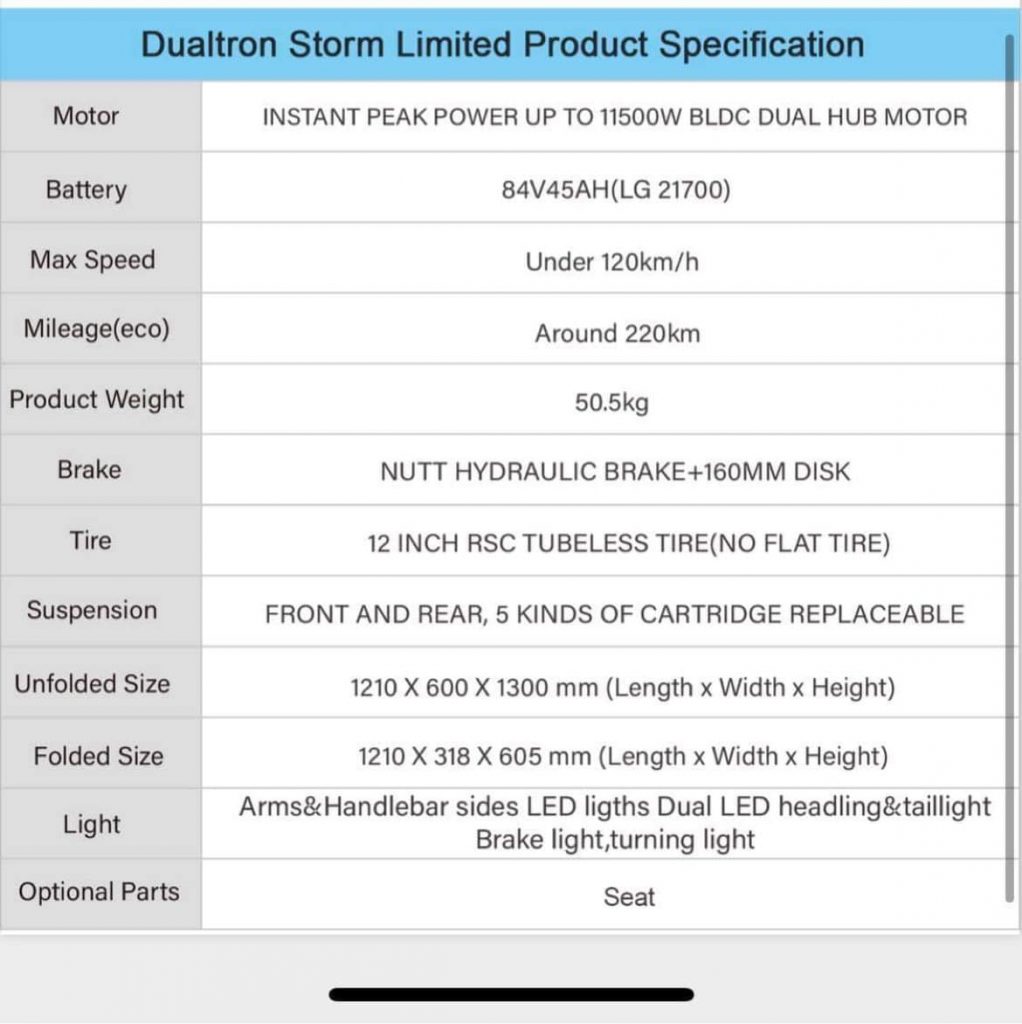 More Minimotors Electric Scooter Resources