I've been bitten by a snake, not just any snake, the Nami Burn-E Viper. No other name would suit an electric scooter of this caliber. Its cold, sharp, dark, aggressive chassis screams speed and performance.
For riders who aren't familiar with Michael or the Viper, please check out these articles:
Armed with 8,400W MAX BLDC Motors, a 2,534 WH 110A Panasonic battery pack, and 12 Mosfet 50A sine-wave controllers, the Viper is an absolute MONSTER. With the Nami's recent unveiling and full specs released, the Vipers are slated to reach a distributor near you in time for the 2021 riding season. When and where these sports scooters will be available is to be determined, pricing will also vary by market.
More Extreme Performance Electric Scooters:
*Transcript was edited for this article*
Michael! The world is excited for the Nami Burn-E Viper. Thank you for allowing us to join your journey and giving us visibility into the magic behind the curtains. As an enthusiast, I've learned much about your electric scooter's work and its critical engineering decisions.
Could you tell us about yourself, past work experience and how you got into the personal electric mobility industry?
I studied economics in college and work primarily in international trade; I speak English and Japanese. My last job (before entering the PEM industry) was in sales of Japanese carbon fiber products and manufacturing. I used to ride a lot of MTB, and the company offered me the job at an exciting time, so I decided to get into the industry.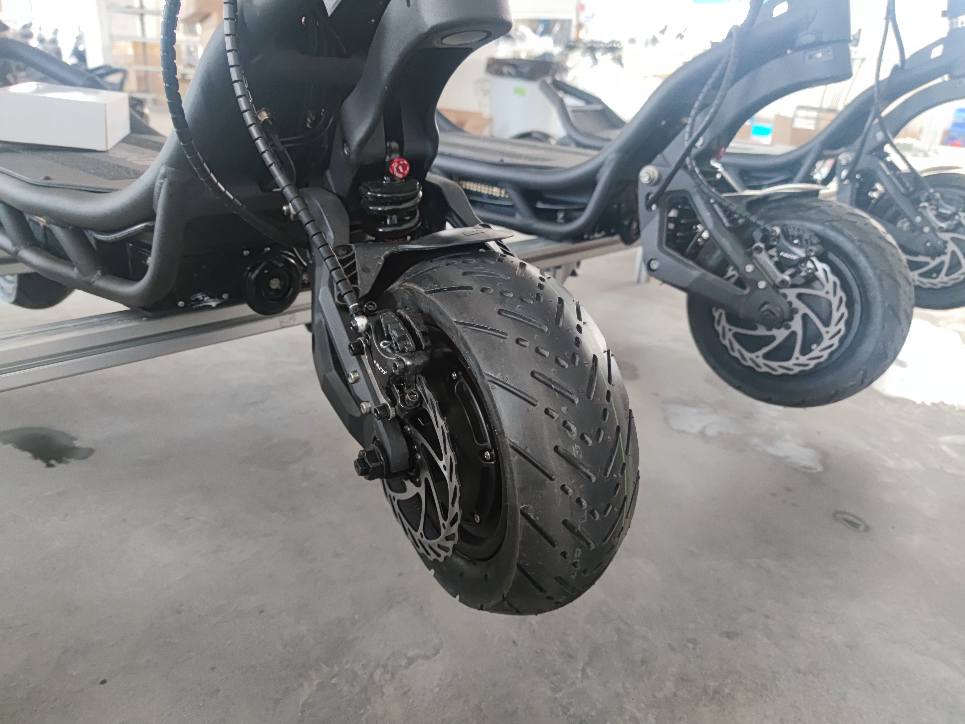 At what point did you decide to pursue making the Nami Viper and what is your main motivation?
At the point where I believed there was a good market for the industry. There is also a lack of innovation and quality control. My goal is to change that.
Could you tell us about your team and their experience in developing the Nami Burn-E Viper?
I designed the Viper electric scooter with an industrial designer in China; he is well knowledged but also new to the electric scooter world. He makes my ideas work. My marketing team is some of the best in the business.
What's the biggest lesson learned from creating your own electric scooter company?
Things are much harder to do when compared with what is in your mind. If you have a will, you can make it work. Many people will not support you, and in the meantime, some will.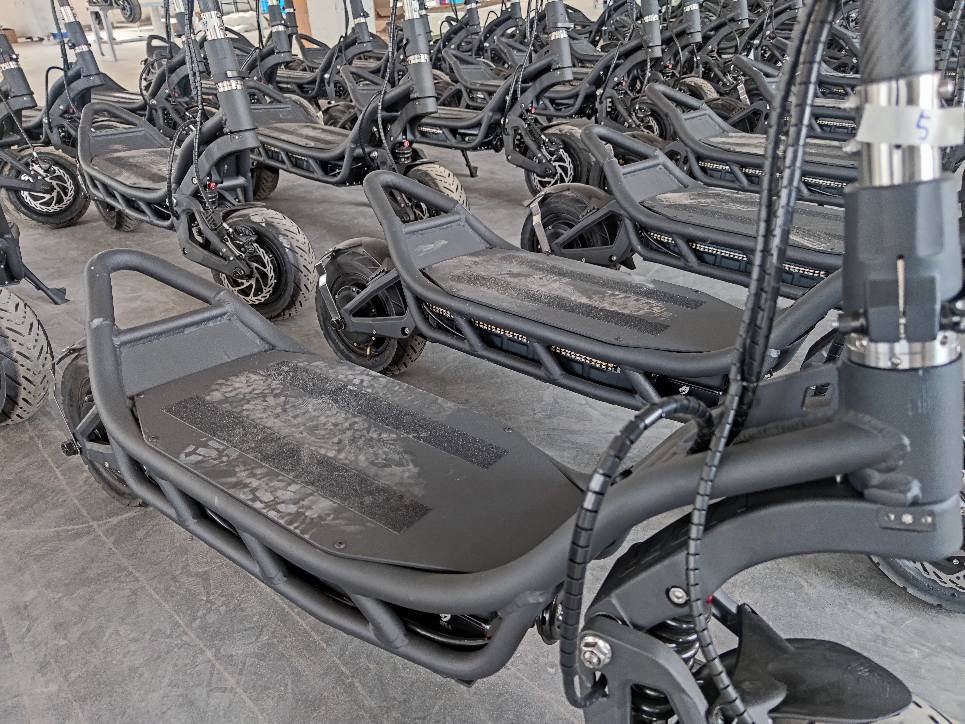 What's the electric vehicle community like in your city?
I live in Ningbo, China. Over here, there isn't much electric scooter riding in our community besides some of the manufacturer employees in the area. At Nami, we have four colleagues who ride electric scooters daily. On some weekends, we'll go on 100 KM rides for fun and test the Viper's limits.
What are 10 reasons why we should consider the Nami Burn-E Viper Electric Scooter?
Welding frame: One-piece frame, structurally safe and rigid riding feeling. Uses solution type heat treatment and 100% correct positioning, all hand made!
Smart controller and dashboard – independent adjustment for each controller(max strength and starting power could be set independently), riding modes can be set as preference, heat protection, cruise control with speed adjustable by built in switch.
Smart cable system – quick connectors around and inside the deck for easy repair, and fully watertight system
Strong and high quality hydraulic suspension with rebound adjustment for different road conditions
Carbon fiber steering column and the new designed folding system help for the riding comfort, folding security, and quick operation
Built in full light system – 2000 lumen front light, built in turn lights
50A controllers that deliver super power and turbo function for extra max speed. The system with ability to set up different output for each motor, and it does affect a lot for different riding conditions.
High quality Panasonic battery cells with a copper nickel strip, for maximum protection for the battery, deliver high performance
Polished stainless steel parts for an added luxury look and feel.
Strong structure and lighter in weight when compared with other models in the market. For example, it's about 10 kg lighter when compared with zero 11x, however we're able to fit in 20 extra cells
Will you order the Nami Burn-E Viper Electric Scooter?
2021 is going to be a great season! I can't wait to see these Vipers on the streets of New York. Let me know if you're considering the Viper in the comments below! Join Michael on Facebook and Instagram to get the latest scoop on his journey.
PREORDER and save $300 with code NAMIENDMAY300. Shipping end May.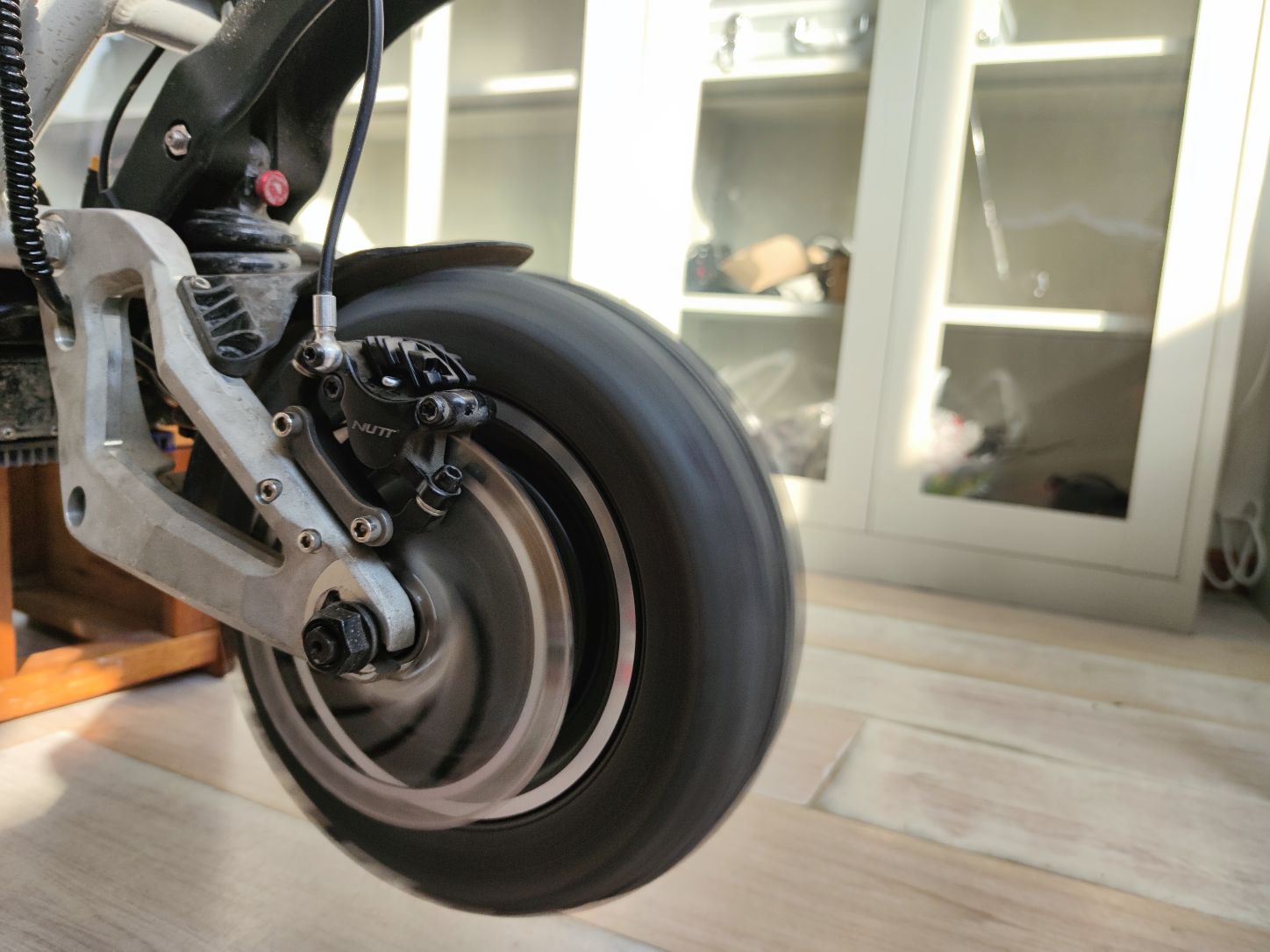 Frame:
One piece aviation grade aluminum welding frame, solution and aging heat treatment
Swing arm, front suspension holder, folding lock, kick stand:
One piece 6082 aviation aluminum forging
Battery
72V 35AH 18650 Panasonic cell 3,200 MAH standard capacity, with 110a max continuous output
Net Weight
103 lbs, 47 kg
Max Wattage
8400 Watts
Top Speed
62 Mph or 100 Kmh
Range with average speed 30km/h
93 miles 150 km
Motors
1500W per motor, with hall sensors, peak at 4200W per motor
Controllers
12 Mosfet, 50a max current controllers, sine wave ip65, waterproof connections
Brakes
Front and Rear Nutt hydraulic brakes with 160mm rotors, cooling fin pads
Suspension
165mm length standard hydraulic coil shock with rebound adjustment
Lights & Horn
2000 lumen front led lights, side led strips, turn signals, motor cycle horn, ip55
Cable System and IP Rating
quick connections for all electric components, for the cables close to handlebar and under deck
ip55 for whole scooter in process
Folding System
patent designed thread lock taper folding system, 304 stainless steel folding parts
Handlebar and Steering Column
31.8mm diameter, 620mm length aluminum handlebar, full carbon fiber steering column
Tires
tubeless 90/65-6.5, street or off-road tires
Charger and Charging Time
Standard 2×2.8a quick chargers, dual charging ports
Main Dimensions
Overall size: 1346mmx 620mm x 1446mm
Handlebar to deck, 1090mm in height
Deck Cover: 564mmx312mmm 716mm in length to include rear foot rest
Ground Clearance: 150mmm main
Top of deck to Ground: 292mm
Folding Size:
13546mm x 620mm x 640mm
Package Size:
Honey comb cardboard 1405mm x 355mm x690mm
Nami Burn-E Viper Electric Scooter Review Video
A few other 72V extreme performance electric scooters include the TurboWheel Phaeton, Wolf Warrior, Dualtron Storm, and the Dualtron Ultra 2.
Nami Burn-E Viper Electric Scooter
Power – 2 x 1500W base / 8400W peak
Battery Pack –  72V 32AH LG, Samsung, or Panasonic cells (2304 Wh)
Top Speed – 60 mph
Range – 90 miles
Build Quality
Ride Comfort
Price – $4,149
Weight – 103 lbs
Brakes – Nutt Hydraulic
Customer Service
Summary
The Burn-E Viper is a new contender to the electric scooter game and is the most innovative scooter of 2021. While the US rollout of the Burn-E had many shipping issues, riders can now rest assured that their Burn-E scooters will be shipped in immaculate condition. The Burn-E Viper is among the most potent and exciting 72V electric scooters for 2021.

For similar electric scooter options, check out the Best 72V Electric Scooters.

Disclaimer: The information presented in this article is derived from extensive research, user reviews, and publicly available information. Our aim is to provide accurate and up-to-date content; however, it is crucial to understand that the opinions expressed are based on the information available at the time of writing. We strongly encourage readers to conduct their own thorough research and carefully evaluate their individual needs before making any purchasing decisions.
eWheels 2023 Summer Deals and New Launches are here!!!
Cheap, reliable, and powerful! TurboAnt Electric Scooters 2023 Sale!
Hi guys! This post may contain affiliate links, sponsored content, and advertisements. We get a small commission for covering topics that interest us (helps us keep the doors open). For more information, please see our privacy policy and disclaimer. Ride safe yall!
2023 Electric Unicycles:
Coupons & Deals:
Apollo Scooters: Get $50 USD worth of free accessories, upgrades, or spare parts with the purchase of a scooter. Code: VROOOMIN
REV Rides: Save $50 off Scooters and EUC's, Code: VROOOMIN
EVOLV Electric Scooters: Free Folding Lock (worth C$80) for every EVOLV model! Use Code: VROOOMIN-LOCK
To keep the site running and information flowing, Vrooomin.com participates in affiliate linking programs. We're also an Amazon Associate, which means we get paid for referring people to Amazon. Please support the channel by clicking on our links.