Today, we're heading to Irvine California to hang with OhManDan and get the inside scoop on West Coast Scooters
Not long ago, around November, I received a notification from youtube about the latest Dualtron Storm video. It was the first of many, and it was by OhManDan of West Coast Scooters. Dan was one of the first Storm owners in the United States, giving an excellent overview, breakdown, unboxing, and ride footage of the Storm.
OhManDan, the founder of West Coast Scooters, is a prominent figure in the electric scooter community. He gained recognition for his videos reviewing and showcasing the Dualtron Storm, among other scooters.
OhManDan's interest in electric scooters started around eight years ago when he rode his friend's scooters and became intrigued. He later formed West Coast Scooters and started a YouTube channel, ScootopiaByOhManDan, to share his experiences and provide unbiased reviews.
OhManDan developed the Scootology™ program, offering classes to educate potential electric scooter buyers about scooter safety, etiquette, and maintenance. He also created the Ohvation Rating System, which rates electric scooters based on performance, value, safety, build quality, and customer service.
OhManDan owns a fleet of nine electric scooters, including models from Dualtron, Kaabo, and RION. He provides positive reviews for each scooter based on his Ohvation Rating System.
Irvine, California, where OhManDan is based, has a thriving electric scooter scene, with many commuters using scooters. The city promotes safety and follows regulations similar to bicycles. OhManDan recommends several restaurants and highlights the technological advancements and future potential of the electric scooter industry.
I instantly subscribed, and as time progressed, so did Dan's catalog of videos and a fleet of scooters! Today, we get to chat with Dan to get the inside scoop on West Coast Scooters, Scootopia, OHvation Rating System, and the PEV scene in Southern California.
In This Article:
Info on OhManDan's Background
Founding of West Coast Scooters
Deep dive into Scootology & Ohvation Rating System
OhManDan's Scooter Fleet Review
2021 PEV Foresight
Connect with OhManDan via West Coast Scooter Site, YouTube, Instagram, Facebook
Dan August Beasley, Champion of Electric Scooters
First let me thank you for inviting me on, it's an honor, and thank you for being an early Scootopian™ Subscriber. In my mind, it seems as though OhManDan always existed. I've had that "Oh" appeal since my youth. I'm from Compton, CA, now in Irvine, CA. When I was younger, I was a nerd, and was often teased about being poor (of course we weren't poor, cause we were rich in Love… at least that's what our Parents taught us growing up). There were five of us, me the MIDDLE child (my Mom had four Adult Children but growing up, FIVE in the house).
It was tough being the MIDDLE child, so I compensated all the bullying at school and being looked over at home with a BIG Personality. Boy did I strike gold.

OhManDan on being young
That BIG Personality seem to be the answer to building my esteem and how I thought. I ended up starting my first Business when I was just nine years old (helping Seniors in the Community with chores… Cutting Lawns, Going to the Store, Cleaning their home) I was making more money than any kid in school. I got accepted into an early College Program at USC. I didn't need the allowance (that seemed to skip over me at times). I bought my first car (1964 Ford Mustang Conv) at age 14. Little did any of us know that LIFE was about to deal us a very harsh BLOW. My Dad was a Police Officer for the LAPD for 25yrs, very strict and ruled the Community with an iron fist (so we thought).
Early Beginnings
We grew up on a Farm in this small Agricultural Town called: Compton, California. My DaD was the BoyScout Master and taught us all sorts of survival techniques, took us hunting, fishing but more importantly he taught us how to WORK! We had to be up and working our daily Farm chores everyday at 4:30am and done by 6:30am, the time that Big Red would usually crow (waking my DaD up) When I was 15yrs old, in the month of March on the 29th day, my beloved strong, smart and resourceful DaD passed away (ruptured Ulcer). It was so unexpected and totally unbelievable. It changed our whole lives.
Everyone began acting totally out of character and I found myself drowning deep in a cesspool of ANGER!! Our house was the center of ACTIVITY in the neighborhood. Everyone knew the Beasleys and most kids found their way to our home throughout the week (my Mom always had lotsa food on the stove and always fed everyone) One day during that week of Funeral planning, my young cousin who was one of many staying over to comfort the family and help my Mom through planning my DaD's service– came home and told me this boy hit her…
In all my bottled up ANGER, I rushed to the corner liquor store and knocked the boy out (he was bigger than me) but within minutes his older brother (the leader of a Gang) came to our house with about seven other cars filled with ADULTS (mind you, I was 15yrs old) looking for me, I was so ANGRY and delirious that I was fighting to brake free of the vice grip hold my family members had on me to keep me alive.
Eventually they left but everyday after that day, I had to FIGHT different factions. My grades started plummeting, my excitement and BIG Personality had shifted into something else– a different BIGNESS. I had gotten a girl pregnant (she was 14yrs old). I dropped out of College. Things weren't looking good for OhManDan… and then steps in HELP! My French Teacher saw me heading down the wrong path and stepped in. He took me home from school one day, only to speak to my Mom with a proposition I've never seen before in my Community. He offered to move me in with him, his wife and two Sons (Buena Park, CA). Without any fear, trepidation or what would seem like– no forethought to help me overt prison or death.
New Beginnings
Fast forward to today, though OhManDan experienced many ups and downs, failures and success… the Foundation my DaD set coupled with the renovations and earthquake proofing My God Daddy gave me shaped me into a solid Family Man (Wife, 9 Successful Adult Children, 13 Grandchildren), a Pastor of a Faith Based Church in Baldwin Hills, CA, a Best Selling Author of the Book: "TSA… The Secret to Having Things" [it's a Book about Universal Law, Energy and Faith– the power of attracting success to yourself], a Successful Business Man (Helping People Win), A Humanitarian to The Core, and now a Scootopian™ to boot.
How did you get into electric scooters?
Well, COVID struck and my structured, organized world was forced to take a shift that disrupted the way I worked and lived. About eight years previous, I visited a friend and he had some Electric Scooters. He would let me ride these things all the time, It did something to me but I didn't understand what at the time. I had this funny idea that we should start a Scooter Club but he didn't take me serious. But I started forming the artwork, the name and different aspects of the Club.
Just doing what I instruct my clients to do, start writing down vital points and thoughts and protecting that idea early. Once I protected and documented most of my infrastructure it was archived for a while.
From Motorcycles
Having been an avid Motorcycle Ryder for over 25yrs (racing and doing crazy stunts) forced by my children to give it up in 1995 (26yrs ago) because I was loosing a lot of my friends (getting hit by cars on their motorcycles). My kids pleaded and pleaded for me to stop riding and eventually I broke through that strong addiction.
To Electric Scooters
In late 2018, I was riding with my Buddy and didn't realize I had caught the Bug from those earlier rides. The impression was lasting and in Dec 2019, I had tried the Xiaomi m365 and loved it, so there was a new Ninebot MAX coming out, and I went to this place close to my Office in Santa Monica to test ride that new Ninebot MAX, it was incredible! I thought it would be better than the Xiaomi, so I ordered it. Little did I know this was the beginning of something incredible.
My fire for two wheeled Vehicles was re-ignited after ordering my first Electric Scooter. When I told my kids, they were all familiar with the rental scooter market, and was all in, my wife was onboard as well, encouraging me to go ahead since it didn't present the same dangers as Motorcycles in their minds. So I received my Ninebot MAX and the doggone thing had problems right out the box, it would not start. Angry– I quickly sent it back and ordered what was suppose to be the Hottest Performance Scooter at the time, The Nanrobot D6+. Mannnn!!! I was not disappointed.
Need for Speed
But the 40mph top speed didn't seem like enough so I bought a Dualtron Thunder, then a Kaabo Wolf, then a Dualtron X, then a Storm and a DTX 2, then a RION Thrust, then another Wolf Warrior (to support my friend Melvin), then a Kaabo King. When I got the D6+ I knew that I had to do something to help People because our Church was closed down due to COVID. So I formed West Coast Scooters into an Official Non Profit Charitable 501(c)(3) Organization, where people can help us help others who are less fortunate. It was also a viable platform for people to donate vehicles, electric scooters, clothes, shoes, food, property… what ever we needed to help people get on their feet and become widely successful. After the Club was off and running I thought I would take my unique Brand to YouTube.
Now, I wasn't a big Social Media guy. I was Old School and not into the big Social Media, tell all your business craze. But my kids were always trying to push me in that direction. Boy did I dive in. I formed the Channel in Summer of 2020 (July/August) ScootopiaByOhManDan was born and a new and different presence began to hit the scene. After watching what many others were doing, I knew I had to do something different but still in line with my core values and ethics.
So I decided to do something radical: Not accept any discounts, promos, free scooters, affiliate links or anything that would even look like I was beholding to the Vendors and Manufacturers out there. What I did instead was to start calling all the reputable Vendors and Manufacturers– introduce myself to them and let them know who I was, and what I stood for (that I really love this industry and I'm doing a lot behind the scenes to promote and grow this industry where it can sustain a viable form of Micro Mobility PEV in this innovative growing eTransportation Market) I told them that I didn't want anything from them except one request and that is that they
"Take Care Of the Consumer"and if they give top notch Customer Service and a Quality Product, I would promote and recommend their Brand and Scooters.

Take Care of the Consumer
It started with a verbal promise based upon one's moral essence and "later span into several cherished professional relationships (uniquely based upon a common ideal) whose Product (eScooters, Accessories and Brand) I am honored to support and recommend as reliable and quality Vendors. I share a mutual respect with these Vendors and Manufacturers. They know I will never bad mouth them in any public forum while understanding that if we face a legitimate Customer Gripe about a pressing issue, that I will immediately call them directly and together we will move to find ways to mitigate this crisis into mutual satisfaction. I have no favorites and always move to help them ALL succeed.
There's only one AGREEMENT between OhManDan and every reputable Vendor and Manufacturer, that is: "In exchange for their promise to provide exceptional Customer Service and Quality Electric Scooters… OhManDan will promote and recommend their Brand and eScooters (now remember: these eScooters must go through an honest OHvation that test Reasonable Manufacturer Claims).
These Giants help mode the very industry that we all affectionately call– Micro Mobility PEV (eBikes, EUCs, eBoards, OneWheels and eScooters). I can only hope that Scootopians™ out there are really paying attention to the rapidly spawning evolution of this Micro Mobility. Let me tell you, and mark my words… "Personal Electric Vehicles (especially eScooters) are changing in ways once imagined, now realized– in Mind's Eye forming the basic fabric that will clothe generations of future eNnovators" and Together… we ALL affect the CHANGE we desire and need.
I often tell Scootopians™ that this industry is quickly moving towards an advanced form of innovation that must require a fusion between software and hardware– whom ever figures out how to marry the two successfully will find themselves at the top of "A Micro Ingenuity" that rivals any technology we've ever seen and Consumers will literally drive that machine.
So it behooves those of enfluence; Manufacturers, Vendors and Vloggers to find creative ways to work together, while fostering a healthy competitive market. Pay close attention to demand as they strategically shape what will become an intuitive marriage spawning technological marvels into molding– forward moving ethos once imagined… now realized that will define a Scootciety™ far into the Future… if we do it Right!
Today my Channel has over 85,000 views, with over 700 Subscribers in a very short five to six month span– and growing rapidly because of honest, raw, transparent, unbiased videos and my genuine, unique "Oh" Nature. My Subscribers (known as Scootopians™) are very loyal and proud to be called Scootopians™. I thank you, and salute Your Passion and contribution to this amazing eCommunity…
Scootology & Ohvation Rating System
By trade, I build Businesses and help Entrepreneurs become successful in their fields. Been doing this since 1989. So quite naturally, I have an uncanny marketing and Branding propensity. It's a major pillar in scaling business. Scootology™ was forged out of the thriving urge that regular citizens have that drives them to Scoot. The BUZZ is so BIG right now that people you'd never suspect has or want to have an Electric Scooter does.
But the problem is and was that they are eNthusiastic yet unskilled. A terrible combination. Like babies with no fear of danger. Of course we all know, that the rental market has taught us this– if nothing else. Just imagine if you would– one day we all went to bed and woke up with Electric Scooters on every corner (without instructions or mandates) people were jumping on these things riding manic. They were on sidewalks, riding against traffic, riding in the traffic with cars and almost killed the whole industry.
It took advocates like me spreading the word about eScooter safety, Laws, Codes and Etiquette. Common courtesy on Paths and trails and correcting fellow Riders when we see them doing wrong that would adversely affect the whole Community and kill our PRIVILEGE not right, to step up and tell those we know that there are rules that we must follow (actually, laws that govern this industry) if we want to maintain our PRIVILEGE to ride. It is not a RIGHT. Like driving a car, it can be snatched from anyone violating the Rules and Laws.
Scootology™
So I started Scootology™– offering a one hour class, teaching anyone wanting to buy an Electric Scooter, what to look for, how to choose, Safety, Gear to Wear, Scooter Etiquette, Dashboard Acquaintance, Operations, City Code, Pre & Post Trip Inspections, Maintenance and Features. These classes serve to ease; fear, and apprehension, help make accurate purchase with less returns, fewer accidents, Legal compliance, Common Courtesy (Etiquette), and using common sense whenever riding to mitigate serious harm.
OHvation Rating System
This OHvation Rating System was born out of OhManDan's excitement expressed whenever I saw or engaged with someone about their eScooter. It would always elicit an Electric Response that sparked conversation– the right kind of conversation about their eScooter choices and why. This has thrust me into talks with two major Production Companies about doing a funny yet powerfully effective Reality Show that will not only promote Electric Scooters but educate and entertain anyone ever contemplating this Scootopian World of Electric Transportation.
I do these OHvations (where I rate Electric Scooters) using my Trademark System of Five Principles [Scootability™ (Performance), Scootenuity™ (Value), Scootsation™ (Safety), Scootsique™ (Build), and Scootfillment™ (Service)] coupled with Five Industry Standards. I score or Rate Electric Scooters after demonstrating its veracity. The totals are then calculated by an algorithm that spit out the total "Ohs" that eScooter earns.
West Coast Scooter Fleet
I currently own Nine Electric Scooters. Find them listed below in the order acquired:
1. The NanRobot D6+ – My 1st performance eScooter purchased… it was quite impressive and still maintains its impressive performance experienced when purchased. I love the length & height of the deck, the groundbreaking features out of the Box (ie: Headlamp, Turn Signals, Horn, Voltmeter, Single/Dual Switches, NUTT Hydraulic Brakes). It's quick and nimble. Gets great Range, and an overall great City Commuter, one of the BEST in its price range.
2. The Dualtron Thunder – The Thunder's reputation as a well built, high performance and fastest at the time eScooter drew me to it. I can not deny the Quality of its build. The Thunder is perhaps the most nimble high performance eScooter I purchased up to this point. I love its durability, dependability, responsiveness, and overall reputation for being one of the baddest eScooters in the world.
3. The Kaabo Wolf Warrior 11– The Kaabo Wolf Warrior has definitely built a reputation off road with its durability, stability, high performance and believe it or not, nimble abilities. Like a Wolf in the wild… it knows how to stalk and hunt its prey and mow them down mercilessly. The Warrior has proven its Beastly Nature and I have definitely verified that this small package packs a powerful BITE.
4. The Dualtron X– This is by far one of my BEST eScooters. When I purchased this eScooter, I thought there would never be anything to rival its stately position. When compared Apples to Apples, there is no eScooter in my opinion that can match or exceed the Dualtron X– Uh oh! wait a minute… until the Dualtron X2.
5. The Dualtron Storm– This eScooter is innovative genius… The New Multi Switch, Removable Battery, Locking Stem mechanism, Locking Bar mechanism, improved Display, Improved NUTT Braking system w/thicker more robust 160mm Rotor, 72V 31.5Ah Battery, the 40A Controllers, I like the deck height and width, and the cartridge Suspension is incredibly comfortable and dependable. The Wide 11″ X 4″ Pneumatic Tubeless Tires is what drastically changes the eScooter Climate.
6. The Dualtron X2– When you thought MiniMotors had broken the mode… they then release this formidable Beast. I never thought any scooter could topple the Dualtron X until the Dualtron X2 was released and the differences are very palpable… I love the wider deck, the taller Stem, the 72V 40Ah Battery, the 40A Controllers, the improved rear suspension, the new 12V stem Battery, The New improved Display, The new Multi Switch, The RGB Lighting throughout… and the Performance is out of this world. What an improvement to maintain its fitting crown as King of the industry.
7. The RION Thrust (awaiting April shipping) – When I jumped on The Rion Thrust for my first time, It was one of my friend's eScooter and I liked it but when I jumped on this brand new 2021 Version of The Rion Thrust, I was quite surprised! It handled so smoothly while maintaining its HyperScooter reputation with powerful performance. The difference this time around is the incredible App, the technology of the Build, the Stem Locking Mechanism (The 1st in its style), The Carbon Fibre Body, Chasis & Stem, the Magura Mt7, The PMT Slicks, The Tronic 500 FOC Controllers, The astonishing 84V 30Ah 21700 High Capacity Battery, 50Mile real Range and state of the art Charger (able to Safely and fully Charge the Pack in 1.5hrs) I was so impressed, I cannot wait to get it in my hands so that I can share with the world the incredible ability of this Electric HyperScooter. Capable of performing 80mph without regard to weight (within specificity of rider).
8. The Kaabo Wolf Warrior 11 (2nd Warrior) – As stated above…
9. The Kaabo Wolf King– This Electric Scooter is very impressive– right out of the Box able to compete with Scooters priced far above its class. The Kaabo Wolf King sports an impressive Gold finish in the American Market, Thrust a ferocious BITE of Power with its 72V 28Ah Battery, turning out an impressively consistent 55mph top speed with my 6′ 1″ frame weighing in at an impressive 228lbs (240lbs with Gear on), It has debunked the naysayers with an impressive 23.5miles on the minimum Range Test and 33.5Miles on the Maximum Range Test, the Newly improved Zoom Brakes delivered another impressive stat with a 5′ Dead Stop Break Test (due to the thicker and larger 160mm Rotors stepped up from the 140mm Rotors on the Warrior). It totes excellent suspension, incredibly powerful and bright headlamp. 25″ wide handlebars, that impressively stable Dual Pole Stem (with its unique triple safety Folding Lock Mechanism), pressurized tube framing and quick snatch when taking off… this Alpha of the Pack leads with Grace, Grit and Growl!!
Of course all of these Scooters present some Cons but this story is mainly about what I like about these Scooters and not so much about the very minor and few things I dislike. One thing you should note, is that– every one of these eScooters rated well on My OHvation Rating System.
What's the Personal Electric Vehicle Scene like in Irvine?
I don't know if many people are familiar with Irvine but Irvine has been ranked the safest City in the Us for many Years and if you lived there you would understand why. It is a beautifully Developed City. Has Trails, Walking Communities, Shops, Restaurants, well manicured streets, some of the most expensive Real Estate in the Country. Needless to say the residential demographics reflect its charm as well.
There are a lot of Electric Scooters in the City of Irvine. I would say more Commuter eScooters than the Performance variant. Probably 60-20 by actual numbers. A very majestic, modern city like appeal with nice foliage, palm trees and beautiful commercial buildings. Night Life is respectable but very fun and inviting. And of course a very very good Police Department (respectable, serving, kind yet serious when need be).
There's not a lot of Group Rides in Irvine. Just West Coast Scooters and a few small gatherings. The weather is relative to Orange County forecast, always different than L.a. County though. I ride a lot in Elysian Park and where it's rainy or foggy in Irvine, it's clear in Elysian Park. There's a lot of Electric Automobiles in Irvine, Electric Skateboard, eBikes and EUCs are very visible in Irvine.
The Laws in Irvine for Micro Mobility (especially eScooters) are equivalent to Bicycles (Must wear proper Rated Helmet, Speed Limit 15mph unless otherwise posted, cannot ride against traffic, or on Sidewalks. People are very respectful when riding around pedestrians and other Micro Mobility PEVs. But it is all due to the Culture of the City. Irvine is a beautiful City with matching beautiful people.

Recommendations for Irvine
Javiers has become the best restaurant hangout. There are two Best Scooter Group Ride favorite Restaurants and they are The Cut and Cooks Corner. Of Course the Routes to these Restaurant Hangouts are pretty cool– All street, with great bike Lanes.
What are you excited for in 2021?
Electric Scooters
For 2021, The Kaabo Wolf King has been proven outstanding. The Dualtron X2 is still at the top of the eScooter food chain. The Dualtron Storm is quite impressive. I want to take a look at three unproven Models, The Bronco Xtreme 11 (for it's impressive stats 72V 35Ah 70mph w/ damper)and The YUME X7 8000W Scooter (for its impressive stats 72V 45Ah w/Dual Stem 65+mph). The eMove Roadster (It's a Mystery still but it has that Carbon Fibre Body) The Apollo Phantom (Very impressive Technology, Controllers and Build) The Nami Viper is one that I am really watching out for as well (with its impressive 72V 35Ah 18650 Panasonic Pack, 50A /12 Mosfet Controllers, one piece Tube Frame and 8400W of power). Nanrobot seems to have fallen a little and they had a great reputation at one point but thank God for Dale Ross of RoadRunnerScooters.com… I project that NanRobot might even come out with a competitive Model soon.
Technology
I think that the Companies who marry Software and Hardware BEST WINS the Season and most likely any Future Seasons. Once momentum starts it's hard to stop that progression or even catch up. I have my eyes on Two maybe three Companies that have been moving in that direction pretty successfully and I'd watch out for those three and they are: RION Motors, Apollo Scooters and VoroMotors. Everyone will be chasing them because they have really been paying attention to the Market, World Trends and Eco Technological Advancement.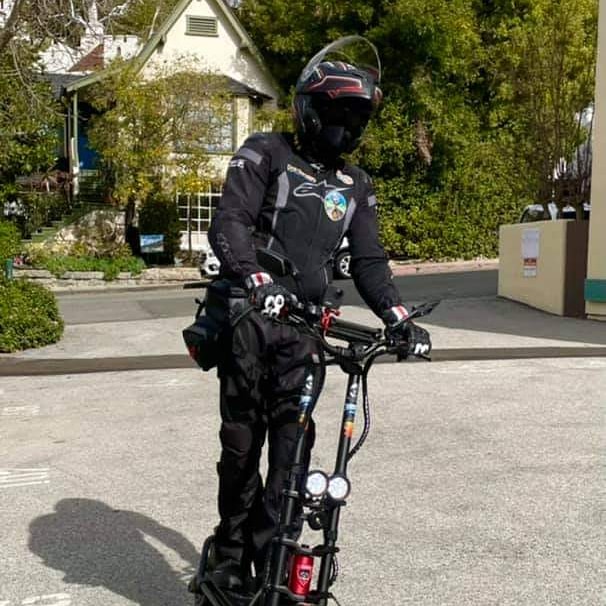 Shout-outs
My Family, My Special Vendors, My Special Vloggers… listed below:
Thank You to my Wife, Sandra Beasley, Tia Xierra Beasley, Daniel Beasley, Jr, John CJ Beasley, Jessica Beasley, Greg Mays, Melody McCoy, Dawn Strozier, Alicia LaDon, Terry Parker, Felicia Parker, Jeanetta Philips, LeLani Daniels.
To one of our biggest and most consistent Non Profit Financial Supporters: Dale Ross, over at RoadRunner Scooters..
I would like to thank these vendors for their commitment to this Micro Mobility PEV Industry and their like Passion to improve and make this Industry a success, as we all work together.
In no particular order:
Vendors I Recommend: Dale Ross, at RoadRunner Scooters, Chris Rey/Mac Piskorz/Eloi Pecquet, over at Apollo Scooters,Melvin Lian, over at VoroMotors, Gal Thompson, over at RION Motors, John Klinger/Cooper, over at MiniMotorsUSA, Julian Fernau, over at FluidFreeRide, Nathan Pust, over at REV RIDES,
Vloggers I Support: Chuck Temple & Team over Electric Scooter Guide, David Vosk, over at Electric Scooter Guide Group, Jimmy Chang/Andrew Nuntapreda, over at Got Scooters, Kevin Grandon, over at Alien Rides, Ryan Strahl, over at Ginger On Wheels, Adam Malicki, over at WrongWay, Yogi Steve, over at Electric Scooter Academy.
You may also like:
Disclaimer: The information presented in this article is derived from extensive research, user reviews, and publicly available information. Our aim is to provide accurate and up-to-date content; however, it is crucial to understand that the opinions expressed are based on the information available at the time of writing. We strongly encourage readers to conduct their own thorough research and carefully evaluate their individual needs before making any purchasing decisions.
eWheels 2023 Summer Deals and New Launches are here!!!
Cheap, reliable, and powerful! TurboAnt Electric Scooters 2023 Sale!
Hi guys! This post may contain affiliate links, sponsored content, and advertisements. We get a small commission for covering topics that interest us (helps us keep the doors open). For more information, please see our privacy policy and disclaimer. Ride safe yall!
2023 Electric Unicycles:
Coupons & Deals:
Apollo Scooters: Get $50 USD worth of free accessories, upgrades, or spare parts with the purchase of a scooter. Code: VROOOMIN
REV Rides: Save $50 off Scooters and EUC's, Code: VROOOMIN
EVOLV Electric Scooters: Free Folding Lock (worth C$80) for every EVOLV model! Use Code: VROOOMIN-LOCK
To keep the site running and information flowing, Vrooomin.com participates in affiliate linking programs. We're also an Amazon Associate, which means we get paid for referring people to Amazon. Please support the channel by clicking on our links.