Looking for more range? Chris builds high-quality battery packs for e-bikes, electric unicycles, electric scooters, and more!
Lite Speed Bikes, based in Jersey City, New Jersey, builds external battery packs that allow riders to enjoy longer ranges for their bikes, scooters, EUC, and more. Battery packs are additional range extenders that run parallel to your stock battery. Learn more about Lite Speed Bikes, battery packs, and tips and tricks for maintaining your battery packs.
Range Anxiety
We all love riding in our electric vehicles; we use them to commute, run errands, and enjoy leisurely weekends. And if there's one thing that all-electric vehicle owners can relate to, it's the dreaded term "range anxiety! What is range anxiety? We fear that our electric vehicles have insufficient battery charge for us to enjoy or reach it. I remember the first long group ride with my buddies; we went to North Jersey and made a 70-mile round trip in a single day. That's a lot of range for an electric scooter, especially at our +30 MPH speeds; we had to fast charge at least four times to finish our ride.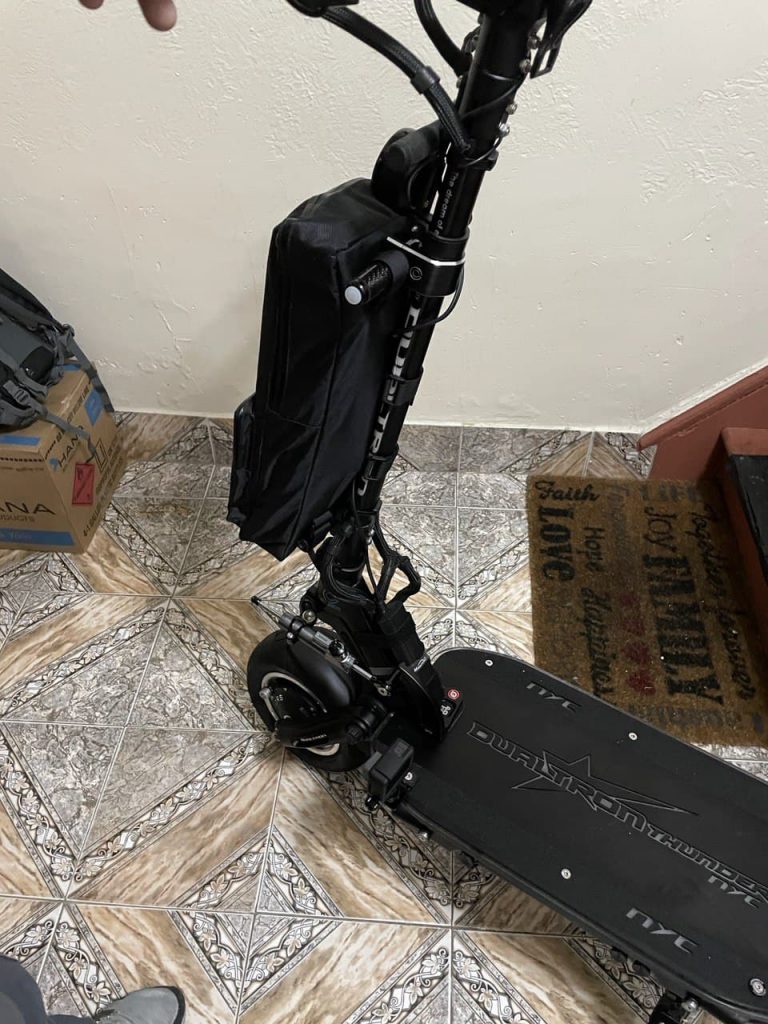 To mitigate the need for fast charging for a long-range ride, a few of my buddies opted to get external batteries to extend the capacity of their battery packs, allowing them to cruise faster and longer without worry.
There has to be a better way!
How do we ride faster, more challenging, and longer without fast charging? Love your PEV and are not quite ready for an expensive upgrade? I first heard about LiteSpeedBikes through different forums, the first being the Rad Mini E-bike group, Onyx e-bike, and more recently, through my friends who added 20AH battery packs to their Dualtron Thunder electric scooters. With their new collections, their Dualtron Thunders output 60 solid miles at very high speeds.
Key Points:
Adding more cells in parallel to your battery pack will extend your range

Adding more cells in series to your pack will increase the power and top speed
Lite Speed Bikes offers quality battery packs for all personal electric vehicles
Lite Speed Bikes can create higher voltage battery packs to replace existing ones for more power
Lite Speed Bikes offers high-end cells, battery packs, and bms
Lite Speed Bikes has two locations and ships worldwide
Lite Speed Bikes builds battery packs for electric scooters (Dualtron, Zero, Kaabo, Apollo, and more)
Lite Speed Bikes builds battery packs for electric unicycles (Gotway, KingSong, InMotion)
Lite Speed Bikes builds battery packs for electric bikes (Rad Ebikes, Onyx, Surron, and more)
Chris, thanks for taking the time out to speak with us today, tell us about your background.
I currently live in Bayonne, New Jersey, where I started the company. Our two storefronts are both in Jersey City. About four years ago, I purchased my first bike for commuting to my day job. I enjoyed it and started modding the motorcycle. I bought a 52V battery to get more range and a bit more speed from a supposedly reputable company. (I won't say the name, but many in the industry buy from them).
When I received the battery, I installed it on the bike. It wouldn't go after three months of opening these, taking pics and bypassing the cradle for discharge (at this company's instructions), drilling into the case, etc. They agreed to give me a store credit to purchase something else. (I went with a bbshd motor and wasn't going to try for another battery. I learned they were selling this made-in-China battery with a sticker and calling it magic. I sat down and did the math.
At the time, it cost them about 200 to make, and they were selling it for 600. I would be thrilled if I could make it better and sell it with a Bluetooth BMS for double the money. There's a significant markup on batteries in the market. I had a few thousand dollars saved to move and figured I would go for it. I bought a welder and a couple of thousand batteries. I focused on only purchasing genuine cells (testing and sorting them on internal resistance from day one).
I was ensuring I was getting pure nickel solid plates instead of nickel-plated steel and genuine name-brand connectors. Anything the competition cut corners on, I didn't. I'm fortunate to say that from my very first customers, I've been struggling to keep up with the demand. I never had an issue finding people that needed batteries since I could custom-shape them and photograph the build process for each customer. From there, it's been growing.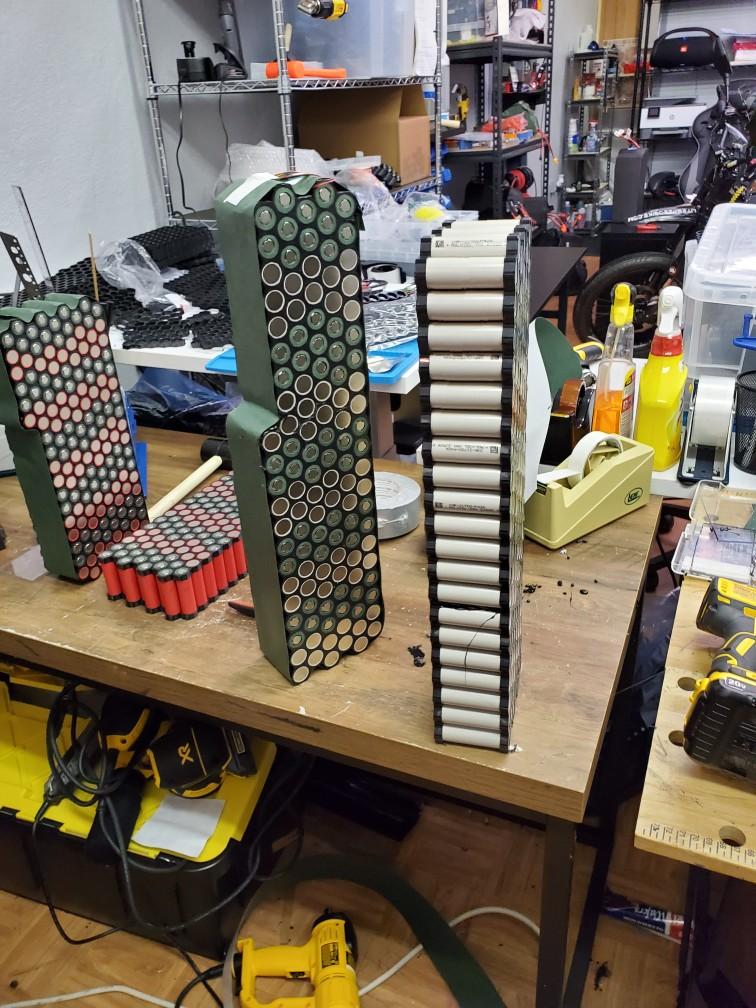 Battery pack builders are few and far between, how did you get into building battery packs?
I'm entirely self-taught when it comes to electronics and bikes. I worked in sales most of my life before this. It was a tough learning curve in the beginning. Everything was a hurdle, from getting dangerous goods certified so we could ship internationally to saving up for electronic load battery testers and cell sorting machines. Learning comes quickly if you have a passion for something and enjoy it.
What services and products do you guys offer?
The shops:
Our two storefronts are in Jersey City. 293 Cator Ave and 158 Fowler ave. Both are on the same corner, more or less. We are growing so fast that I'm planning a move to a warehouse this summer. The main product we sell is batteries. We take pride in saying… "hand-made to perfection." We now use controllers for the Sur Ron. By year's end, I plan on having plug-and-play controller kits for Rad power bikes, Super 73, Sur Ron, onyx, and bbshd. As for repairs, it's on a case-by-case basis. Most of the time, the packs people bring are made so dangerously that I don't want to be liable for making it work again. Who is responsible if I fix this and BMS fails and burns a house down? For that reason, we only use the far more expensive Bluetooth BMS.
We work on all pevs.

Escooters, ebikes, euc, and more
I've made unicycle batteries, scooters, etc. The main thing is for skateboards and some scooters; the batteries are glued together and have only space for tiny non-smart BMS. I would rather pass than use cell holders and quality BMS in those cases. Many people go on the website but don't realize every pack on there was a custom job to start. If I make a battery for something and think others want it, I put it on the website. I will make a battery of any size or shape needed if someone pays for it.
Staff:
We currently have 13 employees. We get the cells in. Sort them on resistance, apply the insulating gaskets and assemble them into cell holders. From there, the packs are sent to our welding shop to be welded and BMS installed (either at our second storefront or another location in Union City). Once the battery com pack is ready, they are tested on electronic loads while monitoring the Bluetooth BMS for any discrepancies in cell groups, capacity, temp, etc. Once a package passes the test, the wrapping and shipping part is done at the 293 Cator Ave location. We have six people in there. Three are in the more miniature storefront welding and harness making, and the last four are at the Union location.

Cells and BMS:
We currently have 21700 Molicel p42a. This is 4200mah 45amp. This is our central high-discharge cell of choice. It supersedes the Samsung 40t in testing. For increased capacity, we carry the Sanyo Ga cell, made in Japan, not China. Getting specific cells with factories shut down has become increasingly complex and costly. As for BMS, we only offer Bluetooth BMS from xiaoxiang and ANT BMS. Up to 600amps.
We do ship worldwide although it's very expensive.

World wide shipping available for anyone who needs it.
The USA and Canada is our primary market for packs. The current wait time is about four weeks. We've had an influx of sales these past two weeks that's been quite incredible. I can only imagine what the summer will be like once the weather comes around.
What advice could you give to builders starting off?

It's a great hobby to get into. I would suggest doing a lot of learning first. Watch YouTube videos, and learn the terminology. Much energy is packed into these little cells and can quickly start a fire. I would always go for name-brand cells and a good BMS. It would help if you made sure the battery couldn't get punctured. If you fall and a screw goes into it or something, it will cause a fire. You want the pack well protected.
What are some tips and tricks for charging batteries?
With bluetooth bms, you can have your bms stop the charger when the first cell group hits 4.2v for example (instead of 4.25v +- .05v) standard non-smart bms. This will increase cycle life dramatically. 4.1v will double the cycle life, 4.0v quadruple it.
If you get a second battery and run the 2 in parallel, you are now sharing the load between the 2. This is ideal, as now neither pack is being worked as hard. You just need to make sure that both packs are at the same voltage prior to connecting. They instantly become one battery, and the difference in voltage will instantly equalize. Once connected, they are now one battery pack. You can charge through one or the other or both if you want to charge faster! Batteries are like people.
They don't like it when it's too cold or hot. If you park your bike outside in the cold, you can use (discharge) your pack without issue. However, charging is where the danger comes in. Always wait until it warms up to room temperature. The electrolyte starts to solidify in freezing temperatures, and charging could permanently damage your battery. On the other hand, if you just rode and your packs are red hot, let it cool down for an hour before charging. Small changes will make a big difference. Your battery can last for many years if taken care of properly.
Lastly, do not store it at 100% charge. If you're riding every day, it's not a big deal. However, if you're storing your battery for a week or month, bring it down a bit. Even riding around the block a few times will significantly bring down the high stress level of 100% charge. Shoot for 50-70% if you can.
What electric vehicles do you ride?
I have the 2018 rad rover (first bike), Trek marlin seven bbshd build (first build), 2x surrons, and a vector build. I ride every day to the shop and back home.
What are you excited for in 2021?
There aren't any new cells or advancements this year due to COVID. I am very excited about bringing the asi controllers to our customers. Going from a cheap square wave controller to an asi is like a bird scooter to a surround. They are more efficient than many other performance enhancements.
Special Shout-outs
Thanks to all of the guys on YouTube surronster, Jack Cecil, Grind Hard, and many more. The videos broadened our market reach. Get ahold of Chris and get a quote for a battery today! Lite Speed Bikes
You may also like:
Disclaimer: The information presented in this article is derived from extensive research, user reviews, and publicly available information. Our aim is to provide accurate and up-to-date content; however, it is crucial to understand that the opinions expressed are based on the information available at the time of writing. We strongly encourage readers to conduct their own thorough research and carefully evaluate their individual needs before making any purchasing decisions.
eWheels 2023 Summer Deals and New Launches are here!!!
Cheap, reliable, and powerful! TurboAnt Electric Scooters 2023 Sale!
Hi guys! This post may contain affiliate links, sponsored content, and advertisements. We get a small commission for covering topics that interest us (helps us keep the doors open). For more information, please see our privacy policy and disclaimer. Ride safe yall!
2023 Electric Unicycles:
Coupons & Deals:
Apollo Scooters: Get $50 USD worth of free accessories, upgrades, or spare parts with the purchase of a scooter. Code: VROOOMIN
REV Rides: Save $50 off Scooters and EUC's, Code: VROOOMIN
EVOLV Electric Scooters: Free Folding Lock (worth C$80) for every EVOLV model! Use Code: VROOOMIN-LOCK
To keep the site running and information flowing, Vrooomin.com participates in affiliate linking programs. We're also an Amazon Associate, which means we get paid for referring people to Amazon. Please support the channel by clicking on our links.