Mention Code "VROOOMIN" for possible discounts to your dealer!
Coupon Codes & Deals:
eWheels Spring Sale on electric scooters and electric unicycles
Save $50 off Kaabo and EMOVE electric scooters with Code: VROOOMIN
Save $50 off VSETT, Begode, King Song, Segway with Code: VROOOMIN
Get $50 worth of accessories at Apollo scooters with Code: VROOOMIN

72V Weped Cyberfold Electric Motorcycle
Personal Electric Vehicles are designed to be helpful, practical, and elegant in the case of the Cyberfold. PEVs can assist us in managing our time, distance, commute, and daily goals by giving us a form of transportation that grants us control over our daily journeys. Are you interested in the 72V Cyberfold electric motorcycle? This will be determined by your financial status and performance requirements.
SUMMARY
The Cyberfold is Weped's first extreme performance electric motorcycle offering
3 Performance Models: Sport, Extreme, & Hyper
Battery Pack: 60V, 72V
Top Speed: 62 MPH – 80 MPH
Max Power: 10KW, 20KW, 40KW
Wheels

: 15″ tires

Features: Dual spring shocks, Hydraulic brakes
Check out Weped Australia for the latest specs and information
The Cyberfold is a hybrid of scooters, bikes, mopeds, and motorcycles, combining the most significant features of electric vehicles for riders to enjoy. What's impressive about this portable motorcycle is that it can be used on the road or in bike lanes with a passenger while still being easily stored in your apartment or public transit.
Weped electric vehicles are highly sought after
All Weped PEVs are created and constructed by hand in South Korea in small batches to ensure high quality
The Cyberfold debuted in September 2021, with many of the same features as the Weped FS and F15, such as chassis and tire size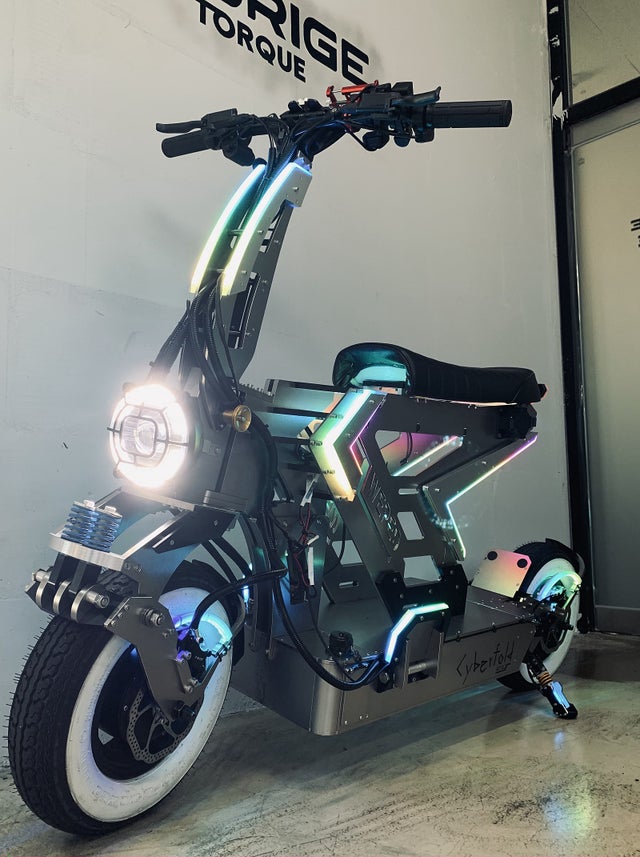 This small pocket rocket, an electric motorcycle, can transport riders up to 60 MPH in its base variant and past 80 MPH in the Hyper model, whether seated or standing. Pricing has not yet been announced, but the base model is expected to cost more than $6,000. As additional information becomes available, pricing will be updated.
There is a Cyberfold for 3 budget and performance models, here are their performance and battery specs:
Battery: 60V 60AH
Top Speed: +60MPH
Max Power: 10KW
Battery: 72V 60AH
Top Speed: +62MPH
Max Power: 20KW
Battery: 72V 60AH
Top Speed: +74MPH
Max Power: 40KW
Are you interested in the WEPED Cyberfold Electric Scooters?
The Cyberfolds will run you over $5,990 – $9,000 USD before fees and shipping. Reach out to WEPED directly to order.
Weped Cyberfold Electric Motorcycle Video
Standard battery 60V & 72V 60ah ( Sport = 60V, Extreme & Hyper = 72V)
Optional external battery packs stackable – 4 x 30ah extras = 120ah maximum.
Optional batteries – 60V 30 ah.
Cells Samsung SDI 21700-50E Lithium ion rechargable cell.
Motors – 2,000 Watt peak power dual and/or single hub modes.
Max Range – approx 50 -150 kms.
Max speed – estimated at 70 -120 km/h at 75kg rider weight flat ground (speed limited to 25 km/h for Australia)
NFC key system.
Suspension Front shock – (Coil) Rear shock – (Coil) C type inverted.
Folding rear wheel for transport. Folding footrests. Folding handlebars. Folding handle post.
Brakes – NUTT Hydraulic brakes discs – (Front & Rear)
Throttle control – index throttle looks to be confirmed Minimotors.
Angeleye front light.
Rear indicators.
Long seat.
Tube caps complementary.
CNC machined scooter bell.
Tyres – Brand: Shinko 3.50-8 M/C 46J tube type – 75R-0004448 tubeless tyres.
Standard charge time – standard with scooter (1.7 amp): 16-17 hours
Military grade charge connector included, 110V & 220V charge cords included.
Fast charger optional (4.4 & 8.5A amp) – 6-7 hours
Programmable WEPED deck logo LED – change colour, speed, patterns.
LED kickstand standard.
Dimensions – to be advised.
Packing box dimensions – to be advised.
Water resistance rating: no IP rating. Waterproof O-ring.
Warranty person weight limit – 180 kgs ( +180kgs cant be riding hard or jumps, above 180 kgs we recommend changing suspension to firmer springs – see red springs spare parts)
Scooter weight: estimated at 55 kgs – Box weight 70 kgs.
No laser engraved ID plate.
eWheels 2023 Spring Deals and New Launches are here!!!
Cheap, reliable, and powerful! TurboAnt Electric Scooters 2023 Sale!
Hi guys! This post may contain affiliate links, sponsored content, and advertisements. We get a small commission for covering topics that interest us (helps us keep the doors open). For more information, please see our privacy policy and disclaimer. Ride safe yall!
2023 Electric Unicycles:
Coupons & Deals:
Apollo Scooters: Get $50 USD worth of free accessories, upgrades, or spare parts with the purchase of a scooter. Code: VROOOMIN
REV Rides: Save $50 off Scooters and EUC's, Code: VROOOMIN
EVOLV Electric Scooters: Free Folding Lock (worth C$80) for every EVOLV model! Use Code: VROOOMIN-LOCK
To keep the site running and information flowing, Vrooomin.com participates in affiliate linking programs. We're also an Amazon Associate, which means we get paid for referring people to Amazon. Please support the channel by clicking on our links.