Mention Code "VROOOMIN" for possible discounts to your dealer!
Coupon Codes & Deals:
eWheels Spring Sale on electric scooters and electric unicycles
Save $50 off Kaabo and EMOVE electric scooters with Code: VROOOMIN
Save $50 off VSETT, Begode, King Song, Segway with Code: VROOOMIN
Get $50 worth of accessories at Apollo scooters with Code: VROOOMIN

The Weped SST is an Absolute Tank of an Electric Scooter
The Weped SST is considered by many riders to be one of the best-performing sports electric scooters ever built. It did this fantastic feat by living up to its promise of being sporty, innovative, and unmistakably powerful while raising the bar for electric scooters.
SUMMARY
The 80MPH Weped SST Starts at $7,299, Free Fast Charger with Purchase!
eWheels is now a distributor of Weped Electric Scooters
Wepeds are some of the fastest and most powerful electric scooters on the market
Weped electric scooters are highly sought after and coveted hyper electric scooters
All Weped scooters are designed, built, and hand assembled in South Korea
Each scooter is produced in small batches to assure the highest quality

The Weped SST is rated for 30,000 watts max output

5 Reasons to consider the Weped SST
5 Reasons to consider the Weped SST Electric Scooter
Although there are more than ten reasons to consider the Weped SST, these five should be sufficient to start any performance electric scooter fan. Check out the finest 72V Scooters for 2022 for more 72V monsters!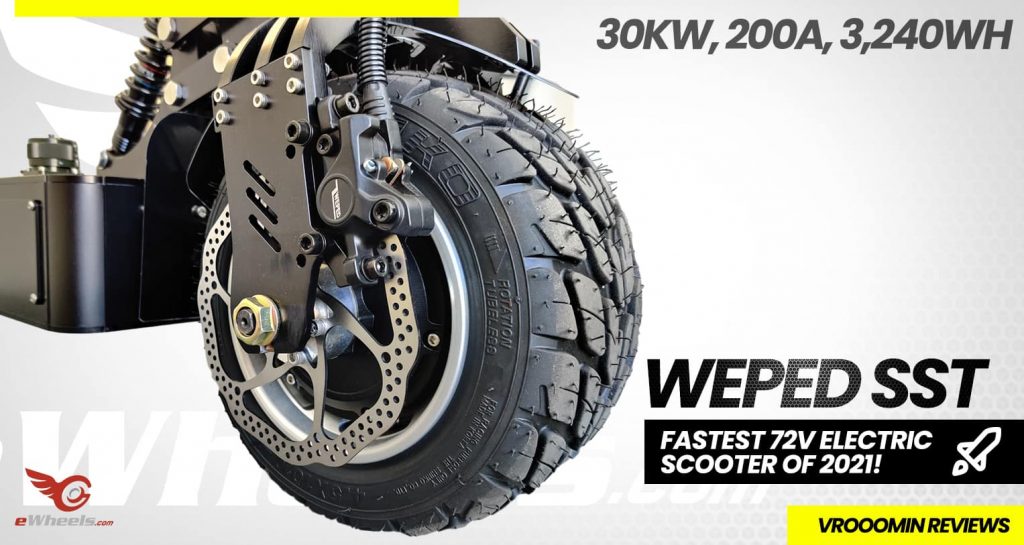 1. Rated 87 MPH Top Speed & 30KW Drivetrain
The Weped SST is a colossal beast. While most riders will not attempt to hit a high speed of 70 miles per hour daily, that is what that top speed rating signifies. To achieve anything close to 70 MPH, a rider must command at least 10 KW, yet the SST only has a top speed of 33 KW! Most 72V electric scooters on the market are certified for 60 mph, but reaching that speed requires a full charge and a long stretch of road.
2. 3,240Wh Samsung 21700 Battery Pack
Weped's drivetrains are known for using some of the highest-quality components available. Wepeds are fitted with Samsung 21700 50E cells to put them at the top of the pecking order, while most electric scooter companies are starting to integrate 21700 cells into their battery packs. These cells have a top speed of 80 mph and a range of 100 miles at moderate cruising speeds.
Fastest Electric Scooters by Rated Top speed
3. Built for High Speed Stability
Performance, stability, and longevity are the core facets for which Wepeds are built upon.
Weped scooters are designed for speed and performance, with curved stems, wide tires, and narrow decks to reduce wind resistance and promote firm grip at high speeds. The cockpits of wepeds are simple, uncomplicated, and clean so that riders can focus on the road, speed, and brakes. 
4. Hand Made in Korea
A small team in South Korea designs and builds each WEP, ensuring that each component is planned out with the utmost attention to detail and quality assurance. Wepeds are created by hand and go through a strict quality control process. This adds to the company's reputation for making some of the market's most potent and well-made electric scooters. 
5. No Wait Time
Free 84V/11A Fast Charger if your order now!
For a limited time, eWheels includes a free, fast charger with every purchase! The SST has enormous capacity and requires a high-amp charger to charge. There is no waiting list for this scooter. To reserve one, contact Jason and his team. 
Price: $7,299
Motor: MAX 33,000 watt BLDC dual hub motors – One of the strongest on the market
Controller: 72V 100A x 2 Controller – Strongest on the market
Battery: 72V – 45 Ah – 3,240Wh – Samsung 21700 cells – Best in the market
Charge time: 21 hours with standard charger
Max mileage: 80 miles – average could be 30-60 mixed speed miles, all depends on usage
Max Speed: Up to 87 MPH (+70 MPH reported, depends on road conditions and state of battery charge)
Climbing Grade: 70% or 35 degrees depending on rider weight and state of charge (climbs very steep hills with no problem)
Braking System: Front and Rear disk brakes with ABS standard (powerful stopping power with Weped Hydraulic brakes)
Max Load: 300 lbs – Stronger motors and battery supports heavier riders
Scooter Weight: 115 lbs – Made for high speed stability, not portable by any means
Dimensions: The approximate box dimensions are 54x15x23″ & 140lb (including packaging)
Are you Team SST?
The SST is, without a doubt, one of the most excellent 72V electric scooters available. Would you consider the SST for the 2022 riding season? She's one of the world's most robust, heaviest, and most expensive electric scooters. Please share your thoughts in the comments box below!
You May Also Like
eWheels 2023 Spring Deals and New Launches are here!!!
Cheap, reliable, and powerful! TurboAnt Electric Scooters 2023 Sale!
Hi guys! This post may contain affiliate links, sponsored content, and advertisements. We get a small commission for covering topics that interest us (helps us keep the doors open). For more information, please see our privacy policy and disclaimer. Ride safe yall!
2023 Electric Unicycles:
Coupons & Deals:
Apollo Scooters: Get $50 USD worth of free accessories, upgrades, or spare parts with the purchase of a scooter. Code: VROOOMIN
REV Rides: Save $50 off Scooters and EUC's, Code: VROOOMIN
EVOLV Electric Scooters: Free Folding Lock (worth C$80) for every EVOLV model! Use Code: VROOOMIN-LOCK
To keep the site running and information flowing, Vrooomin.com participates in affiliate linking programs. We're also an Amazon Associate, which means we get paid for referring people to Amazon. Please support the channel by clicking on our links.