Mention Code "VROOOMIN" for possible discounts to your dealer!
Coupon Codes & Deals:
eWheels Spring Sale on electric scooters and electric unicycles
Save $50 off Kaabo and EMOVE electric scooters with Code: VROOOMIN
Save $50 off VSETT, Begode, King Song, Segway with Code: VROOOMIN
Get $50 worth of accessories at Apollo scooters with Code: VROOOMIN

NanRobot D6+ is Here and Ready!
Looking for a 40 MPH Electric scooter?
The NanRobot D6+ is long, tall, beefy, and exciting. If you're like me, you like 40 mph scooters that can take things on and off the road. The D6+ weighs 77 pounds, has a 52V 26AH battery, and 10″ wheels, making it a viable option for low-cost 40-mph electric scooters.
Worth it though?
NanRobot has experienced quality control concerns in the past, so do your homework and talk to other riders and owners in the community. They can provide far more information than what is available here or elsewhere—looking for a $2,000 electric scooter for commuting to work? This D6+ will keep things within budget.
Technical Specs:
Model: D6+2.0 (52V 26A)
Size: 52.128.852.5in
Max Range: 30-40 MILES / 50-60 KM
Motors: Dual Drive 1000W x 2
Top Speed: 34-40 MPH/ 54-65 KMH
Battery: Generic Lithium Battery 52V 26A
Tires: 10 inch Off-road Tires
Net weight: 77 lbs / 35Kg
Max Load capacity: MAX 330lbs / 150kg
Braking System: Dual disc / Hydraulic brake
Charger: 2 ports (comes with 1 charger)
Charging time: 10h with 1 charge, 5h with 2 charger
NanRobot D6+ Electric scooter
She's fast and furious
If you're looking for excellent performance, you've found it. The NanRobot D6+ is a high-performance dual-motor, dual-suspension electric scooter that offers off-road capabilities in the urban or country setting.
The D6+ has front and rear hydraulic/disc brakes with EBS that give strong stopping power at high speeds. Because you deserve a luxurious experience, the suspension arms are supported by two hydraulic spring shock absorbers.
All Around performance
Take things on or off road
This scooter is suitable for all seasons and roads. The Nanrobot D6+ is equipped with 10-inch pneumatic off-road tires that provide outstanding ride comfort, grip, and reliability on both short and long-distance rides.
This behemoth guarantees more excellent stability for a smooth ride, whether for city commuting or off-roading. Step on it, kick it off, and let your scooter do the work; your buddies will be envious.
Power
Big power, big range.
High performance does not have to be expensive. You can't help but feel the power surge during rides with its 2 x 1000W high-performance dual motors. The D6+ has an excellent range of 40 miles thanks to its 52V 26A lithium battery. No more buses, traffic, or other nonsense associated with commuting; the D6+ is here to revolutionize the game.
Handling
Handling is everything
Stopping quickly is more crucial than riding fast; remember that it could save your life. The Nanrobot also has front and rear hydraulic/disc brakes with EBS for exceptional stopping capability.
For added stability and comfort, the suspension system is supported by two hydraulic spring shock absorbers. Say goodbye to wobbles and choppy rides, and expect nothing less from the D6+.
Features
Everything you would need.
With the new NanRobots and any other performance scooter, comfort and dependability are essential. Reliable 10-inch pneumatic tires, a secure deck, a collapsible stem, and a 330-pound load capacity.
Hydraulic/disc brakes, a C-type suspension system, a battery protection system, and brushless dual motors are all standard features. Excellent lighting from the headlights and tail lights for all-day and all-night riding safety.
Pricing
Tough decision.
Do you want a fast electric scooter with long battery life and notable safety features? Those elements are also essential to us. The $1,900 NanRobot D6+ could be a good bet. No other scooter offers this level of performance at this price.
What are your thoughts? Is the D6+ pricey? Is there a good reputation for NanRobot? Would you buy this scooter for a member of your family? Please share your thoughts in the comments section.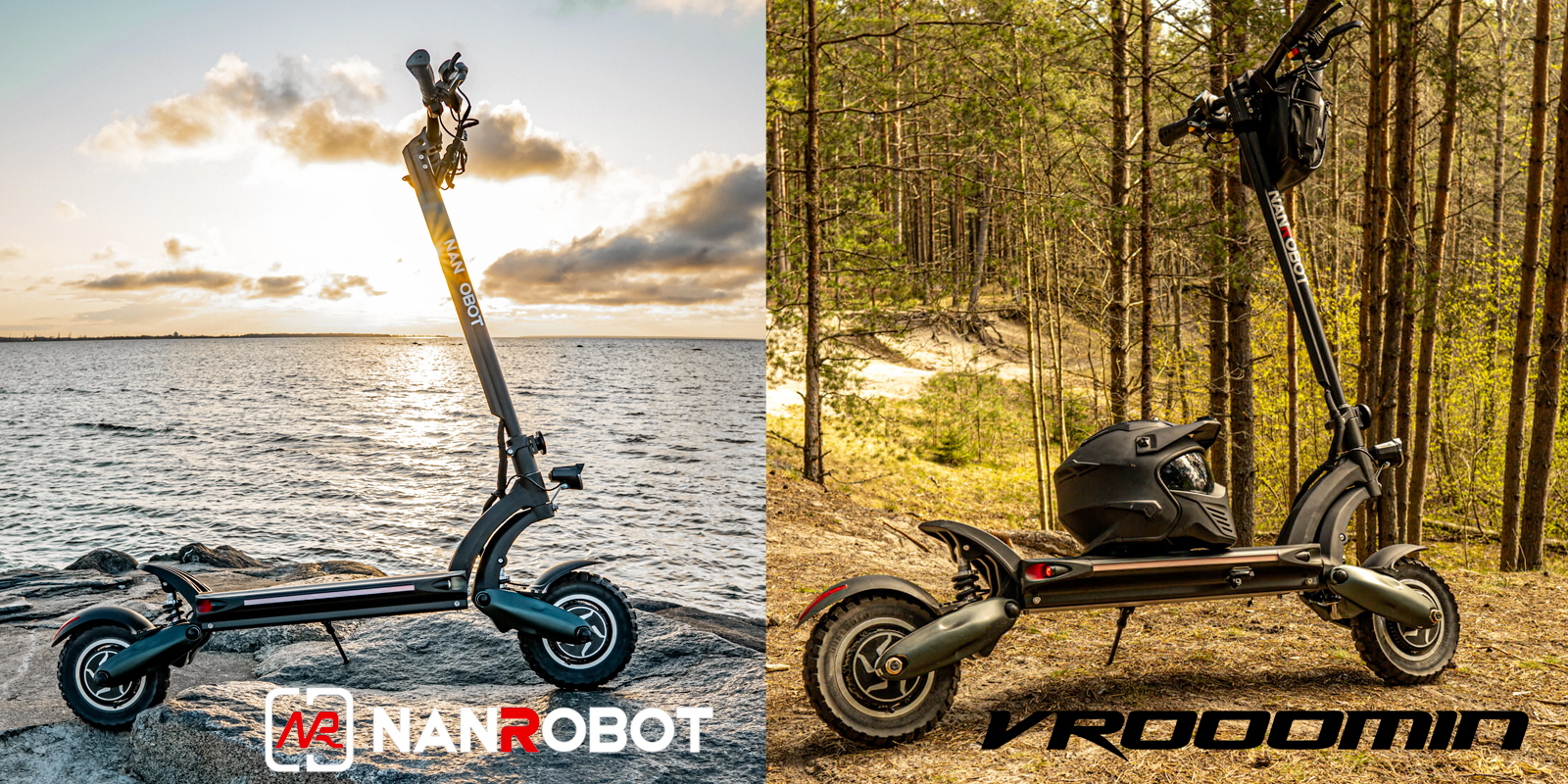 Best Electric Scooters:
eWheels 2023 Spring Deals and New Launches are here!!!
Cheap, reliable, and powerful! TurboAnt Electric Scooters 2023 Sale!
Hi guys! This post may contain affiliate links, sponsored content, and advertisements. We get a small commission for covering topics that interest us (helps us keep the doors open). For more information, please see our privacy policy and disclaimer. Ride safe yall!
2023 Electric Unicycles:
Coupons & Deals:
Apollo Scooters: Get $50 USD worth of free accessories, upgrades, or spare parts with the purchase of a scooter. Code: VROOOMIN
REV Rides: Save $50 off Scooters and EUC's, Code: VROOOMIN
EVOLV Electric Scooters: Free Folding Lock (worth C$80) for every EVOLV model! Use Code: VROOOMIN-LOCK
To keep the site running and information flowing, Vrooomin.com participates in affiliate linking programs. We're also an Amazon Associate, which means we get paid for referring people to Amazon. Please support the channel by clicking on our links.