eWheels latest flagship high performance offering, the VSETT 10+, are in stock now.
Many riders have been looking for the Vsett 10 models with 25AH and 28AH batteries, and now is your opportunity. While supplies last, get a Vsett 10+ from eWheels.
In this Article
The VSETT 10+ electric scooter from eWheels is now available for purchase!
Models with 25.6AH and 28AH batteries are available!
Prices range from $2,190 to $2,590.
The VSETT 10+ is a strong contender for best value. Electric scooter with a top speed of 50 mph
VSETT 10+ electric scooter specifications and features
Aggressive Chassis, Powerful Motors, Big Battery Pack, Reasonable Price Tag
The Evolution of the 10X
This electric scooter has a powerful, bold, sporty vibe that reminds me of a Suzuki GSXR or perhaps the King Song S18 Unicycle. There's no denying that the 10+ is a high-performance, high-capacity sport electric scooter with sharp edges, soft lines, vibrant colors, deck fairings, and smooth contours.
This scooter is the next step after the 10X. The VSETT development team made a list of all the structural and handling problems with the 10X and fixed them in this version of the 10+. This scooter is made with careful attention to detail and an aggressive stance. Anyone who sees you riding it will be impressed and jealous.
Vsett 10+ Electric Scooter Review
Power – Dual 1400W BLDC Motors
Battery Pack –  60V 28AH LG Cells
Top Speed – 46-50 MPH
Range – 70 miles
Build Quality
Ride Comfort
Price – $2,599 – Great price for power
Weight – 79 lbs
Brakes – Hydraulic
Customer Service – eWheels
Summary
Who is this Scooter for?

The VSETT 10+ is a strong electric scooter that most beginners shouldn't start with. If you have already bought a cheap commuter scooter, the VSETT 10+ is made for people who want to go from a 20 MPH electric scooter to a 30 MPH one. Riders who want more power, range, and a dynamic chassis should think about the VSETT and other scooters like the Apollo Phantom, Dualtron Eagle Pro, Dualtron Ultra 2, Wolf Warrior King, and Dualtron Thunder. With a price tag of $2,600, a redesigned chassis, and high-end features, the VSETT10+ is a strong competitor in the 60V+50 MPH electric scooter market.

For similar electric scooter options, check out the Best 72V Electric Scooters.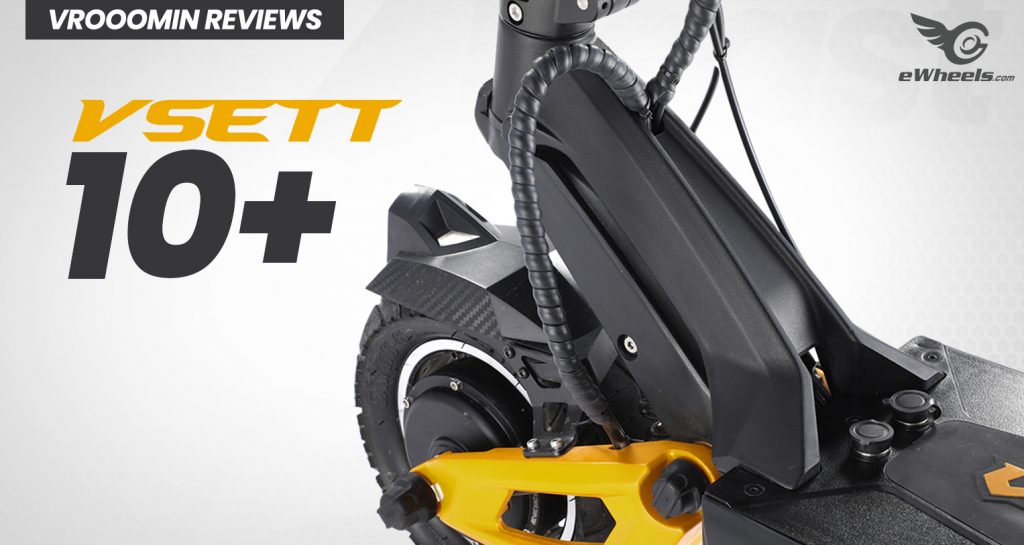 Fastest 10″ Electric Scooter on market?
The 10+, which is powered by a 60V 28AH battery pack, promises a long-range, with a potential of up to 115 heart-pounding miles on the open road. The 10+ controllers give a max 35A peak burst of current, allowing you to reach speeds of over 40 MPH. The 10+ is an absolute beast of an electric scooter, with a top speed of 50 MPH. It may be the fastest 10″ motor electric scooter on the market.
Vsett 10+ Electric Scooter Features Review
The VSETT not only has the looks and muscle but also boasts quality features that make choosing a scooter even more accessible. The updated folding stem latch will keep the handlebars from wobbling, the high-performance suspension coils will make any route smooth, and the universal display/throttle has been improved.
I thought the design and material quality of the TYPE H universal display throttles were lacking, so it's fantastic to see the new ones are on par with the MiniMotors EYE throttle. The turn signal lighting is another excellent feature. Turn signals appear to be a popular feature among electric scooter models for 2022. I believe they are perfect for leading group rides, but I would not rely solely on automobiles to notice them in traffic. Please make your intentions for turning on the road fully known.
Price: $2,599 – Great price for power
Shipping: Free – Standard for most companies
Top Speed: 46-50 MPH – Powerful for 10″ motors
Range: 70 Miles
Motor: 2800W – Powerful!
Watt Hours: 1680 – Great size for power and price
Controller: 60V (35A) – Powerful!
Climbing Grade: 27 Degrees
Battery: LG Cells – Great Quality
Voltage: 60V
Hours: 28AH – Great power price
Charge Time: 14 hours
Tires: 10″ Pneumatic – Great power for price
Weight: 79 lbs – Great size for power and price
Max Load: 285 lbs
Dual 1400W BLDC Motors (powerful 10″ motors)
35a controllers (Highest Amp controller for 10″ motors)
Upgraded Chassis (Stunning design)
Pneumatic Tires
Dual Hydraulic brakes
Upgraded Throttle Display with NFC Key Card Lock
Large LED lights, front and rear turn signals (Rare feature for modern scooters)
Adjustable Hydraulic coil and swing arm suspension
Upgraded foldable stem
You may also like:
Disclaimer: The information presented in this article is derived from extensive research, user reviews, and publicly available information. Our aim is to provide accurate and up-to-date content; however, it is crucial to understand that the opinions expressed are based on the information available at the time of writing. We strongly encourage readers to conduct their own thorough research and carefully evaluate their individual needs before making any purchasing decisions.
eWheels 2023 Summer Deals and New Launches are here!!!
Cheap, reliable, and powerful! TurboAnt Electric Scooters 2023 Sale!
Hi guys! This post may contain affiliate links, sponsored content, and advertisements. We get a small commission for covering topics that interest us (helps us keep the doors open). For more information, please see our privacy policy and disclaimer. Ride safe yall!
2023 Electric Unicycles:
Coupons & Deals:
Apollo Scooters: Get $50 USD worth of free accessories, upgrades, or spare parts with the purchase of a scooter. Code: VROOOMIN
REV Rides: Save $50 off Scooters and EUC's, Code: VROOOMIN
EVOLV Electric Scooters: Free Folding Lock (worth C$80) for every EVOLV model! Use Code: VROOOMIN-LOCK
To keep the site running and information flowing, Vrooomin.com participates in affiliate linking programs. We're also an Amazon Associate, which means we get paid for referring people to Amazon. Please support the channel by clicking on our links.