Hiboy Electric Scooters and E-bikes are up to 50% discount.
Finally, gents, Hiboy is offering one of its most excellent bargains of the year for the next five days. Riders can save much money on some of the hottest budget commuter scooters this fall. When you enter the code Hiboy50 at checkout, most models are $50 off, some 50% off!
Biggest Deals
Hiboy KS4 Pro Premium Electric Scooter – Save $50
Hiboy S2R Electric Scooter – Save $50
Hiboy KS4 Advanced Commuter Electric Scooter – Save $50
Hiboy S2 Max Electric Scooter – Save $50
Hiboy S2 Pro Electric Scooter with Seat – Save 29%
Hiboy NEX5 Electric Scooter – Save 50%
Hiboy N1 Electric Scooter For Kids – Save 50%
Hiboy N1 Electric Scooter For Kids – Save 50%
Hiboy J5 Smart Self-balancing Hoverboard – Save 50%
Best Cheap Electric Scooters:
About Hiboy
Freeman Investment Holding Limited owns the Hiboy brand and is inspired by founder Mark Liu's dream of turning an ordinary vehicle for single-person travel into a joyful work of art that combines color, design, and quality. The brand focuses on the production of single-person electric transportation.
Its scooters are high-quality, safe and reliable, and it believes in giving customers the best configuration at a reasonable price. Their design style is dedicated to matching the personal fashion and lifestyle that their audience wants.
This company was founded in 2014. It has now been in business for seven years. It has gained a lot of experience working in its years of operation, giving them a solid foundation to develop higher quality products. Most past users have noted that their products are perfect for use in their daily commute.
The company's founder, Mark Liu, used to be a general engineer before starting his own business, and his motto is: "Do it, then create it." He enjoys commuting by scooter because, since he bought the electric scooter, he has never been late and no longer has to endure the congestion of commuting roads, buses, and subways, rain or shine, arriving on time and saving money and time.
But he still found some problems: first of all, it is slippery in heavy rain; secondly, the car is still relatively heavy; and thirdly, the range problem; often charging is very troublesome. He wanted to change these. No, he wanted to make something epoch-making.
As a hobby inventor since childhood, his nimble hands, mind, and mobility are his most extraordinary talents. He devoted himself to research and development day and night, and the house he rented was his bedroom, dining room, study, workroom, and garage.
Hiboy's first product, the S2, was born amidst a pile of screws, wires, LED tubes, and the roar of motors, and Mark Liu worked non-stop to patent the design, then teamed up with a few friends to register a company for large-scale production, and named it after his namesake: Hiboy.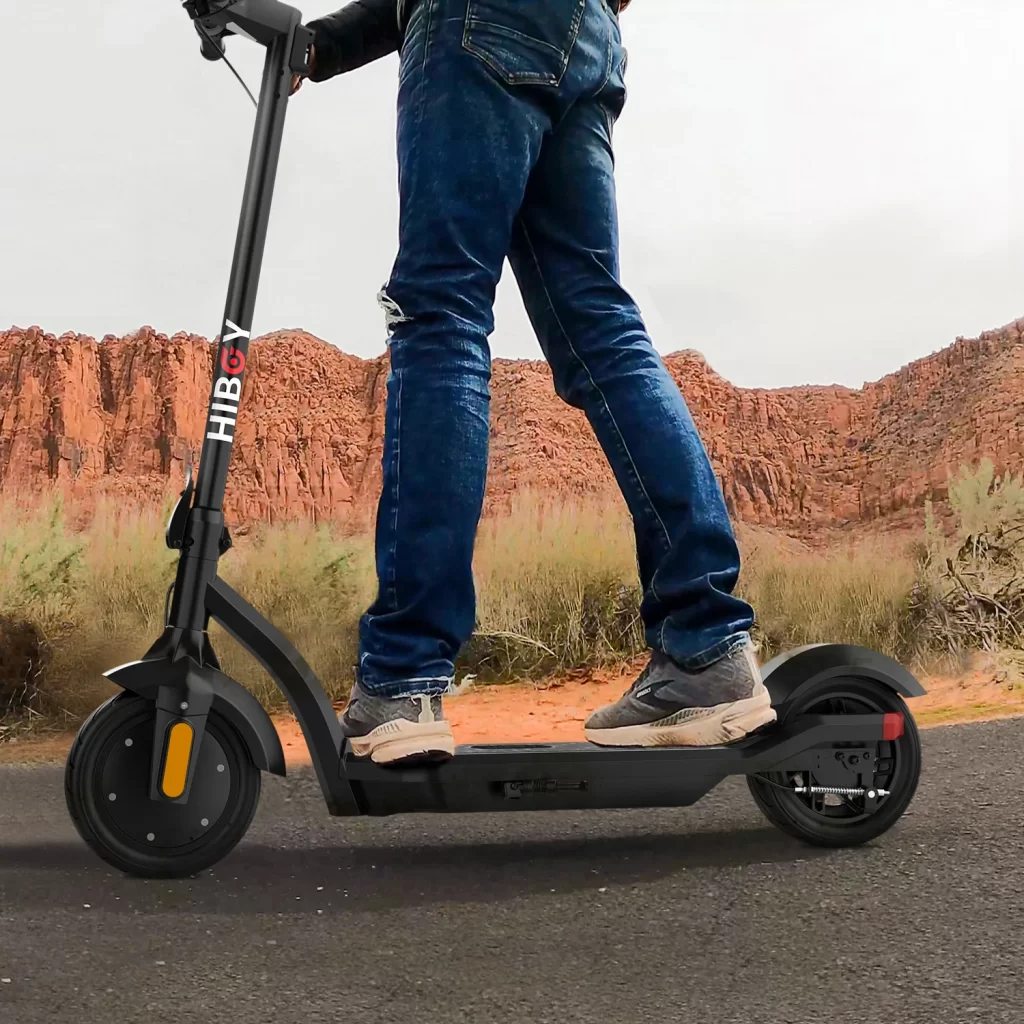 Sustainable & Ethical
We are always concerned with sustainability, ethics, and environmental protection. We launched the following 5 milestone products one after the other over 7 years of hard work.
2017 – Hiboy S2 electric scooter, the first in their line of scooters, was a hit right out of the gate for its lightness, speed, and long range.
2018 – Hiboy S2 Pro electric scooter, an upgraded version of the S2, which further enhanced the range and quality control based on the advantages of the S2, gained widespread acclaim, becoming the brand's most popular model to date, once in the top three of Amazon's sales list.
2019 Hiboy Titan electric scooter, their first foray into the high-end off-road scooter segment, successfully took a bite out of the NanRobot RS4, a popular model in the off-road part at the time, and gained a fan base among the high-end audience.
2020 – Hiboy Titan Pro electric scooter, an upgraded version of the Titan, upgraded its 800w single motor to a 1200w dual engine, which could show its determination to stand firm in the high-end price point of scooters. According to a customer, "I was driving over the mountains like a wild animal."
July 2021 – The Hiboy NEX5 electric scooter is introduced, a heavy-duty, long-range vehicle to rival the Segway Max, their new attempt at the $600-$700 price point.
Disclaimer: The information presented in this article is derived from extensive research, user reviews, and publicly available information. Our aim is to provide accurate and up-to-date content; however, it is crucial to understand that the opinions expressed are based on the information available at the time of writing. We strongly encourage readers to conduct their own thorough research and carefully evaluate their individual needs before making any purchasing decisions.
eWheels 2023 Summer Deals and New Launches are here!!!
Cheap, reliable, and powerful! TurboAnt Electric Scooters 2023 Sale!
Hi guys! This post may contain affiliate links, sponsored content, and advertisements. We get a small commission for covering topics that interest us (helps us keep the doors open). For more information, please see our privacy policy and disclaimer. Ride safe yall!
2023 Electric Unicycles:
Coupons & Deals:
Apollo Scooters: Get $50 USD worth of free accessories, upgrades, or spare parts with the purchase of a scooter. Code: VROOOMIN
REV Rides: Save $50 off Scooters and EUC's, Code: VROOOMIN
EVOLV Electric Scooters: Free Folding Lock (worth C$80) for every EVOLV model! Use Code: VROOOMIN-LOCK
To keep the site running and information flowing, Vrooomin.com participates in affiliate linking programs. We're also an Amazon Associate, which means we get paid for referring people to Amazon. Please support the channel by clicking on our links.