Age of Information
We learn in the information age, where we can learn from experts online through video and the written word. Want to become a Dr? There's a video for that. Want to prepare Pho for dinner tonight? Plenty of videos for that. Want to strike like an MMA fighter? Jeffs got a video for that.
I've been working the MMAShredded CHOOSE YOUR STYLE HEAVY BAG Workout for a week
I've been following Jeff Chan for a few years now and am a huge fan!
I love adrenaline dumps on the road or the mat; nothing comes close to the feeling you get when you're in a fight/flight or an "I might get hurt" scenario. I first caught his video series while browsing Muay Thai YouTube instructionals a few years back; his videos and commentary are well edited, concise, educational, and entertaining. Jeff's channel covers fight tips, footwork, sparring breakdowns, and more. Everything from Jeff's voice, movement, analysis, editing, and brand creates a very educational, entertaining, and fun video series!
I can spend plenty of time at work going through his catalog. For people unfamiliar with Jeff Chan, he's a martial arts content creator based in Canada and is an active competitor and instructor in Muay Thai, BJJ, and MMA.
Why buy the series, can't you do your own combos?
You could, but it gets boring; guided is the way to go.
My combo arsenal has gone stagnant, and I've become entirely predictable. I'm working on trying feints, footwork, and sparring timing in class, yet I find myself throwing the same combos when I'm under the gun. The classic VROOOMIN 1-2, 1-2-3, 1-2 right kick can be seen a mile away.
Solo Recovery
I've stopped grappling, only heavy bag and sparring for now
I recently injured my lower back, I'm back in recovery mode, lifting, and light bag work
I had to take time off from jiu-jitsu, maybe indefinitely, due to the herniation.
I'm hitting the heavy bag and doing core workouts mostly
Heavy bag youtube videos are great for working out; I wanted to do more striking-oriented videos
My sparring combos and striking has gotten pretty predictable; I want to create new pathways to different strikes
The beauty of solo training is that you may workout when and how you want, on your terms, cadence, and direction. In this case, it is with Jeff's assistance and guidance.
Hopefully, I'll get the Jeff Chan physique If I keep consistent and lay down the bags of chips
Main Goals
See what Jeff's program was all about
Support his MMA channel
Add new sparring combinations to the arsenal!
$59 CHOOSE YOUR STYLE HEAVY BAG
The series is streamed online, each video comes out to about $6
From MMAShredded – This cardio-focused program consists of 9 unique workouts that emphasize and focus on different disciplines or styles. Whether you've lost inspiration on the heavy bag or want to freshen up your training, this program promises to keep things fun while making you sweat!
Video Features:
Solo training on the heavy bag doesn't have to be boring. If you're tired of dull workouts and not seeing results, this program is for you
You get to choose which style and emphasis your workout will have
You will improve your technique while getting in the best shape of your life as you watch your cardio and endurance improve
You will polish up your speed and have a natural flow on the bag
Some of the workout themes include Mike Tyson, Muay Thai, Cardio King, Thunder Thighs and KO Hands
Includes timers and audio files for each workout so that you can bring them on the go
Each workout includes a complete breakdown you're encouraged to watch and go through before trying out the entire movement. Each activity also includes an audio file that can be downloaded, making it easy to take your training on the go!
This program is for those looking to supplement their training, become more robust, get in peak shape, and those that want to train on their own while continuing to progress quickly in their martial arts journey.
While viewers can do most of these workouts without a heavy bag, I think it's more fun with a heavy bag. Having that feedback is rewarding; for me shadow boxing isn't as satisfying.
Warm Ups
I've been drilling two videos from the "choose your style heavy bag workouts" course for the past week. I would first start my workout by doing three sets of punching drills. 1-1-2, 1-2-1-2, and 1-2-3. After three 2-minute rounds, with 30 seconds rests in between, I would be fully warmed up.
The Volume Striker
Increasing the amount of strikes you land, just like, UFC's Max Holloway
This video has the viewer throwing a series of punches, including roundhouse and superman punch variations. In each set, Jeff will have you throwing additional strikes on top of the base combo. By the end of the video, you'll be throwing a high volume of strikes as each set compounds. It is so exhausting. What I love about this series is that no matter how many times you do it, you can only progress further, faster, and throw more high-volume and accurate strikes.
There is no end to the progress you can make
The first time I attempted this video, I noticed how many strikes were sloppy, as this sequence was unfamiliar. After doing this video for the third time, I can see my form and timing improving.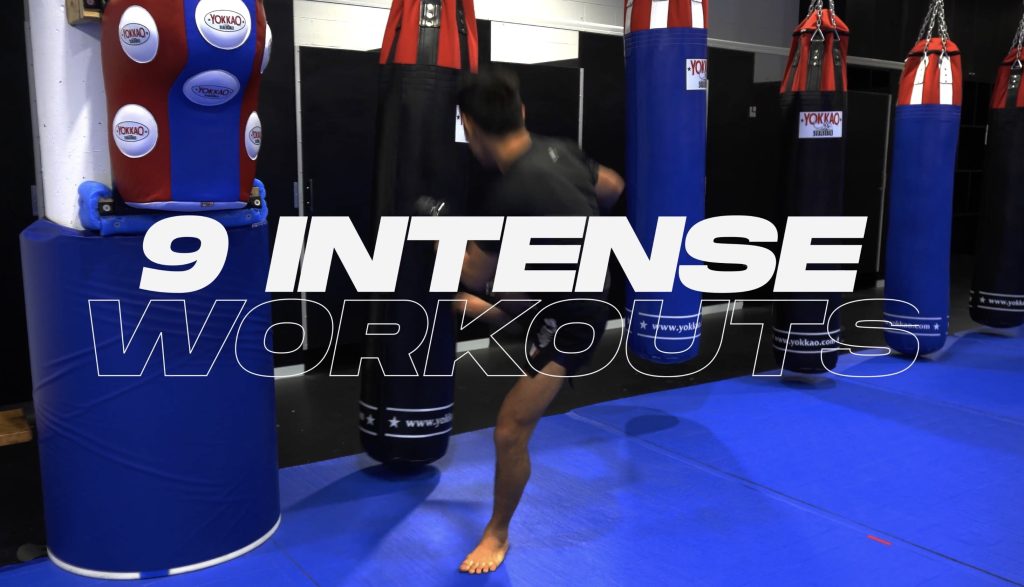 Mike Tyson
Western boxing focused workout
The next thing I tried was Mike Tyson's style. It was so much fun. In this video, Jeff breaks down the peekaboo-style guard and striking sequence that Mike used on taller and larger opponents.
Jeff will have you set up your strikes with a peekaboo approach, close the distance, and unleash a series of hooks, body shots, and uppercuts.
The way Jeff sets up the series is brilliant and so much fun. I can see my progression improving. I'm so excited to try this on Wednesday night sparring. My classmates are going to get some high-volume smoke and heavy Tyson hooks! Hit hard like Mike!
Jeff Covers Live Sparring Drills Video
MMA Shredded Heavy Bag Workout Review
Summary
It's as challenging as you make it!

Overall, I've only finished two videos out of the series, and I'm pretty impressed. Every time I do a video, I find my striking getting a smidge smoother, my form more relaxed, and my execution crisper.

Each video is about 10 minutes, the perfect time to pick and choose what you want to train. Students won't need to commit an hour or 30 minutes; each segment is an excellent serving of technique.

Any Feedback as a User?

I wish this series included a warmup video! Jeff has a sweet 16 minute heavy bag workout video on YouTube. Having one in the series would be awesome to warm up and frosting on the cake.

Am I a ready for the ring now?

Hardly a professional fighter, but it's fun following a video series made by one. I highly recommend this course for any active martial arts or boxing student. It will give you a new set of heavy bag combos and a new rhythm and add some extra spice to your existing arsenal when solo training.

One thing, I would not recommend this course for absolute beginners. I believe this series supplements current training, not teach you the fundamentals of striking, which can only be adequately learned through a local gym.

So far, I am thrilled with Jeff's course. As I mentioned earlier, I will go through this series daily as long as I hit the heavy bag. I know these (unorthodox to myself) striking combos will become second nature with time, effort, and repetition.

This review has only been a partial review. I'll do a follow-up review once I finish the whole course. Right now, I'm just drilling these two videos with higher volume and speed, then moving on to the next!

Best Electric Unicycles
Disclaimer: The information presented in this article is derived from extensive research, user reviews, and publicly available information. Our aim is to provide accurate and up-to-date content; however, it is crucial to understand that the opinions expressed are based on the information available at the time of writing. We strongly encourage readers to conduct their own thorough research and carefully evaluate their individual needs before making any purchasing decisions.
eWheels 2023 Summer Deals and New Launches are here!!!
Cheap, reliable, and powerful! TurboAnt Electric Scooters 2023 Sale!
Hi guys! This post may contain affiliate links, sponsored content, and advertisements. We get a small commission for covering topics that interest us (helps us keep the doors open). For more information, please see our privacy policy and disclaimer. Ride safe yall!
2023 Electric Unicycles:
Coupons & Deals:
Apollo Scooters: Get $50 USD worth of free accessories, upgrades, or spare parts with the purchase of a scooter. Code: VROOOMIN
REV Rides: Save $50 off Scooters and EUC's, Code: VROOOMIN
EVOLV Electric Scooters: Free Folding Lock (worth C$80) for every EVOLV model! Use Code: VROOOMIN-LOCK
To keep the site running and information flowing, Vrooomin.com participates in affiliate linking programs. We're also an Amazon Associate, which means we get paid for referring people to Amazon. Please support the channel by clicking on our links.