Leaperkim, makers of the powerhouse Veteran Sherman, is set to release a new electric unicycle to their lineup, the Veteran Abrams
The industry's largest and most powerful wheels
When it comes to high-performance electric unicycles, Leaperkim doesn't play around. For the past few years, the mad engineers and project managers at Leaperkim have built some of the world's leading, top-performing one-wheel electric unicycles, and the veteran Abrams is no exception. The Abrams was created, engineered, and tested for a rider who appreciates high speed, power density, and extended range and isn't afraid to live on the edge. Can you manage this 3500W torque monster's tremendous torque?
Let's take a closer look at why the Abrams could be your next favorite weapon.
First Batch of Veteran Abrams are now sold out, 2nd batch are now available for preorder. Shipping will start in February
Initial $100 deposit to secure a Veteran Abrams
First shipment from factory expected by end of September, arrival into US a month later
Tires: 22″ knobby
Battery Pack: 2,700WH Samsung 21700 50E battery pack
Power: 3,500W motor (higher torque than Sherman)
Range: 80 miles
Top Speed: 50 MPH
All new modular construction for easy maintenance
88 lbs net weight
View the Most Extreme Performance Electric Unicycles 2022
Wheel with a twist
The Veteran Abrams isn't your standard workhorse electric unicycle. On any given day, riding far and fast is the only two objectives for riders who follow the lines of extreme existence. This 88-pound 22″ 2700WH juggernaut can propel riders over 40 and up to 50 MPH in two shakes of a lamb's tail. While most riders will not drift at these speeds for extended periods, these little bursts of speed put us in a state of pure joy. Whether you're picking up groceries, commuting to work, blasting steep weekend terrain, or enjoying a lovely night cruise, the torque-friendly 3.5KW Abrams will get you to the promised land.
The Abrams has a 22-inch knobby tire for high-speed stability, road vibration absorption, and increased grip on and off the road.

When compared to the original Veteran Abrams, Abrams has a 3.5KW motor that provides significantly higher torque.

The Abrams has a top speed of 50 miles per hour, making it one of the fastest and largest electric unicycles on the market.

Because Leaperkim wheels are modular, they are easier to maintain, repair, and replace old components with new ones.
Riders can easily climb difficult hills thanks to the 30 degree gradient rating.
This wheel is ideal for large riders, as it can accommodate riders weighing up to 120 kg.
Battle Tank Unicycle Requires a Battle Tank Battery
Large battery, large range, large body, large amount of fun
When saddling up on a machine capable of speeds of up to 50 mph, you want to know that the wheel, components, and batteries you're riding on are of the highest quality. We won't accept anything less, so Leaperkim only uses the best battery packs on the market. A serious battery is essential for long or short rides, and the Veteran Abrams' 3.5 KW engine is fueled by a massive 2700WH Samsung 21700 battery pack. Ready for the weekend ride?
The Abrams has an 80-mile range, less than the Sherman but more than enough for any rider on any given day.

Charging the Abrams is simple and quick. A full charge takes about 3 hours at 12A
Samsung 50E Battery Pack 2700WH, Massive and High-Quality for Long-Range Rides and Use
The Abrams voltage will reach 100.8V fully charged.
The BMS supports up to 15A for even faster charging
Warning: Not for Beginners.
Get a beater wheel to learn on, the Abrams is for elite riders.
The high-torque, heavy-weight Abrams weighs in at a staggering 88 pounds. Riders note that this high-powered electric unicycle is not for the faint of heart. Ensure you're adequately equipped before saddling up, because these long and enjoyable rides are best experienced when you're fully protected.
While riding in the rain isn't recommended, riders can rest easy knowing that the Abrams is IP65 rated and features sealing rings and water-resistant connectors in the event of a downpour.
Let's be clear: the 88-pound Abrams is a massive machine. Make sure you can lift a wheel of this size, as it's quite heavy.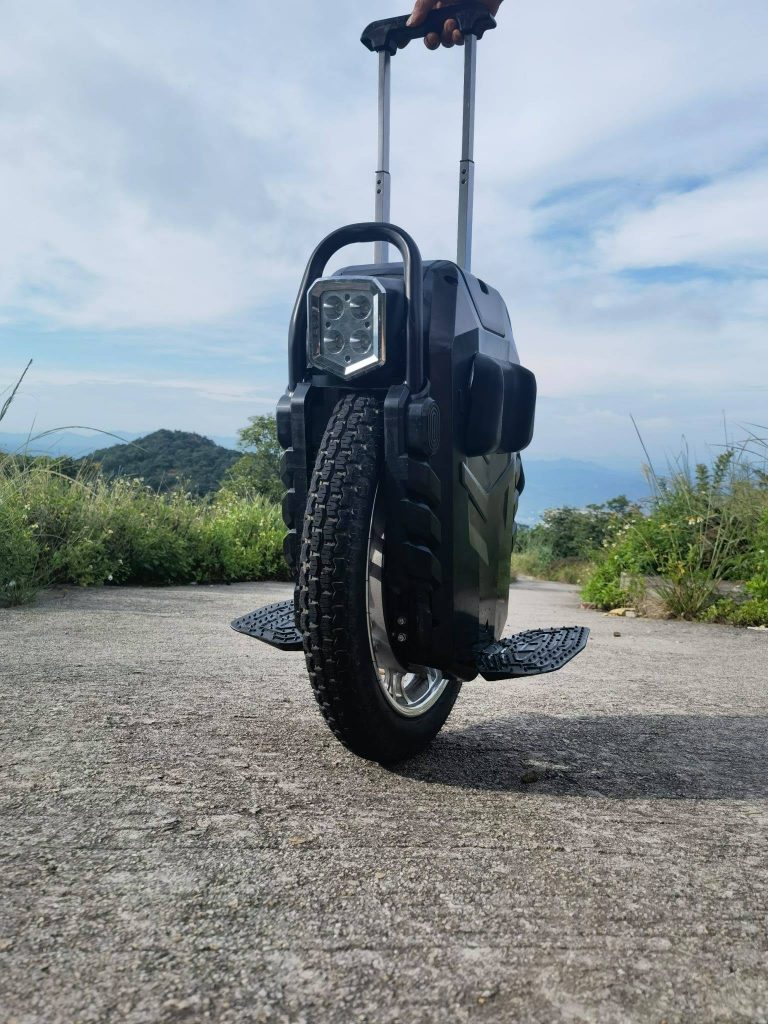 View the Most Extreme Performance Electric Unicycles 2022
View the Most Extreme Performance Electric Unicycles 2022
Veteran Abrams Technical Specs
Model: Abrams
Top free spin speed: 100 km/h
Safe riding speed: 25 km/h
Top Speed: 50 MPH
Motor: 3500W
Range: 80 Miles
Battery: 21700 Samsung 50E
Gradient: 30 Degrees
Operating Temperature: -10-80 C
Max Load: 120kg
Charger: 100.8V, support 15A
Charging Time: 3 hours to full with 12A
IP Rating: IP65, using sealing ring and waterproof connectors
Dimensions: 620mm x 215mm x 660mm
Net Weight: 44kg
Pedal Dimension: 265mm x 145mm
Pedal Altitude: 180mm
Mainboard: Customized connectors to fix wires stable, 12 piece MOSFETS for durability
Cooling system: Integrated aluminum alloy, automatic heat dissipation system
Battery: Modularization sealed battery packs
Motor axle & pedal pillar: Convenient assembly and disassembly between connections of axle and pillar
Tire Size: 22 inch knobby tubeless tires
Trolley Handle: Central mounted foldable build in
LCD panel: Display speed, battery voltage, mileage, mode switching, calibration, battery status
Metal Bars: Shells protection
Pedal: Integrated spiked pedals
Fender: Integrated fender fitted in
Headlight: 2800Lm 25W modularization light, angle adjustable, brightness adjustable
Taillight: Turning, braking warning lights
Screws: 304 stainless Screws
Incline protection: Stop rolling once wheel inclining 45 Degrees
Speed Limit: can be set through LCD panel
Low battery protection: Overcharged, discharged, charting port output short circuit protection
Mainboard overheaT protection: 85 C
Calibration: Set through LCD Panel
Are you looking to go +40 MPH?
50 miles per hour? Are you mad? Maybe we both are.
Electric unicycles are reaching new heights that we never imagined. Wheels' top speed reached 30 MPH only a few years ago; even then, that was the pinnacle of performance. With so many heavyweight electric unicycles hitting the market, it's impossible to keep up, let alone choose which model to invest your hard-earned money in, with wheels like the Abrams, S20, and Begode Master.
The good guys at Leaperkim have developed a legacy for themselves in such a short period, which sets the Abrams apart from the rest. The Veteran brand, with its electronics, motors, shells, and exterior metal bars, is a force to be reckoned with and a brand with a well-deserved reputation.
But, digressing, with so many new wheels on the horizon and so many performance specs to scrutinize, I respect and enjoy that there has never been a more acceptable time to be alive for electric vehicle fanatics. With models like the S20 Eagle, Extreme Bull Commander, and Inmotion V12 HT on the way, which wheel would you choose to take your riding to the next level? Please let me know in the comments section if you have any questions.
Veteran Abrams Photo Gallery
[Best_Wordpress_Gallery id="63″ gal_title="veteran abrams"]
More Extreme Performance EUC's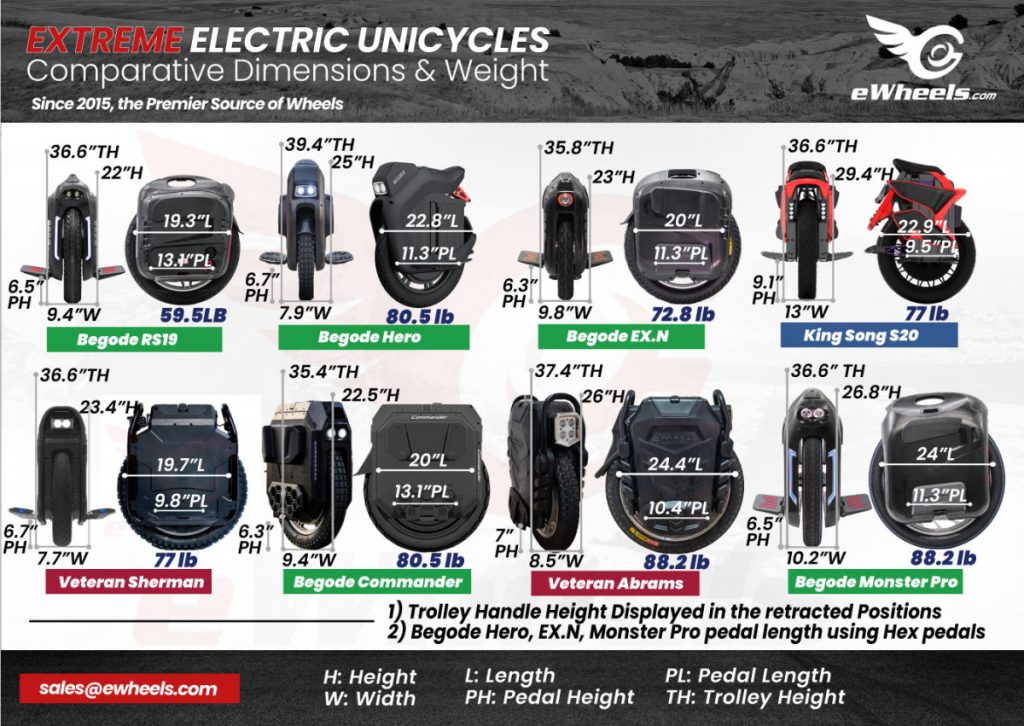 Disclaimer: The information presented in this article is derived from extensive research, user reviews, and publicly available information. Our aim is to provide accurate and up-to-date content; however, it is crucial to understand that the opinions expressed are based on the information available at the time of writing. We strongly encourage readers to conduct their own thorough research and carefully evaluate their individual needs before making any purchasing decisions.
eWheels 2023 Summer Deals and New Launches are here!!!
Cheap, reliable, and powerful! TurboAnt Electric Scooters 2023 Sale!
Hi guys! This post may contain affiliate links, sponsored content, and advertisements. We get a small commission for covering topics that interest us (helps us keep the doors open). For more information, please see our privacy policy and disclaimer. Ride safe yall!
2023 Electric Unicycles:
Coupons & Deals:
Apollo Scooters: Get $50 USD worth of free accessories, upgrades, or spare parts with the purchase of a scooter. Code: VROOOMIN
REV Rides: Save $50 off Scooters and EUC's, Code: VROOOMIN
EVOLV Electric Scooters: Free Folding Lock (worth C$80) for every EVOLV model! Use Code: VROOOMIN-LOCK
To keep the site running and information flowing, Vrooomin.com participates in affiliate linking programs. We're also an Amazon Associate, which means we get paid for referring people to Amazon. Please support the channel by clicking on our links.