Begode MTEN4 Electric Unicycle
The new MTEN4 EUC from Begode is now available for preorder! You'll be among the first to get this wheel by putting down a deposit for the winter shipment.
The MTEN4, the most miniature and torquey-est wheel currently available is slated to succeed the well-liked MTEN3. It has a 750Wh 84V battery that powers a 1000W motor with larger 11″ knobby tires that can propel the wheel up to 25+ mph. A wide range of features are included: display, handles, LED front/taillight, and more!
Shipping: From US expected sometime in November
Pricing: Expected release price of $1,150, $650 balance on arrival to US
Battery: 600Wh battery capacity, using the high-powered (safer) 40T pack, improved battery/BMS system with temperature sensors
Motor: 1,000W motor
Color: Shell color for production will likely be black
Tires: Choice of knobby/street 11″ tire
Battery Features
The fundamentals of PEV battery selection are complicated but may be boiled down to a basic guideline: the smaller the battery pack, the more power is requested from the cells. The MTen4 battery pack comprises 20 cells in series and two parallels (20s2p).
Because the MTEN4 hardware is significantly more potent than the previous generation MTen3, with an updated 1,000W motor and a controller capable of bursting at more than double the power, it's critical that the battery pack can meet the demands of the other hardware pieces.
While the new BMS design has enhanced safety features (temperature sensors and short protection), history has shown that hidden fire dangers can appear years later. eWheels considers it essential for this relatively compact machine to include a high-powered cell, the Samsung 40T.
Other advantages, besides the safety and performance benefits, include quicker charging potential (up to 8-10A), greater pack lifetime, cooler operation, higher performance, and more efficient energy usage from the battery pack.
Extremebull XMAX Wheel
The wheel never really took off… if only it were 134V
Begode is consistently stirring the pot by releasing wheels and wreaking havoc on local inventories. Most wheels become obsolete before reaching their local markets. Recall the scandalous getup for the XMEN wheel marketing materials ?? Their marketing conventions can be a bit unconventional.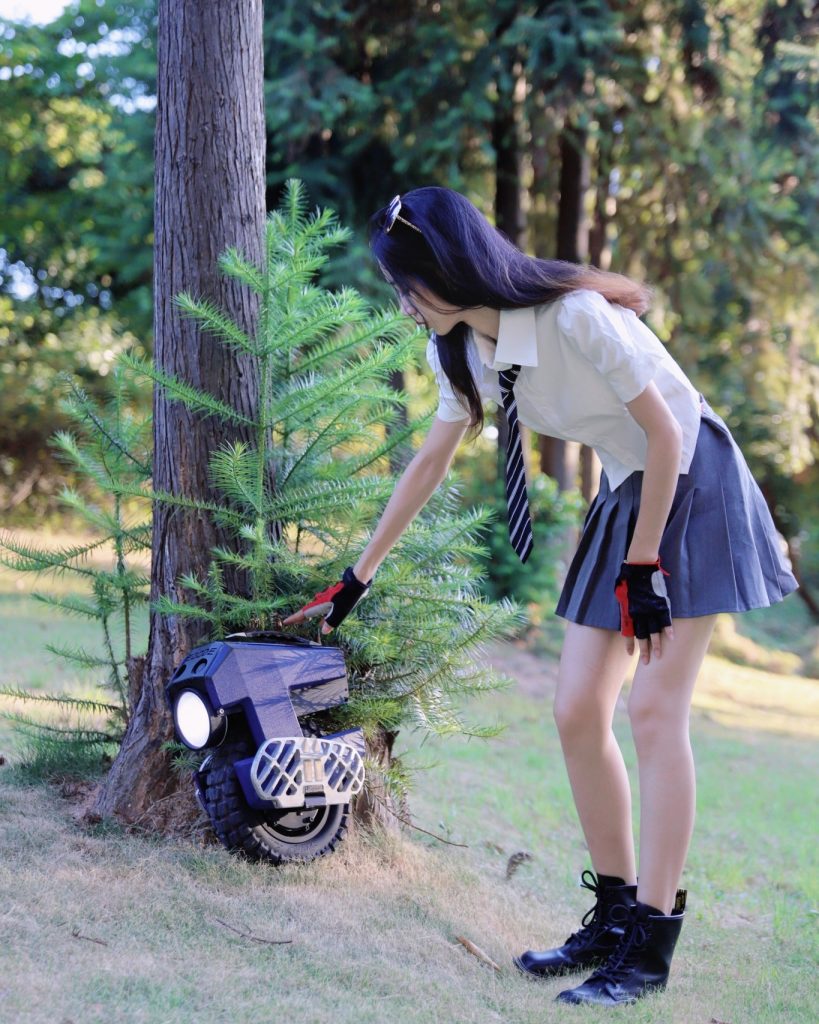 84V Little Beast from the East
Their marketing department uses interesting, questionable methods to promote their commodities. The XMAX was the next iteration of the RS under the Extremebull brand but wasn't adopted stateside.
Nevertheless, the beefed-up MTEN4 has a loud new look, pushing higher wattage and a fresh new "Minions" like vibe.
Technical Specs:
Wheel: 11″
Color: Blue
Weight: 13 kg / 28 lbs
LED: n/a
Lighting: Headlight & Taillight
BT Speakers: na
Battery: 84V 21700 / 750wh
Motor: 1000W
Range: 70 km / 43 miles
LCD: yes
Free spin: 57 kmh / 35 mph
Huge Headlamp
The Begode MTEN4 is superior in cost, portability, and power.
The MTEN4 is no exception and features some well-known and updated specs. The 84v 21700 750WH is an improvement over the 512WH model. You receive an increase in power, speed, and range and some new LEDs to keep your behind visible.
VROOMIN'S TAKE
Power: Upgraded 1KW motor that will provide higher amps, wattage, torque, and acceleration
Weight: Still lightweight and portable, 28 lbs is easy to carry and store
Range: Riders can expect about +18 miles or more of range
Chassis: An aluminum chassis that can take more of a beating
Issues: Riders have noted axel issues in the past. Will this be an issue with the MTEN4?
Design: Fun new design, large lamps, and updated look and feel
Quality: First generation wheel, will there be issues with power, quality, or BMS?
Price: Quite reasonable for OG riders and new ones looking to get into the addiction of riding one wheel
The MTEN4 is the slightest electric unicycle in the world, sporting an 11″ wheel and a 28 lb chassis.
Most likely the latter.
The marketing materials for MTEN4 are sure to raise questions and leave people in awe as to who or what they're trying to target. Could this wheel be more appealing to younger women or the complete opposite demographic?
Beginner or Last Mile Wheel
The portability and power of this wheel make it exceptional; you can tuck it under your desk, in the trunk, or pop it in a backpack for easy storage.
With a 28-pound weight, 1KW motor, and 750-watt hour battery, this excellent $1,000 beater and starter wheel will help you get where you need to go without herniating a disc and becoming bedridden.
No Chiropractor
As you are aware, portability and range have their purposes; there is no need to strain our backs by lifting this tiny wheel.
Disclaimer: The information presented in this article is derived from extensive research, user reviews, and publicly available information. Our aim is to provide accurate and up-to-date content; however, it is crucial to understand that the opinions expressed are based on the information available at the time of writing. We strongly encourage readers to conduct their own thorough research and carefully evaluate their individual needs before making any purchasing decisions.
eWheels 2023 Summer Deals and New Launches are here!!!
Cheap, reliable, and powerful! TurboAnt Electric Scooters 2023 Sale!
Hi guys! This post may contain affiliate links, sponsored content, and advertisements. We get a small commission for covering topics that interest us (helps us keep the doors open). For more information, please see our privacy policy and disclaimer. Ride safe yall!
2023 Electric Unicycles:
Coupons & Deals:
Apollo Scooters: Get $50 USD worth of free accessories, upgrades, or spare parts with the purchase of a scooter. Code: VROOOMIN
REV Rides: Save $50 off Scooters and EUC's, Code: VROOOMIN
EVOLV Electric Scooters: Free Folding Lock (worth C$80) for every EVOLV model! Use Code: VROOOMIN-LOCK
To keep the site running and information flowing, Vrooomin.com participates in affiliate linking programs. We're also an Amazon Associate, which means we get paid for referring people to Amazon. Please support the channel by clicking on our links.