The Best $500 – $1,500 Electric Unicycles for Beginners and Commuters
The Best Electric Unicycles for Beginners
We're pleased you've decided to venture into the world of electric unicycles! You'll have to start at the bottom of the ladder before learning how to lean, idle, overpower, and what a MOSFET is. But don't worry, my friend, you'll be gliding along the avenue of good times in no time. Here are the best electric unicycles for beginners on the market! The beautiful thing about these units is that they have been on the market for a while and have been recognized by the community as high-quality equipment. Please let us know if you have any questions or comments in the section below.
Powerful Commuter Electric Unicycles
You don't need a driver's license.
There's a new trend in the world of transportation, and it isn't just one that you should be afraid to try out. Electric unicycles are gaining popularity over other means of transportation, such as scooters or e-bikes, because they are enjoyable and dependable! These high-powered monowheels have a top speed of 30 miles per hour!
easy to use (once you learn how to ride one)
low operating costs
greenhouse gas emissions savings
News & Deals
High-Performance EUC's
Unicycle, huh? I know what you're thinking. Circus acts and street performers use the same ones. At the same time, they are the opposite. The modern electric unicycle was born with high discharge lithium batteries, high current speed controllers, and direct current motors, EUC's can travel at far higher speeds than ordinary bicycles! Electric Unicycles are one of the market's most fun, light, powerful, and portable electric vehicles.
Electric unicycles, also known as EUCs or Unis, are conquering the personal electric vehicle market, shifting from a specialized category to a widely sought-after market. Electric unicycles are operated by leaning forward or backward and steered by bending and twisting your torso and feet. A self-balancing gyroscope and an accelerometer control the throttle and breaking of the electric unicycle machine.
EUCs are easy and convenient
Electric unicycles are eco-friendly
No air pollution
It will save

you time and energy
The Top Entry-Level Electric Unicycles for Absolute Beginners
Best Entry Level wheels to learn on
The most trusted brands in the EUC community are King Song, Veteran, Begode, and InMotion. These entry-level wheels achieve an average speed of 20 miles per hour and a range of 30 miles. These entry-level wheels are ideal for commuting to work, shopping, or getting around town. Beginner wheels are excellent for learning and are the perfect size for last-mile solutions. These wheels are robust, compact, and lightweight, making them ideal for public transit.
Beginner Wheel Technical Specs:
Price: $700 – $500
Power: 550 – 2,200W
Top Speed: 15 – 30 MPH
Range: 15 – 50 miles
Battery: 67V – 84V
Wheel Size: 14″ – 16″
Here are the Best Electric Unicycles under $1,500
BEST 2022 EUC's by Category – Editors Pick
Electric Unicycles come in various sizes, battery configurations, performance specs, and premium features. Check out the best Electric Unicycles for beginner, advanced, and extreme riders.
Best Beginner Electric Unicycles: Begode MCM5, Begode MTEN3, King Song 16S, Inmotion V8S
Best Advanced Electric Unicycles: King Song S18, Inmotion V11, Tesla V3, Begode Nikola+, Inmotion V10F, Begode RS HT
Best Extreme Performance Electric Unicycles: Begode EX.N, Veteran Sherman MAX, King Song S20, Extreme Bull Commander, Veteran Abrams, Begode RS HS
View the Most Extreme Performance Electric Unicycles 2022
Outgrowing your Wheel
It is usual for riders to seek out wheels with larger motors, batteries, and controls once they have learned the fundamentals of riding. Please remember that your entry-level wheels are suitable for daily commuting and short trips, while the larger and faster wheels are suitable for weekend or long-distance riding. We recommend that riders learn on a less expensive wheel because it is more affordable to get started. Beginner wheels make good backup wheels if something goes wrong with your stronger wheels.
Entry-level wheels good to learn and start
Riders tend to outgrow wheels fast
Beginner wheels can be used as backup wheel
Advanced Electric Unicycles
Check out the top 30 MPH advanced wheels for riders looking for even more power. 30 MPH wheels achieve optimal performance, portability, and weight. These wheels typically have 2KW motors, 1500WH battery packs, and a range of 50 miles. Advanced wheels are an attractive substitute for riders who are not beginners. They are practical and powerful, and these riders do not want to haul around 70-pound wheels. Some enthusiasts, if their budget allows, have two or more wheels.
Advanced wheels are the perfect balance of power and weight
Not too heavy, not too light, just right
More than enough speed and range for inner city riding
View the Most Best Electric Unicycles 2022
View the Most Best Electric Unicycles 2022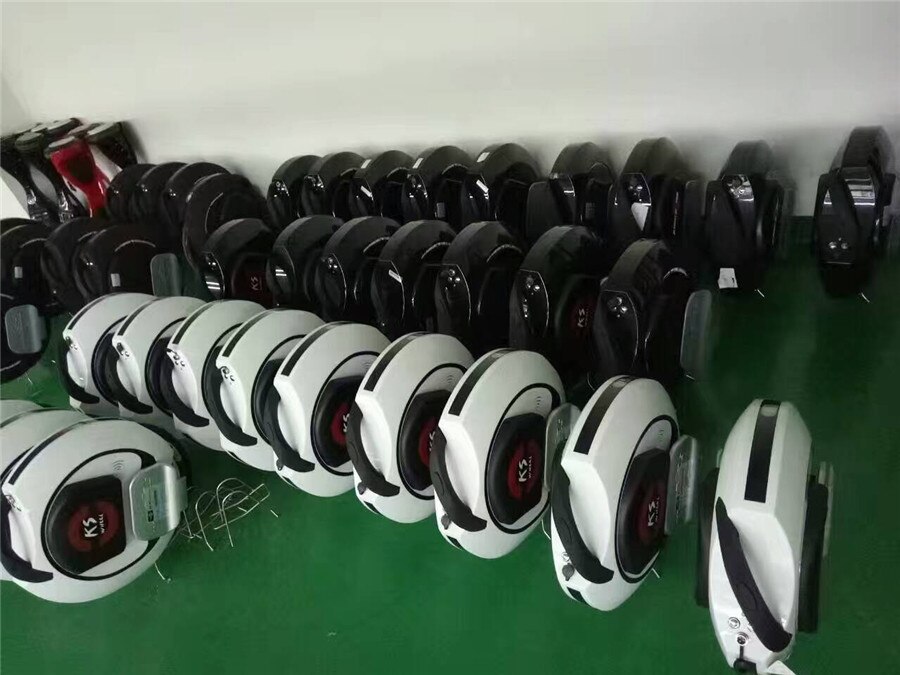 What is an electric unicycle?
An electric unicycle is a self-balancing personal transportation device powered by an electric motor. It typically consists of a single wheel, foot pedals, and gyroscopic sensors to help maintain balance.
What are the benefits of owning an electric unicycle?
Electric unicycles offer several advantages, including compact size, maneuverability in tight spaces, eco-friendliness, and the ability to cover short to medium distances quickly. They are also a fun and unique way to commute or explore your surroundings.
What features should I consider when buying an electric unicycle?
When purchasing an electric unicycle within the $500-$1000 price range, consider factors such as battery range, maximum speed, weight capacity, build quality, tire size, and the presence of additional features like Bluetooth connectivity or smartphone apps.
How far can I typically ride on a single charge?
The range of an electric unicycle can vary depending on factors such as the rider's weight, terrain, speed, and battery capacity. In the $500-$1000 price range, you can expect ranges between 10-20 miles on average.
What is the maximum speed I can achieve on an electric unicycle in this price range?
Electric unicycles within the $500-$1000 range generally offer maximum speeds ranging from 12-25 mph. It's important to check the specifications of each model as they may vary.

Are electric unicycles safe to ride?
While electric unicycles can be safe, it's important to take proper precautions. Always wear protective gear like a helmet, knee pads, and elbow pads. Start by practicing in a safe and open area to get comfortable with balancing and maneuvering the unicycle. Follow traffic rules and be aware of your surroundings to ensure a safe riding experience.
Can I use an electric unicycle for commuting?
Yes, electric unicycles can be an excellent option for short to medium-distance commuting. They are compact, lightweight, and easy to maneuver in traffic. However, it's important to check local laws and regulations regarding the use of electric personal transportation devices on public roads or sidewalks.
How do I maintain an electric unicycle?
Maintaining an electric unicycle involves regular charging, checking tire pressure, cleaning the device, and inspecting for any loose screws or components. It's essential to follow the manufacturer's guidelines for maintenance and consult the user manual for specific instructions.
Can I ride an electric unicycle on rough terrain or off-road?
While some electric unicycles in this price range offer off-road capabilities, most models are designed for smooth and paved surfaces. It's important to check the specifications of the particular unicycle you are interested in to determine its suitability for rough terrain or off-road riding.
Where can I buy an electric unicycle within the $500-$1000 price range?
You can find electric unicycles in this price range from various sources such as online marketplaces, specialized electric vehicle retailers, and even directly from manufacturers' websites. Ensure that you research the seller's reputation, read customer reviews, and compare prices and features before making a purchase.

King Song Intelligence Co., LTD
King Song, founded in 2012, specializes in manufacturing power bank protection boards utilizing their patented surface mount technology. With ten years of experience in the board industry, King Song has extended its intellectual property to produce electric scooters, electric unicycles, and bicycles. King Song has 11 departments dedicated to invention, manufacturing, and quality assurance. King Songs' fundamental purpose is to give the world a safe and enjoyable mode of transportation, eliminate urban congestion, and allow riders to enjoy the outdoors.

Guangzhou Veteran Intelligent Technology Ltd.
Leaperkim is a technology startup started by a group of engineering colleagues. Leaperkim is focused on developing software and hardware for electric self-balancing vehicles, such as electric unicycles. Research, development, production, sales, service, and manufacturing are all focuses of the Leaperkim team. Our company focuses on producing electric unicycles and scooters that are more powerful and safer. We assure you that our customers may enjoy high-quality, high-performance unicycles by regulating manufacturing and closely enforcing quality control.

Inmotion Technologies co.,LTD
Inmotion, founded in 2012 and headquartered in Shenzhen, China, is committed to becoming the market leader in self-balancing technology to improve commuting. At Inmotion, our team members are dedicated to researching, developing, testing, and promoting robotics and sensor-controlled vehicles. The company's ethos is to keep life interesting, enjoyable, and dynamic. Inmotion is devoted to delivering electric scooters and unicycles into every home and transforming the short-distance mobility scene. Inmotion's primary objective is to develop the most lightweight, environmentally friendly, portable personal electric vehicles possible by constant research, invention, and manufacturing.
Dongguan Begode Intelligent TECHNOLOGIES CO.,LTD
Begode, formed in 2014, is a leader in researching and developing personal electric vehicle mainboard hardware, software, and brushless motors. Begode's research and development team manage the industry's most extensive library of electric unicycles. Begode's product line includes electric unicycles, electric skateboards, and scooters. Begode's primary objective is to provide clients with the highest-quality and most efficient electric vehicles for commuting.
Disclaimer: The information presented in this article is derived from extensive research, user reviews, and publicly available information. Our aim is to provide accurate and up-to-date content; however, it is crucial to understand that the opinions expressed are based on the information available at the time of writing. We strongly encourage readers to conduct their own thorough research and carefully evaluate their individual needs before making any purchasing decisions.
eWheels 2023 Summer Deals and New Launches are here!!!
Cheap, reliable, and powerful! TurboAnt Electric Scooters 2023 Sale!
Hi guys! This post may contain affiliate links, sponsored content, and advertisements. We get a small commission for covering topics that interest us (helps us keep the doors open). For more information, please see our privacy policy and disclaimer. Ride safe yall!
2023 Electric Unicycles:
Coupons & Deals:
Apollo Scooters: Get $50 USD worth of free accessories, upgrades, or spare parts with the purchase of a scooter. Code: VROOOMIN
REV Rides: Save $50 off Scooters and EUC's, Code: VROOOMIN
EVOLV Electric Scooters: Free Folding Lock (worth C$80) for every EVOLV model! Use Code: VROOOMIN-LOCK
To keep the site running and information flowing, Vrooomin.com participates in affiliate linking programs. We're also an Amazon Associate, which means we get paid for referring people to Amazon. Please support the channel by clicking on our links.