Going the distance with suspension
Performance and comfort
Electric unicycles were once uncomplicated devices composed of a motor, battery, speed controller, and casing. However, they are becoming increasingly sophisticated and costly. Chinese manufacturers are upgrading these electric vehicles with suspension systems to enhance their power, voltage, and speed, establishing a new standard. Despite the fact that integrating a dampening system into these wheels increases the complexity of designers' and engineers' responsibilities, the resulting improvement in performance justifies the additional effort and expense.
Benefits of Suspension Electric Unicycles:
Top EUC brands for 2023: Begode, Inmotion, King Song, and Leaperkim.
Improved comfort for on/off-road riding
Safer experience when standing and seated
Better control of the wheel over uneven terrain and potholes
Improved mounting, acceleration, cornering, and braking traction
More Performance + faster riding on rough roads that are downhill or flat.
Heavier – added weight/components help add stability
Expensive – wheels with suspension command a higher price and more moving parts.
Requires minimal maintenance down the line
Trust: Your feet and lower body will thank you for spending the extra money on a suspension system. Suspension systems, whether you for them or not, are the future of any personal electric vehicle.
Types of EUC Suspensions to Consider
Air Shock: Air suspension on an electric unicycle can provide a smoother ride by absorbing shocks from uneven surfaces, but can add weight and complexity to the unicycle, and may be prone to leaking over time, which can reduce its portability and increase maintenance issues. Additionally, it can be more responsive for city riding and adjustable with an air pump.
Coil Shocks: A coil shock on an electric unicycle can offer a reliable and consistent ride with minimal maintenance, as well as a firmer and more consistent performance across different temperatures. However, it may be heavier and less adjustable than other suspension options.
Center-Mounted Fork: Center-mounted hydraulic suspension on an electric unicycle offers increased stability, better shock absorption, and improved weight distribution. It is highly adjustable and customizable to suit various riding styles and preferences. However, it is not interchangeable with other systems and is currently found on the Veteran Sherman-S by Leaperkim and FaceAce, making it one of the most advanced options available.
Travel Range: Varies from 80mm – 130mm
eWheels showcases their current suspension Line up for 2023
The lineup looks quite promising, there's a model for varying needs, budgets, and performance requirements.
Top Suspension Electric Unicycles
Check out the coolest suspension wheels currently on the market! Just a heads up though, most of them had some initial kinks in their first-generation models. But fear not, the Veteran Sherman-S, EX20S, and V13 are the shining stars that have proven to be super solid. We're keeping our ears to the ground and our eyes on the threads to see how they hold up as more riders hit the road and rack up the miles. Stay tuned for more updates!
Small and Big Impact
A New Standard
Bye-bye to the electric unicycles of the mid-to-early 2010s! No more plastic shells or scary cutout issues. We're saying hello to faster speeds and bigger, better LG battery packs. And that's not all – the new models are loaded with awesome features like jump pads, suspension systems, Samsung batteries, cushy seats, and strong trolleys. It's all the rage with electric unicycle builders these days!
Best Beginner Suspension Electric Unicycles
Best Performance Suspension Electric Unicycles
Best Extreme Performance Suspension Electric Unicycles
Balance is Key
Suspension is the hot topic that's taking the electric unicycle scene by storm. Let's face it, riding a wheel can be a blast, but it's tough without suspension – especially on bumpy terrain. It can be dangerous, too. One wrong move and you could lose your balance and take a nasty spill. And let's be real, who has time for a long recovery after a fall?
Safety is Paramount
Weight shifting and dampening are crucial factors that can make all the difference between arriving at your destination on time or taking an unwanted trip to the emergency room. Even the most skilled riders face risks when traveling on rough, unpredictable roads. That's why suspension is the future of electric unicycling. Whether you're a beginner looking for an entry-level wheel or an experienced rider seeking a high-speed torque beast with a 100+ mile range, there's a suspension wheel out there that will meet your needs – just like with any other type of vehicle on the market.
So Many Models
If you're looking for a comfortable ride to get you from point A to point B in the city or suburbs, lower-priced models like the S18 or V-11 might be perfect for you. But if you're more of a weekend speed demon, then the Veteran Sherman or V13 are heavyweight champions that can satisfy your craving for thrills. With a wide range of options available, including features and battery packs, there's a suspension wheel out there to suit your needs and preferences.
Consider Features
Choosing the perfect electric unicycle with suspension depends on your budget and needs. When shopping for one, it's important to consider factors such as performance, build quality, dependability, and features. So, let's take a closer look at the top suspension electric unicycles currently on the market.
PRO TIP: After locking in your electric unicycle order, it's common to have second thoughts about your decision. So, why not do yourself a favor and consider upgrading to the next level wheel?
Veteran Patton 126V Electric Unicycle
The 126V Veteran Patton electric unicycle is a true powerhouse that's designed to deliver an insane riding experience. This beast of a wheel boasts a top speed of over 50 miles per hour, as well as a maximum range of 70 miles per charge, making it one of the fastest and most long-lasting electric unicycles on the market.
Priced at $3,000, the Patton comes equipped with a mid-mounted hydraulic suspension system, an adjustable and removable jumping module, a high-torque 7 kW motor, a 24 x MOSFET-480A peak controller, and a massive 126V 2200WH battery pack. With its futuristic design and all-terrain capabilities, the Patton looks and feels like a military battle tank-style electric unicycle.
While the Patton may be big, loud, and cumbersome, it's also one of the most durable and reliable electric unicycles available. The wheel is available for pre-order from eWheels and is set to ship in May. With its impressive features and high-performance capabilities, the Patton is poised to be one of the year's most enormous blockbuster wheels. Head over to eWheels for more information and to pre-order your own Patton electric unicycle today!
Shipping: Expected to ship in early April
Price: $3,099. With an initial $1,000 deposit & $2,099 payment before shipping out
Performance: 50 mph, 70-mile range, 89 lbs aluminum alloy chassis
Battery Pack: 2,200Wh/126V pack with the Samsung 50E battery cells
Motor: 3,000W high-torque motor [7KW peak], a no-load max rotational speed of 70MPH (not riding speed!)
ESC: All new electronics/controller, 24x MOSFETs with 480A peak load!
Dampening: Adjustable suspension shock system, with a rebound, up to 80mm of travel.
Tires: Choice of street knobby or street tire
Features: Robust kickstand, 2000LM lighting, Braking/turn signals, built-in trolley, Improved display (angle protection, waterproofing), robust aviation aluminum body, improved anti-collision battery protection, wider/thicker motor/rim covers, oil sealed covers, dual 15amp charge ports, adjustable Magnesium-alloy pedals
Inmotion V11 Electric Unicycle
Air suspension, 85mm travel
Attention all thrill-seekers and adventure enthusiasts, the Inmotion V11 suspension electric unicycle is a force to be reckoned with. This speedy 84V wheel is currently the fastest in its class, making it a top contender for the best suspension EUC on the market. Compared to the King Song S18, the V11 boasts superior power, range, and weight, making it a formidable choice for riders.
While the S18 may be more agile and have a unique exoskeleton chassis, the V11 more than makes up for it with its high build quality, extensive ride features, and gorgeous construction. This wheel is built to last and impress, with a 2.2-kilowatt motor, pedal suspension, and a massive 1500-watt-hour battery.
So why settle for less when you can have the best? The Inmotion V11 is the perfect wheel for those seeking an adventure with a top-level entry-level wheel. Don't let this opportunity pass you by. Join the electric unicycle revolution and experience the thrill of a lifetime with the Inmotion V11 suspension electric unicycle.
Key Specs:
Speed: 34 MPH (30 MPH for most riders)
Power: 2200W
Range: 57 Miles
Product Weight: 59 lbs.
Max Weight: 300 lbs.
Battery: 1500WH
Unique Features:
High-quality build, finish, and QC

31-34 MPH Top speed

First integrated pedal suspension
85mm travel
Integrated kickstand
King Song S18 Electric Unicycle – Molicel
Air suspension, 100mm travel
Looking for a game-changing electric unicycle design that combines style and function with top-of-the-line suspension technology? Look no further than the King Song S18. This wheel has become incredibly popular among riders, thanks to its sleek and eye-catching appearance.
With a 2.2-kilowatt motor, top speeds of up to 31 miles per hour, an exoskeleton shell, and full suspension, the S18 was built for off-road sports riders who want to take their riding experience to the next level. Whether you're a daily commuter or a weekend adventurer, the Supercharged S18 is the perfect wheel for you, offering exceptional power, speed, range, and style.
It's no wonder that the King Song S18 has gained such a loyal following in the electric unicycle community. In fact, the demand has been so high that eWheels has started carrying a Molicel version to keep up with the demand. With its unique design and innovative features, the S18 is a true game-changer in the electric unicycle market. Don't miss out on the chance to experience the ultimate in comfort and performance – get your King Song S18 today!
Key Specs:
Speed: 31 MPH
Power: 2200W
Range: 44 Miles
Product Weight: 55 lbs
Max Weight: 200 lbs
Battery: 1110WH
Unique Features:
Powerful 2.2KW Motor
Large 18×3 Tire
Exoskeleton Shell
Full body suspension
Begode T4 Electric Unicycle
Air suspension, 100mm travel
For all you Begode enthusiasts looking for a wheel that's both powerful and compact, look no further than the T4. Built on the foundation of the Begode Master and powered by a 100V Samsung battery, this machine packs a serious punch without the added bulk.
Designed with off-road performance in mind, the T4 is loaded with features like spiked pedals, 100mm of rebound, 16×3 street tires, and a massive 1,440WH battery. This wheel is all about the essentials, without any of the unnecessary frills that some riders may fetishize.
With its minimal design and top-notch performance, the T4 is poised to become the new sheriff in town, claiming the title of the best mid-range performance suspension wheel on the market. So watch out, V12HT and V11 – there's a new contender in town, and it's ready to take on the competition with its impressive speed and power. Don't miss out on the action – get your T4 today and experience the thrill of a lifetime!
Price: $2,450
eWheel Battery: 1,440Wh Samsung 21700 40T high-powered cells
Begode Battery: 1,800WH (Battery options TBD)
Suspension system: Rebound 100mm of travel
Pedals: Spiked pedals
Tires: 16×3 CST-C-1773 street tire
Begode Hero Electric Unicycle
Air suspension, 80mm travel
Move over caped crusaders, because there's a new hero in town – the Begode Hero suspension wheel. With its top-of-the-line suspension springs and 21700 50E cells, the Hero is built for high-speed and high-torque performance that will keep you cruising with confidence and take your adventures to the next level.
The newest member of the Begode suspension wheel family, the Hero is the perfect choice for EUC riders who demand a solid foundation for exploring the edge of stability. Equipped with an 80mm air suspension, sturdy chassis, and an RS19 Torque-inspired motor, this 100V, 2800W behemoth is ready to take you roaring over tracks off-road or paths in the city.
It's important to note that the Hero shouldn't be confused with the Begode Master. While both wheels offer impressive performance, the Hero is in a league of its own, providing unparalleled strength and stability where other Begode wheels may fall short.
So, if you're looking for a bargain-priced electric unicycle that delivers the goods when it comes to off-road performance and stability, look no further than the Begode Hero. It's the perfect choice for riders who want to take their adventures to the next level without breaking the bank.
Model: Begode Hero Electric Unicycle
Wheel Type: Expert Riders
Price: $4,100
Power: 2.8KW
Top Speed: 35 MPH
Battery: 100V, 1,800WH
Range: 60 Miles
Max Load: 325 lbs
Weight: 78 lbs
King Song S22 Eagle Electric Unicycle
Spring suspension, 130mm travel
If you're in the market for an electric unicycle that delivers top-notch performance and cutting-edge technology, then the King Song S22 Eagle is definitely worth considering. While the wheel has been through some controversial times, with multiple iterations and user headaches, it's finally delivering on its promise of being a balanced and +40 MPH wheel with some of the best suspension technology available.
With a 126V drivetrain, modern suspension, 3,300W motor, and a top speed of 45 MPH, the S22 was once the best value and highest-performing EUC available on the market. However, King Song has had to face some quality control issues with battery fires, faulty motherboards, clogging suspension sliders, and faulty motors.
Despite these challenges, the S22 remains a great choice for riders who want a high-performance suspension wheel with a 2KWH battery pack, plush suspension, and loaded with features. And there are rumors that a new and improved S22 Pro is coming soon, which will hopefully address some of the quality control and performance issues that have plagued the earlier versions.
So, will the King Song S22 Eagle franchise soar in 2023? Only time will tell, but with its impressive speed and power, there's no doubt that this wheel has the potential to become a favorite among EUC enthusiasts. If King Song can continue to improve its quality control and suspension system, it just might reclaim its place as a leader in the electric unicycle community.
Model: King Song Electric Unicycle
Wheel Type: Expert Riders
Price: $3,200
Max Speed: 43 MPH
Battery: 126V 2220WH, Smart BMS
Motor: 3300W
Suspension: 130mm suspension, 75mm spring travel
Display: Integrated Display
Features: Spiked Pedals, Custom Power Pads, Replaceable Bumper, Integrated Kickstand
Lighting: Rear Turn Signals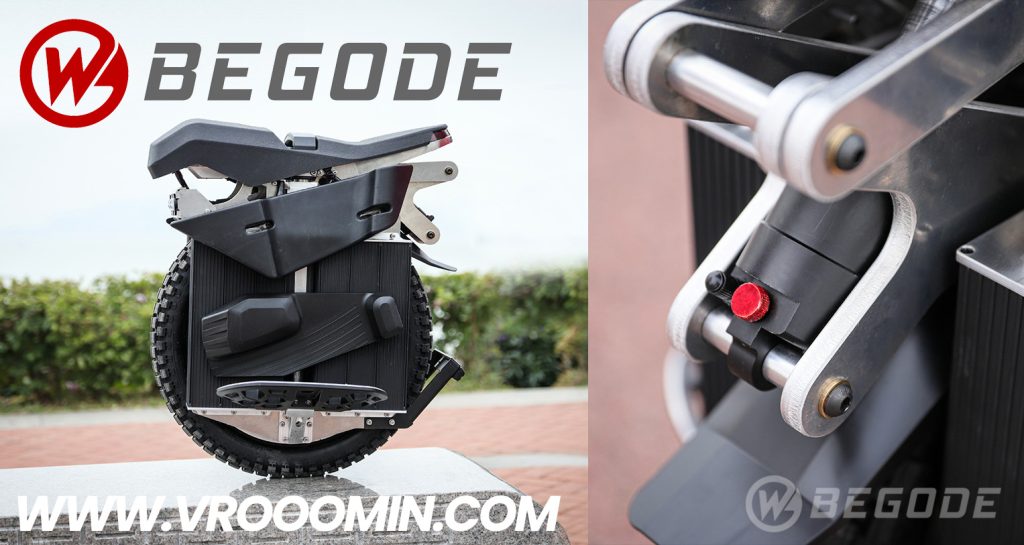 Begode EX20S Electric Unicycle
New suspension, 80mm travel
As off-road electric unicycling continues to gain popularity, the demand for high-performance and high-torque suspension wheels is also on the rise. The King Song S18 and Inmotion V11 models have been some of the most popular choices for riders seeking a reliable suspension system. However, Begode has recently added three new wheels to its sports suspension line-up, including the Extreme Bull Commander, the Begode Hero, and the Begode Master.
But it's their newest top-tier wheel, the Begode EX20S, that's making waves in the electric unicycle community. With a weight of 103 lbs and a 3600WH battery, the EX20S is a beast of a wheel that's designed to handle the toughest off-road conditions.
While the EX20S is certainly not a lightweight option, riders who prioritize long-range often find themselves torn between the Sherman, the Commander, and the EX20S. Many opt for the suspension-equipped model simply because it happens to be in stock.
If you're looking for a 3600WH electric unicycle, then you'll definitely want to check out the Begode EX20S. While it may be heavy, it's designed to deliver top-notch performance and reliability on even the toughest terrain. And with other options available in the 3600WH range, there's sure to be a wheel that's right for you.
The improved LiTech battery packs are included.
3,600Wh battery pack with the Samsung 50E cells, or 2,8800Wh consisting of the high-powered 40T pack
Begode shock of the latest generation, with the rebound, inflation to 300 PSI chamber pressure, and 80mm of travel.
Loads of options: motor type, battery, and tire selection
The 100V machines provide 25-30% more range than the higher voltage >126V systems. If you're looking for a comfortable suspension and cruiser wheel, the EX20s may be the best fit for your requirements
Motor: C38 or C30
Battery: 3600WH 50E or 2880WH 40T
Tires: Kenda Street or Knobby
Begode EX30 Electric Unicycle
New suspension, 100mm travel
Begode is a company that's always pushing the boundaries when it comes to performance. They're not afraid to post videos of burnouts on their Facebook page to show off the incredible force their windings can produce. For the Begode crew, performance is everything, and they're always on the lookout for ways to improve their wheels.
Their latest offering, a 20-inch wheel designed for high-speed riding on paved roads, is no exception. While some riders may be more concerned with the build quality and attention to detail, the Begode crew is focused on delivering top-notch performance. And with a 3600WH pack, full suspension, and a new, improved chassis, this wheel is designed to thrill both off-road and on-road enthusiasts.
The Veteran Sherman-S and V13 are potential rivals for this high-performance wheel, and a showdown between innovation and performance could be on the horizon. But for Begode fans, high speed is all that matters, and they're not interested in other luxuries.
If you're a thrill-seeker who prioritizes performance over all else, then the Begode 20-inch wheel could be the perfect choice for you. It's built to deliver incredible speed and power, and with Begode's commitment to pushing the limits of what's possible, you can be sure that you're getting a top-of-the-line product.
Motor: 4,000W High-Torque C40 Motor No-load spin speed of 120KPH
Controller: All new controller design, containing 36x TO-263 MOSFETs
Suspension: 4th Gen BG shock with 100mm of travel
Build: Improved water-resistance rating
Pedals: XL-spiked pedals, height adjustable
Extras: Integrated seat, handle, & kickstand
Extreme Performance: Begode EX30 134V/3,600WH Battery
Battery Packs: Available in either high-power or high-range Samsung battery packs, battery pack redundancy, BMS temperature sensors & voltage alarms
Begode Master Electric Unicycle
Air suspension, 80mm travel
The Begode Master is one of the standout wheels from the past year and has the potential to be a market leader. Although it was once the quickest wheel available, the V13 and EX30 are now competing for the crown. It remains to be seen whether the Master will be able to retain its title.
What sets the Master apart is its high-torque C38 motor and revolutionary 134V 2400WH battery pack, which are unmatched in the industry. It's also one of the most modular and high-performing wheels in Begode's lineup, with an aesthetic design that's hard to beat.
Could the Master be the one to take down the S22 and become the new champion of the EUC world? It certainly has the performance chops to do so. While both the S22 and the Master have had some issues with quality control, the Master has generally been more consistent and has dominated most of the titles in EUC racing.
For riders who value performance above all else, the Begode Master is definitely worth considering. Its high-torque motor, powerful battery, and sleek design make it one of the best wheels on the market, and its track record in racing is a testament to its capabilities.
Model: Begode Master Electric Unicycle
Wheel Type: Expert Riders
Price: $3,250
Max Speed: 50 MPH
Battery: 134V 22400WH, LiTech Samsung 50E or 40T cells
Motor: 3500W
Suspension: 80mm spring travel
Display: Integrated Display
Features: Handles, side pads, front/rear lighting, diecast large pedals
Veteran Sherman Suspension Electric Unicycle
Fastace mid-mounted suspension, 90mm travel
The Leaperkim Sherman-S is poised to reclaim its throne with the addition of suspension, making its return to the market even more exciting. Rumors abound that the Leaperkim team has been working tirelessly behind the scenes to create a high-performance, top-quality wheel.
The new Sherman-S has become one of the most anticipated 3600WH wheels of the year, with a long range, high torque, and the premium build quality that Leaperkim fans have come to expect. Its 24 MOSFET controller, innovative magnesium housing, and 7-kilowatt high-torque motor make it ready to conquer any terrain.
Are you ready to take on the world with the Sherman-S? Expect a winter release for these luxurious wheels, which are sure to turn heads and make a statement on any adventure.
Pricing: $1,000 holding deposit, expected release price of $4,150
Shipping: First arrivals are expected to ship out from the US in late November
Battery: 3,600WH battery pack with the Samsung 50E battery cells
Motor: 3,000W high-torque motor (7KW peak), the no-load max rotational speed of 64MPH (not riding speed!)
Motherboard: All new electronics/controller, 24x MOSFETs with a 680A peak load!
Suspension: Adjustable suspension shock system with a rebound, up to 90mm of travel
Tires: Choice of 20″ knobby or street tire
Shell: Upgraded look, more robust body, integrated seat & fender
Features: Carrying handles, spiked pedals, top display, folding flip handles, mudguard, laser taillights, headlights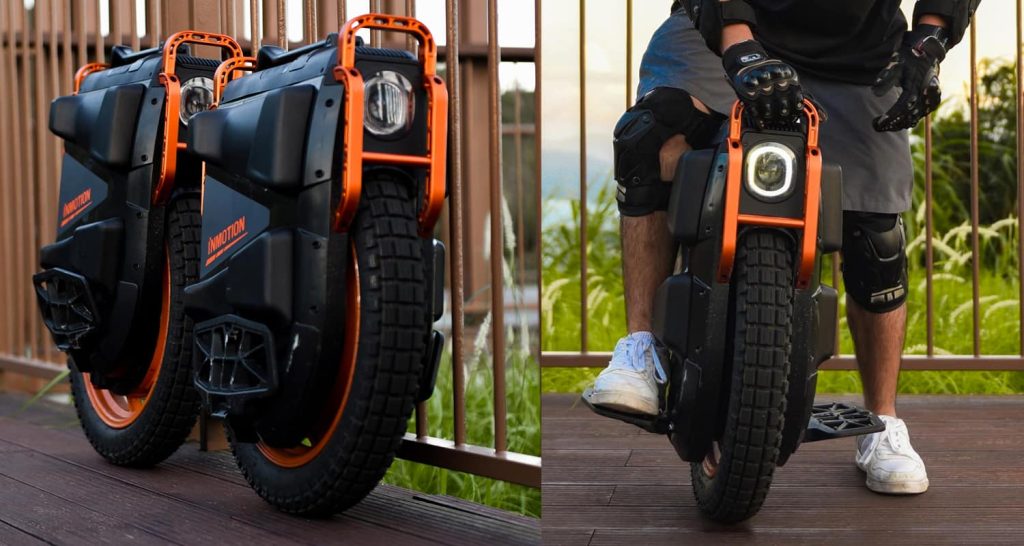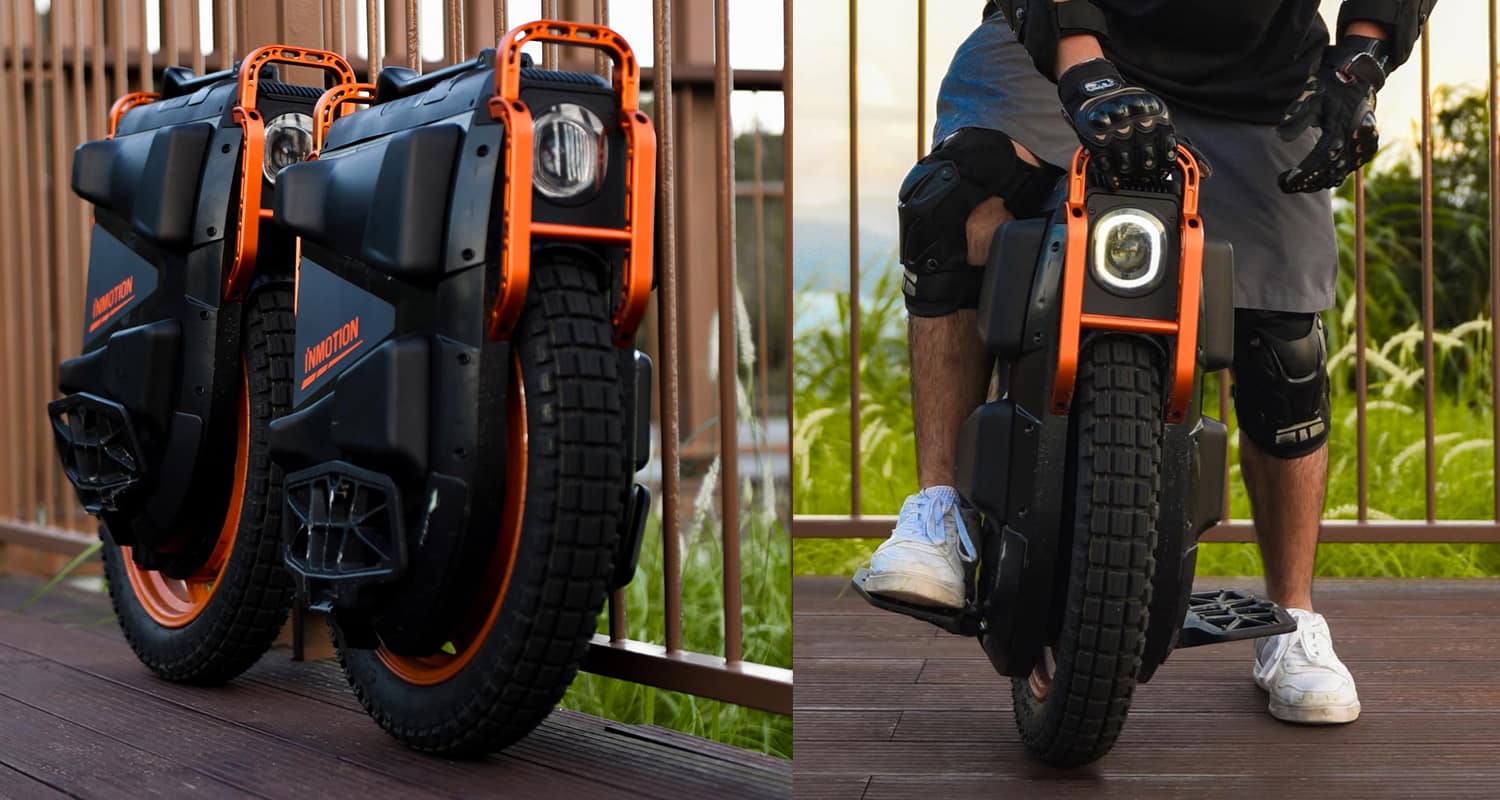 Inmotion V13 Challenger Electric Unicycle
Quad suspension module, 90mm travel
The Inmotion V13 Challenger is a technological marvel that combines cutting-edge mechanics and sleek design. The 126V V13 Challenger offers riders an unparalleled experience with its top speed of +55 mph, 3024WH battery pack, and modular design. The V13 Challenger boasts some of the most advanced manufacturing technologies available today, setting a high bar for other manufacturers to follow.
Inmotion's commitment to safety is evident in the V13's design, making it one of the most reliable and safe electric unicycles on the market. This 22-inch monster wheel is poised to become the best-selling vehicle of 2023, and Inmotion plans to release it just in time for the holidays in December at a price point of around $4,000. Get ready to indulge in the luxuries of life with the V13 Challenger.
Max Speed: 90 kmh / 55 mph
Battery: 3024WH
Weight: 50 kg / 110 lbs
Max payload: 120 kg / 260 lbs
Range: 200 km / 124 miles
Pricing: $3,999 early bird, $4,599 – retail
Extreme Bull Commander Pro Electric Unicycle
Dual piston suspension, 90mm travel
The Commander Pro is shaping up to be a formidable contender in the high-performance electric unicycle market. Extreme Bull has pulled out all the stops with this wheel, equipping it with a 3500W motor, a 134V 3600WH Samsung battery, and a sleek 90mm suspension system that offers a transformative riding experience. Weighing in at 95 pounds, the Commander Pro is built to be a rider's dream, with a top speed of 55 mph and a chassis that can handle even the most extreme riding conditions.
It's worth noting that Extreme Bull drew inspiration from Leaperkim when designing this wheel, taking creative liberties and ideas from their competitor's technology. However, it only took Extreme Bull a few months to develop the Commander Pro, while Leaperkim took about two years to release their latest offering, the Sherman-S.
The Commander Pro is set to go head-to-head with the Veteran Sherman-S, but only time will tell if it has what it takes to dominate the EUC universe. Nonetheless, this exciting new release is sure to turn heads and attract riders who demand the best in performance and speed.
Weight: 94.8lb
Cruising Speed: 55 MPH *At full charge
Charge Time: 7hrs to 80% with 3A charger
Max Load: 320 lb
Battery Capacity: 3,600Wh
Range: 100+ miles while cruising <25MPH
Begode Master Pro Electric Unicycle
he Begode Master Pro is the ultimate EUC for riders who prioritize performance over everything else. With a 4800Wh Samsung battery pack and 4500W motors, this wheel is built for speed and endurance. At a top speed of 55 mph and a no-load speed of 75 mph, you'll be able to cover long distances in record time.
The Master Pro's 80mm suspension travel, 22-inch tires, and oversized spiked pedals provide maximum comfort on bumpy terrain. It's designed for riders who want to push themselves to the limit, without sacrificing power or speed.
However, with great power comes great weight. At 116 pounds, the Master Pro is not a portable wheel, and it's not for the faint of heart. But for riders who want to ride for hours on end, the Master Pro is the ultimate tool. Its combination of speed, range, and suspension make it the ideal choice for riders who want to challenge themselves and explore the limits of what's possible on one wheel.
The expected release price of $4,599
Most giant 4,800Wh battery packs with Samsung 50E cells, or 3,840Wh consisting of the high-powered 40T pack
Improved battery/BMS system with temperature sensors
4,500W high-torque motor, the no-load max rotational speed of 75.8MPH (not riding speed!)
Suspension shock system, with the rebound, providing up to 80mm of travel
Choice of 22″ knobby or street tire
Fitted with XL spiked pedals
More Extreme Performance EUC's
Are suspension electric unicycles expensive?
Suspension models on electric unicycles are the most advanced and feature-packed options available, which makes them the most expensive models on the market. The addition of a suspension system can significantly improve the ride quality, stability, and control of the unicycle, but it also comes with a higher price tag due to the added complexity and materials involved. The cost of suspension models can vary depending on the brand, model, and features included, with some models priced as low as $2,000 and others as high as $4,600. While the initial cost may seem steep, the benefits of a suspension system can greatly enhance the riding experience and make it well worth the investment for those seeking the highest level of performance and comfort from their electric unicycle.
What's the best suspension electric unicycle?
Determining the best electric unicycle for a rider is a complex and subjective matter as each individual will have unique preferences, needs, and use cases. Factors such as rider experience, intended usage, riding terrain, speed, and distance can all impact the choice of an electric unicycle. Some riders may prioritize portability and lightweight models, while others may seek more advanced features such as a suspension system or larger wheel size.

However, some models tend to be more popular among riders, and the Veteran Sherman S and the Inmotion V13 are currently some of the most sought-after models on the market. These models are known for their high-quality construction, impressive performance, and advanced features that cater to experienced riders seeking the highest level of performance and control. As a result, they are frequently searched for on online marketplaces such as vrooomin.com, where riders can compare specifications, read reviews, and find the best deals on their preferred electric unicycle models.
What's the best suspension unicycle for beginners?
Despite its impressive performance and features, the Inmotion V11 is also relatively affordable compared to other suspension electric unicycles on the market, with a price point of around $2,000. This makes it an excellent choice for riders who want to experience the benefits of a suspension system without breaking the bank, as well as those who are looking for a versatile and reliable electric unicycle that can handle a wide range of riding conditions.
What is a suspension electric unicycle?
The latest electric unicycles with suspensions from Chinese manufacturers have set a new standard in terms of comfort and performance for buyers and sellers. Suspension systems, whether air, coil, or hydraulic oil, offer better control, damping, and comfort when riding on rough or uneven terrain. However, the addition of a suspension system can make the structure of electric unicycles more complex, expensive, and heavier. Currently, suspension models can cost anywhere from $2,000 to $4,800.
Are suspension electric unicycles safe?
While the newest electric unicycles with suspension have not experienced any significant safety or quality control issues, it's important to note that some of the first-generation suspension wheels did have problems. The King Song S22/S20, for example, experienced issues such as battery fires, broken suspension systems, and malfunctioning motors. Similarly, the Begode Master underwent several changes to its building materials, suspension system, battery
configurations, and controllers after initial production. The first generation of Begode T4 motors also experienced issues, which led to a replacement program being implemented.

Additionally, there were also structural problems with the Begode Master Pro. While the newer models such as the Begode EX20, Veteran Sherman S, and Inmotion V13 appear to be more stable and safe, it's still early, and more time is needed to assess any major production issues. As consumers put more miles on these wheels, manufacturers have been relatively secretive about the number of broken components and complaints. It's essential for buyers to do their research and consider the history of the manufacturer and model before making a purchase.
Disclaimer: The information presented in this article is derived from extensive research, user reviews, and publicly available information. Our aim is to provide accurate and up-to-date content; however, it is crucial to understand that the opinions expressed are based on the information available at the time of writing. We strongly encourage readers to conduct their own thorough research and carefully evaluate their individual needs before making any purchasing decisions.
eWheels 2023 Summer Deals and New Launches are here!!!
Cheap, reliable, and powerful! TurboAnt Electric Scooters 2023 Sale!
Hi guys! This post may contain affiliate links, sponsored content, and advertisements. We get a small commission for covering topics that interest us (helps us keep the doors open). For more information, please see our privacy policy and disclaimer. Ride safe yall!
2023 Electric Unicycles:
Coupons & Deals:
Apollo Scooters: Get $50 USD worth of free accessories, upgrades, or spare parts with the purchase of a scooter. Code: VROOOMIN
REV Rides: Save $50 off Scooters and EUC's, Code: VROOOMIN
EVOLV Electric Scooters: Free Folding Lock (worth C$80) for every EVOLV model! Use Code: VROOOMIN-LOCK
To keep the site running and information flowing, Vrooomin.com participates in affiliate linking programs. We're also an Amazon Associate, which means we get paid for referring people to Amazon. Please support the channel by clicking on our links.