Hi guys! This post may contain affiliate links, sponsored content, and advertisements. We get a small commission for covering topics that interest us (helps us keep the doors open). For more information, please see our privacy policy and disclaimer. Ride safe yall!

Going the distance with suspension
Performance and comfort
Electric unicycles used to be simple machines with a motor, a battery pack, a speed controller, and a shell. They're evolving and becoming much more expensive. As a new standard, Chinese manufacturers are taking these high-powered, high-voltage, high-speed electric vehicles to the next level with suspension systems. While adding a dampening system to these wheels complicates the designer's and engineer's jobs, they're well worth the extra effort, price, and performance.
Benefits of Suspension Electric Unicycles:
Improved comfort for on/off-road riding
Safer experience when standing and seated
Better control of the wheel over uneven terrain and potholes
Improved mounting, acceleration, cornering, and braking traction
More Performance + faster riding on rough roads that are downhill or flat.
Heavier – added weight/components help add stability
Expensive – wheels with suspension command a higher price and more moving parts.
Requires minimal maintenance down the line
Trust: Your feet and lower body will thank you for spending the extra money on a suspension system. Suspension systems, whether you for them or not, are the future of any personal electric vehicle.
Types of EUC suspensions to consider
Air Shock: Lighter in weight, adjustable with air pump, prone to leaking over time, responsive for city riding
Coil Shocks: Consistent in temperature changes, lower maintenance, firmer, more reliable ride, heavier in weight
Center Mounted Fork: Most progressive to date, found on the Veteran Sherman-S by Leaperkim and FaceAce. The fixed/custom oil system is not swappable with other systems.
Travel Range: Varies from 80mm – 130mm
eWheels showcases their current suspension Line up for 2023
The line up looks quite promising, there's a model for varying needs, budgets, and performance requirements.
Top Suspension Electric Unicycles
Here are the top models of suspension wheels currently on the market. Almost all the wheels below have first generations of issues with them. So far, the Veteran Sherman-S, EX20S, and V13 are solid wheels. We'll know more as more riders in the community log more miles and issues on the threads.
Small and Big Impact
A New Standard
The era of the mid-to-early 2010s is over; gone are the days of the wheels of the previous decade that were made of plastic shells and risky cutout concerns. In other words, we can finally say goodbye to our 12.5 mph speed limits and limited LG battery packs. Newer wheels are also expected to come with jump pads and suspension systems, Samsung packs, rubber seats, and robust trolleys, which have become the de facto standard, at least for some builders.
Best Beginner Suspension Electric Unicycles
Best Performance Suspension Electric Unicycles
Best Extreme Performance Suspension Electric Unicycles
Balance is Key
Suspension is a topic that everyone is talking about, and it is dominating the scene. Let's be honest, guys. Riding a wheel is fun, but it can be hard to ride without suspension, especially on uneven ground. It is potentially hazardous. One incorrect shift and the loss of balance can send you crashing to the ground, and we all know recovery time can be a drag.
Safety is Paramount
Weight shifting and dampening are essential; it could mean the difference between getting to work on time or going to the ER. The chances of getting hurt are low when you are a fully trained rider.
It is always safer to have a wheel that can handle rough roads and dampen and level out in unpredictable roadways.
That is why riding on suspension is the sport's and electric unicycles' future. Whether you want an entry-level wheel, a mid-range wheel, or a 100+ mile range, high-speed torque beast, there is a suspension wheel that will fit your wants and needs, just like any other category of car on the market.
So Many Models
Lower priced models like the S18 or the V-11 may be ideal for the average and sophisticated city and suburb commuter if you want to get from point A to point B in comfort. If you fancy a weekend high-speed warrior, the veteran Sherman and the V13 are the heavyweight wheels for you. There are numerous options, features, and battery packs to choose from.
Consider Features
Which one is right for you? Your budget and requirements determine that. Let's look at the best electric unicycles with suspension on the market. You should consider performance, build quality, dependability, and amenities.
PRO TIP: Once you lock in a wheel and place your order, you'll always start second-guessing your long-awaited decision. Do yourself a favor and consider that wheel one level up.
Inmotion V11 Electric Unicycle
Air suspension, 85mm travel
Inmotion's V11 suspension unicycle is the fastest 84V wheel on the market. Granted, there are only two wheels in its class, but it's still the strongest. Compared to the King Song S18, the V11 is formidable due to its superior power, range, and weight.
However, the S18 triumphs thanks to its outstanding agility, exoskeleton chassis, and cost. It's the first of its kind and features a 2.2-kilowatt motor, pedal suspension, and a 1500-watt-hour battery.
The V11 is a leading contender for best suspension EUC in its class thanks to its high build quality, extensive ride features, and gorgeous construction. Why pass up this top-level 84V entry-level wheel?
Key Specs:
Speed: 34 MPH (30 MPH for most riders)
Power: 2200W
Range: 57 Miles
Product Weight: 59 lbs.
Max Weight: 300 lbs.
Battery: 1500WH
Unique Features:
High-quality build, finish, and QC

31-34 MPH Top speed

First integrated pedal suspension
85mm travel
Integrated kickstand
King Song S18 Electric Unicycle – Molicel
Air suspension, 100mm travel
The King Song S18 is a game-changing design in the EUC market because it combines form and function with suspension.
There's no doubt that the S18 has a lot of loyal fans because of how it looks. There has been so much demand for this popular wheel that eWheels has started carrying a Molicel version.
Featuring a 2.2-kilowatt motor, 31 miles per hour of top speed, an exoskeleton shell, and full suspension, the S18 was built for off-road sports riders. The Supercharged S18 is an excellent wheel for people who commute daily because it has power, speed, a good range, and a stylish look.
Key Specs:
Speed: 31 MPH
Power: 2200W
Range: 44 Miles
Product Weight: 55 lbs
Max Weight: 200 lbs
Battery: 1110WH
Unique Features:
Powerful 2.2KW Motor
Large 18×3 Tire
Exoskeleton Shell
Full body suspension
Begode T4 Electric Unicycle
Air suspension, 100mm travel
Using some of the lessons from the Begode Master, this 100V Samsung-powered machine serves as the foundation of mid-range performance for Begode devotees seeking more action without the bulk.
The T4 has everything you need for off-road performance, including spiked pedals, 100mm of rebound, 16×3 street tires, and a 1,440WH battery.
It's minimal, providing only the essentials rather than the frills that some riders may fetishize. A new suspension Sheriff has arrived, and his name is T4. Look out, V12HT and V11, because the T4 is here to claim the best mid-range performance suspension wheel title.
Price: $2,450
eWheel Battery: 1,440Wh Samsung 21700 40T high-powered cells
Begode Battery: 1,800WH (Battery options TBD)
Suspension system: Rebound 100mm of travel
Pedals: Spiked pedals
Tires: 16×3 CST-C-1773 street tire
Begode Hero Electric Unicycle
Air suspension, 80mm travel
In place of capes, some heroes use suspension springs and 21700 50E cells to provide high-speed or high-torque performance and keep the bad guys at bay.
The Hero is the newest member of the Begode suspension wheel family, and it's ready to rumble for EUC riders who want a solid foundation on which to explore the edge of stability.
Thanks to its 80mm air suspension, sturdy chassis, and RS19 Torque-inspired motor, this 100V, 2800W behemoth will send you roaring over tracks off-road or paths in the city. Don't confuse the Hero with a Begode Master. It has a lot of performance and does well where many other Begode wheels fail.
Model: Begode Hero Electric Unicycle
Wheel Type: Expert Riders
Price: $4,100
Power: 2.8KW
Top Speed: 35 MPH
Battery: 100V, 1,800WH
Range: 60 Miles
Max Load: 325 lbs
Weight: 78 lbs
King Song S22 Eagle Electric Unicycle
Spring suspension, 130mm travel
A balanced and +40 MPH wheel with some of the best suspension and technology to date. Some may argue that in its current state, the S22 is finally delivering on its promise, but at the expense of many iterations and user headaches.
The King Song S22 Eagle, both the most anticipated and controversial wheel of the year, has been through a lot of fire lately, but the fog is beginning to lift. Things are looking up for King Song after a battery fire, some faulty motherboards, clogging suspension sliders, and some faulty motors.
In 2023, do you think this Eagle franchise will soar? We certainly hope so, as the S22's 126V drivetrain, modern suspension, 3,300W motor, 45 MPH top speed, and many convenient features made it the best value and highest-performing EUC available at one point in time. King Song must improve its quality control and performance standards, as well as its suspension system if it wants to regain the respect of the EUC community.
As of this writing, the S22 wheels are great for riders who want a +40 MPH suspension wheel with 2KWH battery pack, plush suspension, and loaded with features. There are rumors that a new and improved S22 Pro is coming soon.
Model: King Song Electric Unicycle
Wheel Type: Expert Riders
Price: $3,200
Max Speed: 43 MPH
Battery: 126V 2220WH, Smart BMS
Motor: 3300W
Suspension: 130mm suspension, 75mm spring travel
Display: Integrated Display
Features: Spiked Pedals, Custom Power Pads, Replaceable Bumper, Integrated Kickstand
Lighting: Rear Turn Signals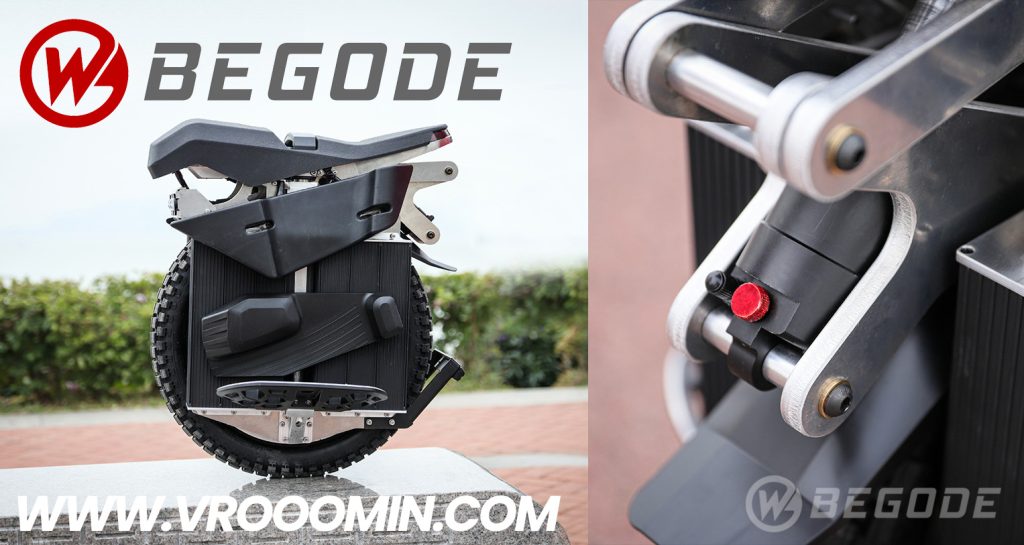 Begode EX20S Electric Unicycle
New suspension, 80mm travel
High-performance, high-torque suspension wheels are becoming more popular as off-road electric unicycling (especially the S18 and V11 models) becomes more popular. Begode has recently added the Extreme Bull Commander, the Begode Hero, and the Begode Master to its sports suspension line-up. Their newest top-tier 100V electric unicycle, the EX20S, weighs 103 lbs and features a 3600WH battery.
She weighs a lot, but that's just the territory of these big wheels. Riders in the area looking for a wheel with a long range are often torn between the Sherman, the Commander, and the EX20S; some opt for the suspension-equipped model because it happens to be in stock. Below this list, you'll find additional 3600WH choices.
The improved LiTech battery packs are included.
3,600Wh battery pack with the Samsung 50E cells, or 2,8800Wh consisting of the high-powered 40T pack
Begode shock of the latest generation, with the rebound, inflation to 300 PSI chamber pressure, and 80mm of travel.
Loads of options: motor type, battery, and tire selection
The 100V machines provide 25-30% more range than the higher voltage >126V systems. If you're looking for a comfortable suspension and cruiser wheel, the EX20s may be the best fit for your requirements
Motor: C38 or C30
Battery: 3600WH 50E or 2880WH 40T
Tires: Kenda Street or Knobby
Begode EX30 Electric Unicycle
New suspension, 100mm travel
Begode is always looking for ways to improve performance; they even post Facebook burnout videos to demonstrate the insane force these windings can produce. Some people only care about the most advanced and best specs, and the Begode crew is no different.
They put a high value on performance, even if it means giving up some of the usual attention to detail and build quality. This 20-inch wheel is built for riders who don't care about the finer details that come standard on more expensive wheels and who regularly travel at speeds of more than fifty miles per hour on paved roads.
Is this beefcake enough to have a 3600WH pack, full suspension, and a new, improved chassis for off-road and on-road thrill seekers? Given the Veteran Sherman-S and V13 as potential rivals, a performance vs. innovation showdown could be on the horizon. Perhaps not, as Begode fans are savvy shoppers who only need high speed rather than other luxuries.
Motor: 4,000W High-Torque C40 Motor No-load spin speed of 120KPH
Controller: All new controller design, containing 36x TO-263 MOSFETs
Suspension: 4th Gen BG shock with 100mm of travel
Build: Improved water-resistance rating
Pedals: XL-spiked pedals, height adjustable
Extras: Integrated seat, handle, & kickstand
Extreme Performance: Begode EX30 134V/3,600WH Battery
Battery Packs: Available in either high-power or high-range Samsung battery packs, battery pack redundancy, BMS temperature sensors & voltage alarms
Begode Master Electric Unicycle
Air suspension, 80mm travel
The Begode Master stands out among the other Begode wheels released in the past year as a potential market leader. That wheel was the quickest one available at the time. The keyword is "was", the V13 and EX30 are after the crown. Will the Master retain its title?
The Master's C38 high-torque motor and revolutionary 134V 2400WH battery pack are unmatched in the industry. In terms of aesthetics, the Master's modularity and performance are among the best of any of Begode's wheels. Could the Master be the S22 Slayer?
It was in the performance department. While there were 1, 2, and 3 batch issues with both wheels, the Master was generally more consistent; it's dominated most titles on EUC racing.
Model: Begode Master Electric Unicycle
Wheel Type: Expert Riders
Price: $3,250
Max Speed: 50 MPH
Battery: 134V 22400WH, LiTech Samsung 50E or 40T cells
Motor: 3500W
Suspension: 80mm spring travel
Display: Integrated Display
Features: Handles, side pads, front/rear lighting, diecast large pedals
Veteran Sherman Suspension Electric Unicycle
Fastace mid-mounted suspension, 90mm travel
This time the suspension has been added, making the return of the 100V performance beast even more welcome. Many have speculated that the Leaperkim team has worked tirelessly and secretly to steal back its crown.
The release of their new flagship mono-wheel with full suspension has generated much anticipation in the community. With its long range, high torque, and the high build quality expected by Leaperkim fans, the Sherman-S has quickly become one of the year's most anticipated 3600WH wheels.
The massive 24 MOSFET controller, newly designed magnesium housing and 7 kilowatts high torque motor mean it is battle-ready. Are you ready to go? Expect a wintertime touchdown for the Sherman-S wheels.
Pricing: $1,000 holding deposit, expected release price of $4,150
Shipping: First arrivals are expected to ship out from the US in late November
Battery: 3,600WH battery pack with the Samsung 50E battery cells
Motor: 3,000W high-torque motor (7KW peak), the no-load max rotational speed of 64MPH (not riding speed!)
Motherboard: All new electronics/controller, 24x MOSFETs with a 680A peak load!
Suspension: Adjustable suspension shock system with a rebound, up to 90mm of travel
Tires: Choice of 20″ knobby or street tire
Shell: Upgraded look, more robust body, integrated seat & fender
Features: Carrying handles, spiked pedals, top display, folding flip handles, mudguard, laser taillights, headlights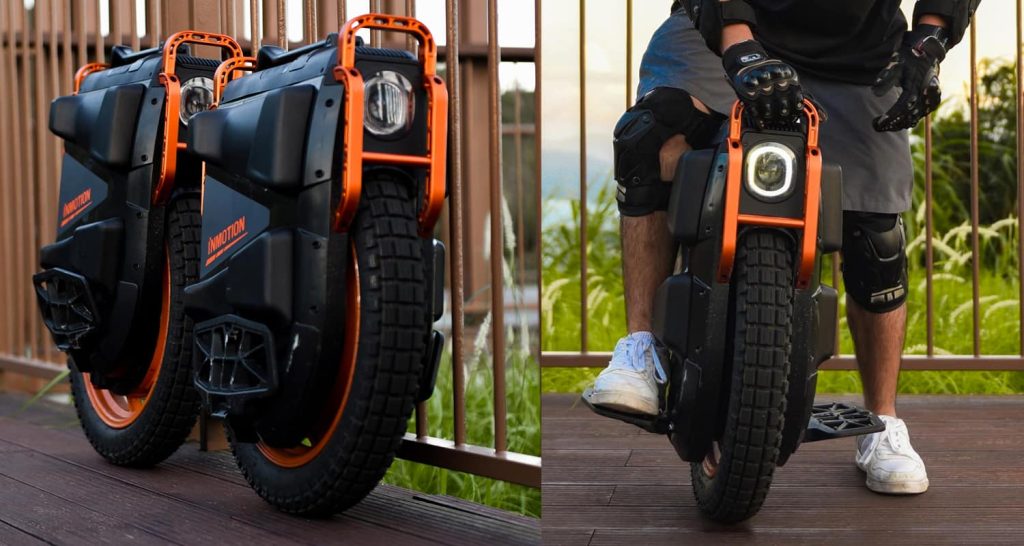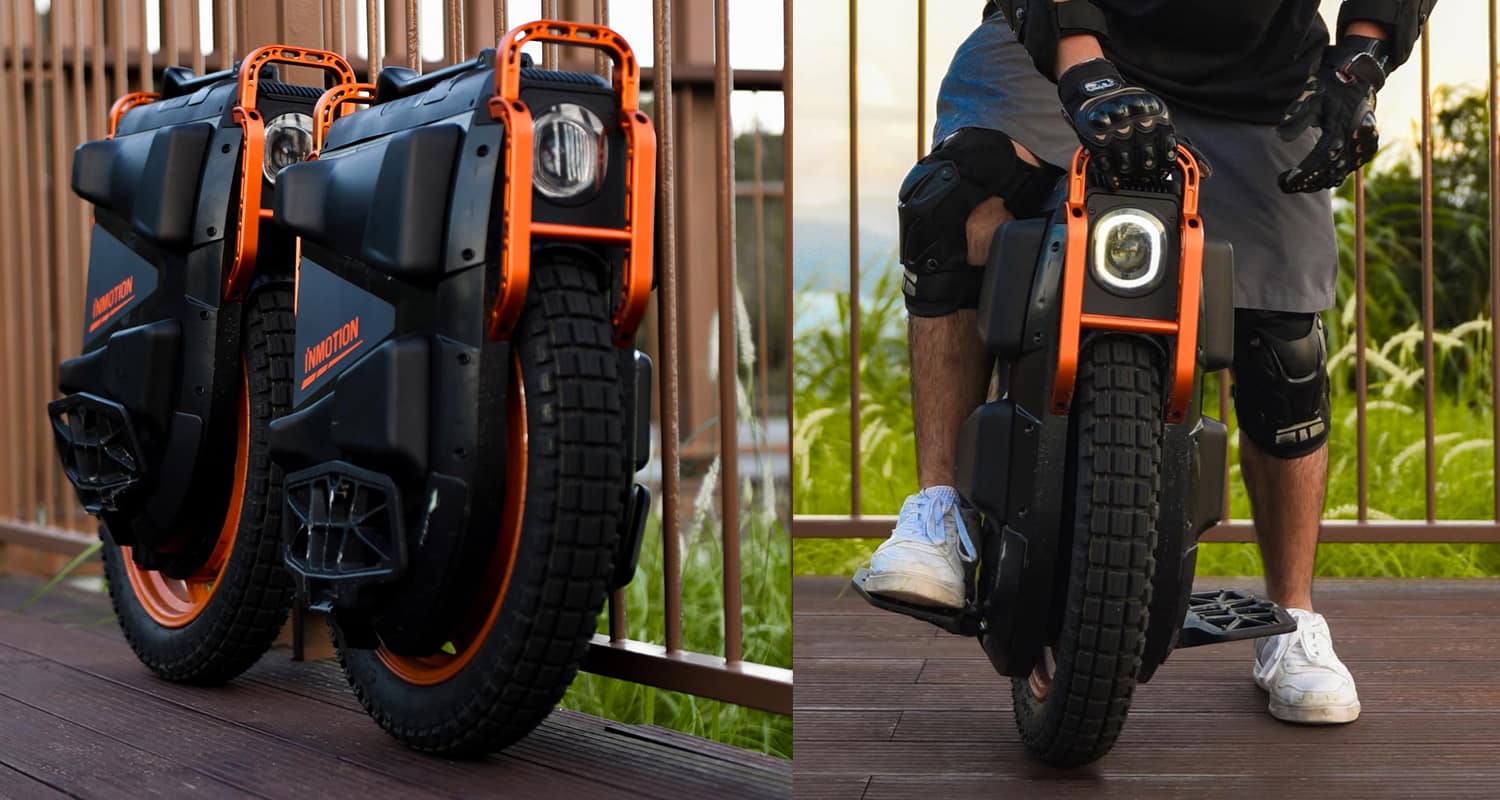 Inmotion V13 Challenger Electric Unicycle
Quad suspension module, 90mm travel
The mechanics, including the motor, battery, and technology, are superb and should serve as an example to other manufacturers. The 126V V13 Challenger allows you to indulge in life's luxuries whenever possible.
With a top speed of +55 mph, a modular design, a 3024WH battery pack, and many of the most cutting-edge manufacturing technologies available today, this futuristic wheel is ready for the future. Inmotion has revolutionized the industry with its flagship wheel.
The V13 may be the best-selling vehicle of 2023 due to its exceptional performance and safety standards. Inmotion plans to release these 22-inch monster electric unicycles in December, just in time for the holidays, at around $4,000.
Max Speed: 90 kmh / 55 mph
Battery: 3024WH
Weight: 50 kg / 110 lbs
Max payload: 120 kg / 260 lbs
Range: 200 km / 124 miles
Pricing: $3,999 early bird, $4,599 – retail
Extreme Bull Commander Pro Electric Unicycle
Dual piston suspension, 90mm travel
Coming soon and seeking to lead all high-performance electric unicycles is the mighty Commander Pro. With a top speed of 55 mph, a 3500W motor, a 134V 3600WH Samsung battery, a 95-pound chassis, and a seductive 90mm suspension system that transforms the way you ride on one wheel, this 95 lb beast is a rider's dream.
Some will point out that Extreme Bull (Begode) drew out numerous creative liberties and inspirations from its fierce opponent, Leaperkim, when developing this wheel in months. At the same time, it took Leaperkim about two years.
The latest Extreme Bull was made to compete with the Veteran Sherman-S directly, but does this wheel have the necessary capabilities to dominate the EUC universe?
Weight: 94.8lb
Cruising Speed: 55 MPH *At full charge
Charge Time: 7hrs to 80% with 3A charger
Max Load: 320 lb
Battery Capacity: 3,600Wh
Range: 100+ miles while cruising <25MPH
Begode Master Pro Electric Unicycle
To ride the Master Pro, you'll need to spend a lot of money. You'll get a 4800Wh Samsung battery pack, 4500W motors, and a top speed of 55 mph for $4600. This wheel is a true behemoth, with a no-load speed of 75 miles per hour.
For added comfort, the master pro has a comfortable 80mm suspension travel, massive 22-inch tires, and extra oversized spiked pedals. This wheel has it all: performance, battery, price, performance, and suspension. Not to mention its weight; this wheel weighs 116 pounds and will easily break your back if you attempt to lift it.
Portability isn't the goal, but fast, long-distance riding is. For any rider who wants to ride for hours on end, the master pro was designed with you and your high-speed, long-range needs in mind.
The expected release price of $4,599
Most giant 4,800Wh battery packs with Samsung 50E cells, or 3,840Wh consisting of the high-powered 40T pack
Improved battery/BMS system with temperature sensors
4,500W high-torque motor, the no-load max rotational speed of 75.8MPH (not riding speed!)
Suspension shock system, with the rebound, providing up to 80mm of travel
Choice of 22″ knobby or street tire
Fitted with XL spiked pedals
More Extreme Performance EUC's
Are suspension electric unicycles expensive?
What's the best suspension electric unicycle?
What's the best suspension unicycle for beginners?
The Inmotion V11 is the best all-around and most affordable suspension electric unicycle. The V11 can go up to 30 mph, has a range of 30 miles, weighs 60 pounds, and costs around $2,000.
What is a suspension electric unicycle?
Chinese EUC manufacturers' newest models are electric unicycles with suspensions. Their comfort and performance set a new standard for buyers and sellers today. An air, coil, or hydraulic oil suspension gives you more control, comfort, and damping over rough, uneven, or bumpy terrain. Suspensions make the structure of electric unicycles more complex, expensive, and heavy. Suspension wheels cost anywhere from $2,000 to $4,800 right now.
Are suspension electric unicycles safe?
The newest electric unicycles with suspension have not had any significant problems with safety or quality control. One thing to remember is that many of the suspension wheels from the first generation did have problems. The King Song S22/S20 did have problems, such as a fire in the battery, a broken suspension system, and motors that didn't work. The Begode Master's building materials, suspension system, battery configurations, and controllers all went through several changes after they were made. The first generation of Begode T4 motors had problems, and a program to replace them was implemented. This left many riders with wheels that didn't work. There were problems with the structure of the Begode Master Pro. Even though it's still early, the Begode EX20, Veteran Sherman S, and Inmotion V13 may be more stable and safe models. We'll need more time to see if there are any major production problems. Consumers are putting more miles on these wheels, and manufacturers have been secretive about the number of broken components and complaints.
What's the Begode Master top speed?
The Begode Master can reach speeds of to 55 mph!
What's the King Song S18 top speed?
The King Song S18 can reach speeds of 31 mph on a full charge.
Inmotion V12HT Electric Unicycle Review Video
To keep the site running and information flowing, Vrooomin.com participates in affiliate linking programs. We're also an Amazon Associate, which means we get paid for referring people to Amazon. Please support the channel by clicking on our links.