Congratulations!
Dualtron owners are some of the world's most loyal and eclectic riders. MiniMotor's reputation for making its electric scooters last long and run great makes it the clear choice among other brands!
Need help finding the right model? Check out the MiniMotors USA Dualtron Comparison Guide and Dualtron finder Quiz. Both of these apps will help you find the right Dualtron model for your needs.
Beginners Guide to Owning and Maintaining Dualtron Electric Scooters
One thing I love about Dualtron is that the maintenance has a low learning curve, and their parts are easily accessible. Today, we'll cover the most common Dualtron electric scooter maintenance parts, aftermarket upgrades, accessories, and trusted vendors.
Everything you need to know about owning a Dualtron
Maintenance Parts
Dualtron Toolbox
Cleaning Dualtron Tips & Tricks
Dualtron Riding Tips
Aftermarket Upgrades
Electric Scooter Accessories
Performance Parts
Battery Builders
Aftermarket Vendors
Purchasing Tips, Tricks, & Advice
Join the Dualtron Community
Maintenance Tips, Tricks, & Aftercare
What's excellent about Dualtron electric scooters is that (when compared to a bike or car) they're low-maintenance. The most common maintenance requires brake pads, tubes, and tire changes. The cost of maintenance & repairs can add up; I recommend most owners learn how to at least change their brake pads and tires on their own. Not only will you save money, but it's also a very satisfying hobby.
Dualtron Electric Scooter Maintenance
I get all of my parts from MiniMotors USA and the Official Dualtron Store on Aliexpress. MiniMotors USA stocks most parts, has 2 day shipping and great customer service. They also have a bunch of aftermarket parts no listed on their site, reach out to them to see what they have in stock.
The official store has less common parts (straight from the factory), great customer service, but shipping can take 1-2 months. They offer 2 week expedited shipping at an additional cost.
Most Common Dualtron Maintenance Parts:
Brake pads – Very important to maintain, could make the difference between life and death! Pads are easy and cheap to change and will vary depending on mechanical or hydraulic calipers and systems.
Tubes & Tires – You'll need to change tubes and tires regularly. Usually +1,000 miles or visual ware and tare.
Tire Sealant – Armor Dilloz is my preferred sealant to prevent tire pinches and flat tires
Less Frequent Maintenance Parts:
Drum Brakes, Mechanical Cable, Hydraulic oil lines – Brake cables need close monitoring, hydraulic lines are the strongest, lowest maintenance, and self adjusting. Although, knowledge of bleeding hydraulic oil has a small learning curve compared to adjusting cable lines. Drum brakes are the lowest maintenance of the 3 brake types and do no use brake pads.
Suspension Cartridges – The cartridges allow you to change the feel of your suspension. Each cartridge uses a color rod system (Soft Green, Medium, Soft Blue, Medium White, Medium Hard Red, Hard Black). Softer cartridges are for off road or solid tires. Harder cartridges are used for higher speed stability.
Headset Repair – The headset of the scooter is where the stem meets swing arm and motor. This piece allows you to fold the scooter and turn the handle bars left and right. Headset consist of a stem bolt, bearings, hinge, and crown. Repairs for headsets usually occurs between 1-3 years of usage. Riders who need to repair their headset will notice stem wobble or stem play.
Dualtron Maintenance Toolbox
Having the right tools can make the difference between executing a successful repair or damaging your parts. Purchasing good quality tools will serve you in the long run and save you time and money down the line.
Here are my essential tools to repair, maintain, and take apart a Dualtron electric scooter:
Dualtron Maintenance Tips & Tricks
Keep track of all your nuts and bolts
When removing parts, each bolt can get lost with other ones. I usually keep them organized in groups so I know which ones go to each part
Watch How to Tutorials Dualtron Repairs and Modification Youtube Videos
Dualtron riders have a created a bunch of how to videos online, chances are, whatever you want to add or repair is already documented for you to guide your task
Ask Questions on the Forum
Dualtron owners have a ton of Facebook Groups, if you have any questions about models, parts, recommendations, the community will help guide you getting any answer or advice you're looking for!
Ask your Dualtron Dealer!
Your Dualtron dealer is here to support you before, during, and after your warranty. If you have any questions or need parts, your dealer is there make sure you get the most of your Electric Scooter. Check out MiniMotors USA, they'll have everything you need to ride and maintain you're electric scooter. 
Cleaning Dualtron Electric Scooter Tips & Tricks
Soap, Water & Towel
Cleaning your Dualtron regularly will help promote the longevity of your scooters chassis, components, and drivetrain. To clean, some owners use mild dish washing soap, water, and a clean towel to wipe down.
For the deck cover and grip tape, I remove the deck from the scooter, and pour soapy water on the grip tape, then give it a light scrub with an old tooth brush until the caked on dirt and mud is off. Gently rinses the cover and let air dry before reinstalling.
Chemical Solutions
Lately, I've been using the Chemical guys Synthetic Quick Detailing spray. The quick detailer is a gentle, waterless formula that provides a streak free shine without damaging the chassis coating.
I use it as an all purpose spray and have been pretty happy with the results, my scooter looks brand new after each wipe down.
Recommended Dualtron Electric Scooter Cleaning Tools
Too remove dirt use an old tooth brush
Unused paint brush (big and small for small hard to reach places)
Clean new or used towel
Paper towel (some times these leave lint on your scooters Finnish)
Grip tape cleaner for quick touch pus
Dish Washing Soap
Water
Alcohol for any tough grease or Brake Mineral oil spills
Need help finding the right Dualtron? Check out the Dualtron Shopping Guide.
Dualtron Tire Change
Changing the tires on a Dualtron electric scooter is a very similar process on most models. You will need to remove the swing arms, the rim screws, swap the tire and tubes, then reassembled all the parts in reverse. Please be careful when removing the rim screws, you may strip the bolts. Make sure to heat the screws with a heat gun or torch, to loosen the glue. 
Here are some videos on how to change tires:
Dualtron Riding Tips & MiniMotors Throttle Operation
Safety
Riding and operating an electric scooter is absolutely fun, but can also be dangerous. Make sure to wear protective gear, know your routes, and abide by local traffic laws. I can't stress this enough, but my full face helmet has saved my life, jaw, face, and the back of my head, on more than one occasion. All of the times I've taken a fall were moments where I was riding at slow speeds and were caused by other people on the road.
Recommended Electric Scooter Protective Gear:
Full face helmet
Riding Gloves
Knees and elbow guards
How to Operate a Dualtron Electric Scooter:
Riding a Dualtron has a small learning curve, once you get the hang of it, you'll be on your way to countless fun filled riding miles. Before operating your Dualtron, please read the entire owners manual from front to back. Theres critical information on operation, safety, maintenance, and detailed information on how to troubleshoot system errors. 
How to Customize MiniMotors EYE Display Settings:
If this is your first time riding a Dualtron, make sure to dial all of the settings down on your first ride. Here are the P Settings explained on your MiniMotors EYE Throttle, please check user manual for your right settings. 
P0: This is the Motor size setting in inches
P1: Voltage of your Battery
P2: This sets the number of Magnets on your motor
P3: Sets the signal for speed detection
P4: Speed Unit  (0 for KM, 1 for MPH)
P5: Start Method prevents accidental throttle (0 – instant, 1 – kick start)
P6: Cruise Mode (0 – off, 1 – on)
P7: Slow Start (acceleration curve) (0: Fast, 5: slow)
P8: Max Output for speed ( 5 – 100%)
P9: Battery Save – Effects performance and speed (1 max, 2 mid, 3 no save)
PA: Electric Brake strength (0 Off, 5 Powerful)
PB: LCD brightness (0 Off, 5 Brightest)
PC: Auto off (1 – 30 minutes)
PD: ABS Setting (0 Off, 1 On)
How to Operate your Dualtron Electric Scooter
Now that you have your safety gear on, and the right EYE throttle settings, heres some tips and advice for your first ride.
Dualtron Pre-ride Checklist:
Take your scooter out to a safe place and visually inspect the scooter
Make sure to dial down the settings, I would use EYE Throttle settings P7:5, P8: 70, P9:1 for your first ride
Check that your brake levers wear correctly, push the scooter, and press on the lever to make sure the brakes work
Check the charge port, make sure the cap is on, this will prevent any dirt or water from damaging the battery port
Check your tires to make sure they are the proper tire pressure. Most flat tires occur due to low pressure tires!
How To Ride a Dualtron Safely
Make sure to know your route, the speed limit, and typical traffic for the day and time
Now turn on the EYE throttle power button, place your hands on the handle bars, place your left or right foot toward the front of the deck
Place your rear foot on the opposite side and to the rear of the deck
Lightly pull the throttle!
Now repeat, and try tapping both brake levers at the same time. Note if you have two brakes, you should always use both at the same time.  If you have a single brake, just tap the one.
And thats it! Obey local laws, make sure to look both ways, and mind your speed and braking.
Practice till riding becomes natural and enjoy!
Always ride defensively, and give other pedestrians the right away. It could save yours and their lives!
Most Popular Dualtron Upgrade Parts
Most Popular Dualtron Aftermarket Accessories
What I love about Dualtron owners is that you'll never see two of the same scooters. Whether if its cosmetic or tuning, each owner will personalize their scooters to make it their own. Here are the most common Dualtron accessory parts explained:
Deck Covers and Liners – Deck covers are a great personalization accessory that allows you to really make the look of your scooter unique. They also make cleaning lot easier, one quick wipe down and you're done! Covers come in all shapes, colors, sizes, lighting, materials and more.
Deck Foot Rests – These add on parts are great for securing your feet during riding and heavy acceleration. They also provide a sporty look.
Dualtron Mountain Bike Handlebars – Some Dualtron riders like to convert to wider mountain bike handle bars. This upgrade allows for a wider grip and more handlebar space for accessories. Some riders prefer the stock folding handlebars for easy stowage. To upgrade the handlebars, riders will need a MTB handlebar (aluminum or carbon fiber), a MTB stem convertor, MTB stem and a MTB grips. For my Ultra 2, I'll be keeping them stock, but up to you!
Aluminum Washers – These are great for adding color and are also very functional, they allow your feet to feel its position on the deck, which will prevent you from slipping your foot off.
Deck Side Sliders – The sliders will protect the plastic side covers in the event of a crash. They also add a hint of flavor to the color scheme.
Kick Stand – More stronger and robust kick stands are available. They're also adjustable in height.
Mud Guard – The guards give your scooter the ultimate aggressive and sleek look. They help prevent splash but also make the scooter look very sporty.
Tow Handle – Scooters are heavy, the tow handle will help save your back when you need to lift and transport.
Kiddy Bar – The bar is great for adding additional space to your scooter for lights, accessories, and more.
Seat Kit – These are great for long range rides as standing after a few hours can cause fatigue in the legs. They do add weight and some people don't like the look.
Dualtron Tuning & Performance Parts
More information will be provided about performance parts in the near future. I'm currently working with a vendor on getting motor, controller, and battery parts. Detailed information on vendor, parts, installation, and experience, coming soon!
Electric Scooter Battery Builders
For riders who want extended range and performance, here are a few vendors I've heard great things about:
Lite Speed Bikes ★ – These guys do awesome work on electric bikes, scooters, and more. A few of my friends had their Thunder battery packs done by Chris. Read the latest interview with Chris.
314 – Pawel is an established electric engineer who works on a variety of projects that focus on battery packs, software development, and electronics. Pawel builds batteries for ebikes, Escooters, and EUCS in the New York City Area.
Wing Mods – The Wing Mods team is well known for the performance parts and services. Check out the +60 MPH Dualtron build they did for my friend Ronel. Wing Mods is local to San Francisco Bay Area.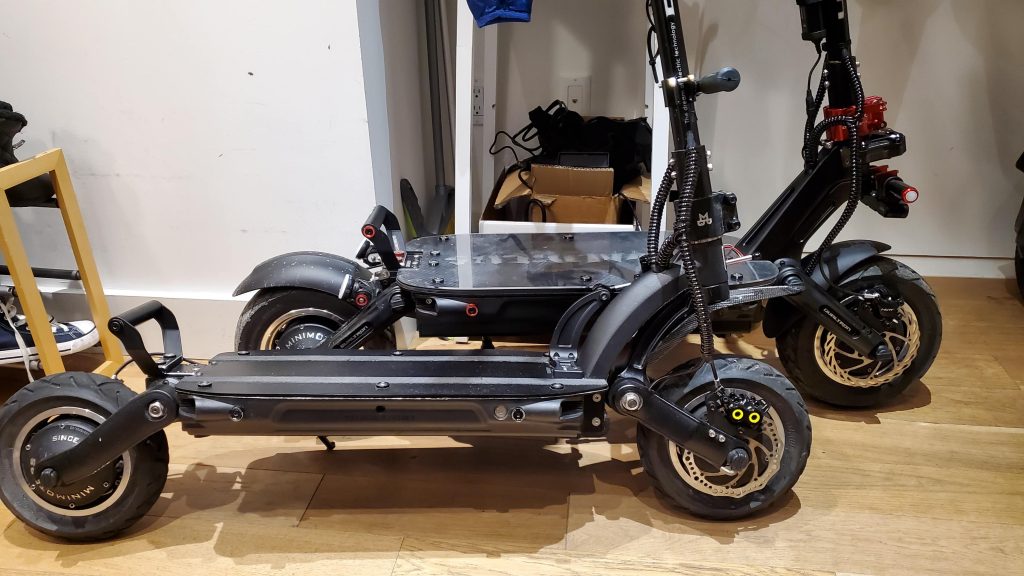 Dualtron Guide for Purchasing Aftermarket Parts, Tips, Installation & Advice
Owning a Dualtron is a fun, rewarding, and exciting hobby. But it can also be an expensive one as well. Here are some tips and tricks to help save you money, time, and stress.
Purchase parts from reputable vendors – Parts are expensive, work with a vendor the community can vouch for. Shipping times, payment, and expectations should be provided. All vendors in the list below have a great reputation.
Establish payment and shipping details – Shipping costs and transaction fees are excluded from the price. Make sure you get what you for on an agreed timeline.
If using Paypal, do not use friends and family transfer method – having payment protection will save you if parts aren't delivered, as you can always file a claim. Having the security is worth the extra fees.
Set a budget – Your credit card bill will thank you later.
Stock up on tires, break pads, and tire sealant – You'll will eventually need to service your scooter down the line.
Service your own scooter – It's a fun hobby and will save you money throughout ownership.
Focus on performance parts before cosmetic – You'll appreciate stronger brakes, tow handle, speed damper, over a fancy mudguard.
Modding – Not all parts are perfect, you may need to drill, cut, shape, and adjust parts to make them fit.
Have Fun – Shopping, researching, talking, and working on your electric scooter can be more fun than riding! Reach out to your local group rides.
Join the Online Community – Participate in the online blogs to get the most out of our community. Join the Dualtron Eagle Pro Group, Dualtron Storm/Ultra and the Dualtron Electric Scooter group for ideas and conversation.
Keep it Simple – You also don't NEED any of the aftermarket parts! Our Dualtrons are totally fine outside of the box. I'm personally going to keep my Ultra 2 as stock as I can (aside from Magura's, speed damper, deck cover), I prefer the simpler look. But, to each their own!
Trusted Dualtron Aftermarket Vendors
Here's a growing list of all of the Dualtron aftermarket vendors I've had experienced ordering from and others who have great reputations in the community. If you're a vendor, please send me a message info@vrooomin.com to get added to the list.
Based in China, BPM produces aftermarket parts at a lower price. BPM is known for their steering dampers, tow handles, folding clamps, and more. Shipping can take 1-2 months, expedited shipping at an additional cost. Their customer service is easy to get ahold of, they respond in 24-48 hours for any questions.
One of the most well known Dualtron aftermarket vendors, they have aftermarket parts for every Dualtron model. Based in Singapore, Carbon Revo produces high quality parts, but at very expensive shipping costs. You can get their most popular accessories from MiniMotors USA.
Based in Singapore, this company is well known for their Carbon Fiber Steering column.
Based in Russia, Dualtron Russia produces quality parts that include steering dampers, tow handles, custom decks, headset kits, and more. Their shipping time is very long and can take between 1-4 months to arrive. They also have some of the best pricing in the industry.
Based in China, MHM has a reputation for quality parts and services. MHM carries headset kits, dampers, Magura brake sensors, magura spacer kits, and more. They are quite responsive on facebook. View their catalog here.
Sonken engineering provides a variety of Dualtron accessories including steering dampers, headset kits, pole adaptors, and more. Based in France, Ken's great to work with, easy to contact, produces quality parts, and is very active in the community.
Based in Thailand, Scooter Mania has come out with some of the best quality dampers, decks, and mud guards for Dualtron electric scooters. They're great to work with, fast and secure shipping. You can order with them through facebook messenger.
Are you a vendor? Reach out to me at info@vrooomin.com to be added to the list!
More vendors and parts to come!
This guide is still a work in progress, I will be adding more vendors and items in this list. Let me know in the comment section if I'm missing anyone or anything. Happy and safe riding!
Join the Dualtron & Electric Scooter Community
What I love most about owning a Dualtron is the community! There's a huge network of PEV chats and Facebook groups where you can connect with people from all over the world and share, pictures, stories, parts, upgrades, and more. You'll make the unlikeliest friendships and chat with all sorts of interesting people. Here are some of the best online forums online:
Electric Scooter Facebook Groups:
More Minimotors Electric Scooter Resources
You May Also Like
Disclaimer: The information presented in this article is derived from extensive research, user reviews, and publicly available information. Our aim is to provide accurate and up-to-date content; however, it is crucial to understand that the opinions expressed are based on the information available at the time of writing. We strongly encourage readers to conduct their own thorough research and carefully evaluate their individual needs before making any purchasing decisions.
eWheels 2023 Summer Deals and New Launches are here!!!
Cheap, reliable, and powerful! TurboAnt Electric Scooters 2023 Sale!
Hi guys! This post may contain affiliate links, sponsored content, and advertisements. We get a small commission for covering topics that interest us (helps us keep the doors open). For more information, please see our privacy policy and disclaimer. Ride safe yall!
2023 Electric Unicycles:
Coupons & Deals:
Apollo Scooters: Get $50 USD worth of free accessories, upgrades, or spare parts with the purchase of a scooter. Code: VROOOMIN
REV Rides: Save $50 off Scooters and EUC's, Code: VROOOMIN
EVOLV Electric Scooters: Free Folding Lock (worth C$80) for every EVOLV model! Use Code: VROOOMIN-LOCK
To keep the site running and information flowing, Vrooomin.com participates in affiliate linking programs. We're also an Amazon Associate, which means we get paid for referring people to Amazon. Please support the channel by clicking on our links.