Modded 72V Dualtron Thunder Electric Scooter
When the first Dualtron Thunder debuted, people weren't only raving about its 50 MPH top speed and 5,400W powertrain. The sum of all the parts made the Dualtron Thunder one of the ultimate electric scooters on the market and a modder's dream come true, like a stress-tested chassis, a strong community, and endless aftermarket modification options.
The Dualtron Thunder electric scooter is highly popular among modders due to its strong community and endless aftermarket modification options.
A modded Dualtron Thunder built by Aron Gabor is capable of reaching a top speed of 125 KMH (77 MPH) and features customizations such as a controller bracket and modified motors.
The scooter is equipped with a 72/84V 40Ah custom battery, modded Dualtron Thunder hubs, and a weight of 50kg.
Aron shares his journey, parts, tips, and tricks for the modded Dualtron Thunder, providing inspiration for other scooter enthusiasts.
The article includes additional resources and information on Dualtron electric scooters and related topics.
Interested in featuring your modded electric scooter on vrooomin.com? Reach out to info@vrooomin.com for more info!
125 KMH / 77 MPH Custom Built Dualtron Thunder
With a 125 KMH top speed capability, this Dualtron Thunder chassis and motors can take a beating. Aron pushes it to the limit. What I love most about his build is the custom controller bracket on the stem and the modifications to the stock motors. The stem mounts create a clean and tailored look without resorting to mounting a heavy battery pack on the stem and creating stress on the front end.
Aron's Modded Dualtron Thunder Quick Facts:
Top Speed: 125 KMH / 77 MPH on GPS (70kg person)
Range: 100km (eco mode), 50km (hard mode)

Motors: Modded Dualtron Thunder hubs

Battery: 72 / 84V 40Ah, 20S10p Samsung 21700, 400A BMS
Controllers: Max 80 amps per motor, 160 amps total – Modded 2xYKZ7280 with Stem Bracket
Weight: 50kg
Big thanks to Aron for sharing his journey, parts, tips, and tricks! Hopefully, his work will help guide anyone else looking to push their scooter even further! It's so awesome to see what riders are doing around the world and what inspiration we can use in our own builds.
In This Article:
Aron Gabor
Why Dualtron Thunder Chassis
Build Process
Build Specs
Tips and Tricks
Thanks & Shout-outs
Looking for more Escooter mods? Check out my buddy Ronel's 62MPH Dualtron Eagle Pro
*Please note that context may be lost in translation.
Aron Gabor & the 125 KMH Modded Dualtron Thunder
I am 34 years old and an IT engineer. I work in IT. I bought my first scooter 2 years ago. I wanted to see what electric scooters were like. My first scooter was a Kugoo S1. It had a lot of flaws, so I tried to refine it. Then came the Xiaomi M365 and the M365 pro. I always tried my best to improve the scooters and make them unique. After that, the big jump was to an Inokim OXO. I thought it didn't need to be better, but I tried to refine it too, and I realized I needed a perfect scooter, so I figured I'd build one. I bought a semi-finished Dualtron III electric scooter, converted it to be completely unique, and then came the current Thunder…
Why did you choose the Dualtron Thunder for the rebuild project?
I found a factory-used Thunder at a reasonable price; I sold almost all of the stock parts, only the frame left with the two engines. I went after it and knew the primary engines with a bit of modification could be a good alternative, so I kept them. I designed the battery and controller box; both were put together very precisely by a friend.
Dualtron Thunder Research and Testing
I already had experience from my previous Dualtron III construction, so the plans were already in my head, but I couldn't always deal with it, so it took quite a bit of time to complete, about four months. Of course, there were mistakes. First, when the first test came together, many things had to be improved, e.g., suspension, placement of controls, handlebar height, and new tire choice because there was no traction.
Custom Dualtron Thunder Drivetrain, Motors, battery and controllers
I also had YYK controllers in my previous construction, with only a 60V battery. I was happy with them, so I thought it could come again with a 72V battery. However, I also replaced all the cables because they were sized at the bottom. I decided to modify the factory motors as I wrote because I saw that their winding was good when disassembled, but the wiring was not.
It had to be modified to AWG10 silicone cables, for which the shaft had to be drilled thicker. Or I had to put hall sensors in the engine. It already has a place in the factory engine, so I didn't have a hard time. I thought if the engine isn't going to be good like this, I'll get other engines into it, but the conversion has gone well. I'm thrilled with them. They're capable of outstanding performance and don't overheat this way.
Build Specifications
Frame:
Dualtron Thunder chassis (all screws replaced with reinforced ones)
Weight: 50kg
Deck raised by 2cm with aluminum frame
Factory tread with custom text milling, unique plexiglass + lighting underneath
Custom rear fender
Custom rear pliers
Blue spring cubes from front to back.
Stabilizer Ken Sonken
Ken Sonken steering mechanism
Russian reinforced stem clamp
Dualtron Ultra handlebar
Ken Sonken handlebars
KTM steering wheel
Carbon straight handlebar
Braking System:
Ken Sonken brake carrier bracket adapter
Magura brake caliper adapter
Magura MT5e comes in front of a complete brake set
Magura 180mm brake grilles
Controller:
2x YKZ7280, the phases and power have been replaced with thick silicone cables.
Battery:
Custom 72 / 84V 40Ah, 20S10p Samsung 21700, 400A BMS
Maximum range: 100km (eco mode), 50km (hard mode)
Engine:
Factory Dualtron Thunder engines modified:
Shaft inside enlarged
Phases replaced by AWG10 cables
Hall sensors have been installed
Maximum power 25000W (measured in motor phases)
Top speed: 125km / h (with 70kg person), 115km / h (with 105kg)
Tires:
PNEU PMT 110 / 55R6,5 SLICK
Do you have tips or tricks for other people who want to accomplish something similar?
Don't have a girlfriend or wife? All jokes aside, have perseverance and some sense of it, without which, unfortunately, it won't go. The back of the control brackets must be made of aluminum with heat sink notches and be dimensioned to fit the wiring comfortably.
Thanks & Shout-outs!
Of course, I got a lot of parts from Ken Sonken quickly, thanks to him here too, and to my friend and battery builder. He did a straightforward job. And to my wife, who endured this because it was already my second build. There will be a divorce on the third day of construction…
Would you consider riding a +70 MPH electric scooter? Let me know in the comment section below!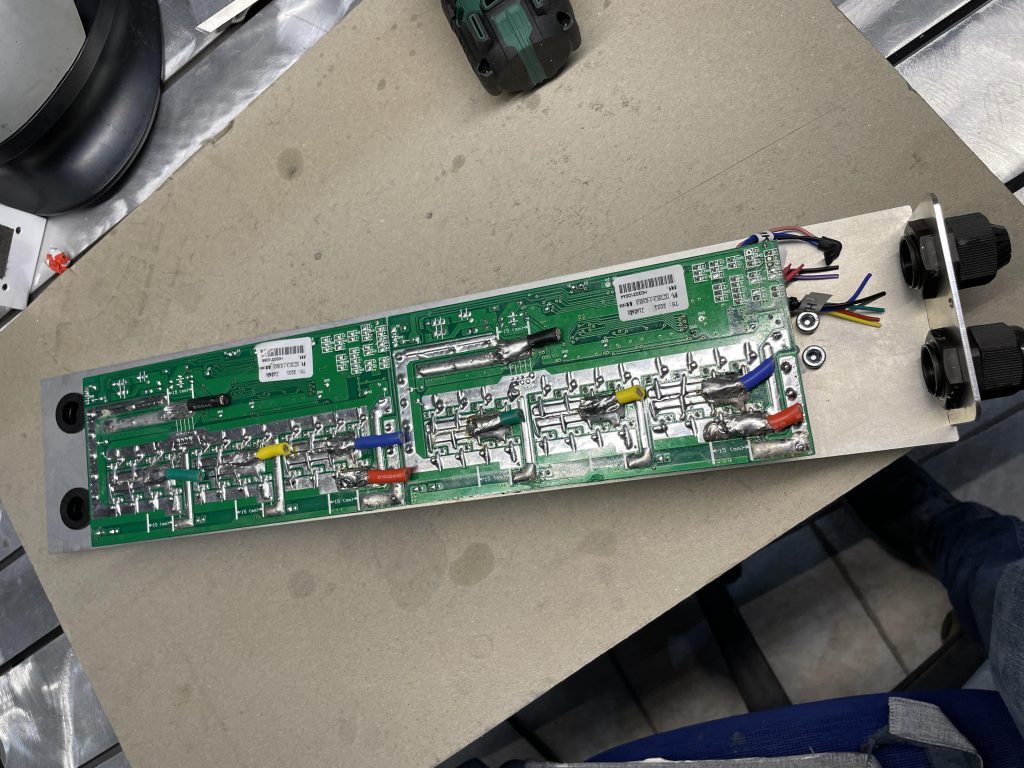 You may also like:
More MiniMotors Electric Scooter Resources
Disclaimer: The information presented in this article is derived from extensive research, user reviews, and publicly available information. Our aim is to provide accurate and up-to-date content; however, it is crucial to understand that the opinions expressed are based on the information available at the time of writing. We strongly encourage readers to conduct their own thorough research and carefully evaluate their individual needs before making any purchasing decisions.
eWheels 2023 Summer Deals and New Launches are here!!!
Cheap, reliable, and powerful! TurboAnt Electric Scooters 2023 Sale!
Hi guys! This post may contain affiliate links, sponsored content, and advertisements. We get a small commission for covering topics that interest us (helps us keep the doors open). For more information, please see our privacy policy and disclaimer. Ride safe yall!
2023 Electric Unicycles:
Coupons & Deals:
Apollo Scooters: Get $50 USD worth of free accessories, upgrades, or spare parts with the purchase of a scooter. Code: VROOOMIN
REV Rides: Save $50 off Scooters and EUC's, Code: VROOOMIN
EVOLV Electric Scooters: Free Folding Lock (worth C$80) for every EVOLV model! Use Code: VROOOMIN-LOCK
To keep the site running and information flowing, Vrooomin.com participates in affiliate linking programs. We're also an Amazon Associate, which means we get paid for referring people to Amazon. Please support the channel by clicking on our links.