Maguras MT5's are 100% worth their hype and price tag
After 200 miles on my Magura MT5s, these calipers feel like they could stop a moving train. Hydraulic brakes, in general, are a significant improvement over mechanical brakes and will transform the way you ride with renewed confidence.
Dualtron Magura Resources
At $130 per caliper, excluding time, effort, royal blood, sweat, and tears, this modification is not cheap.
Magura installations can cost between $500 and $1000 in New York City. When compared to a bicycle, Magura's are a pain in the butt to install. Unlike bikes, you'll need to strip down your Dualtron and rerun a bunch of wires. Removing the handlebar components and old brakes, running the cables through the stem, neck, soldering, bleeding, etc., could take a beginner between 6 and 14+ hours. This upgrade is not for the faint of heart. Some of the steps can get pretty tedious.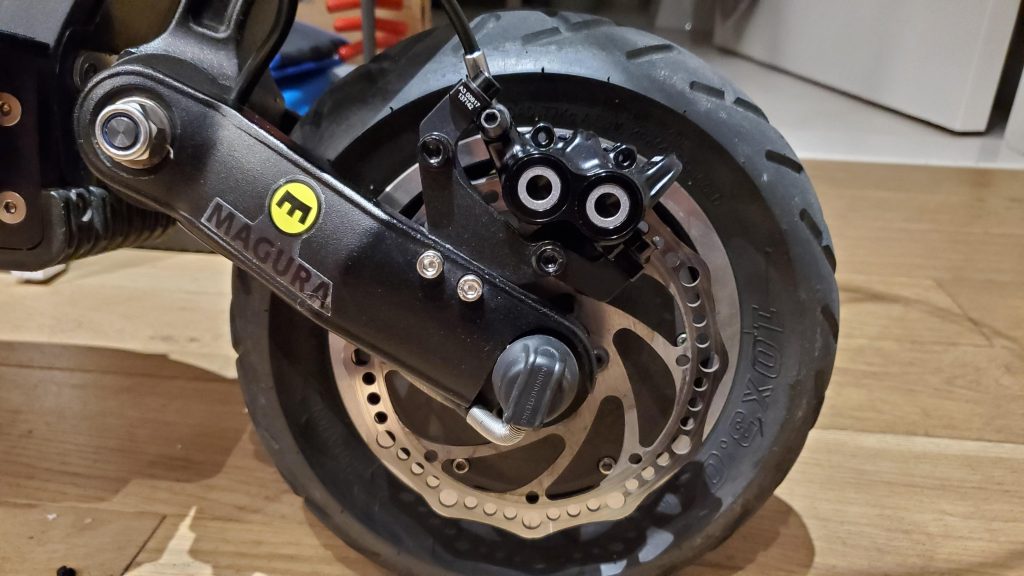 Jak VS Zoom VS Magura
The Dualtron Eagle Pro comes with single piston Jak calipers, decent for lower speeds (up to 25 mph) but not suitable for sustained high rates or long-range group rides. After 400 miles with the Jak brakes, I upgraded to the Zoom Xtech, semi-hydraulic brake calipers. These two-piston semi-hydraulic brake calipers were a nice upgrade but didn't have the stopping power I was looking for. I still noticed strains in my wrists from pulling the levers aggressively during group rides. After 1400 miles on the Eagle Pro, I finally decided to buy Magura MT5 calipers and take on the elusive Magura installation challenge.
While I have a pair of 160mm rotors, I'm planning to save those for a different project down the line. I also found that the 140mm rotors were fine for my daily usage and average speed. The idea behind Magura's mighty stopping power is credited to the 4-piston hydraulic system that covers more surface area of the rotor, which applies smooth and even pressure to stop your electric scooter on a dime. I was finally done after two days of stripping down my Eagle Pro, running wires, fleeting moments of regret and frustration, and countless oil leaks on my kitchen floor!
In hindsight, the installation wasn't that bad, it was long, but not bad.
Overall, the installation process was long and filled with trial and error for a first-timer. I also skipped a critical step; I didn't put the piston blocker in the calipers when bleeding, which led me to waste three rounds of mineral oil and countless hours. For the average person, this process can be long and challenging, but rewarding! This installation should be much easier for any tinkerer, mechanic, or bike enthusiast.
High level overview of the process
Strip down handle bars, stem, and deck
Remove old calipers, cable lines, and cut brake sensors
Install new calipers and run the wires from the rotor through deck, headset, stem, and handle bar
Put handle bars, stem, deck back together
Trim hydraulic hose to fit
Bleed the levers and caliper
Solder the brake electric brake sensors to controller wires
While I've listed seven high-level steps, there are 10-20 minor steps in between them. I'm working on step 7 and will release the full write-up and video when I can make the time. Please stay tuned!
Are Magura brakes worth the time and money invested?
Magura's are worth the time and money invested. I wish the Dualtron Eagle Pro had a hydraulic option for riders to purchase out of the box. But since they don't, I'm glad I was able to learn how to install them myself.
The Problem with Time
If you're not into self-modding, DIY, or you don't have the time or interest but have the budget, I recommend having the installation done by a local electric scooter mechanic. While expensive, you can allocate your precious finite time to more important things in life and not have to deal with buying tools, parts, and trial and error. But if you have time, love tinkering and learning new things, and save money by self-servicing, the Magura job is super satisfying and rewarding; once you're done, that is.
You may also like:
Dualtron Electric Scooters: What You Need to Know
Here are some of the main reasons why MiniMotors USA customers choose Dualtron scooters:
Powerful – MiniMotors is the frontrunner of high-performance dual-motor electric scooters. Motors, controllers, and batteries from Dualtron are among the strongest available.
Build Quality – When it comes to quality, MiniMotors has a solid track record of producing scooters with cutting-edge electronics that are easy to maintain and cost-effective for the average rider to own.
Easy Maintenance – Scooters, in comparison to automobiles, are a fun, powerful, and low-maintenance mode of transportation. Brake and tire service are two of the most common maintenance items.
Spare Parts – All MiniMotors scooters have a large selection of spare parts available, you can order or get any part you need for your vehicle's upkeep. Check out MiniMotors USA for more information.
Customer Service – MiniMotors USA's customer service team is available by phone and email to answer questions about maintenance, repairs, and accessory suggestions. The quality of MiniMotors USA's service and products is well-known.
Disclaimer: The information presented in this article is derived from extensive research, user reviews, and publicly available information. Our aim is to provide accurate and up-to-date content; however, it is crucial to understand that the opinions expressed are based on the information available at the time of writing. We strongly encourage readers to conduct their own thorough research and carefully evaluate their individual needs before making any purchasing decisions.
eWheels 2023 Summer Deals and New Launches are here!!!
Cheap, reliable, and powerful! TurboAnt Electric Scooters 2023 Sale!
Hi guys! This post may contain affiliate links, sponsored content, and advertisements. We get a small commission for covering topics that interest us (helps us keep the doors open). For more information, please see our privacy policy and disclaimer. Ride safe yall!
2023 Electric Unicycles:
Coupons & Deals:
Apollo Scooters: Get $50 USD worth of free accessories, upgrades, or spare parts with the purchase of a scooter. Code: VROOOMIN
REV Rides: Save $50 off Scooters and EUC's, Code: VROOOMIN
EVOLV Electric Scooters: Free Folding Lock (worth C$80) for every EVOLV model! Use Code: VROOOMIN-LOCK
To keep the site running and information flowing, Vrooomin.com participates in affiliate linking programs. We're also an Amazon Associate, which means we get paid for referring people to Amazon. Please support the channel by clicking on our links.