Based in NYC, Kaiden is a Software Engineer who loves talking about delicious food, Thai boxing, grappling arts, and fast electric vehicles. His main go-to weekend must-haves were mouthwatering pizza, cheesy burgers, snappy unicycles, and ice-cold libations. Although lately, he's been consuming unsalted air fryer chicken, filtered tap water, and green smoothies, walking to work because he's in his late 30s and his metabolism just isn't the same. He is finally accepting it.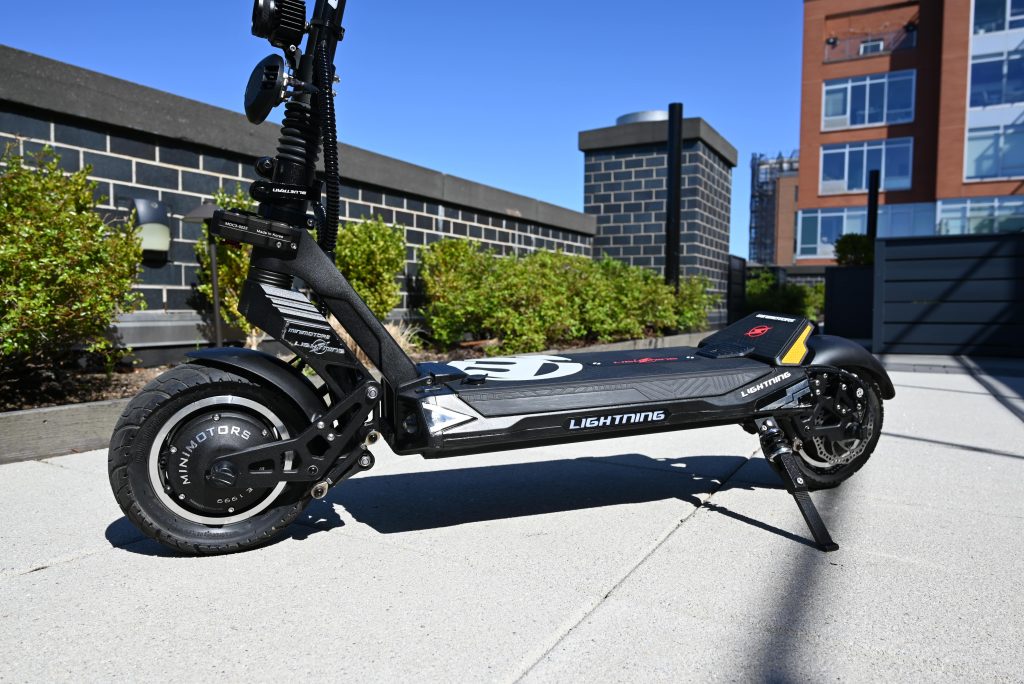 Bluetran Lightning Rider, Alex Littig, hits 53 MPH GPS, Top Speed Test
Alex Littig, electric scooter rider and enthusiast, achieves a mind-numbing 53 MPH on the Bluetran Lightning! Alex is a skilled rider who owns one of the most souped up Lightnings in the United States. Make sure to watch Alex's video and subscribe to get more content on PEVs and electric scooters in the future. It's incredible to see Alex take complete command of the Lightning and drive this scooter to its absolute maximum capacity.
Bluetran Lightning Electric Scooter Review, Updates and FAQ Video
Bluetran Lightning Acceleration Test Video
A Rocket on 2 wheels. The Lightning may be the BEST 10″ SCOOTER FOR 2022
Starting at $2,700 for 26AH base model, $3,000 for 32AH, and $3,100 for 35AH
The 72V Bluetran Lightning could be the best value, high-performance 10″ electric scooter on the market. The style, aesthetics, amenities, and value of this scooter make it a clear choice. The Lightning is the only scooter on the market with a 72V 30A system on 10″ wheels.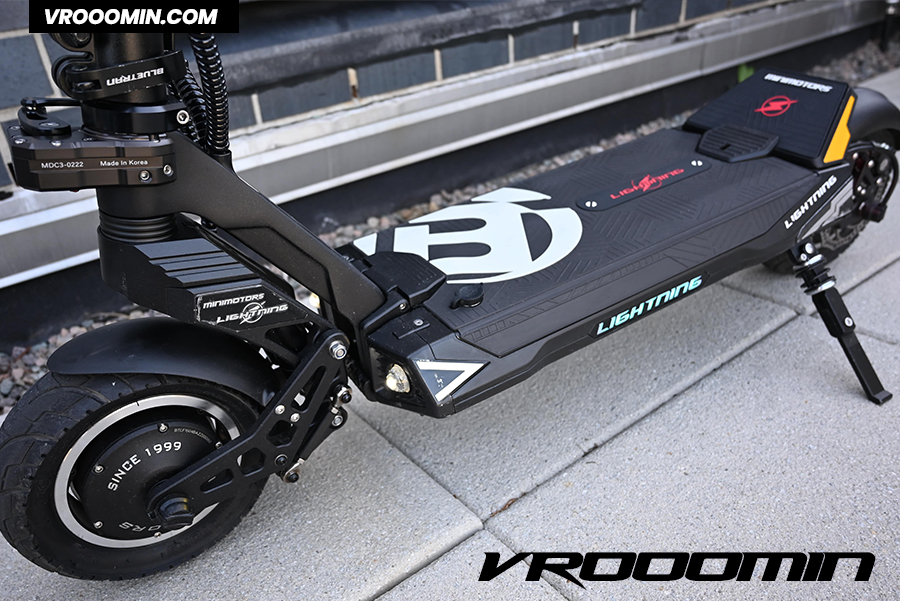 Pure Performance
Riding the Bluetran lightning is out of this world, it feels like a Dualtron Eagle or Victor, crossed with a Dualtron Ultra 2. For me, this scooter has more than enough power and is best enjoyed for its high torque. For riders looking for the ultimate thrill without buying a large 11″ 105 lbs Thunder 2 or Ultra 2, the Lightning is the perfect compromise between physical size and raw performance.
At the tap of the throttle, all you can feel is a force that pulls you forward, like that first drop on a roller coaster ride. This scooter is insanely powerful, I highly recommend all riders first ride at the lowest settings to start.
53 and 54 MPH GPS Top Speed – Updated 4/16/2022
Shout out to Alex Littig
Alex is an experienced rider and the proud owner of one of the most souped up Bluetran Lightnings in the United States. Alex's Bluertran Lightning reached 53 miles per hour on GPS! It's incredible how Alex was able to push the lightning beyond its limitations and achieve the greatest peak speed recorded on video in the United States. Everyone else's speed will vary depending on the payload and road conditions; Alex is on the lighter half of the weight spectrum!
Shout out to Zero Rider!
I've only taken the Bluetran Lightning up to 41 MPH (GPS), there's not enough smooth and safe runway in New York City to do the top speed test properly. Weight has a big effect on speed, heavy riders can expect a top speed of 42-45 MPH. My Friend Zero Rider (French Youtuber) recorded a top speed of 54 MPH. (GPS), but he also weighs 132 pounds. I estimate that the top speed for most riders will be between 42 and 50 miles, just depends on weight.
At 195 lbs with gear, I estimate my GPS top speed could be between 45-48 MPH. For my Dualtron Eagle Pro, I've reached 42 MPH GPS, and my Ultra 2, I've reached 58 MPH GPS. The Eagle is rated for 45 MPH, and the Ultra 2 is rated for 62 MPH.
Feel the torque and blast off with the Bluetran Lightning for the 2022 riding season.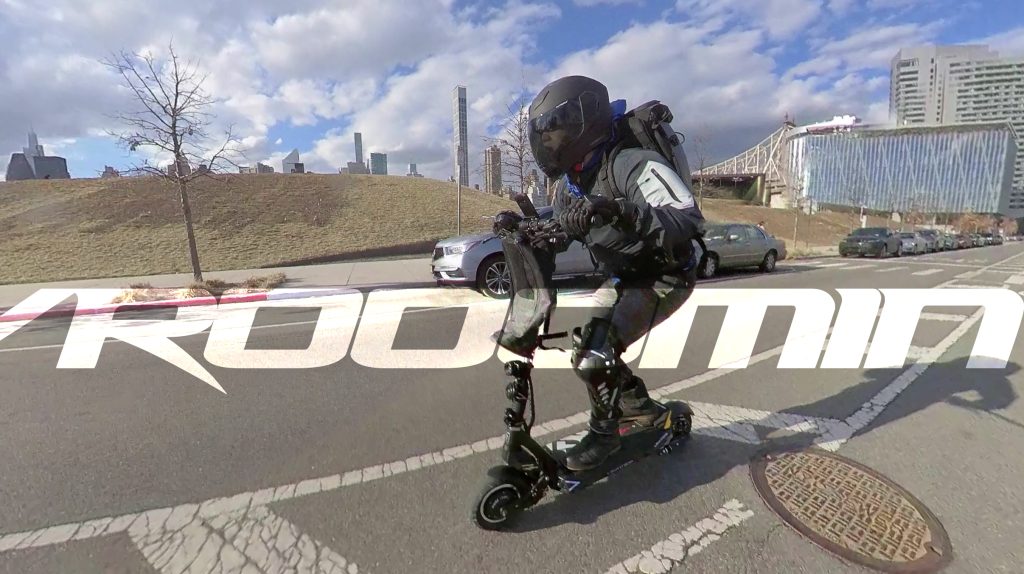 I recently received one of the first Bluetran Lightning Electric scooters to arrive in North America! This ride is so much fun! I'll undertake a complete inspection, testing, and riding of the Lightning as part of my comprehensive assessment. So far, the Lightning has delivered on torque. I haven't had the opportunity to take a high speed run yet (too cold right now in NYC), but the acceleration is incredible, especially for a 10″ scooter.
Power: Insane torque, reduce the torque settings when riding for the first time.
Top Speed: It's rated for 55 MPH, I've only gotten her up to 43 MPH (GPS), and even then it felt way too fast. French riders have gotten the Lightning past 54 MPH / 88 KMH. Weight and battery charge will have a big effect on top speed. I feel like this scooter is most fun around 20-35 MPH, high speed runs can be enjoyed but in safe space. Alex Littig has hit 53 MPH GPS on his Bluetran Lightning (4/16/2022)
Range: Large battery pack for long range riding
Features: loaded with lighting signals, head lights, horn, adjustable handle bars, the complete scooter!
Ride Quality: Plush suspension, eats up and minimizes all road vibrations
Build Quality: Top notch quality, some of the best design and materials I've seen used on a scooter
Handling: This scooter is very powerful, takes time to acclimate to in high settings, try balancing front foot towards the front deck for more stability when maxing out settings, take your time when boosting up the performance
I know the timing is still early, but this could be the best scooter for 2022, I highly recommend this scooter for riders looking to upgrade into a 72V system.
The Bluetran Lightning has everything you need to start your high torque adventures, all right out of the box. The Lightning may be the best value extreme performance scooter for 2022.

– VROOOMIN
Bluetran Lighting Review Video and Unboxing
Powerful New Make & Model
The Bluetran Lightning is a high-performance electric scooter with raw power, smooth geometry, and over 20 years of electric scooter technology. While the Lightning's bold and assertive chassis will appeal to many sports scooter enthusiasts, the Bluetran's true goal is to provide utility, durability, comfort, and 72V performance at an affordable price.
Looking for a twin motor sports electric scooter for the first time? Look no further, the Lightning provides commuters with the sports-tuned scooter experience we've all been waiting for.
Bluetran Lightning Electric Scooter is Now Shipping!
New Lightnings start at $2,700, strongest model costs $3,100. Visit the newly launched Bluetran website to get the latest information on the Bluetran lightning Electric scooter.
SUMMARY
The Bluetran Electric Scooters are the newest scooters from MiniMotors.
In comparison to Dualtron models, Bluetran electric scooters are constructed for quality, speed, power, and design at a more affordable price.
The 5KW Lightning is a mid-weight scooter with substantial power, having a top speed of 50+ MPH!
Three battery variants are available: 26AH, 32AH, and 35AH.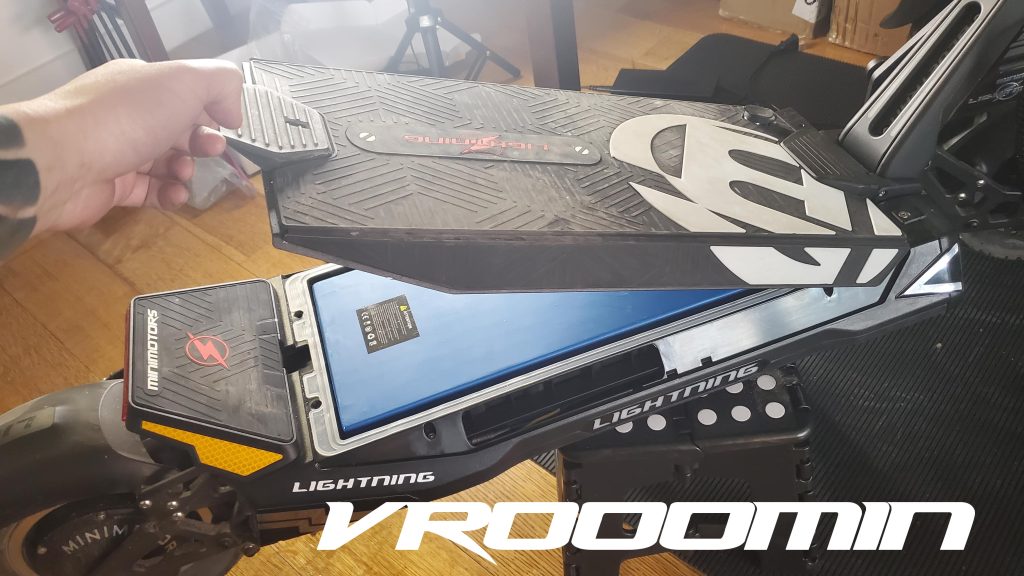 News & Deals
Sleek, Sporty, and Stylish.
The Bluetran Embodies the Speedway Electric Scooter Line: Performance, Sporty, Approachable
MiniMotors' decision to introduce the Bluetran electric scooter series has left us all happy. The Lightning has the looks to kill, 5KW drivetrain, sports-tuned chassis, with a large battery and dual motors to back it up.
The Bluetran Lightning is an Absolute Stunner.
Design: The Lightning takes design cues from the Speedway 5, Speedway Leger, Dualtron Thunder 1, and Dualtron Mini, to name a few.
Speedway: The Lightning is inspired on the geometry of the Speedway 5, with the same lines, curves, feel, and suspension.

At the same time, the chassis and performance components of the 4th generation Dualtron are inherited.
Bluetran Lightning Electric Scooter
Power – 5,040W
Battery Pack –  72V (26AH, 32AH, 35AH, LG or CN battery pack)
Top Speed – 50 MPH / 90 KM (53 MPH GPS Tested in U.S.)
Build Quality
Chassis Design
Ride Comfort
Weight – 87 LBS
Price – Around $2,700 – $3,100 (Estimated price based on Battery Pack Options)
Brakes – Zoom Hydraulic Brakes
Summary
The Bluetran Lightning will be the first 72V 10″ electric scooter of its kind on the market. The Lightning will give competing mid-class sports electric scooters a fight for their money, with a 5KW drivetrain, 50+ MPH top speed, and a price tag under $3,000.

Reasons to buy:
– The fastest 72v Electric Scooter on the market
– A stunning new chassis design, materials, and aesthetics
– Encompasses all of the advanced technology and comfort features found in higher-tiered Dualtrons
– Best value and performance 10″ dual motor scooter on the market
– Ideal size for a high-performance, weekday "workhorse" electric scooter
– Great for riders looking to upgrade to a 72V dual motor performance scooter
– 55 Miles real world range in medium performance settings
– Fully featured with lights, horn, footrest right out of the box

Reasons to avoid:
– Heavy: Due to the size of the battery pack, it is heavier than most 10″ scooters.
– Expensive: many riders won't have budget for a $2,700+ performance scooter
– More Power: Some riders prefer even heavier/stronger scooters in the $4,000 price range
– Some riders don't need 5KW power, lower powered dual motor scooters cost less


For similar electric scooter options, check out the Best 40MPH Electric Scooters, and Best 72V Electric Scooters.

5KW Sports Commuter Electric Scooter
Built for commuting, but also fun and leisure, MiniMotors has enjoyed a lot of success in recent years with their release of the cult classic Dualtron 2, Spider, Eagle, and most recently Victor. These legendary sports electric scooters reach the sweet spot in terms of being practical, lightweight, and workable during the week. Why can't we commute to work and have a good time while doing it? The Lightning is set to change your daily rituals with its high torque and completely customizable 5KW drivetrain.
The Bluetran Lightning is heavier at 88 pounds, but its 72V huge battery and controller combination produce twice the power output of its predecessors. The 72V 5040W drivetrain of the Bluetran Lightning is what sets it apart from other mid class sports electric scooters. It can push its 10″ motors up to 55 MPH, a top speed and torque level that the Victor and Eagle Pro can't match. A 2,520WH battery pack sits at the core of the Lightning, providing up to 93 miles of long-range and high-adrenaline riding.
High torque, high speed +5KW drivetrain
Fastest production 10″ production electric scoter
Quality LG 72V battery pack and cells
3 modes of power: low, medium, and high
EYE Throttle custom settings: torque, battery, acceleration, electronic brake
OhManDan Shares Behind the Scenes Visit to MiniMotors USA
Upgraded Multi-Switch Button Module
The MiniMotors latest handlebar module controls the headlights, taillights, LED, warning signals, turning signals, and speed settings with the touch of a button. The module extends the internal controller and throttle, allowing for easy control of power/motor output as well as lighting for safety.
Full Hydraulic Brakes + ABS – Riders will have full control while cruising at low and high speeds with full hydraulic brakes and the MiniMotors ABS brake safety system.
Charging Port GX20-3P- Battery BMS supports up to 10A, charging the Lightning is quick. Fast chargers are available as an add-on item.
Stem and Chassis LED System – The Lightning has an LED lighting system with an external remote controller for color changes for added flare and visibility at night.
Quad Spring Suspension System – The Lightning is equipped with a quad spring air suspension system that ensures a solid and pleasant ride on both flat and bumpy runways. The suspension height can be adjusted to suit preferences and road conditions.
Folding Stems and Handlebars – The Bluetran Lightning includes folding handlebars and stem for convenient storage, allowing it to take up less physical and visual space in the workplace or at home. For taller riders, the handlebars are vertically adjustable for riders who need an additional 50mm of reach.
The Bluetran Lightning is now shipping. Visit the Bluetran site here for more info.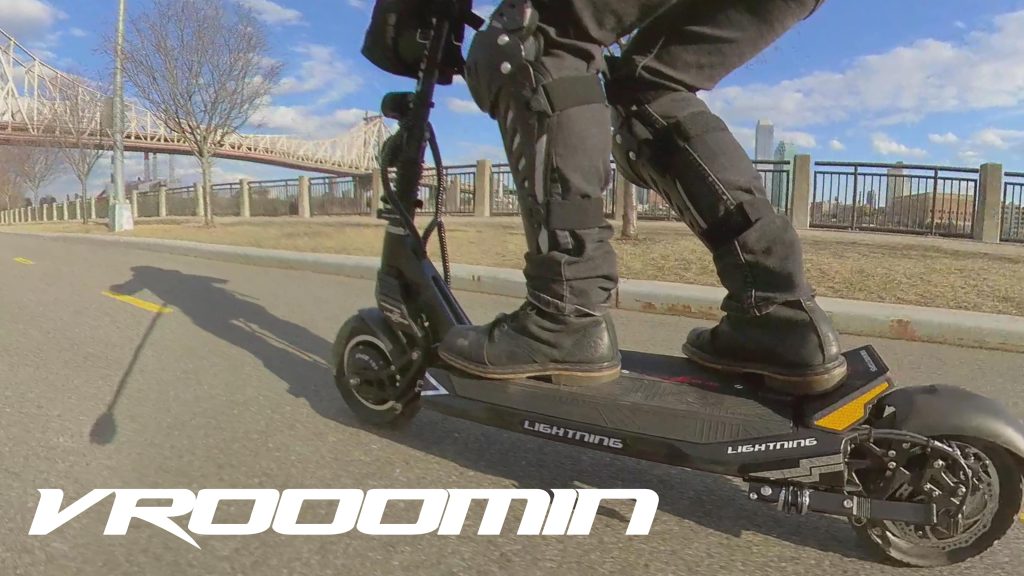 Power: MAX 5040W BLDC DUAL HUB MOTOR 72V35Ah (LG MJ1 18650) / 72V32Ah (LG MH1 18650) / 72V26Ah MOTOR Battery (CN 18650)
Time to charge: (35Ah) With a conventional charger, it will take 25 hours; with a quick charger, it will take 7 hours (32Ah) 22 hours when using a regular charger, 6 hours when using a rapid charger / (26Ah) With a conventional charger, it takes 18 hours, and with a quick charger, it takes 5 hours.
Max Range: 90 miles (35 AH), 80 miles (32 AH), and 65 miles (26 AH) The range depends on the rider's weight, road conditions, and ambient temperature.
Speed: 50+ mph top speed (depending on rider weight, road conditions, state of charge, and ambient temperature)
Gradient: 60% or 31 degrees (depending on rider weight and state of charge)
Brakes Front and rear hydraulic brakes with electric anti-lock brakes
Lighting: LED lights on the handlebars, dual LED headlights and taillights, and brake light
Max Load: 265 lbs
Weight of Scooter: 88 lbs
Tube tire: 10″ x 3″
Features: Turn signals/lights/horn/hazards/Eco-Turbo/adjustable bar height/adjustable ride height Suspension: Quad spring air suspension for front and rear Features: Turn signals/lights/horn/hazards/Eco-Turbo/adjustable bar height/adjustable ride height
Charging: GX20-3P 10A Charging at the maximum.
Upgrades: Fingerprint, Fast Charger are optional parts.
Materials: The frame and handle are made of 6082-T6 aluminum alloy, the shaft is made of SCM440 steel, and the coverings are made of plastic.
Dualtron & Bluetran Electric Scooters: What You Need to Know
Bluetran scooters are distributed by MiniMotors USA: Here are some of the main reasons why MiniMotors USA customers choose Dualtron scooters:
Powerful – MiniMotors is the frontrunner of high-performance dual-motor electric scooters. Motors, controllers, and batteries from Dualtron are among the strongest available.
Build Quality – When it comes to quality, MiniMotors has a solid track record of producing scooters with cutting-edge electronics that are easy to maintain and cost-effective for the average rider to own.
Easy Maintenance – Scooters, in comparison to automobiles, are a fun, powerful, and low-maintenance mode of transportation. Brake and tire service are two of the most common maintenance items.
Spare Parts – All MiniMotors scooters have a large selection of spare parts available from MiniMotors. You can order or get any part you need for your vehicle's upkeep. Check out MiniMotors for more information.
Customer Service – MiniMotors USA's customer service team is available by phone and email to answer questions about maintenance, repairs, and accessory suggestions. The quality of MiniMotors USA's service and products is well-known.
More 2022 MiniMotors Electric Scooters:
💪 Hi friends! We hope you find our content useful! Make sure to use our affiliate links, it helps support our site and keep the fresh content, apps, videos, and updates coming. Ride safe!

- Team VROOOMIN
⚡New: 2022 Best Electric Scooters
⚡New: 2022 Best Electric Unicycles
Editor's Note: VROOOMIN.COM reports the advertised speed and range from the manufacturer. The exact results will vary depending on the rider's weight, overall payload, road conditions, and charge level. Most PEVs will deliver at least 60-70 percent of the quoted range, if not more. The top speed and range will be decreased for heavier riders.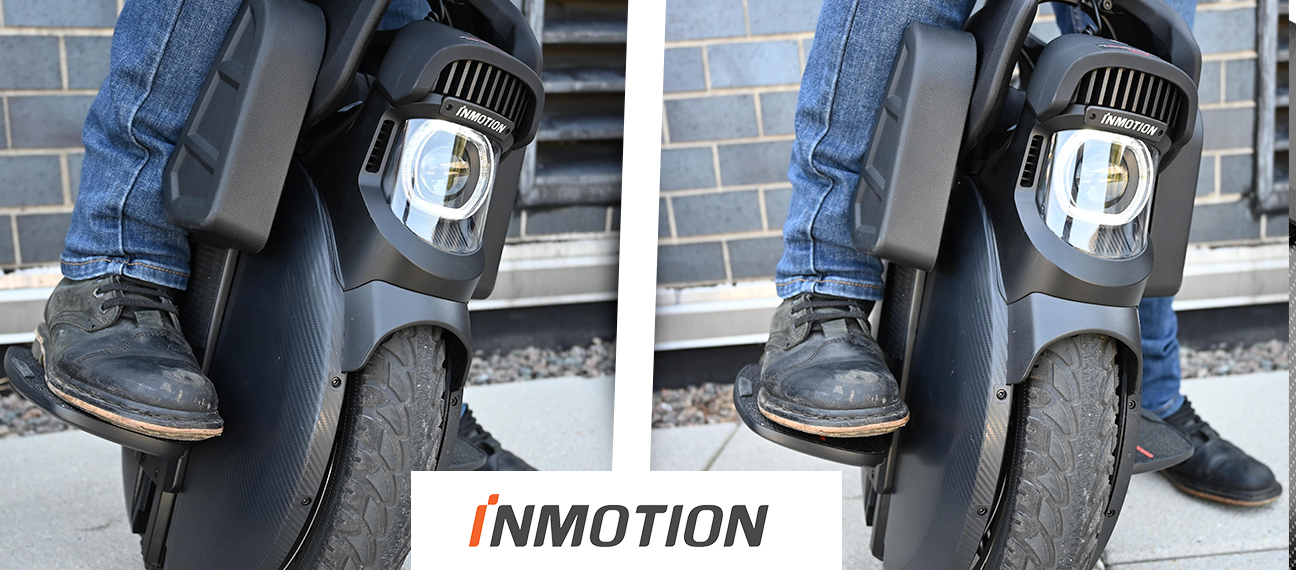 2022 Electric Scooters:
2022 Electric Unicycles:
Coupons & Deals:
Apollo Scooters: Get $50 USD worth of free accessories, upgrades, or spare parts with the purchase of a scooter. Code: VROOOMIN
REV Rides: Save $50 off Scooters and EUC's, Code: VROOOMIN
EVOLV Electric Scooters: Free Folding Lock (worth C$80) for every EVOLV model! Use Code: VROOOMIN-LOCK
To keep the site running and information flowing, Vrooomin.com participates in affiliate linking programs. We're also an Amazon Associate, which means we get paid for referring people to Amazon. Please support the channel by clicking on our links.