Gasoline prices have skyrocketed to $6.20 per gallon!
North America – Yes, you read that correctly, and you've already felt the pinch (or even a blow) of high gas prices on your credit card. With the rising fuel cost, Americans are looking for a cleaner, greener, more enjoyable, and more cost-effective mode of transportation. Electric scooters are a great option that fits the bill!
Reliable, powerful, and trusted
Riders have tried rental scooters and have seen firsthand how convenient, cost-effective, and enjoyable they can be. After renting a few scooters, even trying a few budget Amazon models, It's only a matter of time before North American scooter riders demand more power, range, and, most importantly, ownership. Why rent or settle for less when you can own the highest-quality, most-reliable electric scooter on the market? Dualtrons and the good guys at MiniMotors USA are the go-to shops for riders looking to reach the next level of premium electric scooters.
It's not the destination, it's the journey.
In this article, we chat with John to learn more about MiniMotors Electric Scooters and what differentiates them from other brands.
Benefits of Dualtron Electric Scooters:
Dualtrons are high quality, high performance, and a premium brand
Dualtron Electric Scooters was founded in 1999 and is the world's top premium electric scooter manufacturer.
Some Dualtron scooters have been reported to go well beyond 5-10k miles without major issues
MiniMotors scooters are built to last.
When compared to the quality, performance, and dependability of Dualtron scooters, rental scooters are generic.
Beginner Dualtrons cost $1,000, intermediate scooters cost $2,000-$3,000, and extreme scooters cost $4,000-$6,000.
Customers visit MinMotors USA for a variety of reasons, including easy maintenance, high-discharge Lithium-Ion batteries, and excellent customer service.
When you ride with MiniMotors USA, you'll save time, money, energy, and effort.
News & Events
MiniMotors USA – Official North American Dualtron Electric Scooter Distributor
You've seen them online, you've heard about their stellar customer service, now you get the inside scoop behind the legendary MiniMotors USA shop
San Rafael, California – Snapbacks, flannel shirts, thick-framed spectacles, and powerful scooters are the key tangible indicators of high-quality performance electric vehicles and top-notch North American customer service. We check in with John and the MiniMotors USA crew about the fast approaching 2022 electric scooter riding season and their latest MiniMotors electric scooter inventory.
Interview with John of MiniMotors USA
Humble beginnings
While participating in outdoor and recreational sports, John has always dabbled in electronics, such as e-bikes, e-skateboards, cellphones, and computers. Realizing the corporate ladder had run its course, John's future ventures would focus on electronics and micro-mobility. After two years of careful planning, John visited MiniMotors Zhejiang headquarters to obtain the inside scoop on their coveted electric scooter inventory.
When you're dealing with MiniMotors USA, expect the best
Personal Electric Vehicle Movement
With the advancements of BLDC motors, electric controller boards, lithium-ion battery packs, and the impending lockdowns in 2020, the boom for personal electric vehicles skyrocketed from public rentals to private ownership.
MiniMotors USA staff have a strong background in electrical, recreational sports, and micro-mobility
First visit MiniMotors global factory in June 2018, John experienced the Dualtron product production and performance first hand
First shipment of MiniMotors USA Dualtrons scooters arrived in December 2018
"We've all tried rental scooters around town, we were instantly hooked! We knew there was some thing there, we had to bring these premium scooters to the states, the quality and performance was unmatched. With the advancement of lithium battery technology, changing climate concerns, rising transportation costs, and successes of hybrid electric vehicles, we knew that the micro-mobility boom was already happening, and we wanted to be on top of it."
E-bikes boom accelerated the micro-mobility movement
Electric scooter rentals are great short term option, privately own will save you more money in the long run
2020 lockdowns accelerated the PEV movement
Remember that feeling, the independence, excitement, and joy you felt when riding your bicycle as a kid?
Electric scooters appeal to riders for various reasons: they're fun, exciting, and save us time and money. We've all had our fair share of positive and negative experiences driving cars, relying on public transportation, and even walking a few miles to work. Personal electric vehicles will save us from gas stations, parking lot fees, and other pesky costs. An electric scooter can have fun while helping the environment and saving money.
Gas is crazy expensive, Electric Scooters are a blast to ride and will save you money.
When it comes to money, the more you pay, the better the quality, service, and performance you will receive, this applies to scooters as well.
We save time with electric scooters because we can commute on our own time, at our own pace, and on our terms. But, as with everything else in life, not all electric scooters are made equal; some are better than others.
Benefits of Electric Scooters
Forget the bus stop, commute on your own time.
Electric scooters save you time and money
Charging an electric scooter costs less than 10 cents per charge
Great way to avoid traffic, parking lots, and crowded buses
Electric scooters require very little maintenance (tire & brake pad changes are easy and most common)

Expensive upfront price tag, but will save you a ton of money and pay for its self with more usage

Not all scooters are equal,

more expensive scooters allow for more ride quality, performance, and longevity

Scooters are best enjoyed in dry weather, safety gear, and following local laws
Buy premium scooters will save you money in the long run, cheaper scooters break sooner and have poor customer support and access to spare parts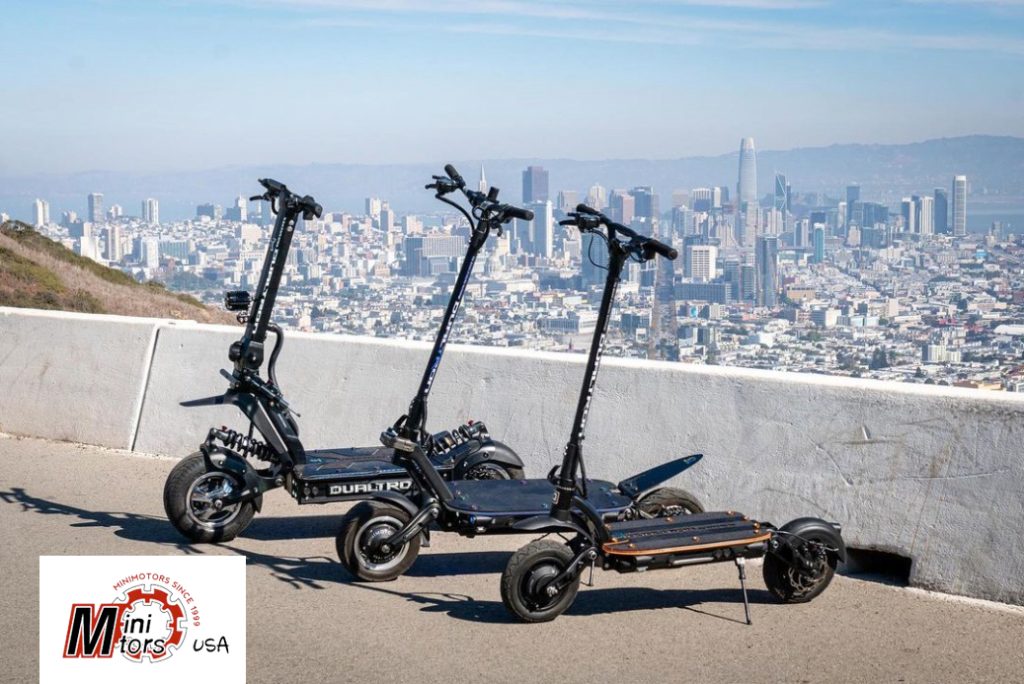 Benefits of Dualtron
Batteries, performance, build quality
When researching their first electric scooter investment, riders frequently look for the cheapest scooters to start with. I did it myself; I originally bought a Gotrax XLR with a 15 MPH top speed and a 12-mile range, which was ideal for my short-range needs.
It was simple and quick to get to the grocery store, gym, and post office.
That budget scooter, however, was far from perfect, as it was slow, had a limited range, and was not suitable for long-term use or long journeys to work. I sought a more premium brand after hitting the 15 mph performance ceiling. Dualtron was a clear but "expensive" choice.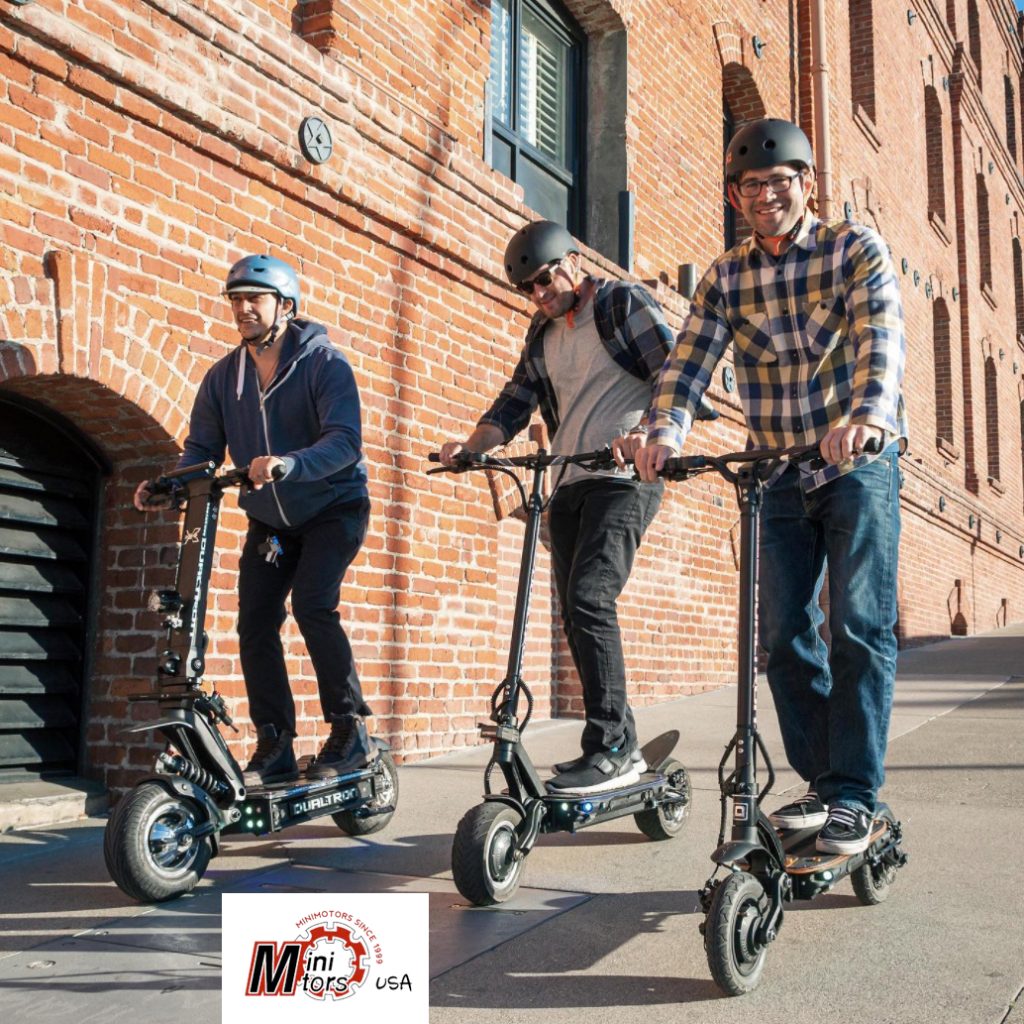 MiniMotors Korea & Global
ZHEJIANG MINIMOTORS BIKE CO LTD.
Dualtron is one of the most high-performance, premium electric scooter brands for newcomers to the world of electric scooters. Dualtron's parent company, MiniMotors, was formed in Busan, South Korea, in 1999.
Global Performance Electric Scooter Powerhouse
They're well-known for their high-quality chassis, elegant design, and robust electrical drivetrains. These scooters are among the most reliable, powerful, and efficient. Their focus began with low-powered last-mile solutions and has advanced to scooters capable of reaching speeds of more than 60 mph! With international MiniMotors distributors across the globe, MiniMotors USA was established in 2018 and is one of the leading distributors in the North American market.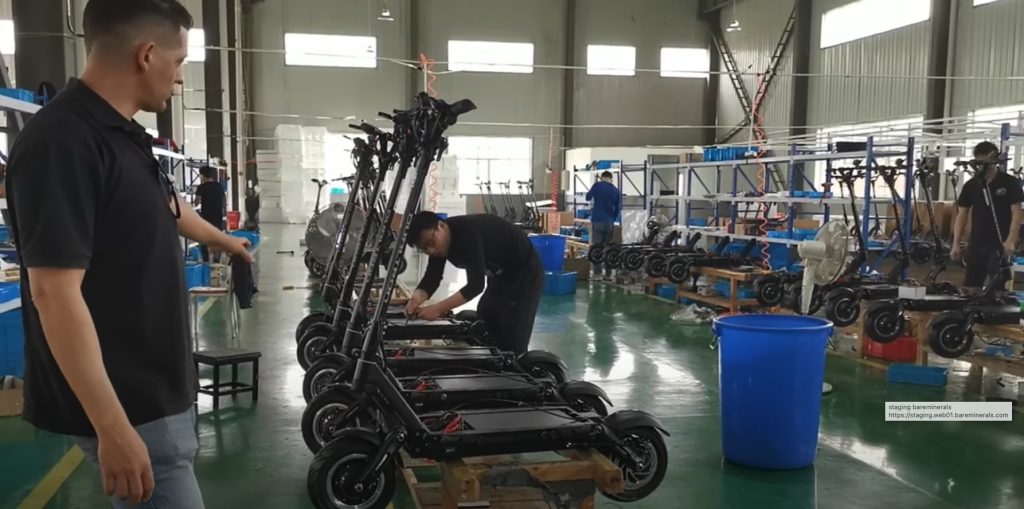 Why MiniMotors Electric Scooters?
How did you come to the decision to become an official distributor in North America?
"While researching scooter manufacturers, we wanted the best machines, components, and service. After the firsthand experience with the performance and quality, we knew this was the brand we wanted to share with the micro-mobility community.
Many riders are surprised to learn that MiniMotors was the first company to market with an all-wheel-drive (dual motor) electric scooter. The Dualtron Ultra V1 is a cult favorite, formerly the world's fastest 50 mph scooter. Dualtron is a great brand known for its quality, performance, dependability, and access to spare parts.
These scooters have come a long way in terms of performance, quality, and features. They get even better each year, with every model learning from previous builds. The distributor approval process took a long time and effort, but it was worth it."
What's the difference between Dualtron components and the quality of other lower cost brands?
Dualtron's reputation for quality, performance, and jaw-dropping chassis designs is well-established.
"Many riders come to us for help troubleshooting their low-quality generic scooters, but it's difficult because the components and quality are poor, making it unsafe for riders to commute safely. We only service our models because we are knowledgeable with them."
MiniMotors scooter chassis
"Dualtrons are well-designed, well-built, and well-packaged with attention to detail. The forged aviation aluminum frame and handle, first and foremost, are what distinguish these scooters. These alloys are used in highly stressed applications: bridges, cranes, aircraft, you name it.
This material is lightweight and improves the efficiency of scooters. It's also challenging and can withstand much punishment, which is a significant advantage over heavier metals. They're also corrosion-resistant, ensuring that these scooters will last you thousands of miles on the road.
These scooters are a significant investment, so you want the highest-quality materials, machining, design, and testing to ensure you reach where you need to go daily. These machines are some of the best quality and most elegantly designed scooters on the market.
The level of attention to precision, geometry, and machining are unrivaled. Other scooter brands, for lack of a better word, look and feel cheap in comparison. Minimotors is a true tastemaker in the market; their builds and standards are constantly evolving."
Quality drivetrains & electronics
"There's a model for everyone; most riders average 10-25 mph on their commute; the difference is felt through higher wattage acceleration, controller amps, and range. Drivetrains are designed to be high-quality, dependable, and long-lasting. Each model is tailored to a specific rider profile, price range, and road conditions.
Office workers choose single-motor scooters that go no faster than 28 mph, while long-distance commuters prefer dual-motor scooters for increased torque and hill climbing.
Extreme riders prefer to kick it up a level and have the acceleration and torque to push the speed above 50 mph! We have a model for just about anyone, give us a call, and we can help you pick the right one for your needs."
High-power, high-capacity lithium battery packs
"Batteries are by far the most critical component of a scooter and the most expensive. Our scooters only use the best battery packs, BMS, and quality cells to ensure you get where you need to go.
All of our scooters have plenty of range for daily commuting, and some can go for weeks without needing to be recharged. The LG cells used in the Dualtron are the best in the business, dependable, high discharge, and quality-tested in the lab.
Our budget scooters employ SincPower cells, which have a high discharge, excellent quality, and are not as thoroughly tested as premium cells, but are just as good, if not better, than most generic cells, but at a lower cost to save riders money.
We offer rapid chargers and even swappable battery packs for suitable models for riders wishing for a faster charge and more range in a pinch. These battery packs have a 400-cycle rating, which means you'll be able to go thousands of miles before experiencing less range.
You may already consider upgrading to another scooter by the time you notice any performance degradation, which might be years later. With lower powered budget scooters, you don't see these types of cells or quality; this is a great value and benefit for riders searching for the MiniMotors USA distinction."
Build quality, warranty claims & customer service
Customer Service & Full Service Shop
When purchasing a large vehicle, such as an electric scooter, you always want the most satisfactory customer service, easy access to spare parts, and product support. These scooters, like any other vehicle, will require maintenance and spare parts in the future.
Regarding warranty support, some scooter owners have complained about other scooter shops' unanswered calls, emails, and overall general support after making their scooter purchase. In some cases, riders have received broken or used scooters! Spending your hard-earned money only to receive a nonfunctional scooter and, worse, no customer support or communication after the sale can be devastating.
Electric scooters are a considerable investment; you should do your homework and research your scooter dealers' Google reviews, Yelp, TrustPilot, and BBB ratings to ensure you get the best service and support.
MiniMotors USA staff
Expert Staff
"We have a great crew and run a tight ship. Thanks to Cooper, Price, Caleb, Bryan, and the rest of the team for keeping our shop running strong. These guys are top-tier electric vehicle experts and know these machines inside and out.
We work to ensure that our customers are getting the best possible scooter.
We love riding scooters; we log a ton of road miles on all of our fleets, and we know everything there is to know about them. They're not only a fun and cost-effective mode of transportation but also a fun hobby for riders who enjoy tinkering and DIY.
We have all the diagrams, parts, and experience necessary to diagnose, repair, and support any MiniMotors electric scooter."
Exceptional build quality
Built to Last
"Some customers have ridden their scooters for more than 10,000 miles without experiencing any major issues! These scooters are of excellent quality and require little maintenance. Brake pads and tires will need to be replaced at least once a year for most riders, with parts costs ranging from $50 to $100 per year, depending on the model.
Riders should check the nuts and screws around their scooter now and then because these powered scooters absorb so much vibration and road impact for a smooth ride."
Low-effort operation & maintenance
Save time and Money
"There are scheduled maintenance checkups that will be required, just like an oil change or tire rotation, and these are listed in the owner's manual, but you won't have to do them for thousands of miles. Scooters have a low maintenance cost compared to other modes of transportation! When you buy from MiniMotors USA, you can contact us by phone or email with any questions, and we'll respond as soon as possible.
Our scooters are of high quality, and we carefully inspect each model before sending them out to customers. We work closely with MiniMotors Global Engineering and have a lot of say in improvements, testing, and other changes to each scooter. Our scooters are robust and powerful, but like anything in life, there are always ways to improve the ride quality and performance."
Warranty claims & customer support
Customer service is our first priority
"Our guiding principle is simple: we treat customers as we would like to be treated; our customers always come first. Riders call us regularly to talk shop, scooters, and other PEV topics; it's always awesome to hear how much they love their rides and what they're up to. We make every effort to provide a neighborhood shop vibe and treat everyone as if they were a member of our extended PEV family.
Some scooters may have warranty claims on rare occasions, but you can ride with confidence, knowing that we will take care of you. Drop your scooter off at the shop if you're local; we can handle any repair or upgrade you can think of. If you're buying out of state, we provide phone and online support and easy access to spare parts so you can get back on the road quickly.
We have every screw, wire, tire, and module imaginable, and it's a lot of work to keep track of them all, but it's a labor of love. We can place orders to headquarters for any parts that aren't in stock to support older scooter models.
For more common parts, we can direct you to the appropriate hardware store or an Amazon link, which may be a faster and more convenient option.
We also provide a national network of service sites if you prefer our partners to handle any service."
OhManDan visits MiniMotors USA shop
New MiniMotors Electric Scooter releases for 2022
It can sometimes be overwhelming to keep up with the rapidly changing electric vehicle landscape, where new models are introduced monthly. When selecting a high-quality electric scooter, Dualtrons are at the top of the list for first-time buyers and riders wishing to upgrade.
"We have a wide range of models in our lineup, with something for everyone. We're very excited about the new UP series. The Ultra 2, Storm and X2 are getting LG50T 21700 cells, increasing total capacity by 5AH or more. More range, higher power, and 21700 cells for a very competitive price.
We launched Bluetran USA, the 72V Lightning is a fantastic mid-range performance scooter that will give other similar-priced dual motor scooters a run for their money.
The Rovoron Kullter is a new brand with a classic Dualtron chassis, a unique folding mechanism, a multi-switch, and a powerful 4KW drivetrain. This is a good model for riders who want a different approach to chassis, a reliable MiniMotors drivetrain, and a solid dual-motor commuter to get around town.
The Dualtron Mini and Dualtron Victor have also been upgraded to the most recent 2022 features. Further information about those may be found on our website. Most of our latest inventory has just arrived on the docks and is on its way to our warehouse. Our scooters can ship same or the next day and reach your home in no time!
Call us at 1-628-240-3880 or sales@minimotorsusa.com if you have any questions about the scooters or want to say hello. If you're having trouble deciding between models or need some assembly assistance, we can point you in the right direction.
We're so pumped for this year; it's going to be a good one. We're working on releasing a few more models and will update you as soon as we can. There are whispers about a Dualtron X3 in the works, more to come!"
If you had to choose, which Dualtron scooter would you ride for the foreseeable future?
"Tough question! I still have my OG Dualtron Thunder 1, which is a tank and still in commission after five years. Many riders ask about the Thunder 2 as its one of the best-selling models. For any rider, I suggest checking out our Comparison Guide and giving us a ring for more advice!"
Are there any accessories to look forward to for the 2022 riding season?
"We have a ton of accessories being added to the site as we speak. We also have a bunch offline, reach out to us directly to get the latest goodies in stock. Currently, the ERREX dampers and fast chargers are super popular every ride season."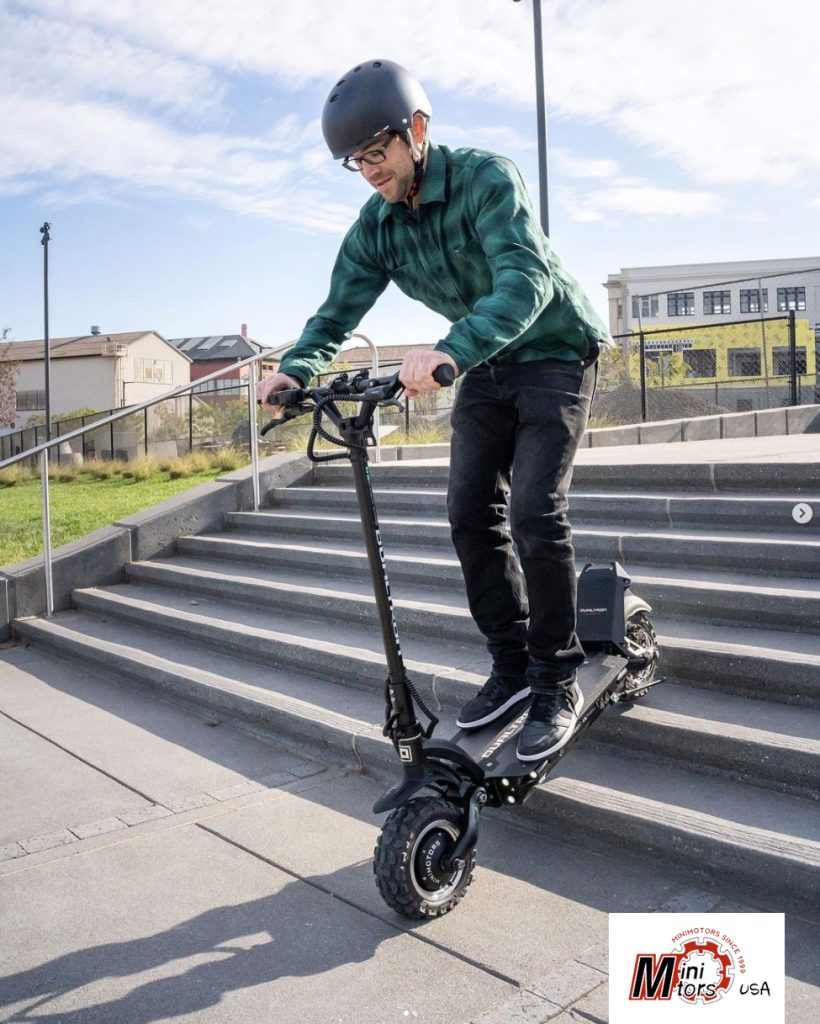 Guys, the riding season for 2022 has here! Check out MiniMotors USA for top-notch machines, service, and support. For riders looking to upgrade, an incredible 30, 40, or even 50-mph scooter will provide the much-needed electric scooter therapy we all need, want, and, more importantly, deserve.
Check out MMUSA's Dualtron electric scooter comparison chart for additional information about their scooters.
For more information on which model is ideal for you, see our page on Dualtron Models buyers guide!
MiniMotors USA
Dualtron Electric Scooters
MiniMotors' flagship scooter line, Dualtron, features the industry's strongest drivetrains, battery packs, and overall build quality. Dualtron manufactures scooters for beginner commuters, performance commuters, high-performance, and extreme performance. Dualtron scooters are among the most premium and sought-after scooters in the world.
Speedway Electric Scooters
MiniMotors' entry-level scooter series, Speedway, features production scooters with powerful drivetrains, battery packs, and solid build quality. Components for speedway scooters are designed to be less expensive to produce, allowing cost savings to be passed on to customers. Speedway scooters are an excellent option for riders who want Dualtron electronics with a budget-friendly chassis and parts package.
Futecher Electric Scooters
Futecher, MiniMotors' limited scooter line, features production scooters with powerful drivetrains, battery packs, and long-lasting build quality. The Futecher Gun Pro is the only model in the Futecher brand, a spin-off of the Speedway brand. MiniMotors' Gun Pro is the market's most cost-effective and feature-rich model.
Bluetran Electric Scooters
MiniMotors' newest brand, Bluetran, is a cost-effective alternative to high-performance electric scooters. The Bluetran Lightning electric scooter has many of the same components as high-end Dualtron electric scooters but at a lower price point for competitive performance, quality, range, and build quality. The Bluetran Lightning is one of the most affordable 72V scooters today.
Dualtron Electric Scooters: What You Need to Know
Here are some of the main reasons why MiniMotors USA customers choose Dualtron scooters:
Powerful – MiniMotors is the frontrunner of high-performance dual-motor electric scooters. Motors, controllers, and batteries from Dualtron are among the strongest available.
Build Quality – When it comes to quality, MiniMotors has a solid track record of producing scooters with cutting-edge electronics that are easy to maintain and cost-effective for the average rider to own.
Easy Maintenance – Scooters, in comparison to automobiles, are a fun, powerful, and low-maintenance mode of transportation. Brake pads and tire service are two of the most common maintenance items.
Spare Parts – All MiniMotors scooters have a large selection of spare parts available from MiniMotors. You can order or get any part you need for your vehicle's upkeep. Check out MiniMotors for more information.
Customer Service – MiniMotors USA's customer service team is available by phone and email to answer questions about maintenance, repairs, and accessory suggestions. The quality of MiniMotors USA's service and products is well-known.
Disclaimer: The information presented in this article is derived from extensive research, user reviews, and publicly available information. Our aim is to provide accurate and up-to-date content; however, it is crucial to understand that the opinions expressed are based on the information available at the time of writing. We strongly encourage readers to conduct their own thorough research and carefully evaluate their individual needs before making any purchasing decisions.
eWheels 2023 Summer Deals and New Launches are here!!!
Cheap, reliable, and powerful! TurboAnt Electric Scooters 2023 Sale!
Hi guys! This post may contain affiliate links, sponsored content, and advertisements. We get a small commission for covering topics that interest us (helps us keep the doors open). For more information, please see our privacy policy and disclaimer. Ride safe yall!
2023 Electric Unicycles:
Coupons & Deals:
Apollo Scooters: Get $50 USD worth of free accessories, upgrades, or spare parts with the purchase of a scooter. Code: VROOOMIN
REV Rides: Save $50 off Scooters and EUC's, Code: VROOOMIN
EVOLV Electric Scooters: Free Folding Lock (worth C$80) for every EVOLV model! Use Code: VROOOMIN-LOCK
To keep the site running and information flowing, Vrooomin.com participates in affiliate linking programs. We're also an Amazon Associate, which means we get paid for referring people to Amazon. Please support the channel by clicking on our links.