Dualtron City 100 Mile Update Review Video
Dualtron City Review Video: First Impression & Acceleration Test
The Dualtron City's riding quality may be the nicest on the market! I've tested scooters with small, medium, and oversized tires, and the Dualtron City has the giant tires of any production scooter I've ever seen. The Dualtron City's heavy-duty 15″ tire, big side arms, large swing arm, and rubber cartridges make it a delight to ride. It's as though you're riding and gliding through the clouds.
Super stable and comfortable, like riding a motor bike
15″ wheels soak up all road vibrations, pot holes, no problem
15″ tires are thick, same heavy duty tires found on the Dualtron Man
Feels like riding on a cloud, reduces impact on riding on cobble stone roads
Chassis is similar size to medium sized 60V scooters, features massive neck, swing arm, and side arms to support larger wheels
While big, the ride provides excellent comfort
The City is a proper tank that drives and handles like a dream. There's no need for a damper because the 15″ tires' stability is so smooth that it feels like you're riding an electric motorcycle. I purposely rode over some of New York City's most challenging roads, which the Dualtron's wide wheels and superb suspension efficiently handled. The City is such an addicting ride that I frequently find myself jumping on top of the deck to illustrate how smooth and responsive the suspension travel is while riding.
Let's not forget about performance: due to its 60v 30A system and 3.9KW output, the City is a beast that can propel riders above 40 mph without even realizing it. The Dualtron city boasts a 5th generation Dualtron chassis, updated components, a folding stem, a multi-switch module, and powerful zoom hydraulic brakes. The Dualtron city is the one for riders wanting a vast, powerful, and plush ride.
Power: Acceleration is smooth and powerful, you'll hit +30 MPH without realizing it
Top Speed: It's rated for +45 MPH, I've only gotten her up to 39 MPH on NYC streets, this scooter is enjoyed at lower speed and over bumpy terrain. OhManDan has hit 47 MPH and he's in the +200 lbs weight class!
Battery & Range: First of its kind swappable battery for range extending and minimizing weight. Full waterproof and water draining chassis for worry free riding. Locking battery lid/latch on chassis for easy access
Features: Loaded with lighting signals, tail lights, horn, folding handle bars
Ride Quality: Best ride quality ever experienced on a scooter
Build Quality: Top notch quality, some of the best design and materials I've seen used on a scooter
Handling: Most stable scooter experiences, owning to large wheels and chassis design.
The City has the best ride quality I've ever experienced, and it's incredible to ride knowing that most potholes and road irregularities won't knock me off my feet. This scooter is enormous, loud, and powerful, and it's a blast to ride. Look no further than the 45 MPH 3.9KW Dualtron City for scooter enthusiasts searching for a larger scooter with larger wheels and the most excellent handling and suspension available.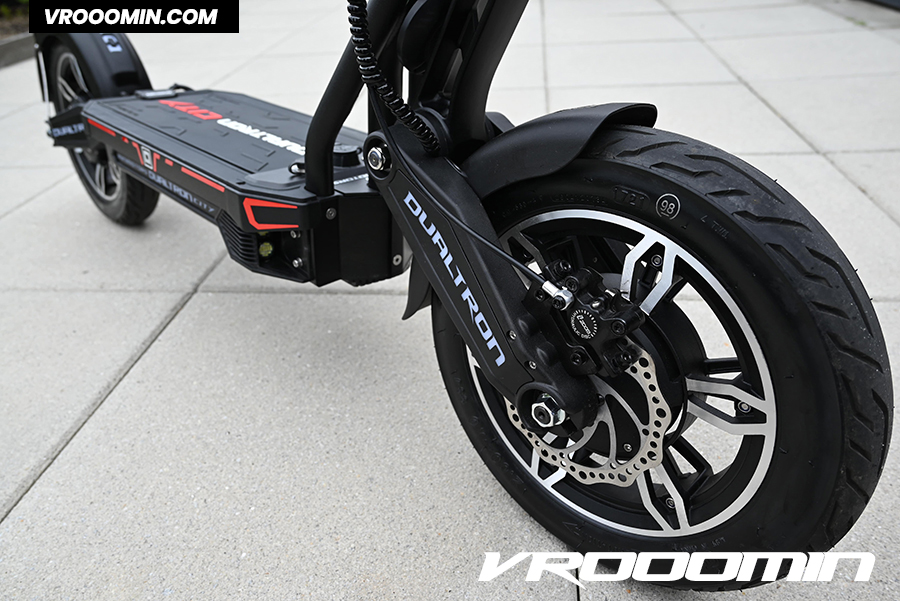 Unboxing Tips & Tricks
The City is a large scooter that isn't the heaviest, but it takes up more room than the ordinary scooter. It's also not very portable; it's probably best transported in a large van or pickup truck.
Lay the City box on its side, and slide out the styrofoam, much easier to remove scooter
Have some angle stem extender, this will allow you to reach the inner tube much more easily
Tires are thick, same as Dualtron Man, you shouldn't need sealant, just make sure the pressure is on point with an electric tire pump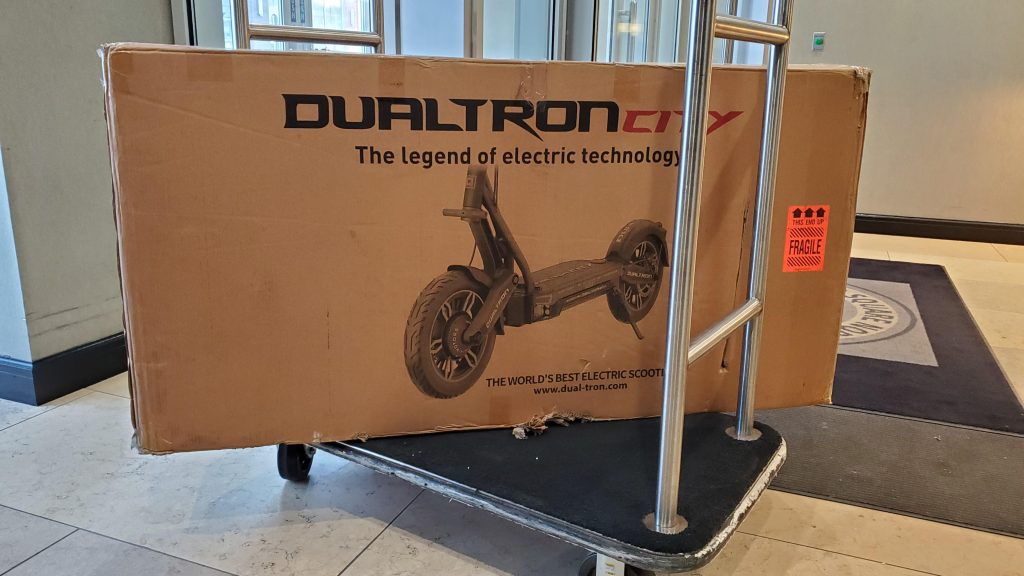 MiniMotors is ringing in the new year with bigger wheels, bigger chassis, and better ride quality, there's no doubt about it.
When you thought MiniMotors couldn't possibly come up with another electric scooter for 2022, they do! The Dualtron City could be the world's first 15-inch sanding electric scooter. Why would you want such a large set of tires?
Dualtron City Electric Scooter Review
Power – 3,948W
Battery Pack –  60V 25 AH Swappable Water proof LG 21700
Top Speed – 45+ MPH
Build Quality
Chassis Design
Ride Comfort
Weight – 91 LBS
Price – $3,399
Brakes – Zoom Hydraulic Brakes
Summary
The Dualtron City is the most comfortable electric scooter I've ever used. Because of its massive heavy duty chassis, large wheels, swing arms, and swappable batteries, it is one of the most revolutionary scooters for 2022. The Dualtron City may not be for everyone, but it may be ideal for those looking for a scooter of this size and stability. The City is a fantastic all-around cruiser that is a joy to drive. The only thing I would change about the City, and this applies to 90% of scooters on the market, is to include a headlamp and higher voltage options for riders who want to ride faster!

MiniMotors has knocked it out of the park with the Dualtron City's comfort, swappable battery, and stunning design.

For similar electric scooter options, check out the Best 40MPH Electric Scooters, and Best 72V Electric Scooters.

With Electric Scooters becoming more and more popular, MiniMotors USA is hoping to carve out a niche for itself with this latest 15″ release.
SUMMARY
The Dualtron City is MiniMotors' newest 60V High Performance Electric Scooter.
Potholes are better absorbed by larger chassis and 15″ wheels than by 8-11″ wheels.
Power, weight, and range are all available on most 60V mid-tier high-performance scooters.
The Dualtron City is agile and maneuverable, which is vital when driving in congested areas.
We've all experienced the feeling of hitting an unexpected pothole and losing our footing. When hitting an unseen bump or crack in rough road conditions, the Dualtron City has bigger wheels that absorb impact. The Dualtron City's 15″ wheels will level out the ride, taking care of those bothersome deep holes that seem to mount up on our commute route from work every day.
What if Dualtron City was a stepping stone for electric bike enthusiasts? Road impact, speed bumps, and potholes, typical on smaller wheels, will be reduced by larger 15″ tires.
Larger wheels provide more stability at both high and low speeds.
Larger wheels are also better at absorbing impact.
New scooter riders will appreciate the 15″ wheels.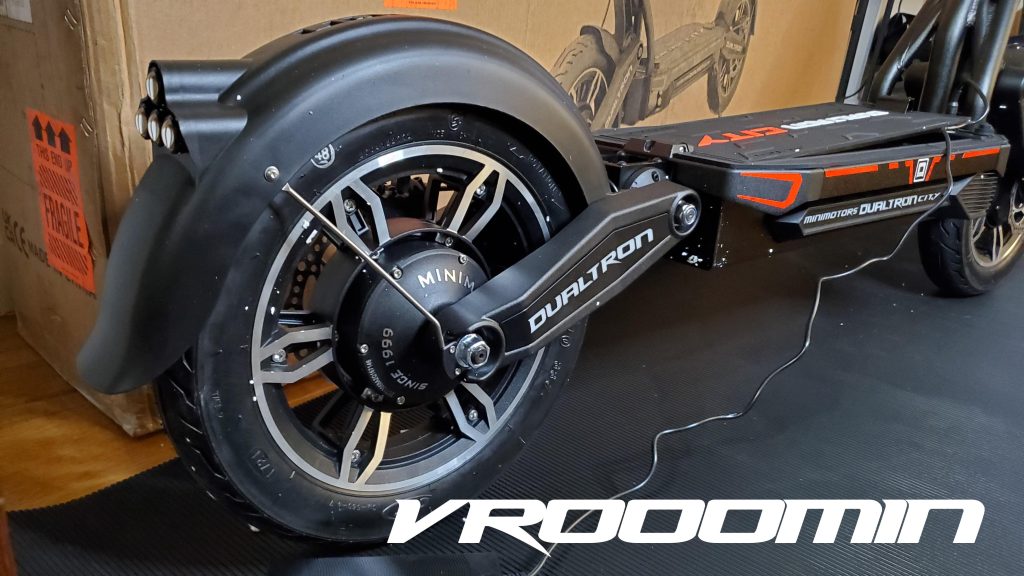 Add a little spice to your commute.
The Dualtron City is ideal for thrill seekers, with a top speed of 45 miles per hour. While most riders won't want to cruise at such high speeds all of the time, opting instead to choose slower modes like 15 mph or 30 mph, it's essential to understand what this means in terms of torque from the 3.9KW drivetrain, which can easily carry any rider up hills and off the line!
The top speed is approximately 45 miles per hour.
In everyday use, most riders average 15-25 MPH.
3.4KW drivetrains produce a lot of torque.
Custom speed, acceleration, and power settings are possible with the EYE throttle display.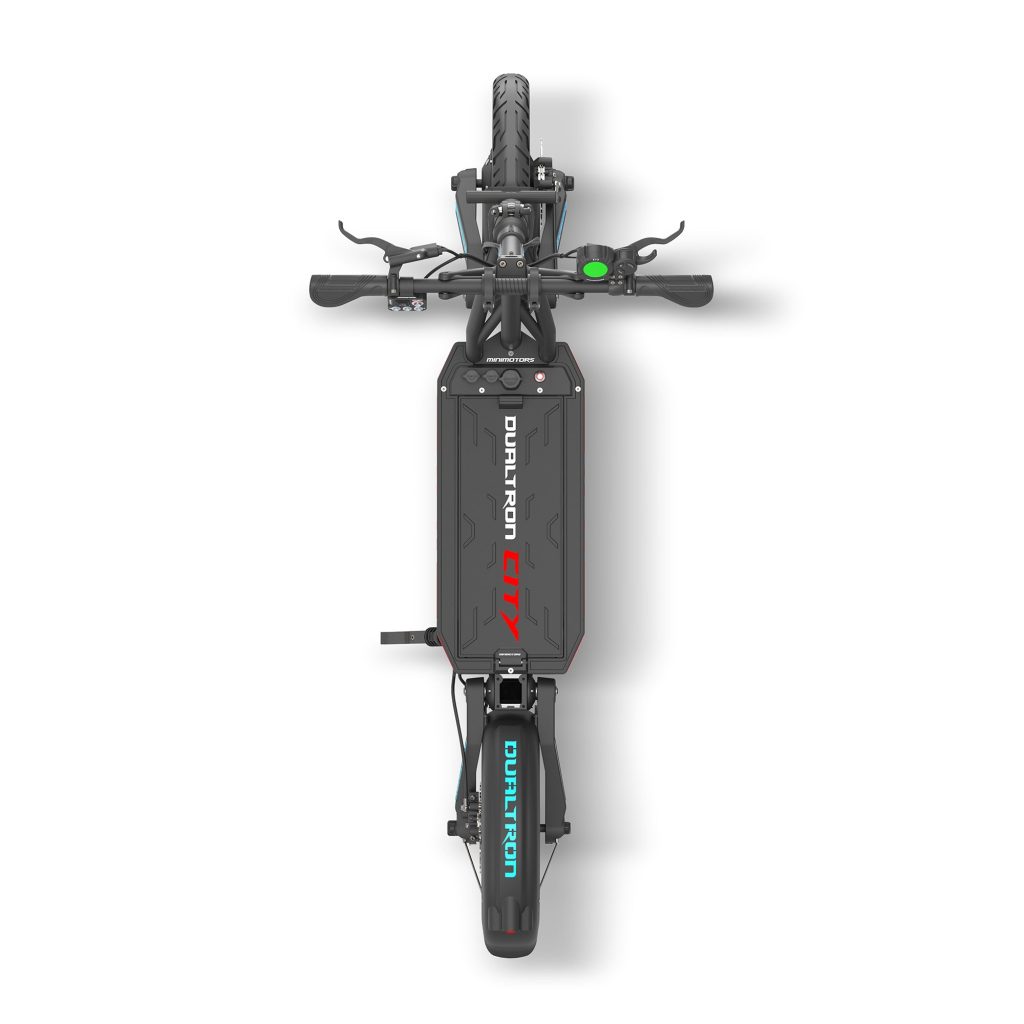 The City features the classic 5th generation Dualtron chassis and the desirable electrical capabilities that distinguish Dualtrons, but with larger 15-inch wheels and a more aggressive stance. This high-performance scooter is unfazed by bumpy roads, uneven roads, or other obstacles. The City is based on the previous Razor Eco Smart scooter, which has 16″ wheels. However, the City's chassis, drivetrain, and electronics are far more polished.
Whether a rookie or a seasoned rider, the 3.9KW drivetrain and 90-pound chassis make the Dualtron City a large and powerful scooter to transport you about town or work. When in the bike lane or keeping up with traffic, Dualtron City has you covered.
The City is a large, hefty scooter that weighs 90 pounds and offers stability at higher speeds.
All of the latest 5th generation features featured on the latest Dualtron models are included in the City.
The City rides on a fifth-generation chassis that features a first-of-its-kind longer swing arm and neck to suit the 15-inch wheels.
With larger batteries, you can go on longer rides. The massive 1500WH battery pack in the Dualtron City will give you more than enough range for a single day. With a 55-mile range at 20 MPH cruising speeds, the City has plenty of power to get you wherever you need to go. The best part is that the battery packs can be quickly replaced, which is ideal for riders constantly on the move. There's no need for a fast charger; purchase an extra bag, charge it, swap it out, and you're ready to go.
1500WH LG battery pack, high quality cells
Up to 55 Miles off single charge
Swappable Battery Pack
[Best_Wordpress_Gallery id="57″ gal_title="DualtronCity"]
Power: 3,984W BLDC Dual Hub Motor
Battery Pack: 60 volt – 25 Ah – Swappable – LG 21700 cells
Charging time: 14 hours with standard charger, 7 hours with 2 standard chargers, 3+ hours with the quick charger
Range: 55 miles (mileage may vary depending on rider weight and road conditions)
Top Speed: 45+ mph (depending on rider weight, road conditions, state of charge, and ambient temperature)
Gradient: 37% or 20 degrees depending on rider weight and state of charge
Braking System: Zoom Hydraulic Disk brakes with ABS standard and 160 mm disks
Lighting: Stem lighting, Dual LED Headlight new integrated Tail Light with Brake Light, Side panel lights, and logo lights
Max Load: 265 lbs
Scooter Weight: 91 lbs
Product Material: Frame and Handle are aviation grade 6082-T6 aluminum alloy, the shaft is SCM440 steel, and plastic covers
Optional Parts:, Fast Charger, Light Mount
Dualtron Scooters: What You Need to Know
Here are some of the main reasons why MiniMotors USA customers choose Dualtron scooters:
Powerful – MiniMotors is the frontrunner of high-performance dual-motor electric scooters. Motors, controllers, and batteries from Dualtron are among the strongest available.
Build Quality – When it comes to quality, MiniMotors has a solid track record of producing scooters with cutting-edge electronics that are easy to maintain and cost-effective for the average rider to own.
Easy Maintenance – Scooters, in comparison to automobiles, are a fun, powerful, and low-maintenance mode of transportation. Brake and tire service are two of the most common maintenance items.
Spare Parts – All MiniMotors scooters have a large selection of spare parts available from MiniMotors. You can order or get any part you need for your vehicle's upkeep. Check out MiniMotors for more information.
Customer Service – MiniMotors USA's customer service team is available by phone and email to answer questions about maintenance, repairs, and accessory suggestions. The quality of MiniMotors USA's service and products is well-known.
The Latest Dualtron Electric Scooter Models coming in 2022
For riders looking for even more pep in the step, check out the Dualtron Achilleus, Dualtron Thunder 2, and the Dualtron Storm Limited.
You May Also Like
Dualtron Russia Releases Dualtron City Review Video
The Dualtron City strikes the ideal blend of design, performance, and stability. It has become one of the most popular models for 2022 because of its large wheels that provide more ground grip and firm tires that offer a smoother ride. This video from Dualtron Russia gives you an insight into how these features can keep you safe while also giving you more control over your scooter:
Disclaimer: The information presented in this article is derived from extensive research, user reviews, and publicly available information. Our aim is to provide accurate and up-to-date content; however, it is crucial to understand that the opinions expressed are based on the information available at the time of writing. We strongly encourage readers to conduct their own thorough research and carefully evaluate their individual needs before making any purchasing decisions.
eWheels 2023 Summer Deals and New Launches are here!!!
Cheap, reliable, and powerful! TurboAnt Electric Scooters 2023 Sale!
Hi guys! This post may contain affiliate links, sponsored content, and advertisements. We get a small commission for covering topics that interest us (helps us keep the doors open). For more information, please see our privacy policy and disclaimer. Ride safe yall!
2023 Electric Unicycles:
Coupons & Deals:
Apollo Scooters: Get $50 USD worth of free accessories, upgrades, or spare parts with the purchase of a scooter. Code: VROOOMIN
REV Rides: Save $50 off Scooters and EUC's, Code: VROOOMIN
EVOLV Electric Scooters: Free Folding Lock (worth C$80) for every EVOLV model! Use Code: VROOOMIN-LOCK
To keep the site running and information flowing, Vrooomin.com participates in affiliate linking programs. We're also an Amazon Associate, which means we get paid for referring people to Amazon. Please support the channel by clicking on our links.