Inmotion S1 Commuter Electric Scooter Review – New York City Tested and Approved
For $900, you get a high-quality, powerful, and dependable electric scooter.
We all want the highest quality products for our hard-earned money, and our electric scooters are no exception! For the past few months, I've been talking with Inmotion about reviewing some of their latest products, and last month, they sent me an Inmotion S1 Electric scooter to test in NYC. The S1 is a beginner electric scooter that starts at $900, has an 18 MPH top speed, a 59-mile range, and weighs 53 pounds. And after riding this scooter for over 100 miles, I can confidently say it is well worth the money!
Fantastic Electric Scooter for $900
You can order on Amazon for easy shopping
The S1 is one of the best value scooters I've ever reviewed, thanks to its 1000W motor, dependable battery packs, light weight frame, powerful brakes, and simple folding system. The ride is enjoyable, comfortable, and ideal for dealing with whatever life throws at you. This scooter is a blast to ride and is perfect for commuting to work, the gym, the supermarket, or any other errand in New York City. Even if you're going to the dentist or facing a long day at work, riding a scooter will add fun to your commute for riders new to personal electric vehicles. Let's take a deeper look at the specifications and why the S1 is a fantastic choice.
News & Deals
Inmotion S1 Electric Scooter Review Video
The S1 Electric Scooter New York City Review video shows how the S1 performs on the road to work, the grocery store, and the gym in the boroughs of Manhattan and Queens. The S1 is a powerful and fun scooter that can get any adult through their daily commute.
The Inmotion S1 is a zippy scooter with a top speed of 18 MPH and the ability to cross steep NYC bridges.
When I first saw the Inmotion S1 scooter online, I immediately dismissed it as a slower budget scooter designed for low-speed novices, but boy was I wrong!
It is quick, powerful, and zippy for a scooter in its price range. On my first trip to the grocery store, I quickly maxed out all the performance settings and found myself cruising at speeds ranging from 12 to 18 MPH to the store to get dinner. The S1's acceleration is silky smooth and quick, thanks to its 500W motor, which can produce 1000W of power! Better wattage equates to higher top speed and torque for inexperienced riders. I currently own scooters with a 5000W engine that can reach speeds of 50 miles per hour! The S1 has a powerful and easy-to-maintain drum and electronic brakes for slowing down. These brakes will bring you to a complete stop on a dime. Please practice riding at slower speeds to acquire a sense of their acceleration curve.
Power: 500W Nominal, Max 1000W
Cruising Speeds: 18 MPH, 12 MPH, 6 MPH
Driving Modes: Eco, Standard, Sport
Brakes: Powerful Drum and Electronic Brakes
For heavier riders, higher hills, or lower battery, riders can expect top speed to be lower than usual
The Inmotion S1 Climbs steep 30% Gradients, Tall bridges and Hills are no problem for the S1!
On most of my daily commuting, I usually climb slight inclines here and there, but for the most part, NYC streets and roads are pretty flat. When I commute to work, I have to climb the Queensboro Bridge, a tremendously steep bridge that connects Queens and Manhattan, and I see many bikes struggling to cross it! When I started climbing, I was stunned to see the S1 eat this bridge alive! On the way up the bridge, the S1 averaged 10-12 MPH on the steep climb; at this point, I knew the S1 would be a keeper and an excellent scooter for any inner-city rider!
Gradient: 30%
Great for climbing small hills and bridges. For heavier riders or even steeper hills, riders can expect lower speeds.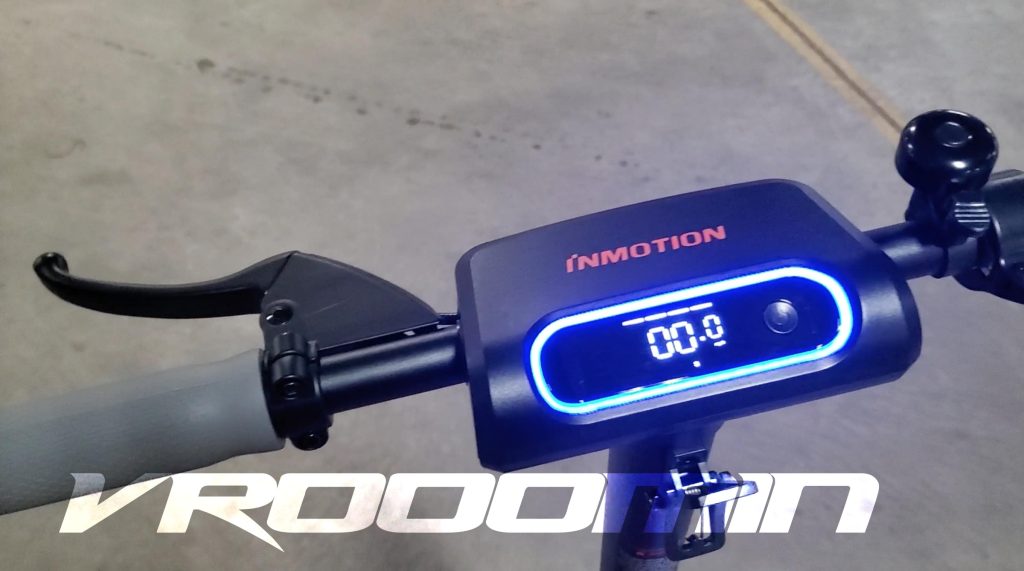 The Inmotion S1 has a Large and Super Long Range Battery Pack
The battery pack is the most expensive component of an electric scooter, the S1 has a 54V 12.5AH pack with a max range of up to 59 miles.
While the advertised range of 59 miles is impressive, it is only the maximum range. For personal use, I set the S1 to Standard performance settings, averaging 12 MPH cruising speeds, and completed 37 GPS-tracked miles before the S1 shut down. For testing purposes, I am a 185 lbs rider and tested the range in below-freezing weather (32F, 0C). Riders that are lighter in weight, trying in warmer circumstances, and using the ECO performance mode should be able to reach closer to the advertised range.
Save Time & Money with Electric Scooters
Although, riding at 6 MPH max in ECO mode can be underwhelming. Thirty-seven miles is a lot of range; it took me almost a week to drain the batteries while riding around NYC! The battery can be charged for less than $0.10, which is straightforward. Plug in a charger the night or morning before you ride, and you'll be all set to take on the day.
Battery: 54V 12.5AH battery
Advertised Range: 59 Miles
Tested Range: 37 Miles tested in NYC, More than enough for one day, good if you forget to charge the day before
Warmer weather and lighter riders will get more range per charge
Charging: Dual Charge ports, 7.2 hours fully charge, 3.5 for dual chargers
The S1 is a well-built and extremely comfortable electric scooter.
For any Scooter, e-bike, or even electric unicycle, there's always an adjustment period for riders to get the feel of the scooters power, handling, and ride quality.
The S1 provides a super plush, ergonomic, and secure ride. The S1 is a comfortable long-range cruiser thanks to its twin air spring suspension, extended gripping anti-slip rubber deck, tall stem, and thumb throttle. No more hand fatigue on long rides! The S1 scooter is a fantastic long-range cruiser that's easy to transport and ideal for taller/heavier riders. I've driven the S1 to work, the gym, and even grocery shopping at Costco. It takes just 3 seconds to fold the scooter, and you can easily stow it in a shopping cart, behind your desk, or in the corner of the gym.
I've also ridden the scooter in snow and light rain; while you can ride the scooter in most light-wet circumstances, the ride is highly uncomfortable and can result in more rider accidents. The scooter weighs roughly 53 pounds, slightly more than most $500 scooters, but this is due to higher-quality aluminum and a larger battery pack. As a general rule, the higher the quality of the scooter, the larger the battery and motor, allowing for more excellent range and top speed.
Tires: 10″ Pneumatic, Anti Skid tires, grippy, plush
Comfort: Tall stem, long deck, anti slip surface
Suspension: Dual Air Spring Shocks, super comfy, with 10″ tires
Portability: 3 Second easy fold stem
Max Load: 309 lbs
Weight: 53 lbs, light weight, nimble, and easy to carve
Waterproof: IP55, light rain, small puddles is fine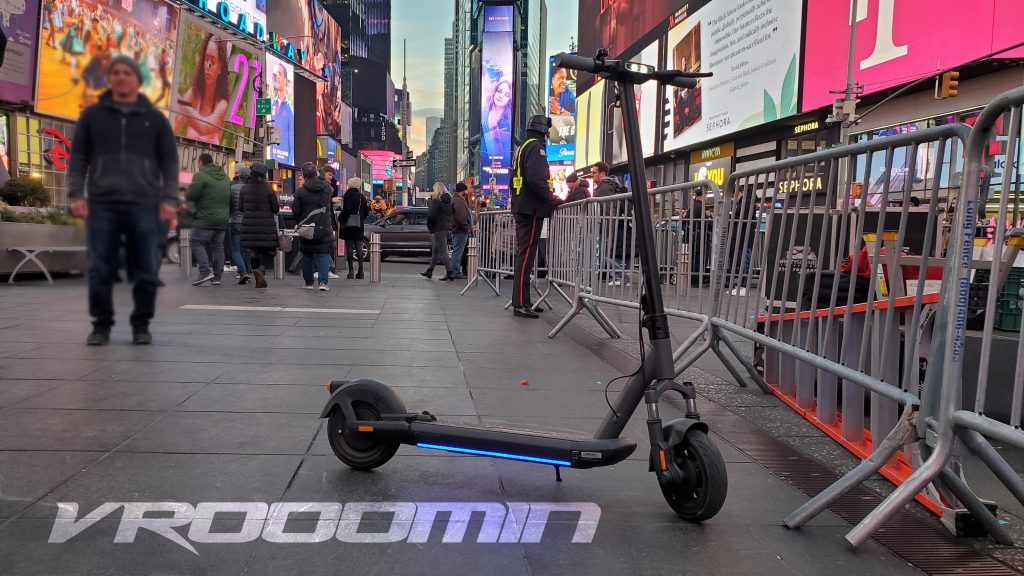 The Inmotion S1 comes with a slew of features that make the ride enjoyable, simple, comfortable, and Informative.
Inmotion is one of the major personal electric vehicle robotics firms situated in SHENZEN, and some of their flagship products include the Inmotion V8, V10, V11, and V12 Electric Unicycles
The S1 has many features, the most noticeable of which are its big LCD screen display and Bluetooth Mobile App. Riders can set and access their performance settings, ride information, and performance diagnostics for any troubleshooting with a simple touch of the screen. Inmotion is leaps and bounds ahead of other electric scooter manufacturers in terms of technology and connectivity, and they're a joy to watch. The S1 also includes a headlight, taillight, side mood lighting, and a bicycle bell for added safety.
The S1 is equipped with all the necessary safety measures to allow riders to see, be seen, and be heard at all times. The S1 may be the most complete $900 electric scooter, thanks to its power, range, build quality, and safety features.
Features: LCD Panel, Mobile App for Customizations, Bike bell
Lighting: Bright headlight, taillight, side panels turning signals
Technical Specs:
Top Speed: Sport: 18.6 MPH, Standard: 12 MPH, ECO: 6 MPH
Driving Modes: Eco, Standard, Sport
Battery: 54V 12.5AH battery, 675WH
Range: 59 Miles, (37 Miles tested in NYC) – More than enough for one day, good if you forget to charge the day before
Charging: Dual Charge ports, 7.2 hours fully charge, 3.5 for dual chargers
Power: 500W Nominal, Max 1000W
Gradient: 30%

Brakes: Powerful Drum and Electronic Brakes

Tires: 10″ Pneumatic, Anti Skid tires, grippy, plush, easy to carve
Comfort: Tall stem, long deck, anti slip surface
Suspension: Dual Air Spring Shocks, super comfy, with 10″ tires
Features: LCD Panel, Mobile App for Customizations, Bike bell
Lighting: Bright headlight, taillight, side panels turning signals
Portability: 3 Second easy fold stem (gym, Costco, work, groceries)
Max Load: 309 lbs
Materials: Aluminum Alloy, Rubbers, and Hard Plastics
Weight: 53 lbs
Waterproof: IP55, light rain, small puddles is fine
Smart App: Connect to phone, blue tooth, changes settings
Inmotion S1 Electric Scooter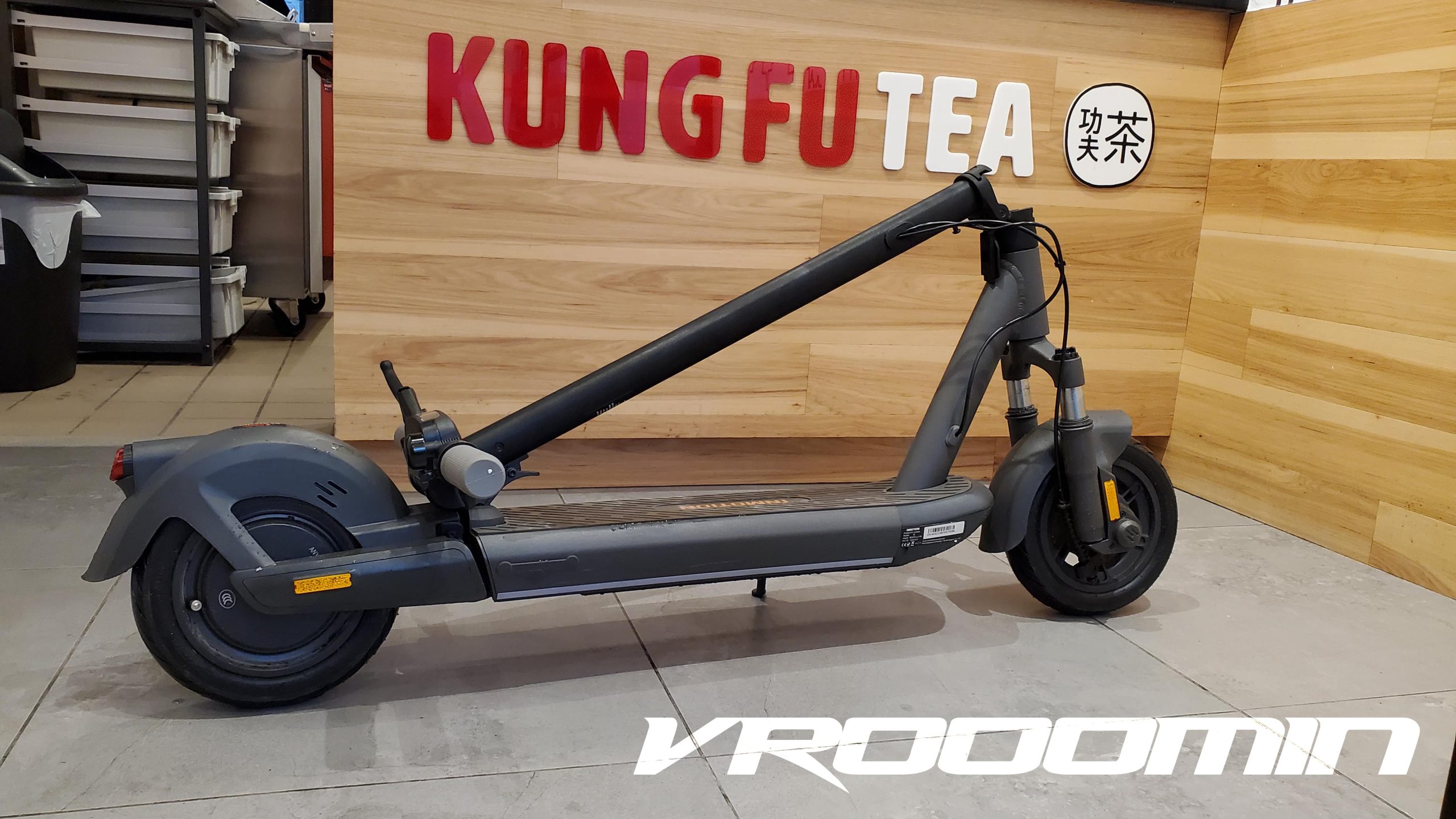 The $900 Inmotion S1 Electric Scooter is excellent for commuting, cruising, and riding in New York City, the suburbs, or anywhere else!
Summary
Is the Inmotion S1 Electric Scooter right for you?

While there are numerous scooters available for less than $1,000, I can assure you that the S1 has been thoroughly tested and validated. The Inmotion S1 is a fun, high-quality, dependable, and powerful commuter electric scooter that has been tested and approved in New York City. This scooter has sufficient power, range, features, and quality to transport you throughout the suburbs, inner city, and New York City. When it comes to electric scooters, you typically get what you pay for; the more you spend, the more you get. The S1 offers superior value in terms of its performance, comfort, and features. Check out the most popular electric scooters for additional options. If you have any questions, please leave them in the comments.

Cons:
– Some riders want longer range and top speed, will need to spend more $
– $900 may be out of budget for some riders
– Deck may be too long or Tall for smaller riders
– 53 lbs may be to heavy for some riders to lift in tight spaces
– Some riders may not need 30-50 miles of range

Pros:
– Fun to Ride, adds joy back to commuting, no more waiting for public transit
– Produced by a leading electric vehicle manufacturers, not another amazon company that clones products
– Great value for money, easy use and low maintenance
– Riders only need to change tires every so often
– Charging costs $0.10 to get +37 range, saving riders both time and money!

Behind the Scenes Look at the Inmotion Factory and Build Process Video
2022 Best Electric Scooters for Everyday Adventures
BEST CHEAP ELECTRIC SCOOTERS • BEST 30 MPH SCOOTERS • BEST 40MPH SCOOTERS • BEST 50 MPH SCOOTERS • BEST 72V ELECTRIC SCOOTERS • FASTEST ELECTRIC SCOOTERS
Disclaimer: The information presented in this article is derived from extensive research, user reviews, and publicly available information. Our aim is to provide accurate and up-to-date content; however, it is crucial to understand that the opinions expressed are based on the information available at the time of writing. We strongly encourage readers to conduct their own thorough research and carefully evaluate their individual needs before making any purchasing decisions.
eWheels 2023 Summer Deals and New Launches are here!!!
Cheap, reliable, and powerful! TurboAnt Electric Scooters 2023 Sale!
Hi guys! This post may contain affiliate links, sponsored content, and advertisements. We get a small commission for covering topics that interest us (helps us keep the doors open). For more information, please see our privacy policy and disclaimer. Ride safe yall!
2023 Electric Unicycles:
Coupons & Deals:
Apollo Scooters: Get $50 USD worth of free accessories, upgrades, or spare parts with the purchase of a scooter. Code: VROOOMIN
REV Rides: Save $50 off Scooters and EUC's, Code: VROOOMIN
EVOLV Electric Scooters: Free Folding Lock (worth C$80) for every EVOLV model! Use Code: VROOOMIN-LOCK
To keep the site running and information flowing, Vrooomin.com participates in affiliate linking programs. We're also an Amazon Associate, which means we get paid for referring people to Amazon. Please support the channel by clicking on our links.