Mention Code "VROOOMIN" for possible discounts to your dealer!
Coupon Codes & Deals:
eWheels Spring Sale on electric scooters and electric unicycles
Save $50 off Kaabo and EMOVE electric scooters with Code: VROOOMIN
Save $50 off VSETT, Begode, King Song, Segway with Code: VROOOMIN
Get $50 worth of accessories at Apollo scooters with Code: VROOOMIN

Electric skateboards are all the rage, with many of them taking over bike lanes and inner-city commutes.
Commuting to work may be a hassle…
Some of us have to deal with traffic, while others must wait for trains or buses, and others must walk 1-2 miles to get to work. There has to be a more efficient, exciting, and better way! Queue in personal electric vehicles, the most cost-effective and ecologically friendly method of transportation. In 2022, there are many possibilities to go electric; you can ride e-scooters, e-bikes, electric unicycles, and even electric skateboards.
Save 3% with COUPON CODE: VROOOMIN
News & Deals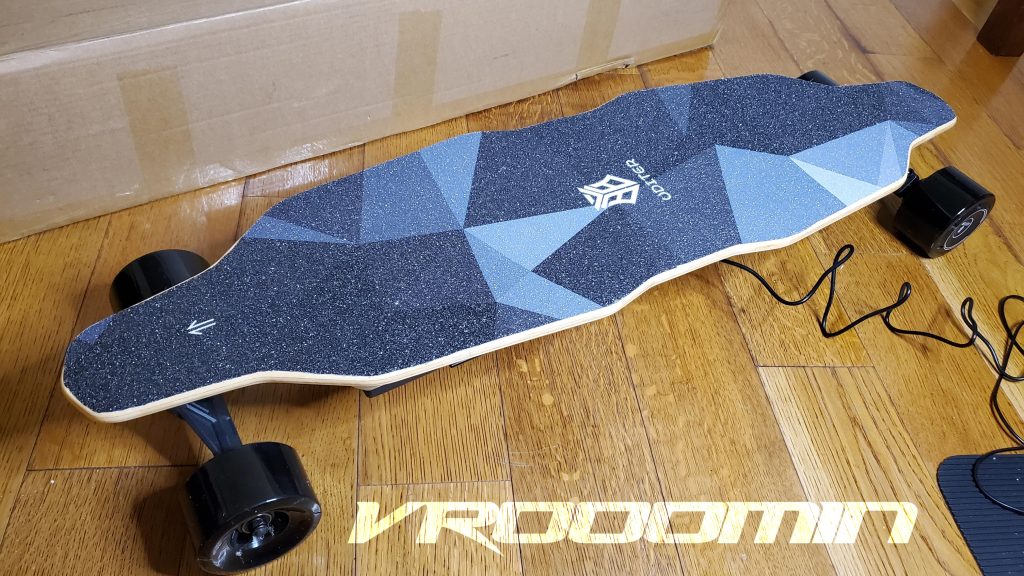 UDITER W3 Diamond Deck Electric Skateboard
The Diamond Deck is the latest 28 MPH electric skateboard from Editor, one of the fastest-growing electric skateboard manufacturers on the market. This board has a top speed of 28 mph, a range of 20 miles, and a price tag of $499! For the rate, value, and content this board produces, you will surely bring salt and pepper back to your commute and save time and money.
ESKATE Performance
The Diamond Deck is a powerful board with dual 600W hub drives, a 328WH battery pack that can be swapped out, and a top speed of 28 MPH. Four-speed settings range from 13 to 28 miles per hour. The Diamond has more powerful motors than most skateboards on the market, allowing for faster acceleration and a better climbing experience while generating less noise. You can choose the power, speed, and torque of your estate excursions with the Diamond Deck.
Motor Power: 600W*2 Hub Drive
Top Speed:28 mph / 45 km/h
Smart ESC: Use remote to start the board
600W x 2 Hub Motors
Ultra-High power torque motors
Battery Power
A high voltage, 48V 328WH high efficiency pack is included with the Diamond Deck.
You'll need a good pack to keep the wheels turning and the PU burning when you're shredding the streets with the fresh wind in your face. The W3 is powered by 30 18650 battery cells, which are more efficient and powerful, with a bigger capacity and range. Most riders may anticipate receiving 20-25 miles per charge on a regular commute. The battery packs are swappable for riders who need to travel long distances; bring an additional one in your bag if you need to go the extra mile.
328WH Lithium Battery
High voltage and high efficiency electronic system
18650 battery cells
Range: 20-25 miles / 35-40 km – Depend on rider weight and riding conditions
Wireless Remote Control
Crushing it on the streets necessitates complete control, and the Diamond deck's brain is the Wireless remote. With this ergonomic palm-style throttle, riders may accelerate, brake, and select their preferred ride modes for their commute. For velocity, riders can pick from low, medium, high, and pro modes.
LCD Display Smart Remote
New Shape Design
Real-time power display speedometer odometer
Low-voltage vibration reminder Cruise Four-speed brake
instantaneous Accelerate
L(Low): 13 MPH / 20km/h
M(Medium): 19 MPH / 30km/h
H(HIGH): 25 MPH / 40km/h
P(Pro): 28 MPH / 45km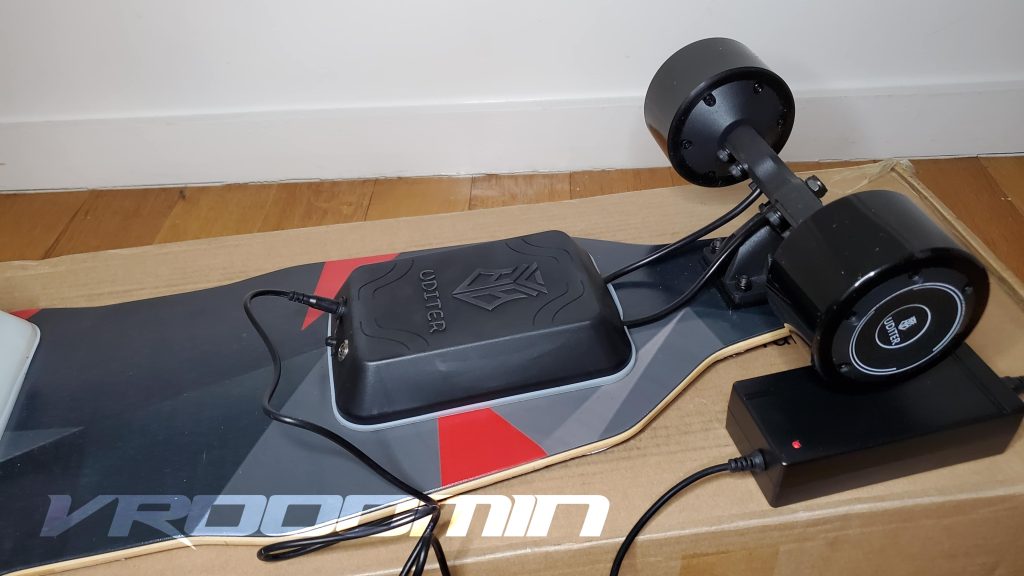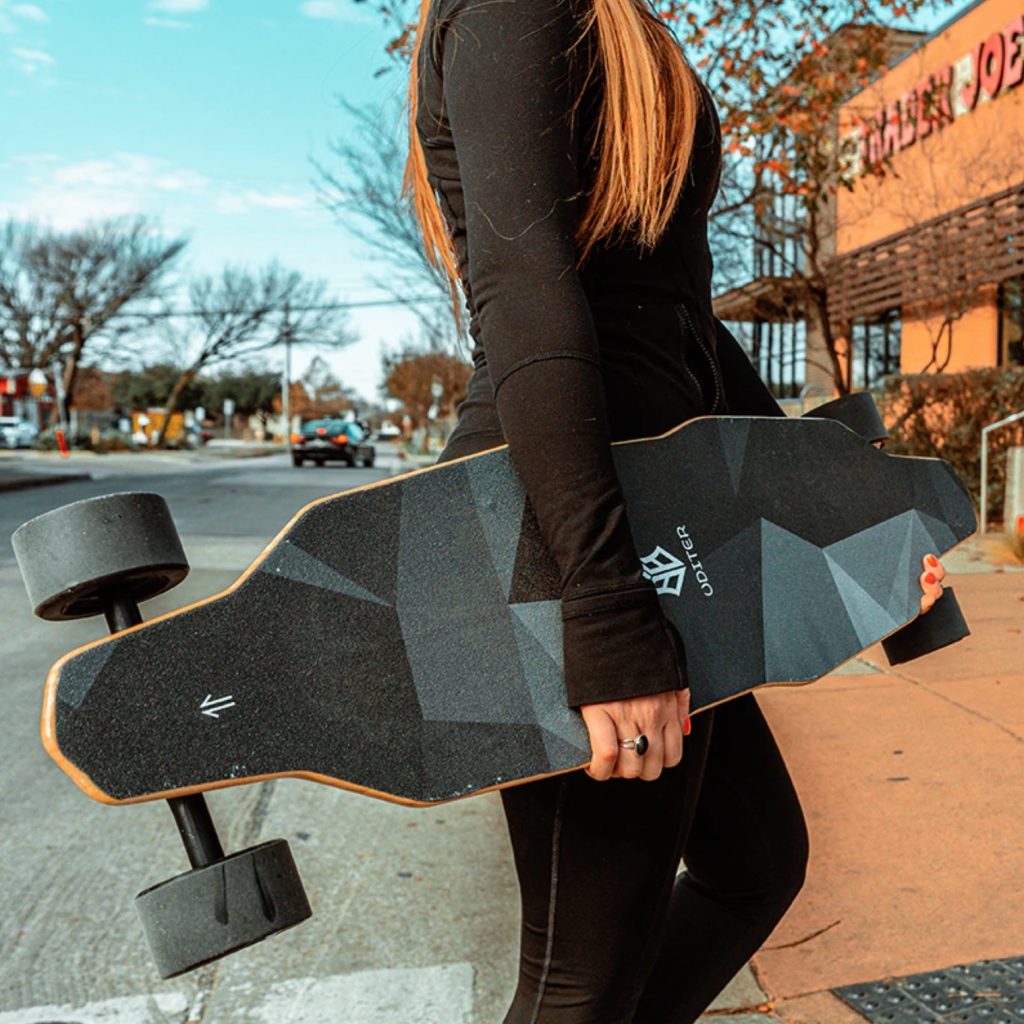 Build Quality
For its affordable pricing, the Diamond Deck has a high-quality build.
The sturdy board is composed of bamboo and fiberglass, giving it a strong and flexible elasticity that allows riders to rebound all day without fear of the board snapping. Riders can also hold their feet in place while carving with diamond accuracy thanks to the board's deep concave design. The Diamond has high-tensile CNC magnesium-aluminum alloy trucks and 90mm wheels for flexible steering and high-speed stability. Riding long distances is a breeze when you're on the Diamond Deck skateboard.
Flexible curved Deck
Providing a more comfortable riding experience
Wheels: 90mm & 105mm, swappable Wheels
Technical Specs:
Deck: 38"(97cm) Bamboo+ Fiberglass
Battery Swappable Battery With Aviation Connector Plug
10S3P 18650 7.8A 328Wh
Range: 20-25miles / 35-40 km – Depend on the load and riding conditions
Get double ranges with extra battery or triple ranges with more than two batteries
Motor Power: 2600W
Hub Drive Wheels: Black / Orange 90mm 78A Soft & Durable PU Wheels
Remote: LCD Display Smart Remote
Speed Mode: 4 Modes
L (Low): 13 MPH / 20 km/h
M(Medium): 19 MPH / 30 km/h
H(High): 25 MPH / 40 km/h
P(Pro): 28 MPH / 45 km/h(Instantaneous Acceleration)
Gradient:: Up to 30%
ESC: Customized Smart ESC
Brake System: E-brake Regenerative
Trucks: 8" High tensile CNC magnesium-aluminum alloy Bearing Brand Bones
UBS Charging Port: YES
Maximum Load: 330lb / 150kg
Charging Time: 4 hours
Waterproof: IP55 (Silicone waterproof)
Board Dimensions: 9727.513.5 cm or 3810.85.3 inches
Package Dimensions: 1053219 cm or 41.312.6*7.5 inches
Net Weight: 18.3 lbs / 8.3 kg
Gross Weight: 22.7 lbs / 10.3 kg
Battery Weight: 4 lbs / 1.8 kg
Handlebar(Optional) High tensile CNC magnesium-aluminum alloy
Adjustable Height: 90cm/82cm/74cm
Camera Mount: Compatible with most of cameras and stabilizers
Handlebar Weigh: 4.4 lbs / 2kg
Camera Tripod(Optional): Yes
Warranty: 180 Days
eWheels 2023 Spring Deals and New Launches are here!!!
Cheap, reliable, and powerful! TurboAnt Electric Scooters 2023 Sale!
Hi guys! This post may contain affiliate links, sponsored content, and advertisements. We get a small commission for covering topics that interest us (helps us keep the doors open). For more information, please see our privacy policy and disclaimer. Ride safe yall!
2023 Electric Unicycles:
Coupons & Deals:
Apollo Scooters: Get $50 USD worth of free accessories, upgrades, or spare parts with the purchase of a scooter. Code: VROOOMIN
REV Rides: Save $50 off Scooters and EUC's, Code: VROOOMIN
EVOLV Electric Scooters: Free Folding Lock (worth C$80) for every EVOLV model! Use Code: VROOOMIN-LOCK
To keep the site running and information flowing, Vrooomin.com participates in affiliate linking programs. We're also an Amazon Associate, which means we get paid for referring people to Amazon. Please support the channel by clicking on our links.