Mention Code "VROOOMIN" for possible discounts to your dealer!
Coupon Codes & Deals:
eWheels Spring Sale on electric scooters and electric unicycles
Save $50 off Kaabo and EMOVE electric scooters with Code: VROOOMIN
Save $50 off VSETT, Begode, King Song, Segway with Code: VROOOMIN
Get $50 worth of accessories at Apollo scooters with Code: VROOOMIN

Meepo's Budget $419 Electric Skateboard
Affordable E-skate for beginners!
Anyone with $419 in their pocket can get a beginner-friendly 29-mph electric skateboard! Instead of walking or taking the bus, which can be tedious and time-consuming, the Meepo S has a 1K drive FOC drivetrain, four ride modes, 105mm donut wheels, and shredder downhill trucks.
This board is incredible and will knock your socks off! It's made of Canadian maple and fiberglass, weighs 19 pounds, and is ready to go anywhere. Its 144 wh battery pack allows you to travel up to 10 miles, giving you plenty of time to get things done, get to school, and even work on time.
Let's take a closer look at the specs to see why this beginner board could be the game-changing PEV you've been looking for.
Meepo Shuffle S E-Skate
Most sold to date!
If you ask anyone, the Meepo V Series boards have sold the most units to date, making them unquestionably the best selling classic electric skateboards on the market! It is the fourth iteration of the V Series, and it is the result of our 6-year commitment to research and development of electric skateboards!
Ride Features
Beginner-friendly, Easy to master
4 Riding Modes, beginning pro
10/18 Miles Range, Perfect for commuting and campus
29 Mph Top Speed, Fastest in its class
LY-FOC 1.0 ESC, Smooth and precise control
540W x 2 Hub Motors, Insane power
105mm Donut Wheels, Comfortable and stable
Shredder 45° Downhill Truck, Stable cruise, and precise carves
Technical Features
Six years in the making, designed for everyone – MEEPO V Series boards have sold the most units to date, making them unquestionably the best-selling classic electric skateboards on the market. It is the fourth iteration of the V Series and the result of our six-year commitment to research and development. Your commute can be transformed from dull to high-speed adrenaline with the press of a button!
The 5th-Generation Hub Motor (540W x 2) – E-skate torque and efficiency champion! The latest 5th-generation hub motors provide insane power efficiency and quietness. The board sleeves are more easily removed and replaced.
LY-FOC 1.0 ESC – MEEPO boards now include field-oriented control! The LY-FOC 1.0 ESC allows for much more precise e-board maneuvering. It will sample input from both the remote and the motor 1000 times per second (every millisecond), making the ride much smoother and beginner-friendly!
Push-Off Auto-Start – There will be no more bending over to begin your ride. Turn on your electric skateboard by pressing the remote, and then lift one of your legs off the ground. You can enjoy the ease of turning on the board without bending over!
Shredder 45° Downhill Trucks – Shreds hills like nothing else, in our opinion. Our Shredder V4S has been fine-tuned to the market's liking after six years of intensive R&D into consumer ride experiences. There are significant improvements to durability, responsiveness, and aesthetics. All while maintaining their 45-degree DNA, which has the ideal balance of agility and stability.
The MEEPO M4S Remote – As it should be, convenience meets security! This remote allows you to independently control the acceleration and braking modes at any time during the ride. Its large screen lets you see an overview of your board's status without jeopardizing your safety. Furthermore, it ensures a stable and secure connection between the board and the remote, even in the presence of the most severe signal interference.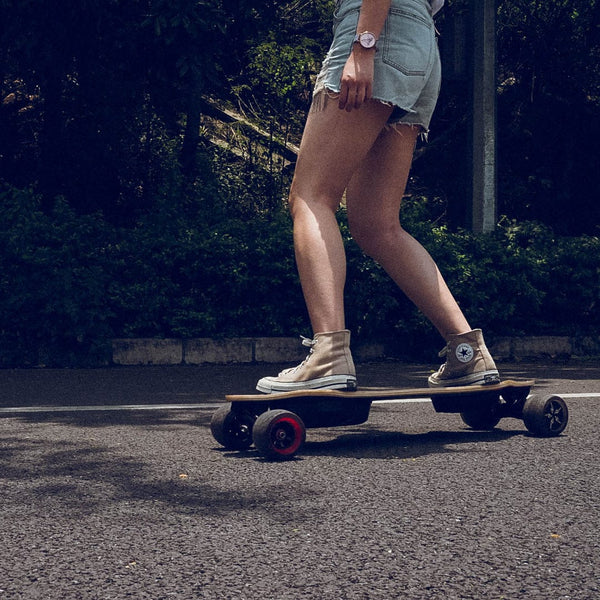 Powerful Motor – Fast acceleration and good grade ability.
IPX6 Water-Resistant – Certified waterproof rating. Resist high-pressure, heavy sprays of water.
28min Fast Charge – Shorten the charge, lengthen the fun.
8A Fast Charger – Charging Time: Shuffle S – 28min, Shuffle ER – 58min.
Ultra Strong and Durable Deck – 8 Ply Canadian Maple + 1 Ply Fibreglass
MEEPO 105mm Donut Wheels – Wear-resisting and with all-terrain feeling, less vibration, providing a comfortable ride and stable riding.
Technical Specs
Brand: Meepo
Color: Black
Age Range (Description): 18+
Deck Length: 36 Inches
Deck Width: 9.1 Inches
Item Weight: 19.22 Pounds
Material: Maple
Load Capacity: 330 Pounds
Wheel Size: 105 Millimeters
Wheel Material: Polyurethane
Durometer Hardness: 78A
Item Package Dimensions L x W x H: 37.8 x 12.9 x 6 inches
Package Weight: 11.25 Kilograms
Item Dimensions LxWxH: 35.8 x 9.1 x 4.7 inches
Brand Name: Meepo
Warranty Description: 6 Months
Model Name: MB0057
Suggested Users: Unisex-adult
Manufacturer: Meepo
Part Number: V4 S
Model Year: 2022
Style: Shuffle V4 S
Size: 91*23*12cm
Sport Type: Skateboarding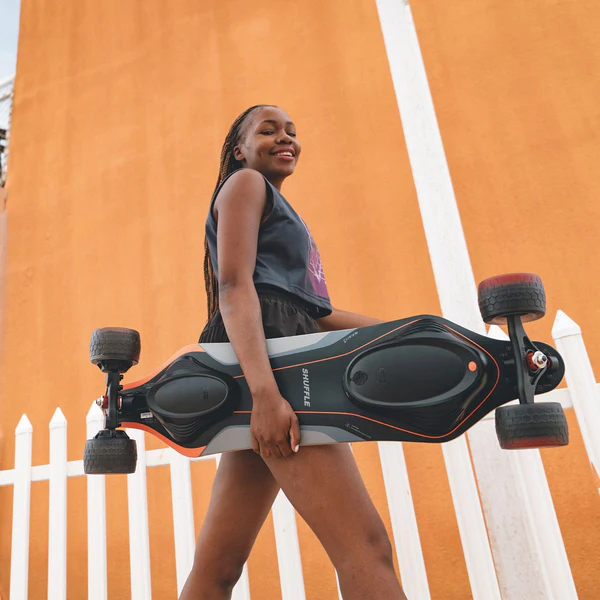 Best Electric Unicycles
eWheels 2023 Spring Deals and New Launches are here!!!
Cheap, reliable, and powerful! TurboAnt Electric Scooters 2023 Sale!
Hi guys! This post may contain affiliate links, sponsored content, and advertisements. We get a small commission for covering topics that interest us (helps us keep the doors open). For more information, please see our privacy policy and disclaimer. Ride safe yall!
2023 Electric Unicycles:
Coupons & Deals:
Apollo Scooters: Get $50 USD worth of free accessories, upgrades, or spare parts with the purchase of a scooter. Code: VROOOMIN
REV Rides: Save $50 off Scooters and EUC's, Code: VROOOMIN
EVOLV Electric Scooters: Free Folding Lock (worth C$80) for every EVOLV model! Use Code: VROOOMIN-LOCK
To keep the site running and information flowing, Vrooomin.com participates in affiliate linking programs. We're also an Amazon Associate, which means we get paid for referring people to Amazon. Please support the channel by clicking on our links.