Meepo Boards Black Friday Sale
Ready to ride fast and save a ton of money?
Do you want to change the way you commute to work every day? The Meepo team is hosting the year's most significant Black Friday sale! By riding their high-speed electric skateboards, you can save money and change how you commute daily. Numerous excellent options are available, including the Hurricane Ultra, Shuffle S, and Voyager electric skateboards.
Meepo Electric Skateboards Models on sale!
Each set of wheels includes a high-quality deck, trucks, wheels, battery pack, and remote control to safely and stylishly transport you wherever you need. This holiday season, riders can save over $500 with discounts ranging from $50 to $530. Act quickly because the next big sale will be in November!
Meepo Hurricane Ultra Electric Skateboard
Sale price
From $1,199.00
Regular price$1,499.00
Meepo Hurricane Electric Skateboard
Sale price $1,399.00
Regular price $1,799.00
Meepo Shuffle S (V4S) Electric Skateboard
Sale price From $399.00
Regular price $499.00
Meepo Mini 2S Electric Skateboard
Sale priceFrom $399.00
Regular price $469.00
Meepo Voyager Electric Skateboard
Sale price from $899.00
Regular price $1,199.00
Meepo Mini Dual Electric Skateboard
Sale price $249.00
Regular price $299.00
Refurbished Electric Skateboard
Sale price from $189.00
Regular price $299.00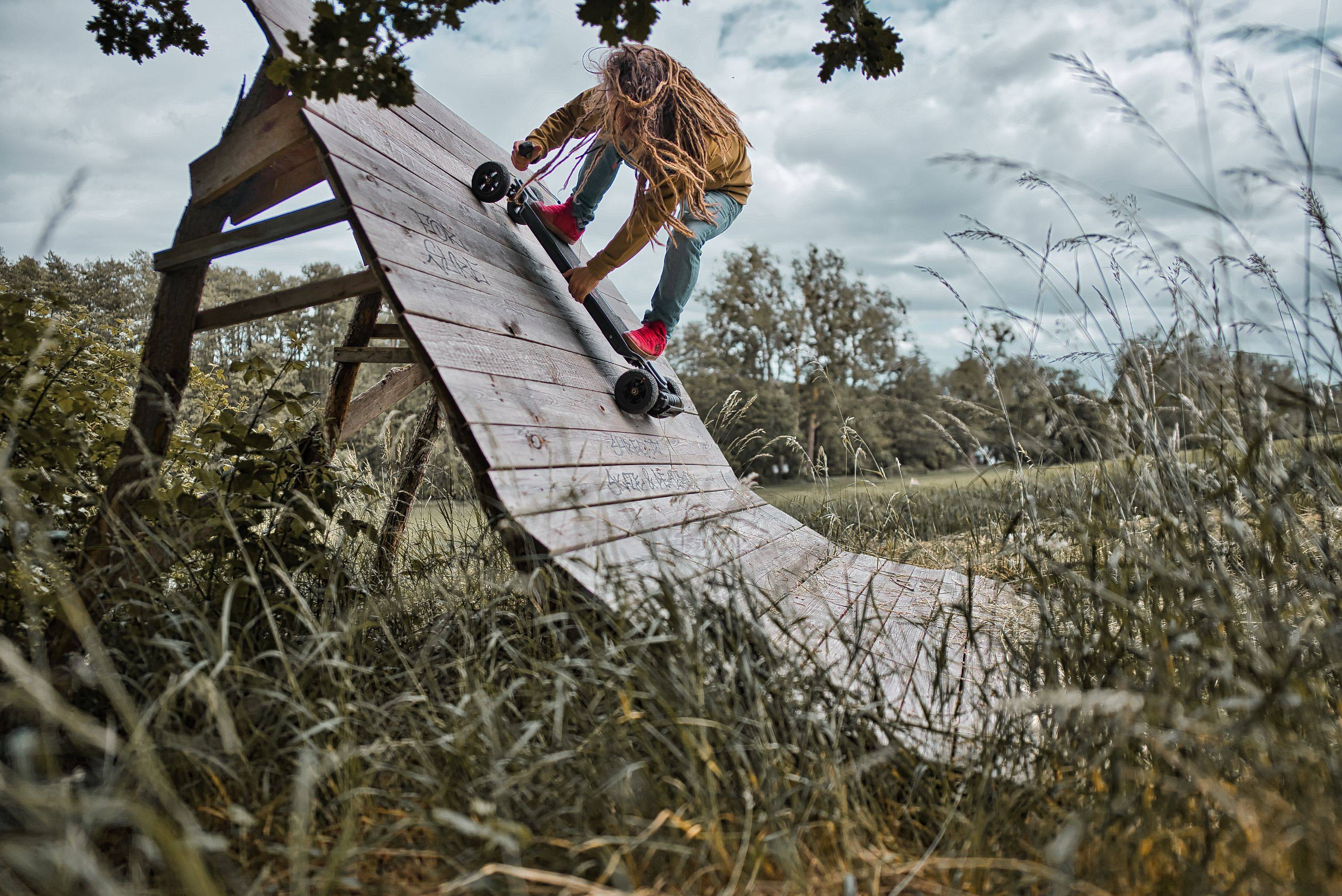 About Meepo
In early 2017, after much research into electric skateboards, MEEPO founder Kieran realized that the industry lacked affordable and reliable boards. In turn, he built a DIY skate to make his daily commute more enjoyable. After Kieran uploaded a short video about it on Youtube, many people from all over the world suddenly wanted him to build one for them too. At that point, MEEPO Board was born. 
Six years later, MEEPO has become a global brand trusted by over 120,000 riders worldwide. We often get asked what sets us apart from other skate companies and our answers attribute our success to five main principles: 
Superior Quality
We use only high-quality parts that our expert engineers and designers individually source. 
Leading Technical Innovation
Our Research and Development team is always looking for its next challenge. Our passion and forward-thinking approach allow our technology to lead the industry and define future trends.
Exceptional Design
While we want our electric skateboards to work perfectly, we also want them to look exceptional. Our in-house designers take their tasks seriously and set out each day to design the best-looking skateboards on the market.
Safety and Reliability
All components of our electric skateboards go through rigorous testing to ensure quality. This helps to guarantee the high standards of our products and the safety of our riders which is our utmost concern.
First Class Customer Support
We care. Above else, we strive to make all of our customers happy. At MEEPO, we promise to put the customer first and give everyone the best experience possible before and after purchasing. 
Best Electric Unicycles
Disclaimer: The information presented in this article is derived from extensive research, user reviews, and publicly available information. Our aim is to provide accurate and up-to-date content; however, it is crucial to understand that the opinions expressed are based on the information available at the time of writing. We strongly encourage readers to conduct their own thorough research and carefully evaluate their individual needs before making any purchasing decisions.
eWheels 2023 Summer Deals and New Launches are here!!!
Cheap, reliable, and powerful! TurboAnt Electric Scooters 2023 Sale!
Hi guys! This post may contain affiliate links, sponsored content, and advertisements. We get a small commission for covering topics that interest us (helps us keep the doors open). For more information, please see our privacy policy and disclaimer. Ride safe yall!
2023 Electric Unicycles:
Coupons & Deals:
Apollo Scooters: Get $50 USD worth of free accessories, upgrades, or spare parts with the purchase of a scooter. Code: VROOOMIN
REV Rides: Save $50 off Scooters and EUC's, Code: VROOOMIN
EVOLV Electric Scooters: Free Folding Lock (worth C$80) for every EVOLV model! Use Code: VROOOMIN-LOCK
To keep the site running and information flowing, Vrooomin.com participates in affiliate linking programs. We're also an Amazon Associate, which means we get paid for referring people to Amazon. Please support the channel by clicking on our links.