Meebike Black Friday Sale is Here!
The staff at Meebike must be completely insane to have just reduced the price of their Gallop e-bikes from $2,499 to $1,599. Where are they, and what's happening? Who would have thought they'd knock 30% off the original price for a sale? We won't bother you with any more inquiries, but if you're looking for a stylish electric bike, be sure to peruse the dal of the year.
The Meebike Gallop is on sale right now, save $200 + Free Accessories!
Badass-looking e-bikes and decent whiskey are two of my favorite things. With its sleek and seductive geometry, 28 mph drivetrain, black powder coat, headlight, and fat tires, the Meebo Gallop makes me want to put on pants, a full-face helmet, and gloves and attack the highways. When I say highways, I really mean bike lanes. They're equally as entertaining, if not as fast.
Moped inspired adventure
For an E-bike, the Gallop is about average weight for its chassis. The Meebike Gallop is a fast electric motorbike that weighs 72 pounds and can go over 20 miles per hour. This powerful motorbike can carry more than 275 pounds of load, ensuring you'll get the performance you need on the road.
48V 20AH Samsung/LG Battery
750W Geared Hub Motor
UP TO 80+ Miles Per Charge
Up to 20MPH legally required in the US
Torque Sensor Natural Pedaling Feeling
275LBSPayload Capacity
For $2,299, the Gallop has some impressive range for its price. Powered by a 750W motor and a 48V 28AH Samsung battery pack, the Gallop can cruise comfortably at 28 mph and provide up to a max range of 80 miles per charge. That's a lot of regular trips to and from work for working professionals.
Looking at its spec sheet, Meebike loaded the Gallop with many features. The Gallop has a slew of ride qualities, such as an LCD, Shimano Atlus gears, a half-twist throttle, a torque sensor, a pedal assist, and hydraulic disc brakes to round out the package. The Gallop is a fun option if you're looking for that cafe racer e-bike vibe with a 28 mph performance.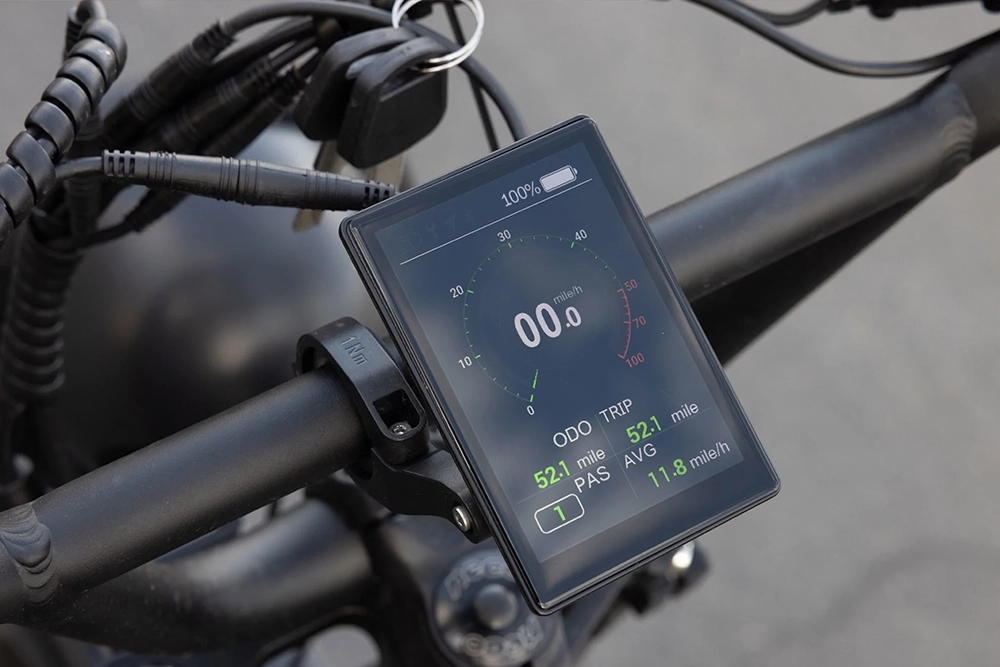 Compared to other E-bikes, the Gallop is a fantastic-looking bike with a moped-style aluminum alloy frame, moto-style headlights, dual suspension, and 20×4″ fat tires that make this bike sleek and sleek, aggressive look.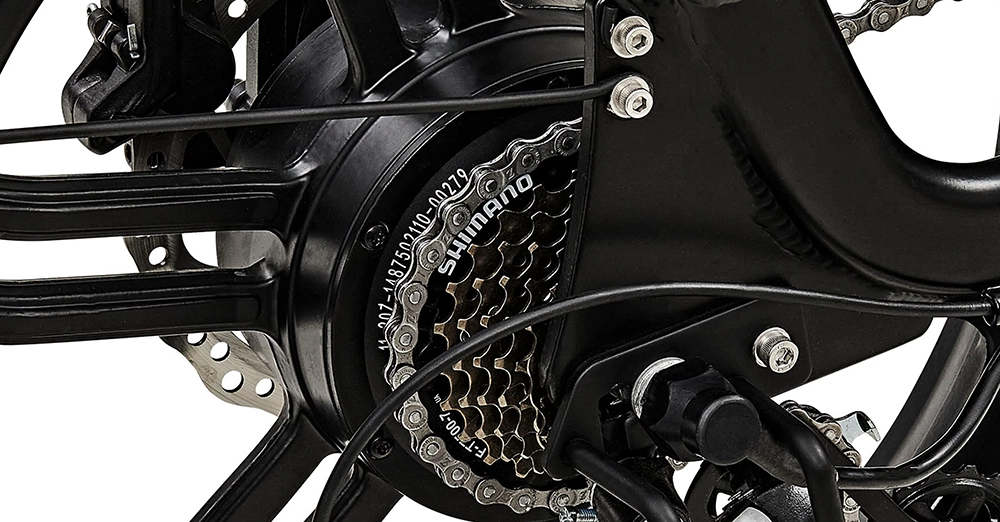 For safety, the Gallop has Multi-Class Ride Modes that control the top speed. Each bike is preprogrammed in Class-2 mode, which allows for throttle operation and pedal-assist riding up to 20 mph. It may be converted to a class III to achieve speeds of 25-28 mph; however, this should be done carefully.
Raising the speed restriction for your safety is not suggested unless you are familiar with the performance and local regulations.
Brake: Hydraulic Disc Brakes
Chain: Z8.3-7 Speed+EPT Rustproof
Crank: Alloy SSA BK
Fork: A6061 Aluminum
Frame: A6061 Aluminum TIG Welded frame
Freewheel: Shimano 7 Speed
Front Fork: Aluminium alloy hydraulic
Handlebar: Alloy SSA BK
Pedal: Alloy Pedal
Rear Derailleur: Shimano M310-ALTUS-7speed
Rim: Aluminium alloy integrated wheel
Saddle: HQ-Comfort saddle
Seat Post: 242W@35 Alloy/SP-252@30.4*350L
Shifter: Shimano SL-RS35-7 Tourney
Tyres: 20'x4′ fat tires Anti-puncture and reflective Kenda tires
Torque Sensor
Have the absolute sense of security and control
Unlike most e-bikes' standard speed sensors, the improved torque sensor's pedal assist does not abruptly increase your speed. The sensors automatically analyze your pedaling effort and quickly switches to the rate on demand. You may get far more exercise than using a cadence sensor.
Battery range: On Throttle:40-50 Miles
On Pedal Assist:60-80 Miles
Top Speed: Class-2 Mode: 20mph
LCD phone charging: 5V
Gears: Shimano- Altus-7SP
Rider's height: Optimized for riders between 5′ 5″-6′ 5″tall
Throttle: Half Twist Throttle
Control mode: Connected phone with app + battery unlock
Sensor: BBTS3SD Torque Sensor
Weight: 72Ibs including battery and mudguards
Total Payload: 275Ibs
Warranty: 2 years
Charging time: 100%recharged in 6-9 hrs
Pedal Assist: 0-5 level
Longer Battery and Motor Life
The torque sensor has far less influence on the motor, which increases the motor's life and decreases the rate of battery utilization, hence increasing the battery's life. It improves discharge and endurance, ensuring the battery pack lasts thousands of miles on the road.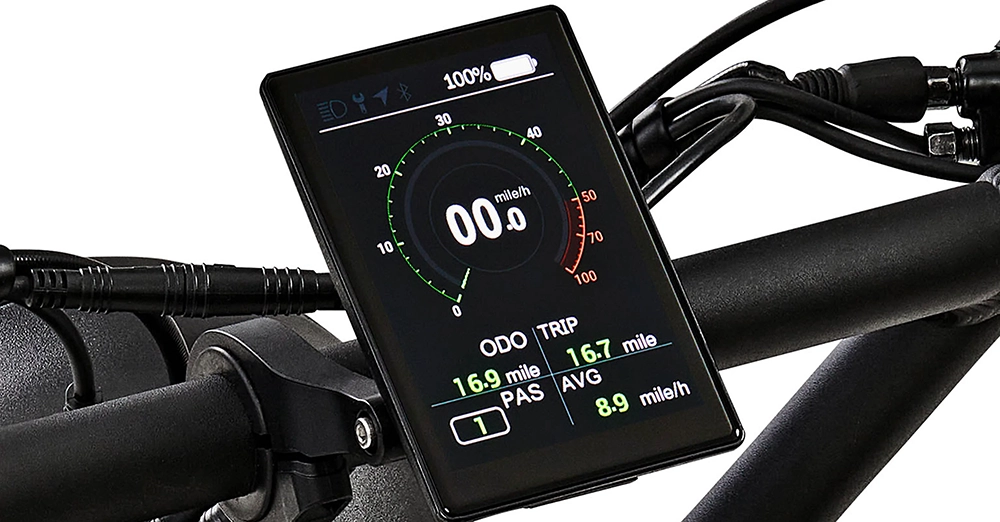 Flexible Choice of Speed/Range
The torque sensor converts your pedaling effort into power in real-time, increasing power savings and riding range. You can pedal harder or use the throttle to gain speed throughout your ride. Whether you're headed to the grocery store or work, the Gallop has the speed and range to get you there.
Battery: 48V 20Ah Lithium-ion battery with Samsung/LG cells
Charger: US Standard 3.0A Smart Charger
Controller: 48V / 20Ah
Display: TFT Backlight display
Max Motor Torque: 85Nm
Mobile app: iOS and Android. Secure, digital-key lock and unlock via personal app
Motor: 750 watts nominal / 1000 watts peak
The torque sensor controls your speed, allowing you to deliver maximum power on steep slopes and bridges. Maximize your motor power to improve your climbing abilities in every commuting condition, so you don't have to worry about traveling up and down hills.
Ready For Long Rides
The Gallop is more than simply an electric bike for getting to work; it's also ready for adventure. The Gallop can go up to 80 miles on a single charge when equipped with a Samsung or an LG battery pack. With this electric vehicle, you'll be able to enjoy extended trips from sunrise to sunset—and it never tires.
Capacity: 960Wh
Full charge: 4-6 hrs
Range: Up to 80 miles
Move Like A Panther
Its small size and strong motor make it ideal for handling slopes, busy streets, and crowded cities. What's the best part? It's driven by a 750W brushless motor that can reach speeds up to 28 mph. The motor's flawless performance makes it simple to navigate around town or up steep hills; you'll want to ride this bike every day.
Motor Power: 750W(1000W peak)
Max Motor Torque: 85 NM
Perfect Performance
Gears – Shimano's groundbreaking 7-speed gear system has transformed the way we pedal. The system has a newly designed geared hub that enables the user to choose from seven distinct gear ratios that can be built in any combination, offering a simple approach to manage your pedaling technique while still delivering the advantages of a broad range and durable build.
Full Suspension – The all-new Dual Suspension provides the smoothest ride imaginable, from city street to dirt road. Even on uneven terrain, the high-quality hydraulic fork and spring suspension at the rear provides a wonderfully smooth ride. A 21-inch diameter tire at front provides your bike an aggressive appearance.
Hydraulic Brakes – Your bike's hydraulic disc brakes are the last piece of the equation. They improve your riding control and may help you stop faster. Hydraulic disc brakes outperform all other types of braking devices. They provide superior braking power and fade resistance, sustain braking torque in emergency and severe situations, and are more energy efficient than any other brake system, both on and off the road.
Display – Gallop has a screen that displays all of the information need to ride securely and confidently. The Gallop Step-screen Thru's is meant to make riding more efficient. The TFT screen is manufactured of the highest quality materials and offers a clear capacitive display. What do you observe? Speed, range, navigation data, and content are all important considerations. Everything is at your fingertips!
Lighting – Don't get lost in the dark—the Gallop will always guide you home. These powerful LED lights may be seen from up to 500 feet away (or just about everywhere). You'll never have to bother about where or when your next excursion will take you with an IPX6 waterproof certification.
Fat Tires – With the 4″ fat tires, you can take your mountain bike to a new level of performance. A Kenda Road Bike Tire can keep your bike safe and smooth on rough sand gravel grass or snow. While the durable tread pattern helps you to take on everything Mother Nature throws at you.
Worth it?
Like a fine glass of mid-tier Japanese whiskey, the Meebike Gallop is a hitter. We can all agree that $2,299 is not cheap, especially for a 28 mph e-bike. There are cheaper ones that go to 28, but they don't have the same features, not even close.
They don't have the moped chassis, the headlights, the entire suspension, the thick tires, the saddle, or the package that the Gallop is made out to be. With the advancement of lithium battery technology and improved manufacturing processes, these e-bikes will be built much faster and more robust, and they'll look closer and closer to their motorcycle inspirations.
Will you consider the Meebike Gallop? The Gallop also comes in a step-through version, and each model has the same specs but a slightly different chassis. They're both on sale for $200 off with free accessories. The offer ends September 30.
Best Electric Unicycles
Disclaimer: The information presented in this article is derived from extensive research, user reviews, and publicly available information. Our aim is to provide accurate and up-to-date content; however, it is crucial to understand that the opinions expressed are based on the information available at the time of writing. We strongly encourage readers to conduct their own thorough research and carefully evaluate their individual needs before making any purchasing decisions.
eWheels 2023 Summer Deals and New Launches are here!!!
Cheap, reliable, and powerful! TurboAnt Electric Scooters 2023 Sale!
Hi guys! This post may contain affiliate links, sponsored content, and advertisements. We get a small commission for covering topics that interest us (helps us keep the doors open). For more information, please see our privacy policy and disclaimer. Ride safe yall!
2023 Electric Unicycles:
Coupons & Deals:
Apollo Scooters: Get $50 USD worth of free accessories, upgrades, or spare parts with the purchase of a scooter. Code: VROOOMIN
REV Rides: Save $50 off Scooters and EUC's, Code: VROOOMIN
EVOLV Electric Scooters: Free Folding Lock (worth C$80) for every EVOLV model! Use Code: VROOOMIN-LOCK
To keep the site running and information flowing, Vrooomin.com participates in affiliate linking programs. We're also an Amazon Associate, which means we get paid for referring people to Amazon. Please support the channel by clicking on our links.