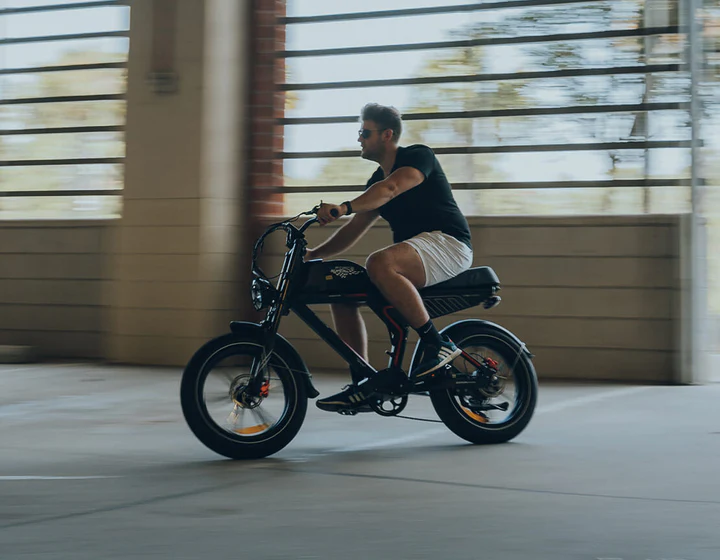 G-FORCE ZM Fat Tire Electric Bike Technical Review
High Speed, Low Price
Oh, baby, hurt me. The G Force ZM is a jaw-dropper. This is the kind of bike where you wake up looking forward to the day. You hop out of bed, take a shower, brush up, make breakfast, and slap on your all-black outfit and a full-face helmet. Don't forget your gloves and some coffee, even though you don't need them.
Save $100 OFF for the G-FORCE ZM 20Ah- Coupon Code: GFORCE100
Why not? Because you're about to bring the G-Force to the streets, as you accelerate up to 28 mph on the safe roads, the goal is to get some thrills and things done simultaneously. Ready for an affordable 28 mph electric motorbike? Scroll down, and we'll tell you more.
In the same vein as the SUPER73, the G-Force offers a familiar swag with comparable performance
Save $100 OFF for the G-FORCE ZM 20Ah- Coupon Code: GFORCE100
Save money on a quality bike with prices lower than SUPER73
Big Performance, Big Savings
Did we mention the price of this full suspension 750W bike is $1,899? If you want a classic motorbike, look at similar pre-inflation pricing, that's a substantial discount. This bike has a maximum range of 80 miles, can tow up to 400 pounds, and looks fantastic. Let's take a deeper look at the G Force's specifications.
Battery: 48V 20Ah/13.5Ah Samsung Battery
Motor: 750WB rushless Gear Hub Motor
Range: 60-80 Miles Max Range
Suspension: Full Suspension Alloy Fork All-Terrain
Tires: Fat Tires 20″×4.0″
Braking: Hydraulic Disc Brakes
Modes: 15.5mph (Level1) 28mph (Level3) Default Restricted Speed
Max Payload: 400 Lbs Payload Capacity
Power
G-FORCE 750W Brushless Motor
It's all about the power these days with e-bikes, and the ZM has plenty of it. With a peak power of 1300W and torque of 86 Nm, the ZM can manage slopes with up to 30 degrees of elevation and any pathway that comes your way.
750W Powerful Motor
Save $100 OFF for the G-FORCE ZM 20Ah- Coupon Code: GFORCE100
The strong Bafang 750-watt motor is custom-built for the G-FORCE ZM and provides incredible acceleration for your daily commute. With a peak power output of 1300W, this brushless geared hub motor generates enough torque to enable you to quickly negotiate challenging slopes while casting a smile on your face.
86Nm Max Motor Torque
1300W Peaking Power
Full Color LCD Display
Save $100 OFF for the G-FORCE ZM 20Ah- Coupon Code: GFORCE100
The G-FORCE ZM has a sleek color LCD that lets you check the current speed, motor power, PAS level, odometer, trip odometer, and much more. As a bonus, you can charge your phone directly from the USB port on display to meet various needs on the go. The color LCD panels have a higher resolution and are easier to read in direct sunlight than black-and-white LCD screens. This is a nice feature on our top-of-the-line e-bikes.
Samsung Battery Pack
48V 20Ah/13.5Ah Samsung Lithium-Ion Battery
The ZM model uses high-discharge Samsung cells, with two extended range options based on battery capacity: 48V 20 Ah and 48V 13.5Ah. Select from the standard and more comprehensive options to choose your destiny. The 13.4 ah battery has a range of up to 50 miles, and the 20 ah battery pack ranges up to 80 miles. Remember that you may always charge your riding devices at the same time.
960 WH Per Charge
60-80 Miles Long Range Battery
Brakes
Hydraulic Disc Brakes
The ZM employs a dual hydraulic braking system to deliver the best stopping capability on the road. Did you realize the brakes have a motor cut-off feature when you pull the lever? That means you'll have even greater stopping strength when you must stop on a dime.
Lighting
Super Bright LED Headlight and Taillight
When riding at night in low-visibility situations, you can use the LED headlight to see other drivers. Remember that seeing and being seen is an essential aspect of riding safely.
145mm Headlight Diameter
Safe Travel with G-FORCE ZM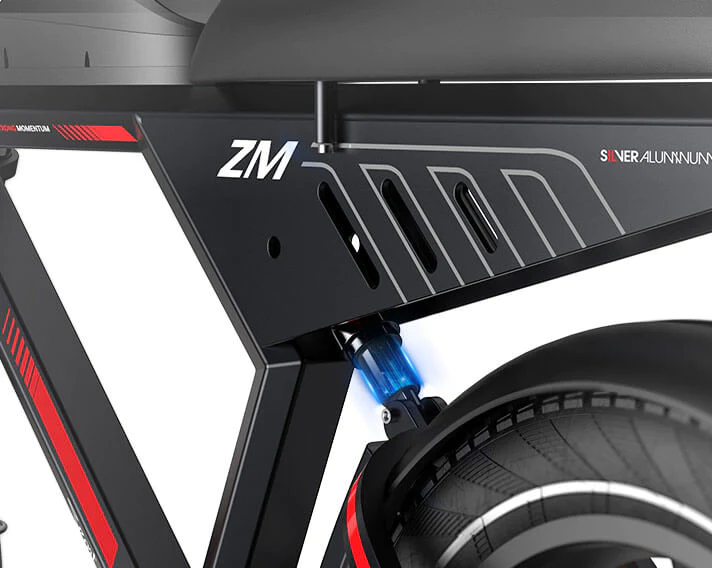 Suspension
Rear and Adjustable Front Suspension
Because life may be a rocky path, the ZM's adjustable front fork suspension is composed of a high-strength aluminum alloy casting and has 110mm travel. The adjustable front fork and rear suspension work together to provide the smoothest, most direct way to commute, on or off the road.
20X4 CST Puncture Resistant Tires
Hydraulic Disc Brakes
Shimano 7 Speed Geat Shift system and 750W Banfang Motor
Full Color LCD Display
Adjustable Full Suspension
48V LED Bright Headlight
Durable Aluminum Crankset
Water Resistant Seat
Half Twist throttle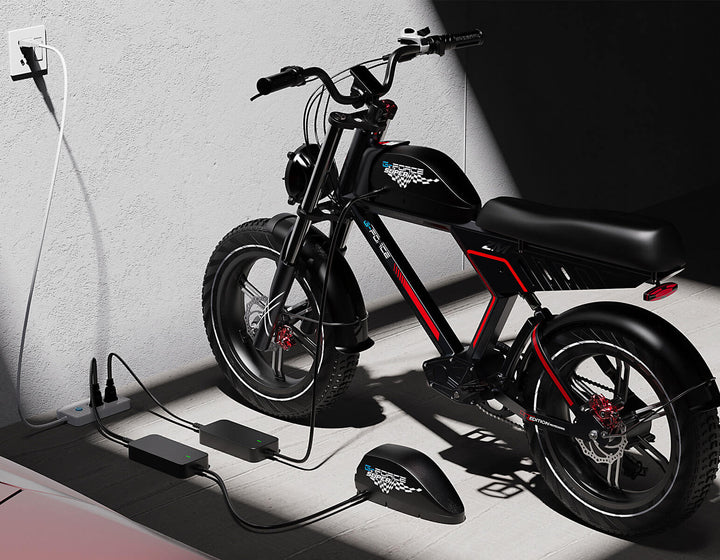 Charging
USB Charging Port
You'll need to charge your devices while on board, so G-Forced included a USB charging connector on display to keep you going. You can set your low-power phone while riding, and when you stop, you can charge other devices, such as your 360 camera.
2.0A USB Charger Port
Enjoy Riding With G-FORCE ZM
Worth it?
Save $100 OFF for the G-FORCE ZM 20Ah- Coupon Code: GFORCE100
I like the G-Force ZM, and this fat tire bike is gaining on me. For $1,899, you get a sleek chassis, large tires, and the moped package that has recently become increasingly popular. The performance is comparable to that of a class-2 or class-3 e-bike, with nothing that screams extreme, in my opinion, and that is the objective of this bike. You'll receive more than enough performance, a conventional 48V drivetrain, and a reasonable price. You won't spend more than $2,000 on this moped-style bike, and you'll get what you pay for in terms of quality.
Technical Specs:
Battery: 48V 20Ah Samsung battery
Range: 60~80 Miles
Hub Motor: 750W brushless gear motor
Total Pay load Capacity: 400 lbs
20Ah Version Charger: 3 AMP fast charger
13.5Ah Version Charger: 2 AMP charger
Display: LCD Display with USB charging
Shifter: 7-speed Shifter
Weight: 85 pounds
Recommended Tire Pressure: 20 to 28 PSI
Tires: 20″ x 4.0″
KD or Not: Ebike is 85% pre-assembled
Throttle: Half twist throttle
Front Light: 48V LED light
Frame: 6061 aluminum
Kickstand: Heavy duty aluminum
Chain: KMC chain
Pedal: Alloy pedal with reflectors
Rear Light: Integrated Taillight
Wheels: Alloy wheels
Brake: 160mm hydraulic brakes
Recommended Rider Heights: 5'3″ ~ 6'5″
Best Electric Unicycles
Disclaimer: The information presented in this article is derived from extensive research, user reviews, and publicly available information. Our aim is to provide accurate and up-to-date content; however, it is crucial to understand that the opinions expressed are based on the information available at the time of writing. We strongly encourage readers to conduct their own thorough research and carefully evaluate their individual needs before making any purchasing decisions.
eWheels 2023 Summer Deals and New Launches are here!!!
Cheap, reliable, and powerful! TurboAnt Electric Scooters 2023 Sale!
Hi guys! This post may contain affiliate links, sponsored content, and advertisements. We get a small commission for covering topics that interest us (helps us keep the doors open). For more information, please see our privacy policy and disclaimer. Ride safe yall!
2023 Electric Unicycles:
Coupons & Deals:
Apollo Scooters: Get $50 USD worth of free accessories, upgrades, or spare parts with the purchase of a scooter. Code: VROOOMIN
REV Rides: Save $50 off Scooters and EUC's, Code: VROOOMIN
EVOLV Electric Scooters: Free Folding Lock (worth C$80) for every EVOLV model! Use Code: VROOOMIN-LOCK
To keep the site running and information flowing, Vrooomin.com participates in affiliate linking programs. We're also an Amazon Associate, which means we get paid for referring people to Amazon. Please support the channel by clicking on our links.