Affordable $1,499 Full Suspension 62 lbs. Electric Mountain Bike
Great Value Electric MTB
$1,500 is a large sum of money, especially in today's economy. In the world of e-bikes, however, $1,500 is the new norm on a decent e-bike. Ecotric, one of North America's most popular budget e-bike companies, is now selling a fully-featured, inexpensive e-bike for thrifty shoppers. According to the specifications, this device delivers.
Good Value, Great Price Budget E-bike
We don't need to break the bank for suspension
The Tornado is a conventional 750W 48V class 2 e-bike. This motorbike delivers excellent value for money. If you buy a manual full-suspension bike, it will most likely cost thousands of dollars and will not have a battery to assist you in challenging hill climbs. The Tornado boasts quiet acceleration and great power and can travel more than 20 miles on throttle alone. Let's take a closer look at this stunning beauty.
MODEL SIZE: 1800*630*1050mm
WEIGHT CAPACITY: 265 lb
WEIGHT WITH BATTERY: 62 lb
20 MPH Electric Mountain Bike with Full Suspension
Comfortable on all terrain
Would you be keen on riding in a tornado? Doubtful, but the Ecotric Tornado Electric Bike can provide a much more enjoyable ride with loads of speed. Its sensual and elegant style, with a soft gaze, will entice you.
But it's not only about appearances; it's also about functionality—a robust 6061 aluminum frame that performs admirably in terms of strength, reliability, and weight.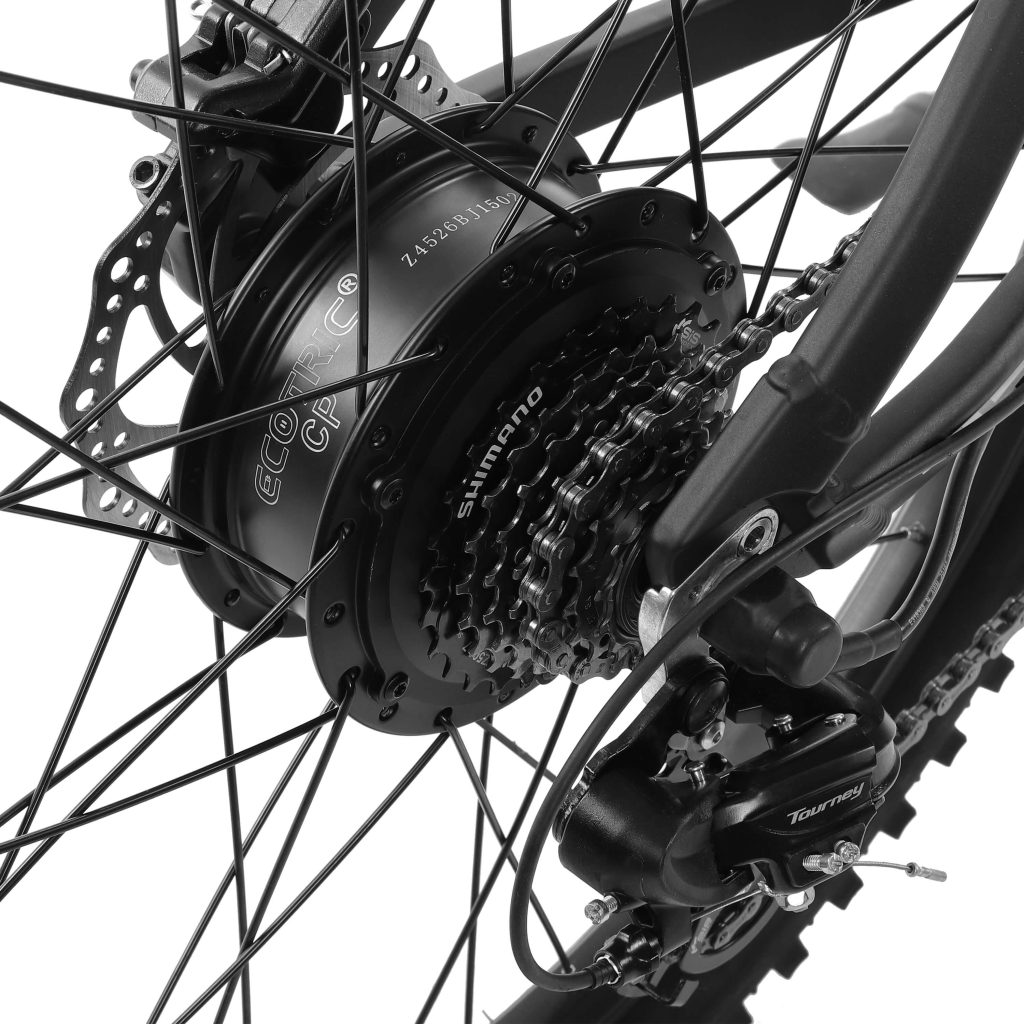 Full Suspension
All Terrain riding!
With the front suspension and a newly developed central shock absorber, the bike maximizes shock absorption and eliminates bumps on rugged roads. Tornado riders adore the all-terrain ride because it is so comfy. Furthermore, there is no terrain it cannot conquer; we challenge you to try.
If you ride this e-bike, you will be like a tornado conquering the city and nothing will be able to stop you. Well, maybe a stop sign or red light, but otherwise, the Tornado is ready and steady.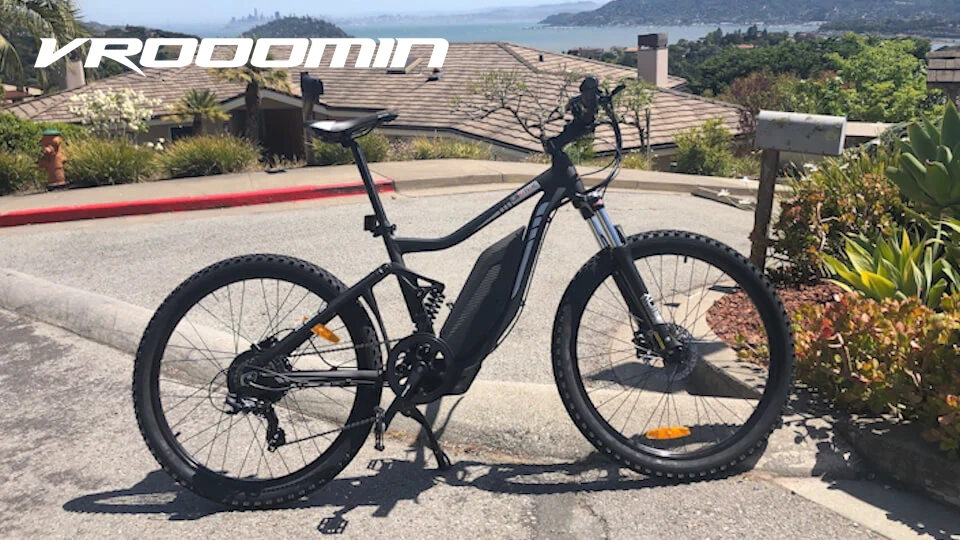 Technical Specs:
BATTERY: 48V 12AH
MOTOR: Rear Hub 48V 750W
CHARGING: TIME6-8Hours
DISPLAY: Ecotric Smart LCD With USB Port
SENSOR: Speed Sensor
BATTERY LIFE: 400-600 Cycles
FUNCTIONS: Pedal Assist On-Demand Throttle
SPEED: 25KM/H (According to the laws of the United States, we set the maximum speed at 25km/h, which can be adjusted according to the specific conditions of each state.)
FRONT BRAKE: Hydraulic Disc 160mm Rotor
REAR BRAKE: Hydraulic Disc 160mm Rotor
DERAILLEUR: 7 Speed SHIMANO
FRAME: Aluminum Alloy
TIRES: 26″×2.35″ Tires
FENDERS: Without
BRAKE SYSTEM: Left Brake For Rear/Right Brake For Front
MTB Performance
750W Brushless Geared Hub Motor
Strong power, high efficiency
Quieter, lighter, smoother, revolutions: 320±10rpm
Pure electric power mileage: over 19 miles.
Pedal assist (When pedaling, the motor will provide power to assist the riding)
Throttle control. Small deviations may exist, but they will be within the margin of error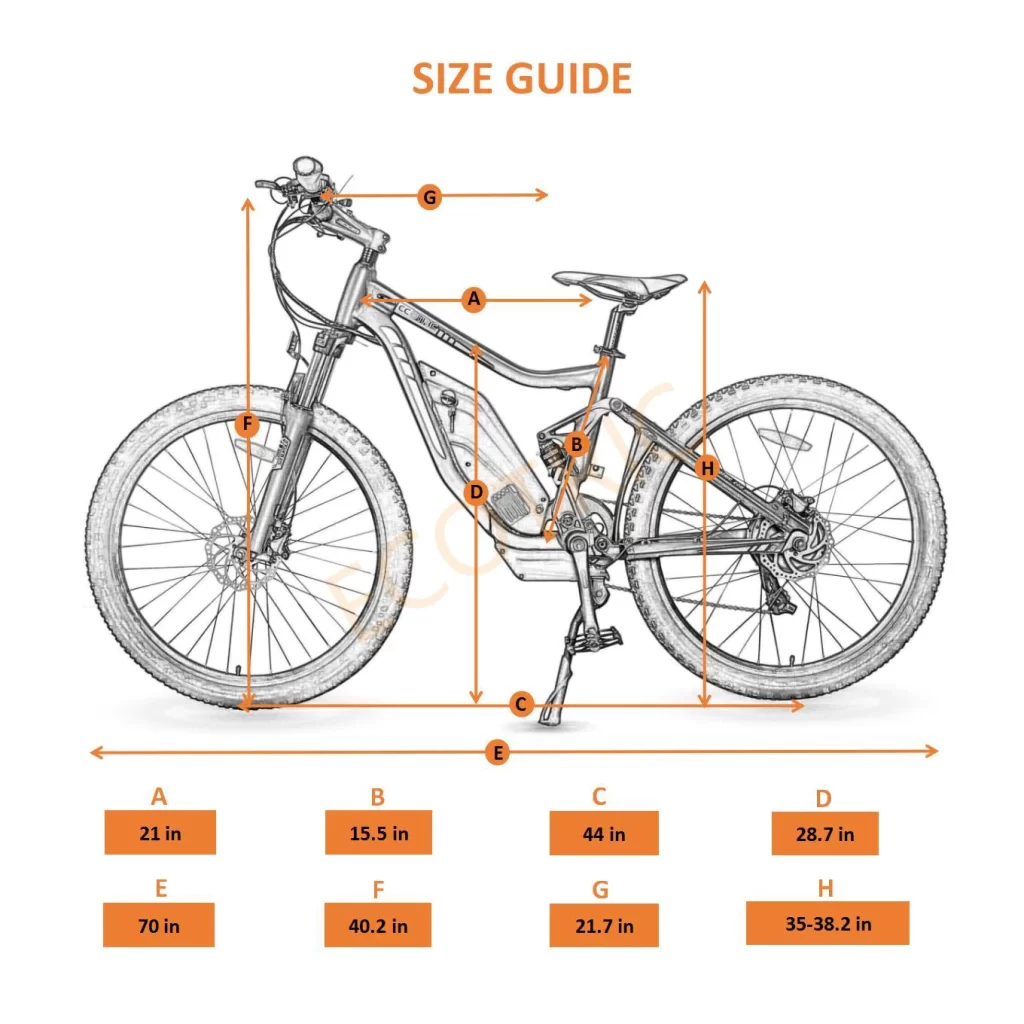 Samsung Battery Pack
48V 12AH lithium-ion Battery
High energy density
400-600 cycles service life
Up to 20+ mile range
Samsung cells
A 18-month warranty
Pure electric power mileage: over 19 miles.
Off-Road Tires
26″ × 2.35″ Mountain Tires
Adapt to mountain, sand and other complex topography
Inner tube: 26*2.20/2.35
Valve stem: American standard size
attached: valve cap
Suspension
The newly central shock absorber
Strong shock absorption and comfortable riding
More than Safe, Balance, Fast, and Stable for your Cycling.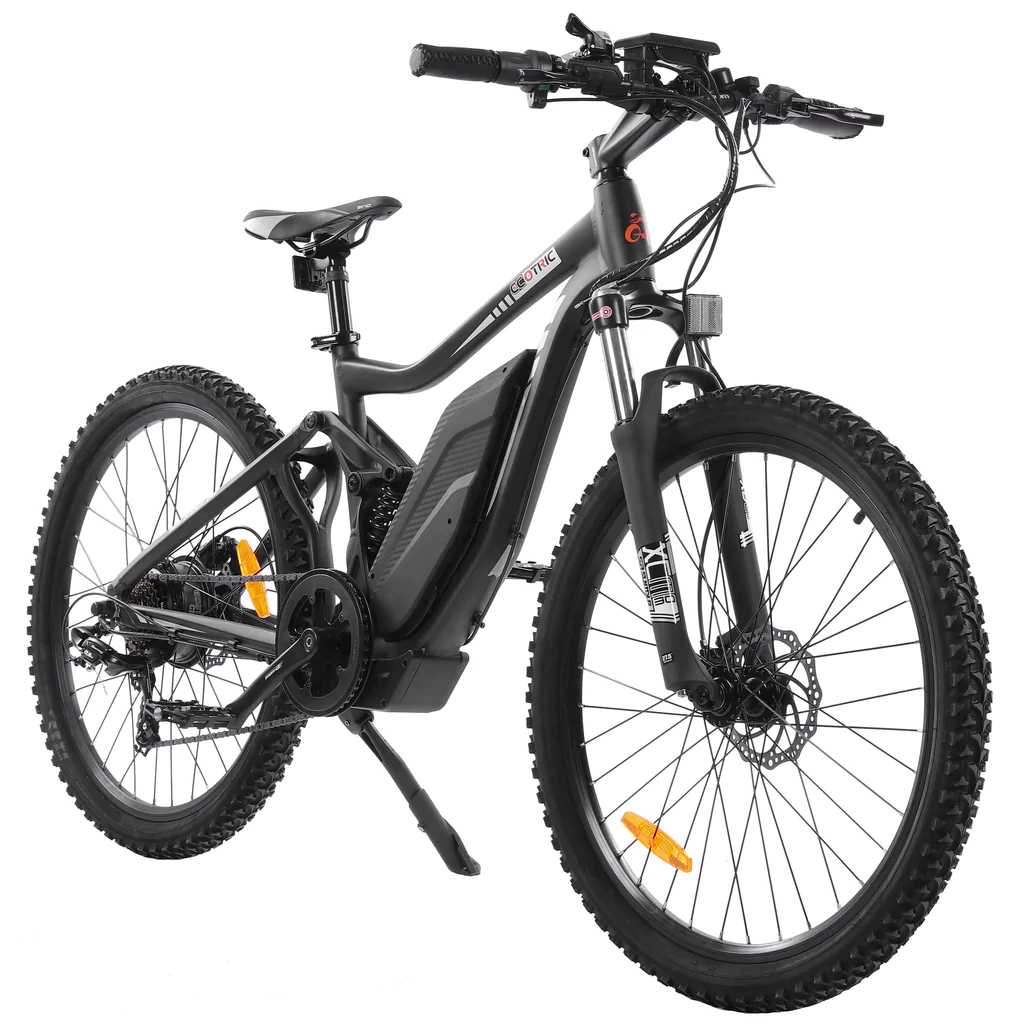 Tough Chassis
Aluminum Alloy Frame
Lightweight and compact built
Comfort
Ergonomic Seat
More comfortable cushion.
Why do I choose ECOTRIC UL certified e-bikes?
UL has been around for 125 years, ensuring the safety and accountability of electrical products in everyday American life. Being UL certified illustrates a business's dedication to consumer safety, as well as the quality of its products.
Another important caveat of UL certification is for insurance purposes and customer security. It's an accurate indication of an item's safety and longevity.
Packaging list:
1 x Ecotric Tornado Full Suspension MTB Electric Bike
1 x Lithium-Ion Battery
1 x Kit Box
2 x Pedals
1 x Display
2 x Keys
1 x Tool Kit
2 x Reflectors
1 x Owner's User Manual
Worth It?
No need to break the wallet for good rides
E-bikes are plentiful these days, and no one can refute the market's availability. If you're looking for a low-cost ride with essential components and a solid battery, the Tornado was designed for you. The Tornado features some impressive specifications on top of a sturdy chassis. If you want to experience the thrill of Sports MTB without taking out a loan, the Tornado suspension bike is for you.
What do you think? Is it too cheap or too expensive? Would you buy a Tornado? Please let me know in the comments section.
Best Electric Unicycles
Disclaimer: The information presented in this article is derived from extensive research, user reviews, and publicly available information. Our aim is to provide accurate and up-to-date content; however, it is crucial to understand that the opinions expressed are based on the information available at the time of writing. We strongly encourage readers to conduct their own thorough research and carefully evaluate their individual needs before making any purchasing decisions.
eWheels 2023 Summer Deals and New Launches are here!!!
Cheap, reliable, and powerful! TurboAnt Electric Scooters 2023 Sale!
Hi guys! This post may contain affiliate links, sponsored content, and advertisements. We get a small commission for covering topics that interest us (helps us keep the doors open). For more information, please see our privacy policy and disclaimer. Ride safe yall!
2023 Electric Unicycles:
Coupons & Deals:
Apollo Scooters: Get $50 USD worth of free accessories, upgrades, or spare parts with the purchase of a scooter. Code: VROOOMIN
REV Rides: Save $50 off Scooters and EUC's, Code: VROOOMIN
EVOLV Electric Scooters: Free Folding Lock (worth C$80) for every EVOLV model! Use Code: VROOOMIN-LOCK
To keep the site running and information flowing, Vrooomin.com participates in affiliate linking programs. We're also an Amazon Associate, which means we get paid for referring people to Amazon. Please support the channel by clicking on our links.