The Apollo City, $1,600 Electric Scooter
I must commend Apollo on the design of their new city, it's out of this world!
The City has a distinct design, is sleek, fluid, and compact, and is powered by twin 2KW motors. Could this machine have been designed by extraterrestrials? This scooter's curves, gloss, and design language make it look like something out of a movie. The chassis weighs 65 pounds, has full suspension, dual drum brakes, and is finished in a gorgeous gray coat. Are you ready to take off?
Ride Fast with the Apollo City 2022 Electric Scooter
No gas station, no traffic, just fast fun with the City
Do you want to spice up your commute by purchasing a $1,500 premium scooter? You might be interested in the Apollo City electric scooter, which weighs only 65 pounds. We prefer medium-sized scooters because they are speedy, compact, and don't give off the hot-rod image that some 50-mph scooters do. They are more approachable for daily use.
+30 MPH Twin Motor Spaceship
This 32-mph scooter has a lightweight, sleek, and futuristic aircraft aluminum chassis, an easy throttle, bright headlights/taillights, turn signals, powerful dual drum (regen + electronic brakes), and a cushy triple spring system that will make you reconsider what you require in a scooter.
About Apollo
Apollo set out to explain that commuting does not have to be a compromise—electric scooters are better, more efficient, ecologically friendly, and vastly more fun than any other transportation method used for short distances.
After becoming dissatisfied with the options presented by scooter-sharing firms, Apollo began as an electric scooter distributor, focused on high-quality vehicles that became viable transportation alternatives in an industry of poorly constructed electric scooters.
Warranty
Apollo has a reputation for producing affordable scooters with high build quality, and a one-year warranty backs up their scooters.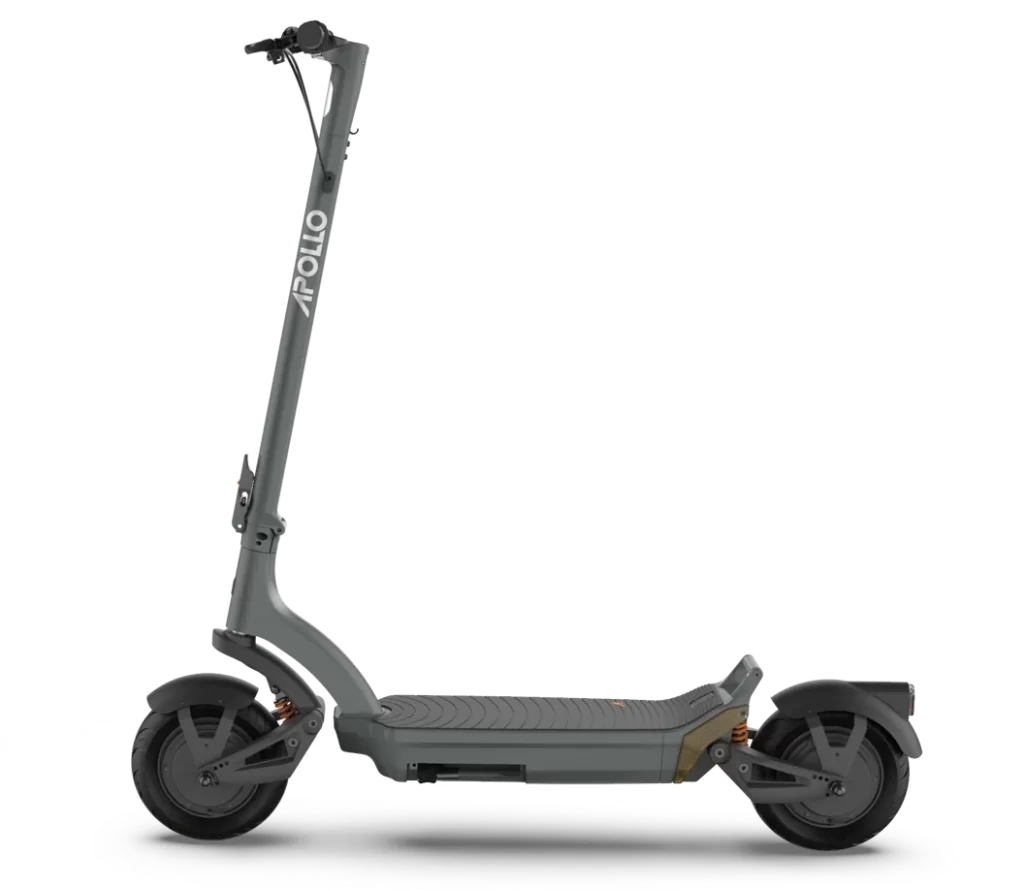 Dual Motor 48V
The Apollo City 2022 1000W sits in the middle of the Apollo series and is an excellent choice for novice riders. The Apollo's quick powertrain, dynamic chassis, and reasonable price appeal to the scooter community.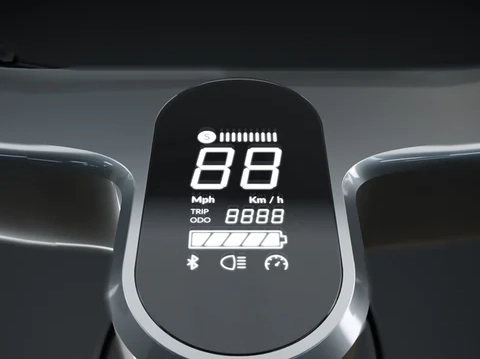 Riders appreciate the City 2022's compelling high power-to-weight ratio, agile 10-inch pneumatic tires, powerful 32 mph top speed, and dependable high discharge lithium 21700 battery with a max range of 38 miles.
Premium Commuter Scooter
At $1,599, the Apollo is an ideal companion for getting to the office, dentist, or shopping. In more detail, let's explore Apollo's performance, features, and chassis.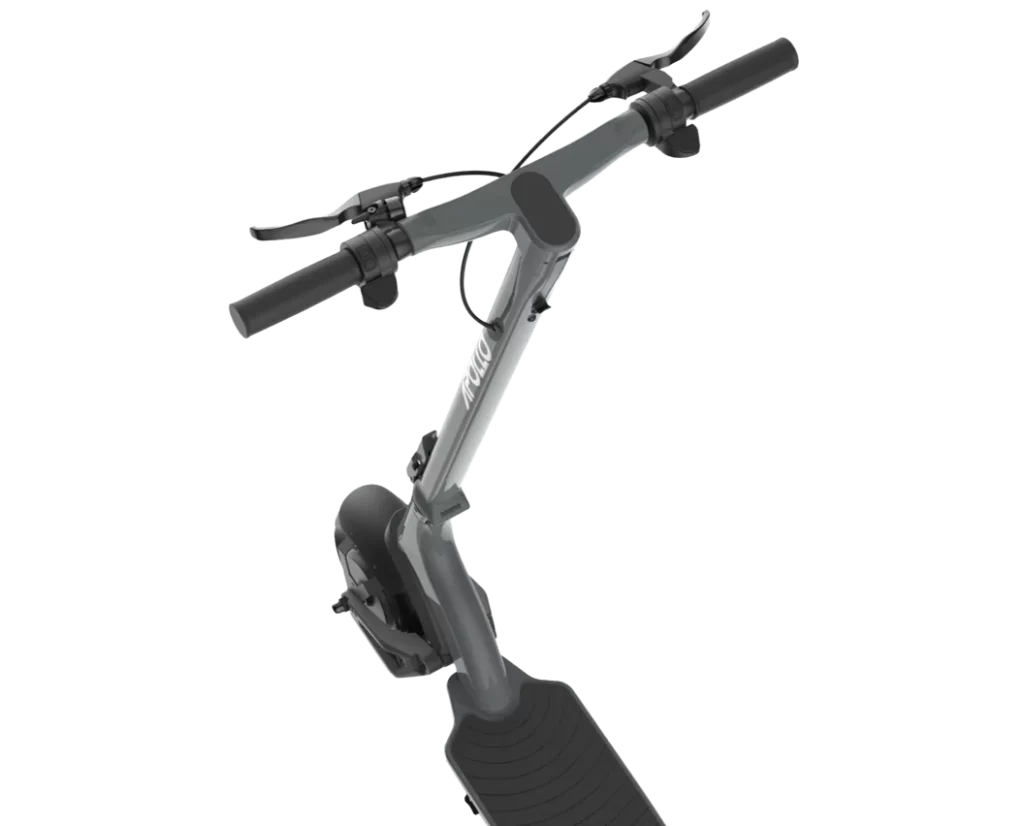 Technical Specs
Model: Apollo City
Price: $1,599.00 USD
Motors: Dual 500W
Weight: 65 lb
range: 38 miles
Suspension: Triple spring system
Brakes: Dual Drum + Regen
30 MPH Performance
Beginner Friendly Electric Scooter
The drivetrain has two 500W motors, 20-degree climbing, a top speed of 32 miles per hour, and an 864WH (21700) battery pack to power the scooter. This scooter provides a lot for $1,599 and is a significant upgrade over the previous model. There aren't many dual-motor 30 mph scooters on the market, and the City is one of the few.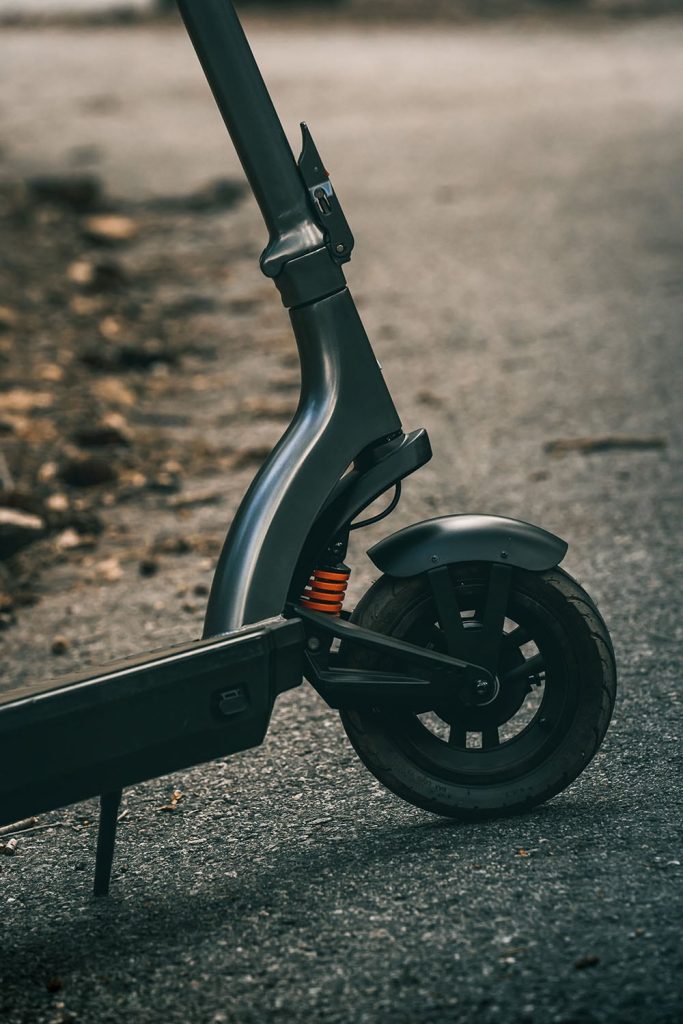 Apollo City 2022 Pro
Motor rated power: 500 W x2
Top speed: 32 mph / 51.5 kph
Max. incline: 20 degrees
Speed: Gear 1: 10 mph / 16 kph, Gear 2: 21 mph / 34 kph, Gear 3: 32 mph / 51.5 kph
Terrain: streets, bike lanes, sidewalks
From Apollo
New model: Our most integrated e-scooter. Created for the city where design meets performance without compromise thanks to our latest and strongest 21700 lithium battery.
New Design: A design so advanced you don't notice it. Our first scooter with IP56 water resistance.
Performance: Best in class dual-motor for high performance: 32 mph top speed, up to 38 miles of range.
Quality: Triple suspension system. Double the shock absorption. One incredibly comfortable ride.
Range: Our first-ever regen throttle recharges your battery and reduces mechanical brake use.
Tires: Equipped with self-healing tires. Gel lines inside the tire instantly seal any puncture.
Mobile app: Take complete control of your ride with turn-by-turn navigation, post-ride analytics, and advanced settings.
Integrated display: Seamlessly integrated in the handlebar, the anti-glare display holds the key ride data. From speed and battery charge to riding mode and cruise controls, access with the click of a button.
Perfectly portable: Designed to go everywhere with you. It's 49 inches long, 24 inches wide, 25 inches tall – the foldable City can be stored under office desks or in car trunks.
See and be seen: 500-lumen front headlight, rear brake light, and integrated turn signals into the frame make it impossible to miss.
Fully Featured
The City offers many excellent handling features not found on other scooters. The City now has an integrated display, thumb throttle, dual drum brake lever, triple spring suspension, and self-healing tires. To top it all off, the City has a 1P56 rating, allowing it to ride in mild traffic without risk of damaging its internals.
Battery type: 48V 18Ah
Travel distance: 38 miles / 61 km
Power: 53 x 21700 (4500 mAh) Lithium Battery Structure
Charger rated power: 54.6V 3A
Charger rated input voltage: 110V-240V
Charging time: 6 hours approx
Standard power consumption: 1.1KW per 100km* approx
Short circuit protection
Overcurrent protection
double protection from overcharging
Temperature resistance
Under voltage auto-sleep protection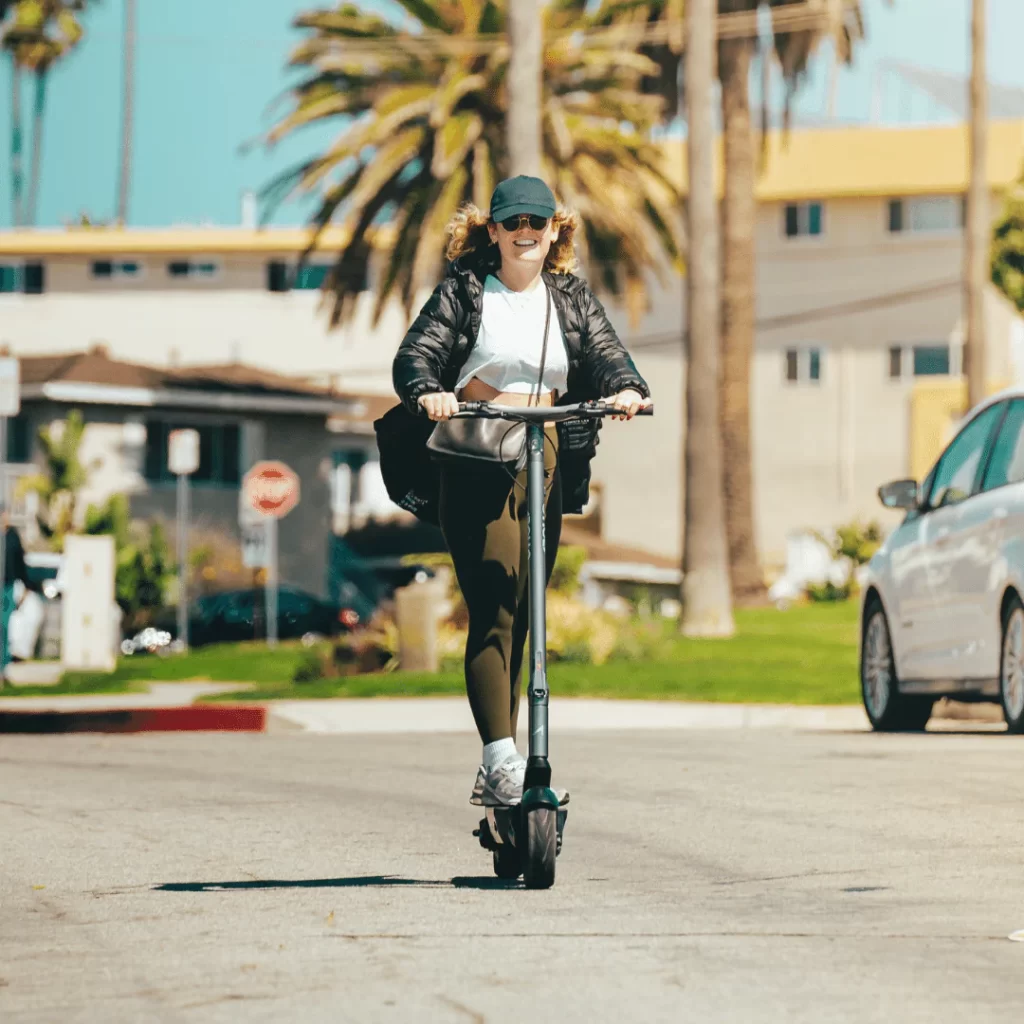 OhManDan Covers the Apollo Pro with the Apollo Team
30 MPH Category
The Apollo City has many looks, a solid feel, and a bevy of features that position it as a top competitor in the 30 mph scooter bracket. I just adore this scooter's lines, curves, and overall appearance. The City is a terrific alternative for anyone looking for the most premium 30 mph scooter.
Apollo City 2022 Pro
Frame: 6061 Aircraft grade aluminum
Color: Grey with an orange accent.
Package contents: scooter, charger, hex key, manual
Display: LED with mode controls and key riding statistics (speed, distance, battery charge, etc.)
Throttle: Ergonomic thumb-throttle
Brake: Dual Drum and Regenerative Brake
Suspension: Triple Spring System
Tire size: 10-inch front and rear
Tire type: Self-healing tubeless tire
Weight: 65 lbs / 29.5 kg
Max rider load: 265 lbs / 120 kg
IP Water Resistance Rating: IP56
Worth It?
Who this scooter is for: This scooter would be great for working adults and professionals. It could be suitable for college students, granted that they can bring these units upstairs and into classrooms.
Performance: The 32-mph performance is quite exceptional for its size. Other models can reach near 40 mph for around the same price. The other models don't have the look and feel of the City.
Battery Range: The 864WH battery pack provides rides with a max range of 50 miles. In real-world settings, riders can expect to travel around 21 miles using the highest ride settings. The City is perfect for riders commuting to and from work. Bring your charger if you plan to spend the day out.
Features: The City has many features: headlight, taillight, turning LEDs, display, and mobile app. This scooter could use a bell or horn.
Portability: 65 lb is a bit heavy; it's not a super portable scooter. 30-40 lb models are great for lugging. This model will have extra weight, and that's expected for a +30 mph scooter.
Ride Quality: With its medium-sized chassis, triple suspension, and 10-inch tires, the City will provide a smooth ride on road and light off road.
Chassis: This City has a beautiful design and geometry, one of the best we've seen on the market.
Pricing: The dual-motor model is premium and expensive. With a $1,600 price tag, you can see where all the extra money is going in the details and features. You can get the single-motor model for $1,299 if you have a tighter budget.
Reasons to Buy:
Apollo's best and original spaceship scooter design
One of the fastest 48V scooter on the market
Impressive design and build
Amazing features for 32 mph scooter
Very unique design and integrated electronics
Powerful regen and rum brakes
Zippy dual motor performance for +30 mph scooter
Competes directly with 52V scooters with its dual motors
Reasons to Avoid:
Heavier and pricier than other cheaper 48V scooters
Single motor option is lower in price
2022 Apollo Electric Scooters Catalog
Disclaimer: The information presented in this article is derived from extensive research, user reviews, and publicly available information. Our aim is to provide accurate and up-to-date content; however, it is crucial to understand that the opinions expressed are based on the information available at the time of writing. We strongly encourage readers to conduct their own thorough research and carefully evaluate their individual needs before making any purchasing decisions.
eWheels 2023 Summer Deals and New Launches are here!!!
Cheap, reliable, and powerful! TurboAnt Electric Scooters 2023 Sale!
Hi guys! This post may contain affiliate links, sponsored content, and advertisements. We get a small commission for covering topics that interest us (helps us keep the doors open). For more information, please see our privacy policy and disclaimer. Ride safe yall!
2023 Electric Unicycles:
Coupons & Deals:
Apollo Scooters: Get $50 USD worth of free accessories, upgrades, or spare parts with the purchase of a scooter. Code: VROOOMIN
REV Rides: Save $50 off Scooters and EUC's, Code: VROOOMIN
EVOLV Electric Scooters: Free Folding Lock (worth C$80) for every EVOLV model! Use Code: VROOOMIN-LOCK
To keep the site running and information flowing, Vrooomin.com participates in affiliate linking programs. We're also an Amazon Associate, which means we get paid for referring people to Amazon. Please support the channel by clicking on our links.