Apollo Pro Reservation Now Live
Expected to start at $3599 or $99/month USD
The good guys at Apollo are always up to something exciting; they know how to build anticipation. This one is called the Apollo Pro, and it is slated to be one of their most potent +40 MPH electric scooters. Is it worthwhile? According to the friendly Canadian builders to the north, this high-tech, high-performance electric scooter is expected to arrive in early 2023. Are you ready?
The Apollo Pro is Starting at $3,599
The first connected, high-performance, electric scooter. Expected to deliver in Q2 of 2023.
Why should we care? There are numerous reasons for this, one of which is that this thing is absolutely stunning. This is referred to as the look and feel by some. The Apollos' design language is evolving from previous releases; they're stepping up. The smooth lines of these new extraterrestrial spaceship designs delight me. I'm getting Marty McFly vibes. Can we refer to this as the Dolorean? Is this the future? What year is this?
Dual Motor
Up to 43mph
Up to 62 miles of range
Self-healing tires, 12 inches tall x 3.5 inches wide
Regenerative braking system and two drum brakes
Dual Hydraulic Suspension
Smart phone as display
Power
With dual motors and a top speed of 43 mph, this is Apollo's most powerful offering for 2023. I've had faster scooters in my day, and I can now attest that the cost-to-price-to-power ratio is best in the 40 mph range! I'm assuming the battery will be 60V, 21700 cells, and somewhere between 20-30AH, but that information has yet to be confirmed. This scooter could be used to commute to work, pick up groceries, or even impress a potential suitor on a first date. Are we taking this too far?
Custom: +150 custom-made components, unibody frame, and AG geometry make it intuitive and comfortable to ride.
Controller: Mach 1 Controller, Designed in Canada.
IOT – An integrated SIM card will allow owners to track and lock their scooters via the Apollo App. The scooter will only unlock when your phone is closer than 16 feet away.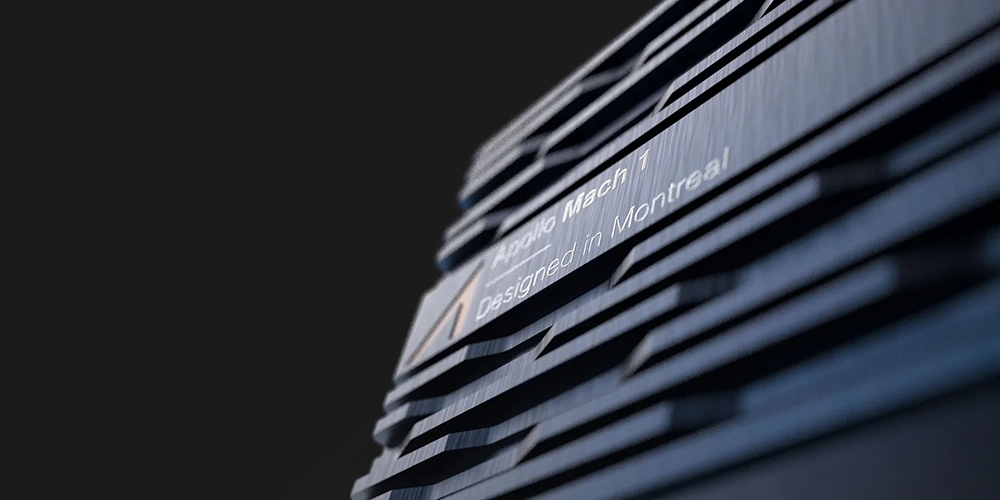 Features
BMS – Track the battery's health in real time, the temperature, and how long until the next charge.
Fully customizable – The top speed, the light intensity and color, the horn, and more can all be customized via the Apollo App.
Display – The best display available. Use your smartphone as a display.
360 light system – Front, back, and turn signals. Lights are also integrated into the deck, and the color can be changed as desired. The 360-light system makes the Pro highly visible.
Hyper Features
The Apollo Pro features an M1 controller, the first dual motor drive system with a phone as a display, regen braking, and 360-degree lighting. Not bad, considering some scooters have yet to reach this level. More visibility is always required for safety and visual appeal, especially when driving and braking astutely. We couldn't agree more when Apollo calls this model their first Hyper Scooter and the most advanced model in their lineup. Is there too much hype for you?
OUR FIRST HYPER SCOOTER – Powered by our M1 controller and a dual-motor drive. The first scooter to have a phone as a display, regenerative braking, and lights that go all the way around. Welcome to the world of fast scooters.
FORGET DISPLAYS – This is the first phone that can also be used as a display and can be charged wirelessly. Put your phone in the holder, open the Apollo app, and enjoy a ride.
CONNECTED, SO YOU CAN DISCONNECT – This is the first hyper scooter with built-in GPS, an intelligent battery management system, and 10 different sensors. There are many ways to use the Apollo app.
BRAKE WITHOUT BRAKING – With the brand-new dedicated regen throttle, you can stop in an insanely smooth way. Oh, and while you do that, your battery will charge up to 10%.
UNIBODY FRAME, HYPER STRENGTH – This unibody frame made of aircraft-grade aluminum is the strongest one we've ever made so that you can go on the roughest trips. 330 lbs. of weight are expected to fit.
The Apollo Pro has a GPS connection, which is fantastic, so you won't be saying, "Dude, where's my scooter?" In the event that your scooters are misplaced, you can track their location. That would be a stressful situation for a scooter at this price. Because you have two thumbs to play with, Apollo appears to be doubling down on its new regen braking system because you can now use both thumbs for moving and braking safely.
The Apollo Pro can't be missed
The Apollo Pro's sweet and sexy frame cannot go unnoticed! It has some symmetrical rubber finishes and sharp edges, and the deck, rails, and side plastic fairings are designed with polygon shapes. There is no other scooter on the market with the same look, feel, and polish.
This scooter appears to be a simulation, with all of the shapes in a 3Ds engine. The scooter also has front and rear mudguards and a storage latch that folds up easily. The new folding latches must be a standard these days, because anything without them is extremely inconvenient, particularly in an office or restaurant setting.
Everyone loves big beefy tires, and the Pro has some, 12-inch ones to be exact. I believe the tubes and/or tires are sealed. Similar sealants can be found online. The Pro also has a large spacious deck and comfortable tires; I won't say no to either. You get a +40 mph speed, a beautiful chassis, big tires, hydraulic suspension, and a slew of new features available only from Apollo Scooters. Do you want to ride this scooter?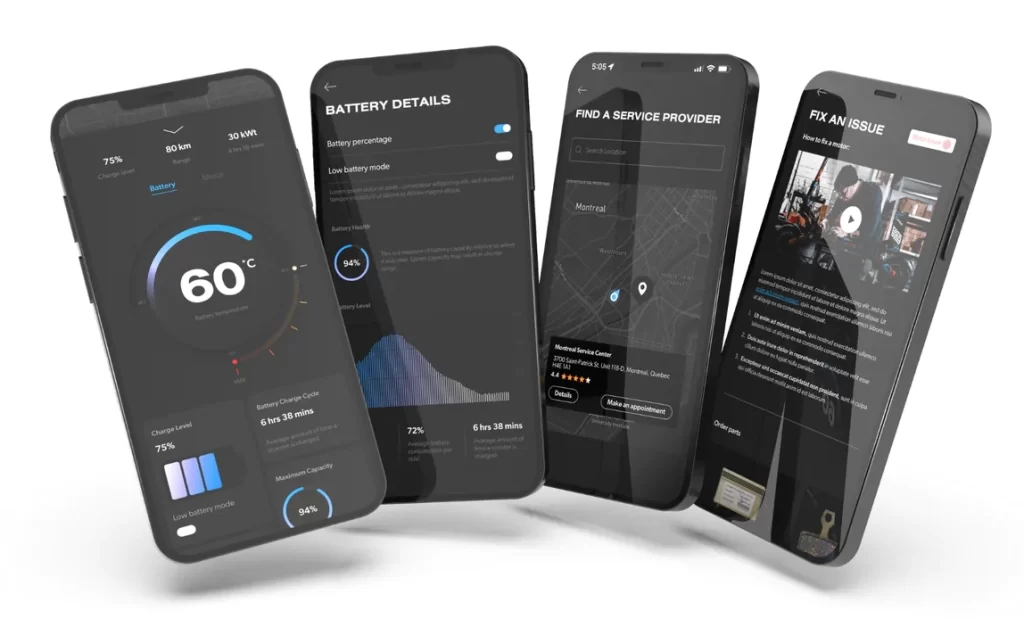 Worth It?
I only care about motors, batteries, and a sexy chassis at the end of the day
Everything else is a minor argument for selecting this model over another. Did Apollo absolutely crush it? Is this the performance scooter that was promised? Can we test a scooter of this caliber and the marketing strategies of northern scooter manufacturers? I am impressed by their appearance, performance, handling, and presentation.
Apollo Care – Customers will be able to receive personalized help and assistance 24/7 for a low monthly fee.
Kick Stand – The kickstand is similar to a motorcycle kickstand. It comes under the deck, making it safe, strong, and convenient.
Water proof – This scooter is the most waterproof yet. It has a tight seal around the deck, making it fully waterproof.
Delivery – The scooter will be delivered in early 2023. However, you can reserve it now for only $20! When the scooter is available for purchase, you will be amongst the first to find out, get access to pre-order pricing, and be the first to receive it.
Global – Currently, the Pro is only sold directly by Apollo in North America. Please sign up for the mailing list if you'd like to be notified when it becomes available in your region.
Reservation – Firstly, thank you. After your reservation, you will have secured your spot for the first production run. We will continue to share updates via email as production approaches so that you will have complete visibility into the process. When we near Q4 of 2022, we will contact you to confirm order details and collect the payment balance. Then your unit will be shipped out and delivered.
As this is a first-generation scooter, I'm hoping that any bugs, defects, or issues will be discovered before shipping during the prototype quality assurance process. This scooter's performance, features, and chassis are pretty enticing and hold great promise to deliver.
Best Apollo Electric Scooters:
Disclaimer: The information presented in this article is derived from extensive research, user reviews, and publicly available information. Our aim is to provide accurate and up-to-date content; however, it is crucial to understand that the opinions expressed are based on the information available at the time of writing. We strongly encourage readers to conduct their own thorough research and carefully evaluate their individual needs before making any purchasing decisions.
eWheels 2023 Summer Deals and New Launches are here!!!
Cheap, reliable, and powerful! TurboAnt Electric Scooters 2023 Sale!
Hi guys! This post may contain affiliate links, sponsored content, and advertisements. We get a small commission for covering topics that interest us (helps us keep the doors open). For more information, please see our privacy policy and disclaimer. Ride safe yall!
2023 Electric Unicycles:
Coupons & Deals:
Apollo Scooters: Get $50 USD worth of free accessories, upgrades, or spare parts with the purchase of a scooter. Code: VROOOMIN
REV Rides: Save $50 off Scooters and EUC's, Code: VROOOMIN
EVOLV Electric Scooters: Free Folding Lock (worth C$80) for every EVOLV model! Use Code: VROOOMIN-LOCK
To keep the site running and information flowing, Vrooomin.com participates in affiliate linking programs. We're also an Amazon Associate, which means we get paid for referring people to Amazon. Please support the channel by clicking on our links.