The Levy Plus is an affordable, sleek, stylish, and zippy Electric Scooter; short-distance commuting has never been easier or more reliable.
Designed for use in and around the city
We are looking for a cost-effective and environmentally friendly method to move around town. The Levy plus is a strong contender for the task. The Levy Plus electric scooter offers all the functions to get you where you need to go in life, from top to bottom and front to back. The best part is that this 30-pound, 18-MPH electric scooter is only $749.
Levy Plus Electric Scooter Specs:
Top Speed: 18 MPH
Range: 20 Miles
Weight: 30 lbs
Cost: $750
For a small fee, you may save a lot of money on gas, insurance, parking tickets, and more!
News & Deals
Looking to get to work fast? The 18 MPH Levy Plus has some serious power for your daily commutes.
There's something about riding an electric scooter that makes it so much more enjoyable than driving. The thought of being on two wheels with your hands on the handlebars, the pull of the throttle, and the wind in your hair make life more enjoyable—a front 350W motor with a maximum output of 700W powers the Levy drivetrain. In its highest settings, the Levy can produce a maximum of 18 MPH for most riders! If you've ever walked a few miles to work, you'll appreciate how much time an 18 MPH scooter can save you.
Speed: To keep you in control, the Levy has three different drive modes for speed: Beginner, ECO, Sport
Powerful Braking System: rear disc brake, front e-brake, and back fender brake.
Lighting: Bright LED headlights and taillights in the front and back keep you riding in any weather.
Ultraportable Chassis: At only 30 pounds, your scooter is easy to travel and pack away thanks to its quick folding construction.
Similar Models: Hiboy MAX3, Gotrax GMAX Ultra, Inmotion S1, VSETT 8, Dualtron Mini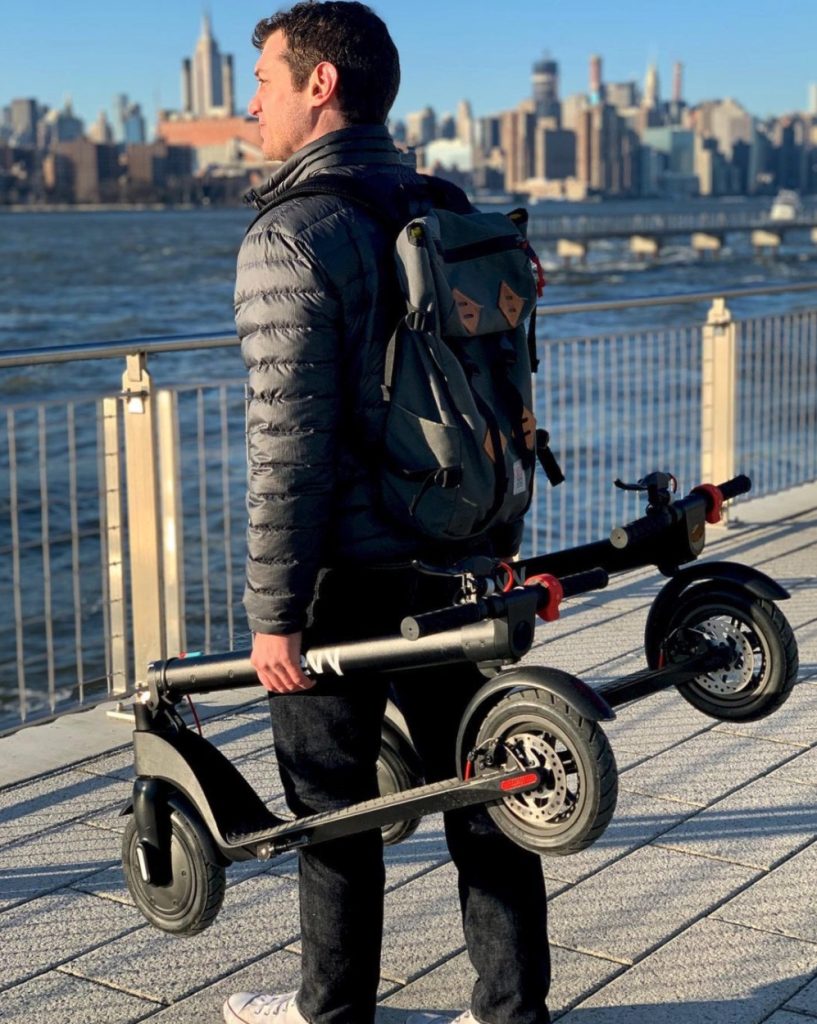 The Heart of an Electric Scooter is its Battery Pack.
Both the Levy basic and Levy Plus model electric scooters have proprietary battery-swappable systems. Outside of the scooter, the batteries can be swapped and charged independently. Aside from the ease of increasing the range of your scooter by carrying extra battery packs, another significant benefit is that your electric scooter will last longer. Most scooters have batteries incorporated into their frames, making repairs either prohibitively expensive or impossible.
A key advantage of owning a Levy is the ability to purchase additional batteries independently.
Keep an extra battery charged and ready to go in case you need it.
The Levy battery system is designed to meet your commuting demands with maximum flexibility.
Similar Models: Hiboy MAX3, Gotrax GMAX Ultra, Inmotion S1, VSETT 8, Dualtron Mini
Tire Options
Comfort, low maintenance or no maintenance?
The Levy is a comfy ride with a few tire options. Standard tires with inner tubes, tubeless tires, and solid rubber tires are available on Levy electric scooters; each has advantages and disadvantages. I prefer tubed tires for comfort and ease of changing.
Tires with tubes
Tube tires employ an inner tube to fill pressure inside the tire, the most typical setup for electric scooters and bicycles. The biggest issue with inner tubed tires is dealing with flats, which necessitates removing the wheel/tire and replacing (or patching) the inner tube to fix the ruptured tube.
Tubeless Tires
Tubeless tires have the same pneumatic shock absorption as tubed tires (because they are air-filled), but they are also easier to maintain (provided you have the right tools).
Solid
Solid tires have the advantage of being puncture resistant and requiring no maintenance. However, these tires do not provide shock absorption compared to air-filled tires because they are not pneumatic (the tubed and tubeless versions).
requires relatively little upkeep
ride is not as smooth as pneumatic tires – traction is hindered on rainy surfaces
Similar Models: Hiboy MAX3, Gotrax GMAX Ultra, Inmotion S1, VSETT 8, Dualtron Mini
Is the Levy Plus Electric Scooter the right scooter for you?
For the cost of a Levy Plus, you get everything you need to ride safely at a very reasonable price point. Most scooters won't offer you an 18 MPH top speed, a 20-mile range, and a portable 30 lb chassis at a low price. While the Levy is perfect for short commutes, I recommend at least a 30 MPH electric scooter if you take on longer commutes. The Levy Plus's power, range, and light weight chassis make commuting exciting, quick, and efficient. While there are countless low-cost electric scooter clones on the market, the Levy Plus is one of the higher-rated models with higher-quality materials.
This $750 scooter is a solid option for being your daily commuter if you're seeking an inexpensive, fast, lightweight, and reliable electric scooter. For further details, visit Levy's website. Look at the top affordable electric scooters for even more expensive choices with premium features.
Levy Plus Electric Scooter Specs
Handlebar Width: 16.5″

Battery Capacity: 36 V, 12.8aH (460 Watt-hours)
Battery Size: 19″ x 2″ x 4″
Battery weight: 5.2 lbs
Cell Type: Panasonic 18650 Li-Ion
Charger: DC42V/2A
Charging Time: 3.5 hours
Driving Modes: 3 (Beginner, Eco, Sport)
Floorboard Height: 5.5″
Floorboard Standing Length: 18″
Floorboard Width: 6″
Frame Material: Aviation aluminum alloy
Headlight: LED
Max Incline: 5 – 10% (Depending on rider weight)
Max Load: 230lbs
Max Range: 20 miles w/ Eco mode,
Max Speed: 18 mph
Motor Drive: Front wheel drive
Motor Power: (Maximum) 700W, Motor Power (Nominal) 350W
Net Weight: 30 lbs
Taillight: LED
Tire Size: 8.5 inch pneumatic, tubeless tire, 10 inch pneumatic, with inner tubes
Waterproof Level: IP54
You may also like:
Disclaimer: The information presented in this article is derived from extensive research, user reviews, and publicly available information. Our aim is to provide accurate and up-to-date content; however, it is crucial to understand that the opinions expressed are based on the information available at the time of writing. We strongly encourage readers to conduct their own thorough research and carefully evaluate their individual needs before making any purchasing decisions.
eWheels 2023 Summer Deals and New Launches are here!!!
Cheap, reliable, and powerful! TurboAnt Electric Scooters 2023 Sale!
Hi guys! This post may contain affiliate links, sponsored content, and advertisements. We get a small commission for covering topics that interest us (helps us keep the doors open). For more information, please see our privacy policy and disclaimer. Ride safe yall!
2023 Electric Unicycles:
Coupons & Deals:
Apollo Scooters: Get $50 USD worth of free accessories, upgrades, or spare parts with the purchase of a scooter. Code: VROOOMIN
REV Rides: Save $50 off Scooters and EUC's, Code: VROOOMIN
EVOLV Electric Scooters: Free Folding Lock (worth C$80) for every EVOLV model! Use Code: VROOOMIN-LOCK
To keep the site running and information flowing, Vrooomin.com participates in affiliate linking programs. We're also an Amazon Associate, which means we get paid for referring people to Amazon. Please support the channel by clicking on our links.